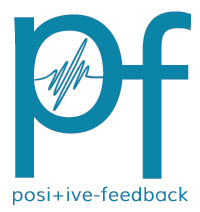 You are reading the older HTML site
Positive Feedback ISSUE
32
july/august 2007
Notes of an Amateur - July, 2007, Part 2
by Bob Neill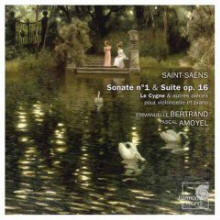 Saint-Saëns, Sonata No. 1 for Cello and Piano; various short works. Emmanuelle Bertrand, cello; Pascal Amoyel, piano. Harmonia Mundi HMC 901962.
As much as I like Maria Kliegel's straightforward way with this music on Naxos, Emmanuelle Bertrande brings a lyric magic and mastery of innuendo to it that is of another world. This is romantic music, which in her hands will please even the least romantic of hearts. She is one of Harmonia Mundi's 'new interpreters' (a series with a huge success rate), whom I first met in her debut CD for HM playing Dutelleux, Henze, Crumb, Ligeti, and Bacri. (HMU 911699) She is a luminous musician, who finds subtleties and contrasts in this music I have not heard before.
I understand that there is a 'French School' of cello playing—which is to the Russian School what French Rameau and Couperin are to Germans Bach and Buxtehude, which is to say, more refined, liquid, and lyric. Bertrand's playing has all of the characteristic virtues attributed to French cellists, but there is a forceful poetry to her playing that transcends them as well. Gush, gush, I know. But this is a truly remarkable musician who is giving beauty a new musical life.
I am grateful for all of the minor works Bertrand has chosen to play here, bringing out, especially in the Gavotte, Opus 16, No. 3, another side of Saint-Saëns. Her accompanist Amoyel is a perfect match for her. And Harmonia Mundi outdoes itself on the sound. Another nominee for Record of 2007.
While we're at it, just a word on Bertrand's debut disc referred to above. If your experience of modern music for solo cello is limited to Kodaly and Britten, this is a splendid recital to broaden it. I've had this CD on again for a week or so. It is great high calorie modernism all the way. Highly recommended as a chaser.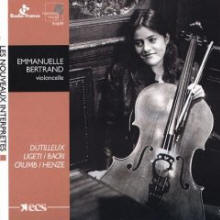 William Walton, Viola Concerto; Edward Rubbra, Viola Concerto and Meditations on a Byzantium Hymn. Laurence Power, viola. BBC Scottish Symphony Orchestra, Ilan Volkov, conductor. Hyperion CDA 67587.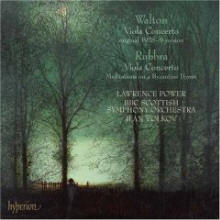 If you're not a musical Anglophile, one of the reasons you might be drawn to a disc of England's Walton and Rubbra is to get a clearer grasp of what Benjamin Britten was not about. In addition to not being about Elgar or Vaughn Williams and their quest to recover the Traditional English Spirit, he was also not about Walton's more elusive and challenging mission to bring his country into the 20the century without modernism. Something on the order of what Thomas Hardy attempted in literature. Nor was he about Rubbra's arguably more musically successful quest to keep the nineteenth century alive in the twentieth!
Britten was a thoroughgoing modernist. Irony, dissonance, and chromaticism stalk virtually everything he wrote, even his much loved and only partly understood 'music for children.' His relation to the Traditional English Spirit is a critical and creative one: he addresses it freshly, twists and reforms it to give it new life. A tradition cannot simply be inherited, he seems to say with Eliot, it must be achieved newly by each generation, have fresh life breathed into it so its audience does not come to it as to a musical museum. Walton, again like Hardy and unlike Eliot, attempts to persuade us that the Tradition can be continuous. Music can be unromantic (and un-Victorian, unsentimental) without resorting to new ways of hearing. It can be tough and disillusioned without being formally different. Walton's concerto is furious, harried, stormy, angst-ridden, urgent, stirring, brooding, reflective, and agitated. It refuses to let us rest in any comfortable and affirming sense of the world. But it also refuses to break into a new voice, concede that anything new is needed to grasp the twentieth century. It clings tenaciously to the sense that nothing has fundamentally changed.
The result, listening back through modernism to it, is a sense that for all his really quite admirable efforts, the composer simply didn't understand that something had in fact changed, to which furious lament was an inadequate response. Received values and traditional understandings needed to be reformulated if they were to continue to serve us, to stand up to our new knowledge, else they would sit on shelves like antiques. Everything needed a new basis. Modernism in the arts was the effort to show us what the new basis might look, feel, and sound like. In a word, it aimed to show us that we could lose our innocence and ignorance but remain good, creative, even heroic. Walton's music seems to be about something it isn't yet ready to understand, and so in the end it is almost pathologically restless.
Rubbra, Walton's almost exact contemporary, is even less aware of a need to make it new, which turns out to be a musical blessing. Rubbra sometimes brings Sibelius's haunting late romanticism to mind, but he has a far less distinctive voice than the great Finn. That said, there are passages in his concerto that take us in and sweep us along in ways that do not seem to interest Walton. Rubbra really has a nineteenth century heart in him, resist it though he frequently does. What's especially interesting about the Rubbra work is that it was written in 1952(!), whereas Walton's was composed in 1928-29. I'll leave that one to you for reflect on. Rubbra's concerto is the more appealing. It is clearly more at ease with the world and its composer. And it goes to some very attractive and affecting places. Walton's is the more interesting as a piece of musical history. And it has also fared better in the orchestral repertoire. Musicians and conductors alike seem drawn to its restlessness.
Rubbra's Meditation on a Byzantine Hymn No. 3 for solo cello is a musical jewel, if like me you enjoy following the musical ruminations of solo stringed instruments. This is the first recording of the work, and it will take me back to Rubbra again, perhaps to the seven symphonies. This is a piece worthy of Britten himself. I don't know whether or not Britten knew of it (the viola was his personal instrument of choice), but it would be nice to think so.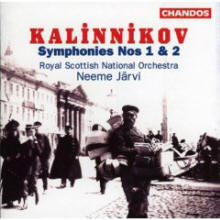 Kalinnikov, Symphonies Nos 1 and 2. Royal Scottish National Orchestra, Naeme Järvi. Chandos 9546.
If you are a young Russian composer writing music in the 1880s and 1890s, how could you keep the sound of Tchaikovsky out of your head? Let's just say you'd have to have a stronger head than Vasily Kalinnikov!
His first symphony is like a close cousin of Tchaikovsky's first three symphonies—and nearly in their league. I am a fan of these early symphonies by the supremely popular and much patronized composer, who is twenty-six years Kalinnikov's elder. So I have no problem with hearing a cousin, especially an interesting one who can put some of his own stamp on the model. This is generally more reflective though less memorable music than Tchaikovsky's, but it has his balletic spirit in the faster movements and his love of woodwinds all around.
The second symphony starts out a bit more spirited and extroverted and even more Tchaikovskian. The second movement, taking us immediately to the younger composer's reflective side, gives us music that is considerably more melodic than anything in the earlier work. The predominantly 6/8 scherzo that follows is even more striking: there is a lot less Tchaikovsky here, and we hear hints of a new voice, a cousin several more steps removed! He is downright brassy. The final movement moves back and forth between the spirits of the second and third, taking on a celebratory voice. It is rousing stuff, and if in the end it still can't entirely break free of its primary influence, we don't really care.
Sometimes it is comforting to be securely in the nineteenth century, in the hands of an able, natural, and confident Russian. The modern world was to come soon enough, which alas, this talented young man did not live to see. He died in 1901 at the age of 35.
System used for these auditions: Audio Note CDT 3 transport and Dac 4.1 Balanced Signature; Blue Circle FtTH hybrid integrated amplifier; JM Reynaud Offrande Signature speakers; with Audio Note Sogon interconnects and Lexus speaker cable.
Bob Neill, in addition to being an occasional equipment and regular music reviewer for Positive- Feedback Online, is also proprietor of Amherst Audio in Amherst, Massachusetts, which sells equipment from Audio Note, Blue Circle, Manley Labs, and JM Reynaud, among others.