When I got the word to review Art Audio's Quartet mono amps, I jumped on it. First off, being of the tube-amp-lover-persuasion, how could I pass up an opportunity like this? Second, here was a chance to tell the world of yet another great design from a company with a long list of great designs in the field of tube amplifiers. I strongly feel that tube amplifiers deliver a more natural and honest presentation of the recorded musical event than solid-state. This leads us to reason number three: this would give me yet another opportunity to jump on my soapbox and tell the world that gloriously textured, harmonically correct tube bass is superior to that of the overly tight, dry, stiff solid-state bass. OK, admittedly that last one is more of a personal agenda, but unless there is a serious mismatch in one's system, I challenge anyone not to have a go at these beauties.
And beauties they are. The set under review arrived in an all steel/chrome chassis with the optional chrome legs. Other optional goodies include stainless steel tube surround rings for the power tubes, glass chimneys for said power tubes, and sexy blue illumination. If it were me, I'd go for the whole enchilada and trick it out to the max! I did see a picture somewhere of their Carissa stereo amp - which is identical to one mono Quartet in looks—with a beautiful blue chassis and chrome transformer cover. This says to me that Art Audio might be willing to custom design your very own set of Quartet mono blocks.
The Quartets are 45/50-watt pure class-A push-pull 845 based tubed monoblock amplifiers. The input impedance is 180 kohm, which turned out to be a great match for my Reference Line Passive line stage. Valve Art 845 power tubes are standard issue, but one can order them with a set of KR Audio 845s cryogenically frozen to boot. NOS driver tubes are also an option; these came with the review samples. The automatic biasing thing is done inside the amps just for your convenience. The mil spec PC boards are of the hard-wired hybrid design. There is a feedback switch on the back that allows for adjustments from zero to 6dB. The rectifier is solid-state with two-stage choke filters.
A word about the build quality of these amps. Exemplary! Peeking under the bottom panel, not to mention a quick once over of the chassis, will confirm this. From the PCs to the hardware that is bolted on the chassis, the Quartets are built to a very high standard. The tubes are gripped snugly by their sockets, which is something I cannot say about either of my tube amps. The only exception to this nicely built pair of amps is the transformer cover. Although solidly secured to the chassis, it rings a bit when you ping on it. Not a loud echo, but a hollow vibration nonetheless. To be fair, I have noticed this phenomenon on other high-end, high-priced equipment. Maybe many audio manufacturers feel a ringing cover or bonnet is not an impediment to good sound. Although I have not contacted Art Audio about this, it may be that they offer damping as an option. I also heard from Dave Clark my review samples might not be representative a final production run, which may account for any variables in chassis manufacturing. In any case, the rest of the unit was quite solid. One may very well hurt their fingers tapping on this pair of amps.
Before describing the music making abilities and the sonic character of the Quartets, a few different devices were used with these amps to bring out their best. Instillation of Hi-Fi Tuning Silver/Gold/Ceramic fuses (courtesy of Mr. Robert Stein of Ultra Systems) greatly enhanced the performance of these already fine amps. After a little experimenting with these fuses, I cannot live without them in any of my gear—that allows for an easy fuse swap. If you think the sound of your amplifier, preamplifier, or CD player is dimensional, clean, and liquid, wait until you install the Ultra Fuses. You ain't heard anything yet! The second change concerned my power line conditioner. Besides my usual Balanced Power Technologies 2.0, the very big and beautiful Pure Power One 5.0 power conditioner was also invited to the party. The BPTs I own are great products, but the Pure Power One 5.0 is quite a substantial piece of gear as far as cleaning up the background and providing a "pure" and very clean platform of "power" in which components can perform at their best. Finally, a PS Audio Digital Link Digital to Analog converter (also in for review) was used from time to time. For the most part—and to get a proper perspective on their sound—the Quartets were hooked up to my regular gear with the exception of the Hi Fi tuning fuses which I simply could not take out.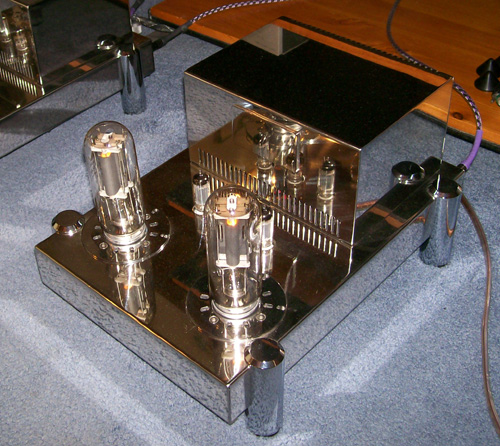 There seems to be two kinds of kids in the world. There are the ones who rip the boxes that their new toys come in into pieces as fast as they can in getting to the toys inside so they can start playing. Then there are the kids who methodically open the box without damaging it while carefully taking out the toy and glancing at the instructions all at the same time. The playing comes in its own time. The latter become audiophiles, in that the Quartets induced the behavior in kids of the former variety. I did not rip the boxes apart to get the amps out, though I did pull these quite substantial beauties out and set them up as fast as possible. In fact, these amps are pretty easy to set up. To be honest, I had so much fun listening to these amps from the get go that it was hard to get serious about taking notes and do any kind of critical listening. But as several of the gentleman said in the movie Man on Fire, "I am a professional", so onward and upward!
I started out listening to the Pat Metheny Group and Little Milton CDs. Track one of the soundtrack to the Falcon and the Snowman by the PMG starts out with the Ambrosian Choir singing Psalm 21 and melds into Flight of the Falcon. I give this recording a 3½ stars out of 5 even though names like Bob Clearmountain, Bob Ludwig, Abby Road Studios, and Masterdisk are plastered all over the back cover. Actually, you need a magnifying glass to read the back of the CD. The Ambrosian Choir conducted by John McCarthy sounded spacious, reverberant, and clear. The small details and micro dynamics that the various percussion instruments created on songs, such as track 6, "Extent of the Lie" and track 7, "The Level of Deception" were both clear and distinct. I heard no smearing. Each sound was clearly resolved in space, but never sounded thin or bright. These sounds had an appropriate holographic dimension to them, along with the proper timbre of each instrument.
Similarly, on the Little Milton CD, For Real, vocals throughout this disk had a natural solidity to them. By this, I mean vocals were coming from the midrange as solidly as the bass was and up through the top end. The vocals, as heard on the PMG disk, had the same level of dimension and natural timbre. I am sure I have mentioned it before, but the standout tracks on this disk are "A Rainy Night in Georgia" and his great cover of that Bee Gee's tune, "To Love Somebody". Milton makes it one of his own and it really showcases the vocals of this great musician who sadly recently left us. Although Milton strays slightly from the blues on these two tracks, he does so with grace and class while putting his own unique spin to these classic tunes.
Time for more favorites and on went Ginger Bakers, Going Back Home CD. On track 10, "East Timor", Baker's vocals were more fleshed out with the accompanying instruments - in this case drums, guitar, and bass courtesy of Baker, Bill Frisell, and Charlie Hayden. This all sounded more natural, dimensional, and solid than when played through my usual amps. It was the solid focus, precision, and clarity along, with a harmonic rightness, that kept coming back to impress disc after disc - whether it be CD or vinyl. It was Baker slightly left and to the back of Frisell, and it was Hayden slightly to the back and right of Frisell. There it was: a solid soundstage, rock solid images and tone, texture and harmonics that drew one into the performance no matter the quality of recording.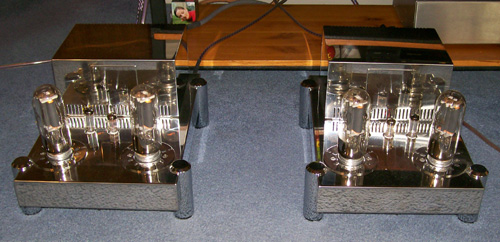 At first listen—compared to both of my own tube amps, which sound richer in the bass than do the Quartets—the lowest bass on these amps sounded slightly leaner. The difference between them is that the Quartets differentiate the bass notes and texture of instruments like the thoroughbreds that they are. The bass never sounds chopped up or sectionalized. The bass and drum on tracks 2 and 10, again on Baker's Going Back Home, had fuller and thicker sound through the Margules and Antique Sound Labs. But with the Quartets, both bass and drums sounded more distinct in not only the color of each instrument, but also in how it unraveled the musical lines and bass notes. Yet at the same time, the Quartets sounded solid, very coherent, and powerful. As it turned out, the bass also went deeper and with greater impact than heard on either of my reference amps. What Art Audio has wrought from these 845 power tubes, in the bass and just above this region, is very taut and solid. Way better than that of similar designs using the same tube. The solidity, clarity, and focus again paying big dividends.
Although my Kuzma Stabi S turntable was pressed into service quite a bit, it was the digital rig that got the workout. A recent purchase is a double CD by pianist, Lang Lang, called Memory. This CD features works that evoke his "childhood pianistic explorations". Works from such artists as Mozart, Chopin, and Schumann. Boy, what evokes my childhood memories of any kind was cartoon music. But then again I am sure a good bit of cartoon music is well grounded in the classics. Besides Lang Lang's technical artistry and love for this music, the Quartets also contributed in a very positive way with the proceedings. The low-level resolution and the low noise floor of these amps was very impressive. Similarly on Yarlung Records CD release, The Piano, Evening Conversations featuring David Fung playing solo piano. Here the Quartet amps did a fine job of showing the intimate scale of the piano on works by Mozart, Chopin, and Schumann, among others.
Similarly the larger setting of the Janaki String Trio, also on Yarlung Records, seemed to breathe as this fine group of musicians went from soft to loud and from solo to the full trio on the more dramatic passages. I find track 11, Lefkowitz' "Duet for Violin and Viola" quite an interesting piece of music. These recordings, especially the Yarlung's, are recorded quite well and the playing is magnificent. The Quartets reproduced the voicing of these "wooden" instruments' quite naturally. The sound was neither too cool, nor too warm with a tonal pallet spread out like a male peacock at mating time. And as always throughout this audition, the Quartet did it very cleanly.
Just for fun I thought it would be interesting to compare the Quartets to both my Margules U280 SC and the less expensive, but highly modified, Antique Sound Labs MGSPM25DT mono blocks. The Margules is a sweet and clean all-tube amp with many user-friendly features. It fared better in its 30-watt triode mode than in its 60-watt ultra linear setting in sounding cleaner overall without the need to be pumping out more watts. Its soundstaging is very good, but noticeably smaller than either of the other mono blocks. Even so, the Margules U280 SC sounded slightly more organic and warmer than the Quartets. Although details were not lacking, they were not as easily fleshed out as heard from the big Art Audio amps. Still the Margules' many strengths has made it my reference amp for over three years and counting.
Boy, have I had fun with my ASL mono blocks. They get used quite a bit and they are fun, fun, fun! They do not have the greatest razor sharp resolution or gargantuan bass slam, but their very wide and deep soundstage and stable imaging, along with very nice harmonic and tone reproduction, make them very listenable over long periods. They also respond very well to tweaks and tube rolling. Right now a quartet of Electro Harmonic KT-90 power tubes and a pair of J&J 12AX7s are divided up equally in each amp serving their purpose quite well. Yes, they are warmish and might not knock you over with rock-solid dynamics, but there is enough detail, bass, and musicality for me to keep them around for many a year—they get the heck played out of them...
Okay, so the Art Audio Quartets seem to be waiting on sidelines and polishing their fingers, just itching for me to finish up the comparison and say, "Adios boys"! Yes the music was more easily fleshed out, and the soundstage and instruments more focused and anchored in space. Yes, there were more natural and realistic timbres, and more solid and textured bass. And yes, they sounded cleaner and more effortless with a more real with a beautiful decay and dimensional ease. And yes again, more money should bring to your audio table not only better build quality and aesthetics, but also an effortless ability to convey the music. Although expensive—I have railed at that aspect of the high-end many times before—just looking, touching, and listening to the Quartets makes you know that they are worth every penny. What Art Audio has done in the design of these amps is to employ the harmonic presentation of tubes, along with the transparency, dynamics, and frequency range of solid-state amplification in one beautiful package. I am in love. Francisco Duran
Specifications
45/50-watt, pure class 'A', push-pull 845 -ased vacuum tube monoblock amplifiers

Frequency Response: @ 1W 5Hz - 60 kHz +/- 0.5dB, @ full power 10Hz - 50 kHz +/- 0.5 dB

Input sensitivity: 650mV , 800mV (no feedback)

Input impedance: 180 Kohm

Output impedance: 4 and 8 ohms (optional impedance taps are available by special order)

Valve Art 845B premium cryo-treated tubes are standard, KR Audio 845 optional, NOS driver tubes optional as are hand-polished stainless steel tube surround rings, glass chimneys, blue illumination and steel/chromed-plated chassis (similar to different amp below).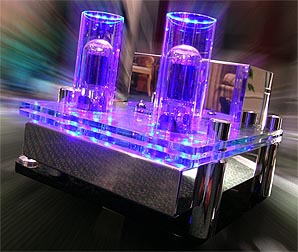 Quartet amplifiers
Retail: $14,500 a pair
Art Audio
web address: www.artaudio.com