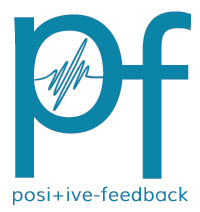 You are reading the older HTML site
Positive Feedback ISSUE
31
may/june 2007
Lone Star Audio Fest, 2007
by Akhilesh Bajaj
All images and processing by Akhilesh Bajaj

The Lone Star Audio fest (LSAF) actually has its roots in the Great Plains Audio fest (GPAF), that was held in Tulsa, OK in 2005 and 2006. I played a small role in helping organize each of those. The primary organizer of these was Wayne Parham, owner of pi speakers (www.pispeakers.com). The main idea behind these earlier fests was to provide an informal opportunity for high efficiency DIY (do it yourself) speaker builders and tube amp builders to show up and learn from each other and have fun! It was decided to host the third iteration of this festival in Dallas to perhaps increase coverage. Members of the Dallas Audio club (notably Jim Rivers of www.fmtunerinfo.com fame) helped in organizing this event. The event was held at Embassy Suites in downtown Dallas. While LSAF was larger than GPAF, the bulk of rooms continued to feature high efficiency speakers, driven by tube amplifiers using a variety of analog and digital sources, ranging from turntables to CD players to the squeezebox by slim devices. The atmosphere was one of friendliness and open exchange of ideas. Most folks came to learn, listen and have a good time.
What follows below is a description of some of the rooms I got a chance to visit, along with a brief description of each. Apologies if I left anyone out.
The John Busch Room
John Busch is a true speaker guru who has built speakers for over 45 years. A very sharp & knowledgeable individual, over the last year it has become my pleasure and privilege to become his friend and to benefit from his advice. Since he and I both like vintage speakers, we always have a lot to talk about! John is a veritable encyclopedia on every version of almost every vintage driver out there! John was kind enough to spend a couple of hours with me this time, giving me advice on how to crossover my Altec VOTT (voice of theater) system, and on some open baffle projects I plan on starting. Playing true to the stereotype of the casual genius, John "whipped" together an open baffle system consisting of a Peerless subwoofer driver and a SEAS dome tweeter, with a "simple" 4 element passive crossover that sounded so good that I saw a lot of people taking notes on exactly how he did it! True to form, he was just giving the design away. While this was one of the few low efficiency systems of the meet (around 84dB), it played just fine with a 15-watt digital amplifier, and the most noticeable feature about it was the seamlessness integration of the two drivers. It had solid bass and very clean highs. In my humble opinion, many commercial speaker companies would do well to consult with John on crossover design! I would also like to thank John for letting me display one of my own single driver systems (a D'Charles Audio 5.5 driver in a PAWO horn) in his room.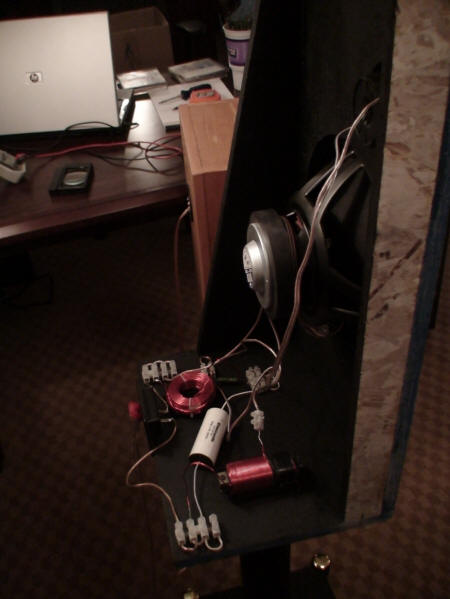 John Busch Open Baffle Back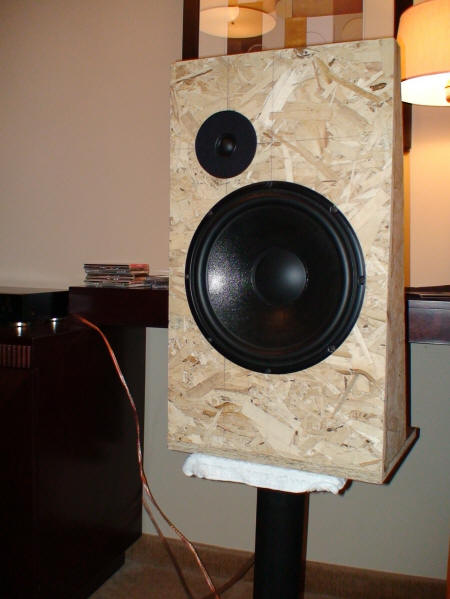 John Busch Open Baffle Front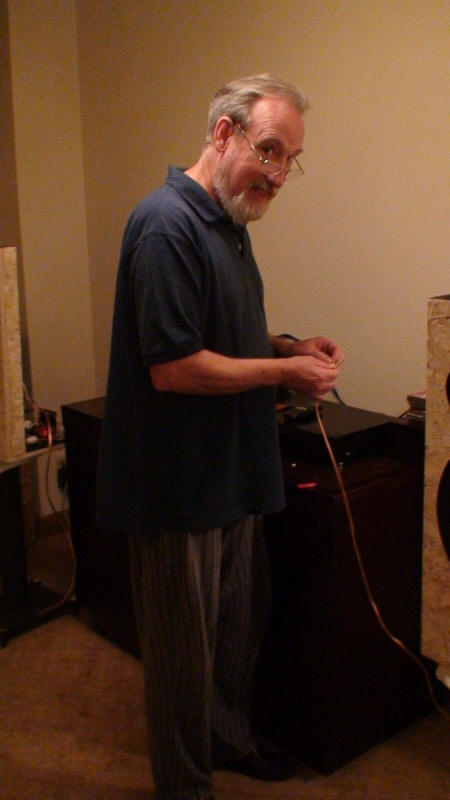 John Busch in action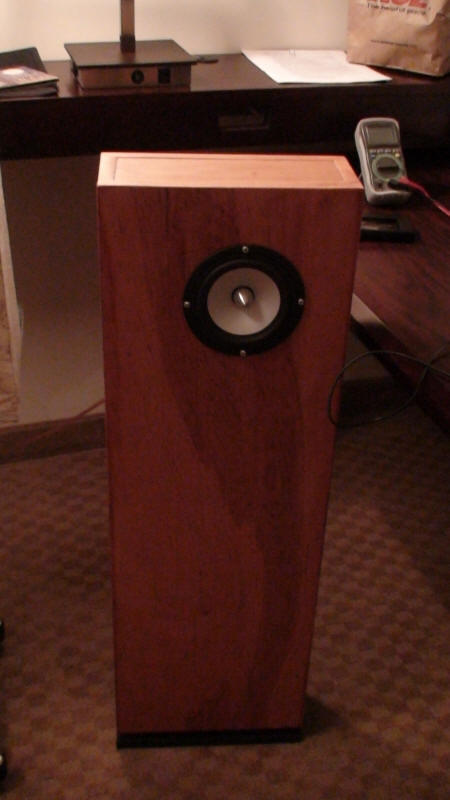 DCA 5.5 driver in PAWO horn
The Brines Acoustics Room
Bob Brines is a courteous, well groomed gentleman from Arkansas who started Brines Acoustics a few years ago. Bob deserves a lot of credit for taking Martin King's theory on single driver design, and creating a well packaged commercial solution, that offers solid value. Several folks who are not DIYers have purchased his cleanly executed speakers, which use either a fostex or lowther driver in a mass loaded transmission line, usually along with a contouring or baffle step correction circuit. Bob also sells a subwoofer to go with this single drivers, in case more bass is needed.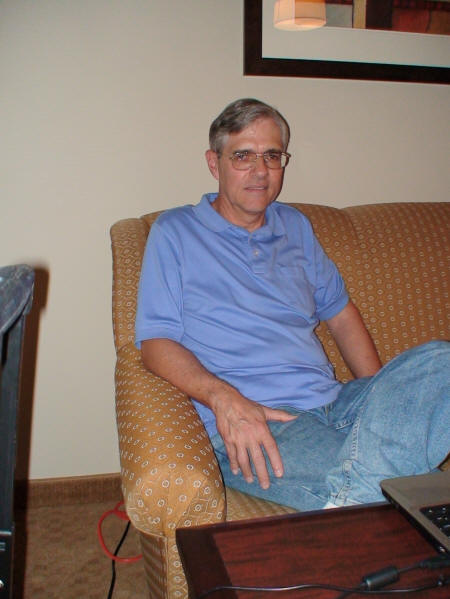 Bob Brines
Several single driver speaker pairs by Brines Acoustics driven by a push pull tube amplifier built by Abraxas Audio
The ART Line Arrays
Fred Thompson was playing the Audio Roundtable Build forum line arrays. This forum benefits greatly from the advice of Jim Griffin, the line array guru. The ART arrays used Dayton 51/4" drivers with a VIFA dome tweeter. Like most well designed line arrays, they threw a large soundstage, and had very impressive efficiency! Fred drove them with a tiny digital amplifier.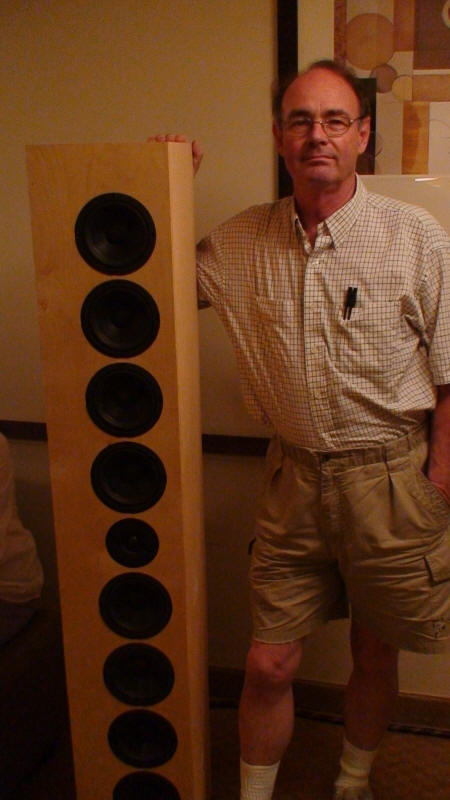 Fred Thompson with the ART Line array
The Audio Note Kits Room
Brian Smith was displaying a collection of the newest Audio Note amplifier kits, driven by an Audio Note TT-1 turntable. Several 300b amplifiers were on display, with ever more exotic transformers! These were all driving a starting speaker kit offered by AN, consisting of their standard 2 drivers. What is impressive is that even their starter kits capture so much of their signature sound.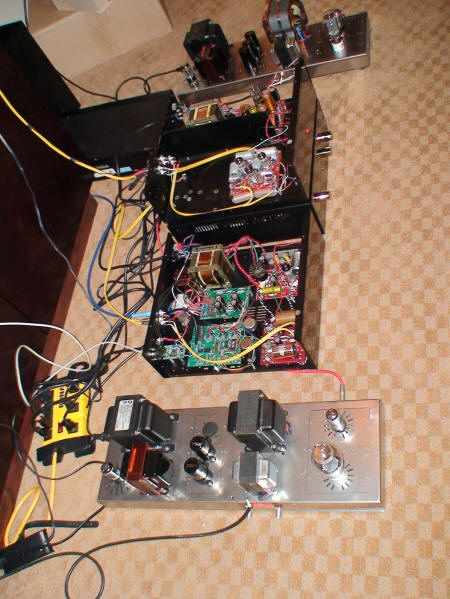 A collection of AN amplifier kits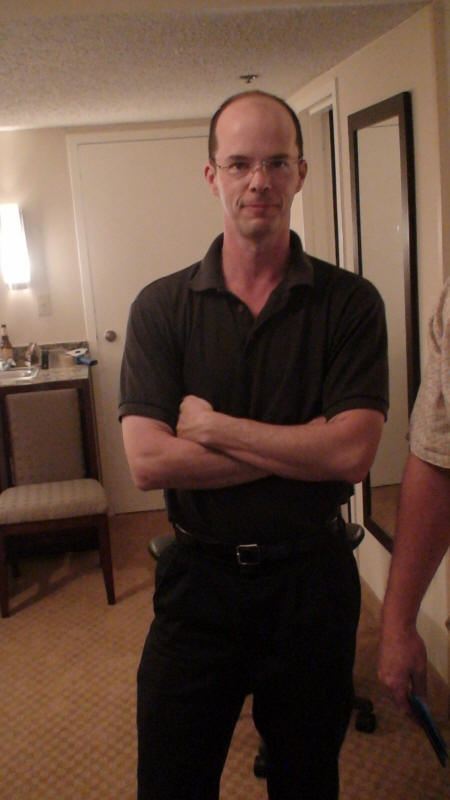 Brian Smith of AN Kits
The Brad Baker Room
Brad Baker was displaying his personal Hawthorne audio duet speaker system. While the system sounded good, I am currently reviewing the Hawthorne audio duet and can safely say they did not sound as good as they can, most likely because of the usual perils of any audio show: strange room and no time to set up. But one could definitely get the flavor of the hawthorne audio sound! Several people enjoyed these high efficiency open baffles. Cold beers courtesy of Brad helped draw a big audience!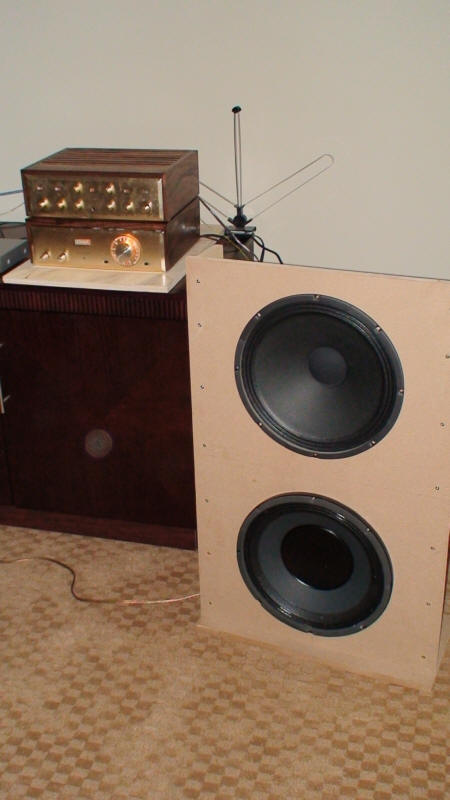 Brad Baker's Homemade Open baffles featuring Hawthorne Audio drivers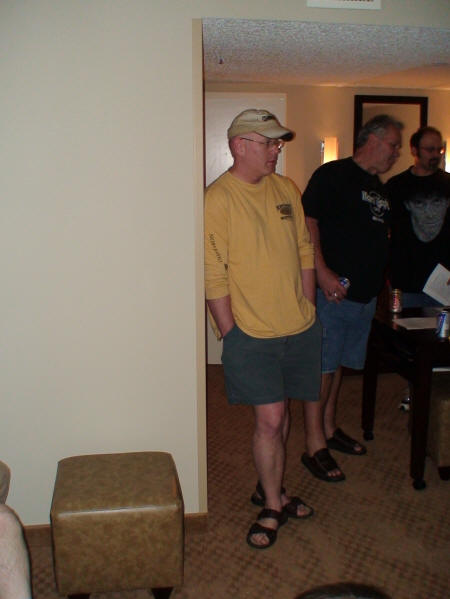 Brad Baker Hanging out in his room
The Affirm Audio Room
Bob Spence was playing his pride and joy: the Affirm Audio Speakers. These use a 6 1/2" coaxial PHL driver that is modded somewhat by Maxx Horn. Bob has been tweaking this cabinet for the last year or so, and when driven by a custom built 50 SET amplifier and a modded Sony Cd player, the sound was extremely musical. Bob was also one of the few who spent a great deal of effort in treating the room acoustically, using bass traps and corner foam. While the frequency extension and balance were very good, as was the 101 db efficiency, the impression that stayed with me most was how the speaker captured the decay of instruments like the piano and cello. I spent a nice hour talking to Bob about his work, and his friend Ka Yeung, of the Dallas Audio club, who owned the amplifiers. Bob was also handing out CD cleaner bottles to visitors, designed to improve CD readability: thanks Bob!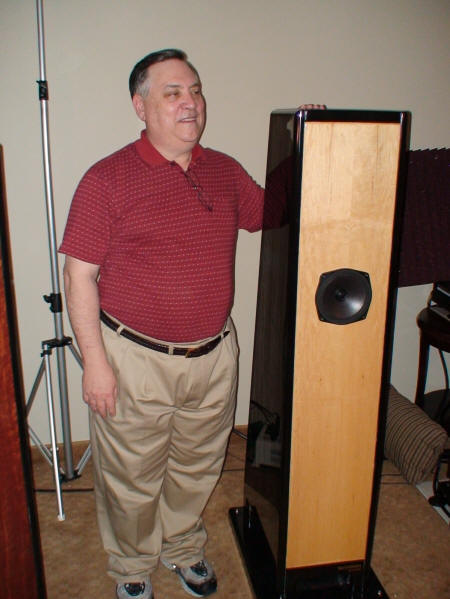 Bob Spence stands proudly next to his progeny: The Affirm Audio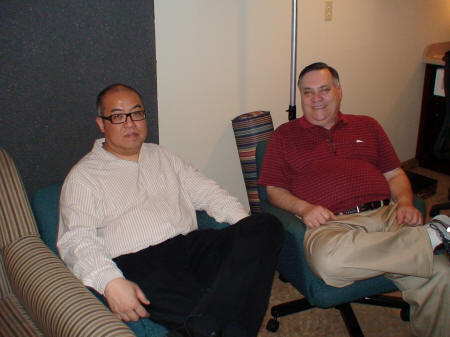 Bob Spence and Ka Yeung, a Dallas Area Audiophile with a nice set of monoblock 50 SETs
The Pi Speakers Room
Wayne Parham, owner of Pi speakers and a good friend of mine was displaying his 7 Pi speakers. The 7 pi is a 3 way design, using horns for the mids and highs, and a corner loaded woofer for the bass. Wayne has been tweaking this design for the last couple of years, and the latest improvement was the treble horn. I am familiar with the sound of these speakers, and could immediately hear that the highs were very clean, and the energy was well distributed across the room. A very clean and musical sounding set of speakers, with 99 db or so efficiency. No sign of a honk! Wayne was driving them with several different push pull and hybrid tube amplifiers. Wayne is very knowledgeable about speaker design in general, and is also a very laid back and approachable guy.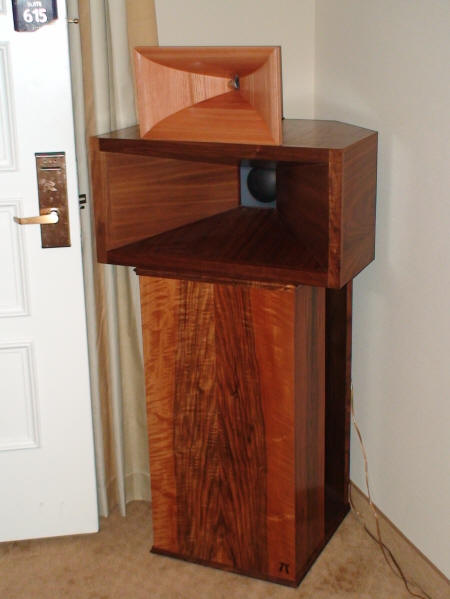 Seven Pi Speakers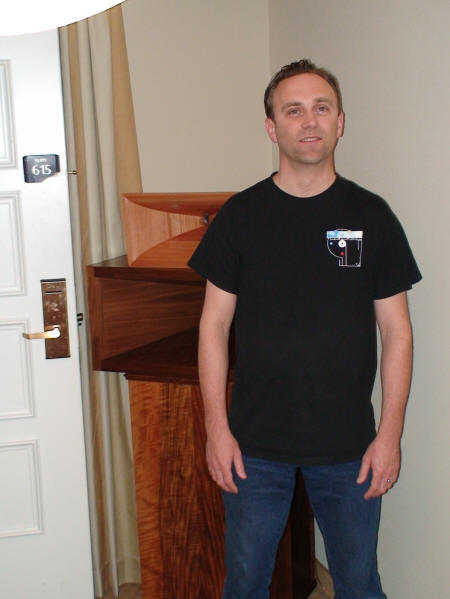 Wayne Parham of Pi Speakers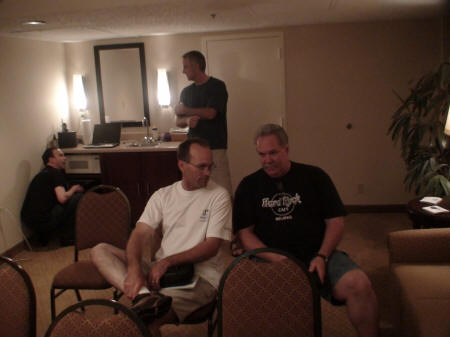 Folks listening to Seven Pi Speakers
The Element Cable Room
Anthony and Chris are part owners of Element Cable, based in Dallas. Not only do they make great lookng and sounding cables, but they usually have great equipment. This year they were using a Vincent CD player, with an Audio valve amplifier and Anthony's personal Von Schweikert speakers. Excellent sound! Like most people at the show, they were very laid back and friendly.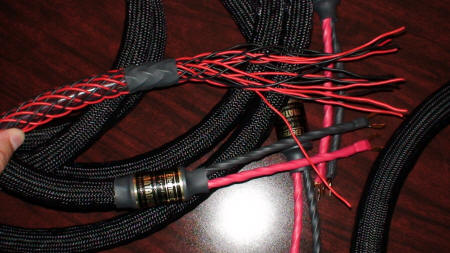 Element Speaker Cable dissected and finished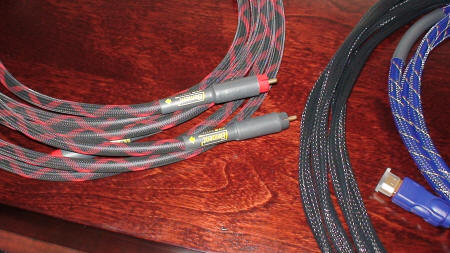 Element Cable Interconnects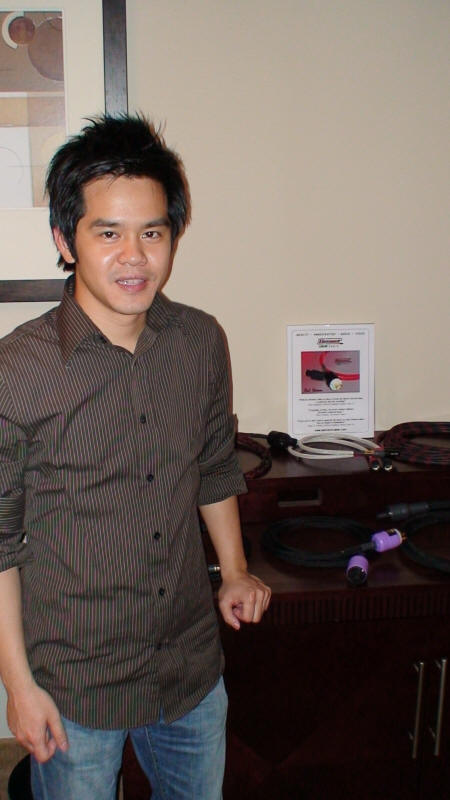 Anthony of Element Cable
The Jim Rivers Room
Jim Rivers was one of the principal organizers of the event this year, and is also well known as one of the leading players in www.fmtunerinfo.com. He is a consummate DIYer. Jim was playing some excellent sounding music with his analog setup, driven by audio electronic supply 845 SEt amplifiers.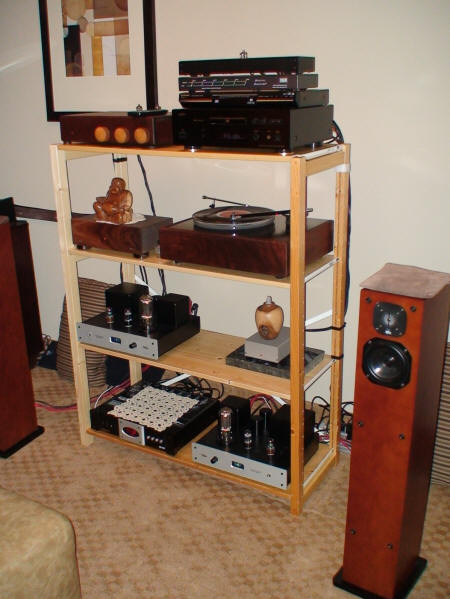 Basic setup in Jim's room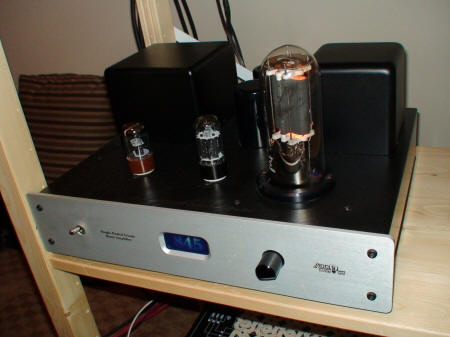 Closeup of AES 845 SET monoblock
The Audio Kinesis Room
Audio Kinesis is owned by Duke LeJeune, a displaced Cajun now living in Iowa. Duke is one of the nicest guys in audio. He wears many hats: dealer, speaker builder, DIYer, but at heart I suspect he is just in love with audio gear! His trademark lava lamps were absent this year. Duke was displaying his new speaker: the Jazz Modules. these are a 2-way high efficiency speaker that uses technology developed by Dr. Earl Geddes in the distribution of the highs. It uses a 10" alnico (yes!) Pioneer woofer and a Beyma compression driver in a waveguide. The overall sound is neutral and clear, with good frequency balance across the whole room. Duke also used a variety of interesting budget sources: the Paradisea Dac from Taiwan, and the Oppo DVD player, not to mention an old infinity preamplifer. Power amplification was with a pair of humongous SET amplifiers built by Richard "power man" Gray.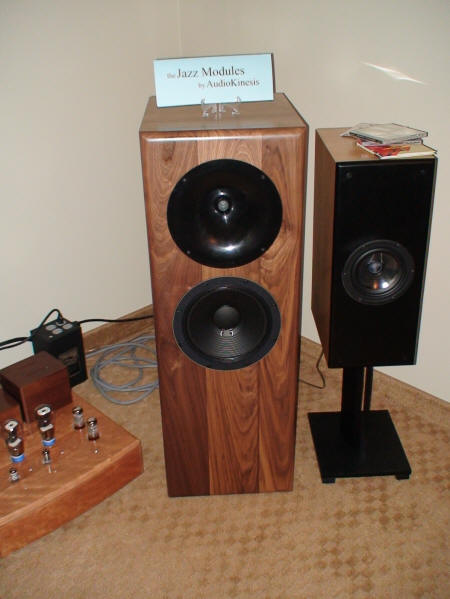 Jazz Modules from Audio Kinesis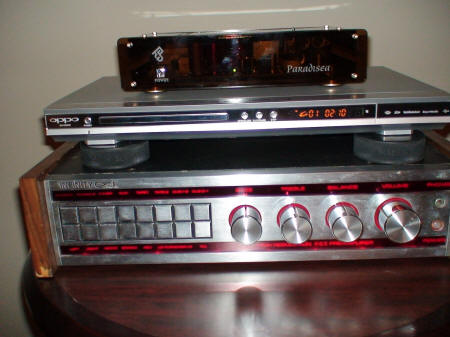 Sources Used by Audio Kinesis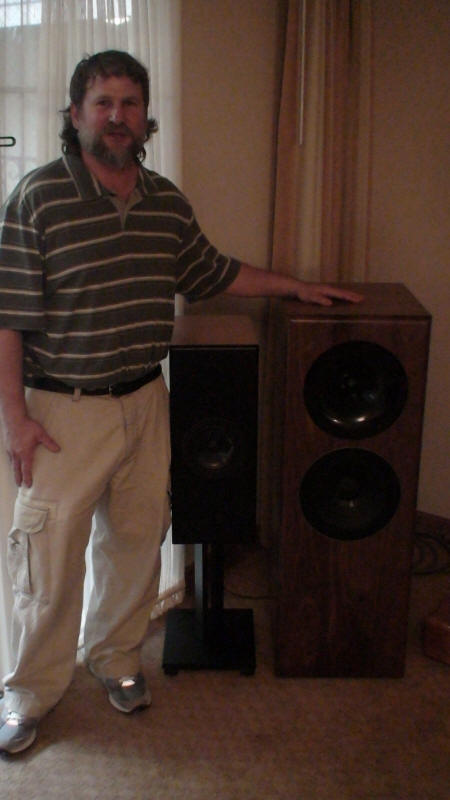 Duke LeJeune of Audio Kinesis with his baby
The Clarity Cables / Custom Isolation Products Room
Melissa Owen and Tate Blanchard were representing clarity cable and custom isolation products respectively. They had some great music playing on Swedish Martin design speakers, using dual Accuton woofers and a tweeter. The source and amplification was also very high end. The overall sound was very clear, controlled and distortion free. Both the cables and isolation racks seemed very well made. Thanks to both for the free demo CDs that they were handing out!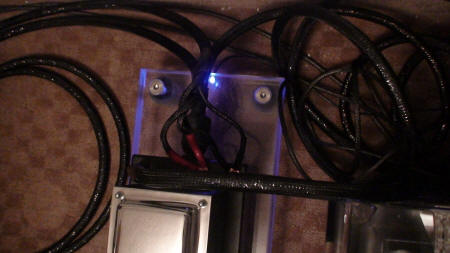 Clarity Cables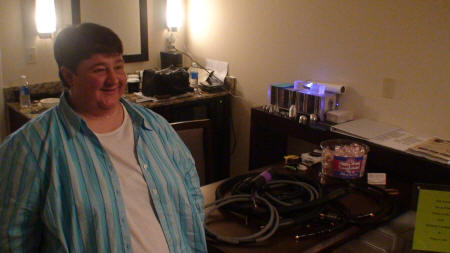 Melissa Owen of Clarity Cables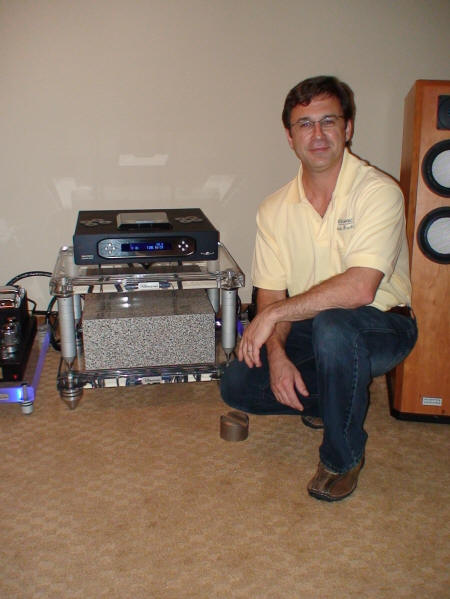 Tate Blanchard of Custom Isolation Products
The Polk Audio Room
Russ Gates was the Polk representative at the show. A pair of monitors and a pair of floor standers were demoed. I only got to hear the monitors, and they sounded like a well thought out design.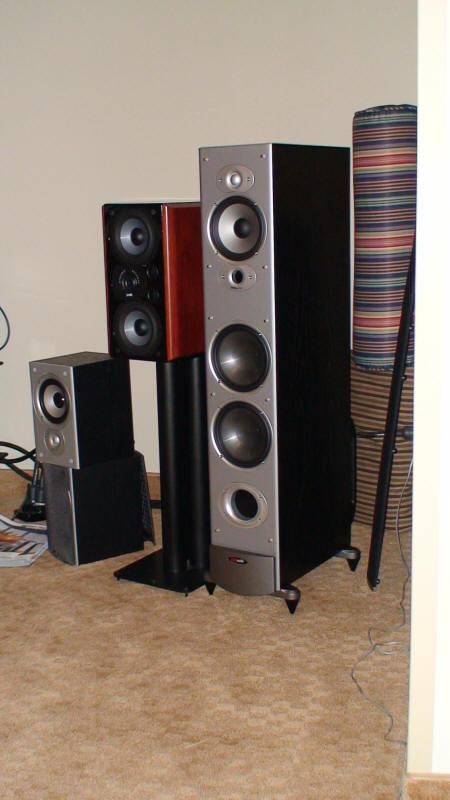 Polk Audio Speakers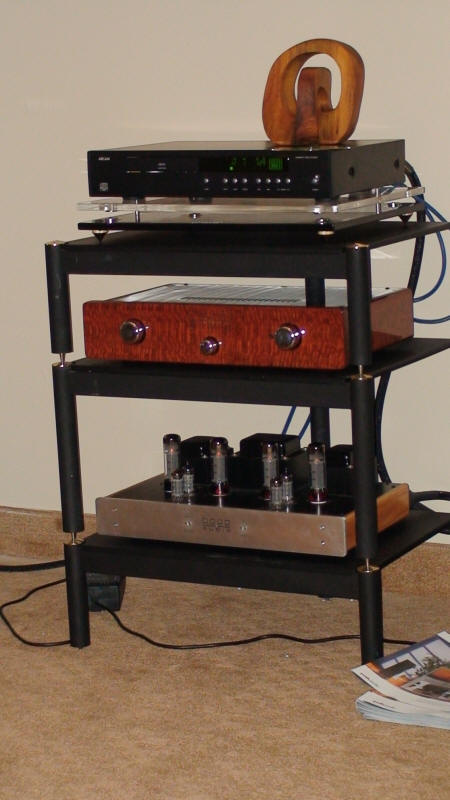 Polk Audio Rack with Dodd Audio amplifier
The Abraxas Audio Room
Jeff Larson is first and foremost a tube and audio junkie. He has also been building custom amplifiers for the last several years, and does great work. He specializes in picking tubes no one else is using and in making them sound good! I have listened to several of his amplifiers over the years, and even own one, and I have never heard a malfunction or any buzz or hum. At the show he was demoing his latest baby: a 2a3 driven by a pentode tube (D3a). It sounded very clean, with good bass. It controlled the pi speakers 2 pi system well, and I cannot recall hearing those 2 pis sound better. Debbie has some exotic tastes in music and one can also rely on getting some good ideas from her on what to listen to.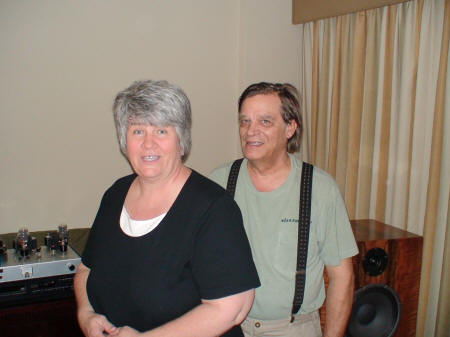 Jeff and Debbie of Abraxas Audio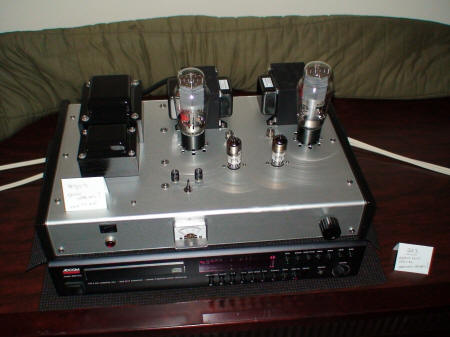 Latest Amplifier from Abraxas Audio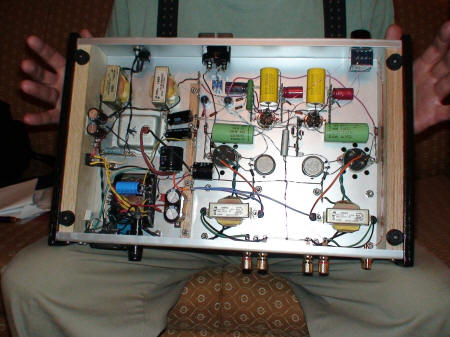 Jeff does good work!
The Jumping Cactus Room
Jim Harvell from Tucson Arizona (yes, go Wildcats!) was showing a 3 way system that is actively crossed. It consisted of eminence drivers with a Marchand crossover. The speakers were built in solid aluminum boxes, and were on solid aluminum racks. Can you if tell Jim's day job is in aerospace? The overall sound was nice and balanced.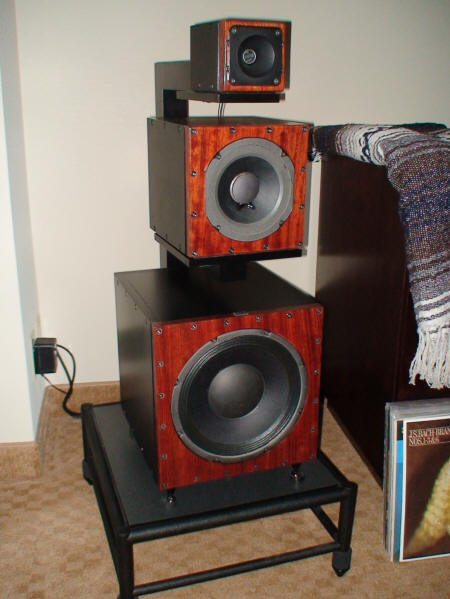 Jumping Cactus 3-way system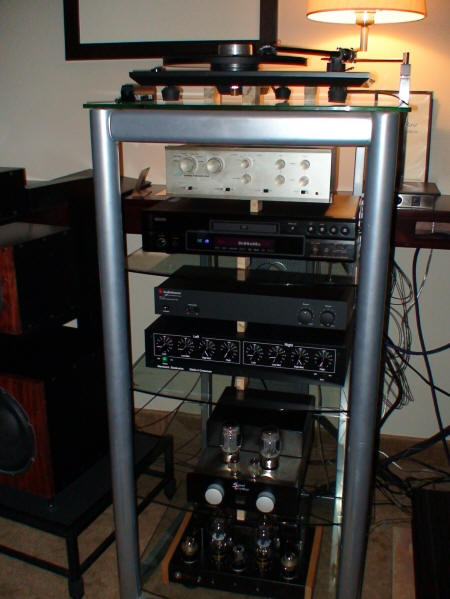 Jumping Cactus Room Audio Rack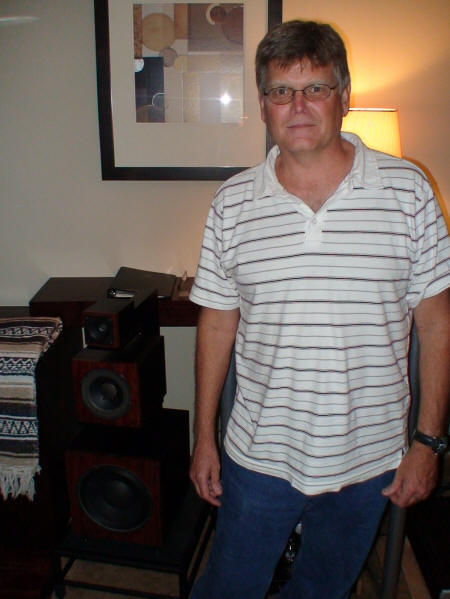 Jim Harvell of Jumping Cactus
The Audio Note Room
Cornelia Davis from Colorado was displaying a very high end Audio Note system (not kits). This consisted of AN/E SPE speakers, OTO phono SE, CDT-3 CD transport, DAC 4.1X, TT2 turntable with Arm three AN-Vx Interconnects and AN Lexus XL speaker cables. The overall sound was typical high end audio note, deep, musical and analog sounding. Cornelia was very friendly and had some great analog classical music to play.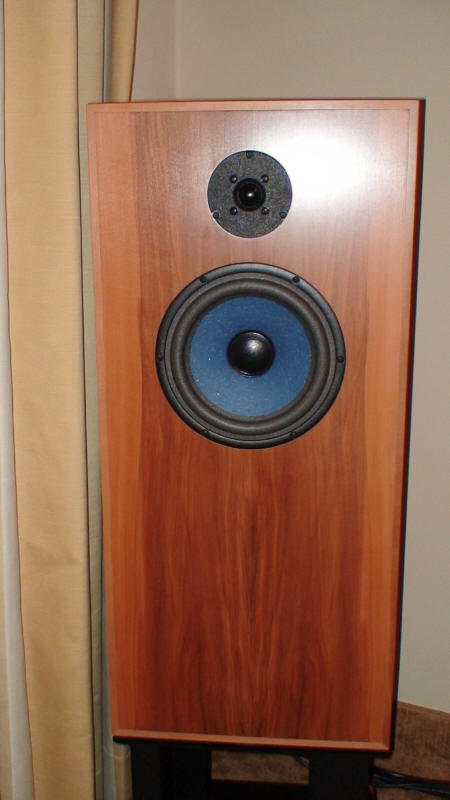 Audio Note Speaker with Hemp Cone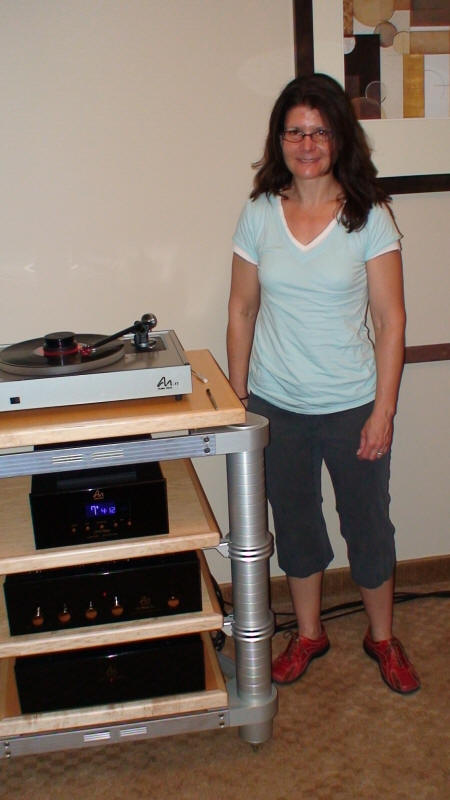 Cornelia Davis with High End Audio Note components
The Skip Pack Room
Skip Pack from Houston was displaying his Lowther alnico 8 inchers in a medallion cabinet. Skip was using a line level baffle step passive circuit, along with a slim devices squeezebox to get a nice selection of music going. While light on the bass, he Lowthers excelled in resolution of midrange and highs.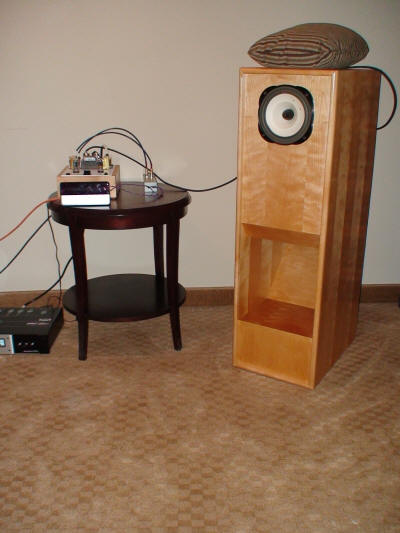 8 inch alnico Lowthers in medallion cabinet
Well, that's it folks. In my opinion, fests like this capture the spirit of all that is fun about high end audio, and contain perhaps the seeds of revival for the newer generation of potential audiophiles. About 25 of us went out to dinner Friday night, and it being May 5th, naturally we picked a Tex Mex restaurant that was packed tighter than sardines in a can. But the food was good, and the company even better. Hope to see even more people next year!