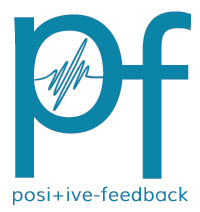 You are reading the older HTML site
Positive Feedback ISSUE
31
may/june 2007
Lone Star Audio Fest, 2007
by Albert Porter
All images and processing by Albert Porter

This is the first year Audio Fest has been held in Texas. Show days were May 4th, 5th and 6th. The location was the Embassy Suites Hotel, Dallas Market Center, on Stemmons Freeway, in the shadow of downtown Dallas.
Although it was possible to attend both days, (the 4th was a set up day), I was in attendance only on Saturday the 5th.
By the time I arrived, just before lunch, every room had several listeners but overall traffic was fairly light.
I'm told the turnout was higher than previous years when it was called Great Plains Audio Fest and held in Tulsa, Oklahoma.
The first room I visited was π Speakers. Their corner horn Seven π Pro Series was placed on either side of the entry door of the room and driven by Audio Note kit 2 and Selectronic ProFet amp and preamp.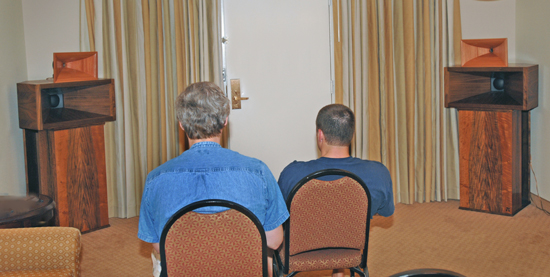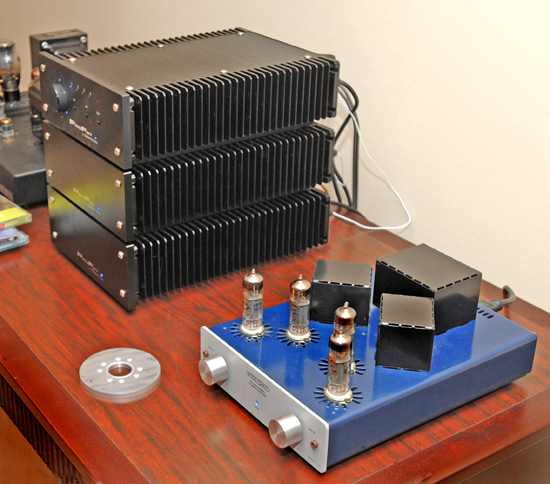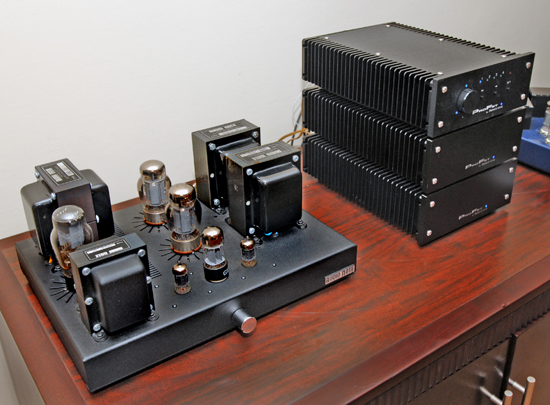 This was the sole exhibit on the 6th floor.
The 7th floor housed the remainder of the show, with room 701 showing off the Element Cable line. The personal equipment used for the demo was Von Schweikert VR4 Jr., Audible Illusions 3A, Vincent audio CD, Audio Valve Challenger mono blocks and a J.A. Michelle Gyro SE turntable.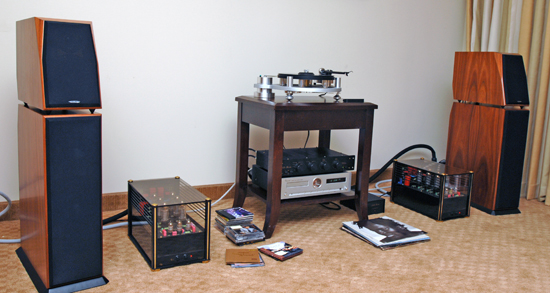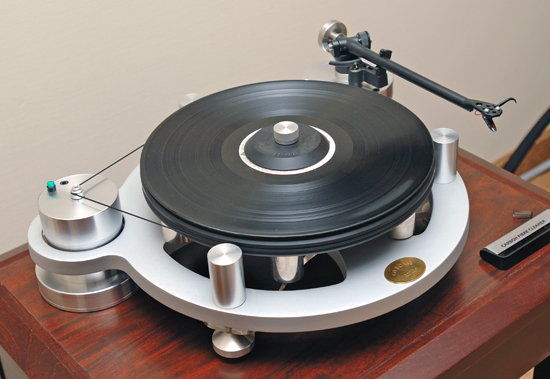 Bob Spence of MaxxHorn fame featured a custom version of his Immersion speaker with a light inlay face of Maple. This is quite a departure from the traditional all black finish I saw at the Denver audio show. Amps were John Wiesner SET type 50, rated at 4.5 watts per channel and the source was a heavily modified Sony 9000ES.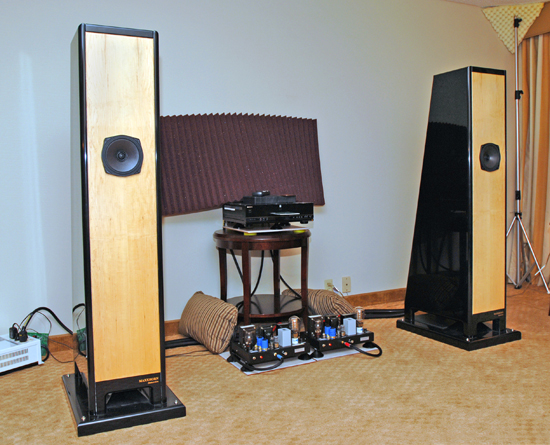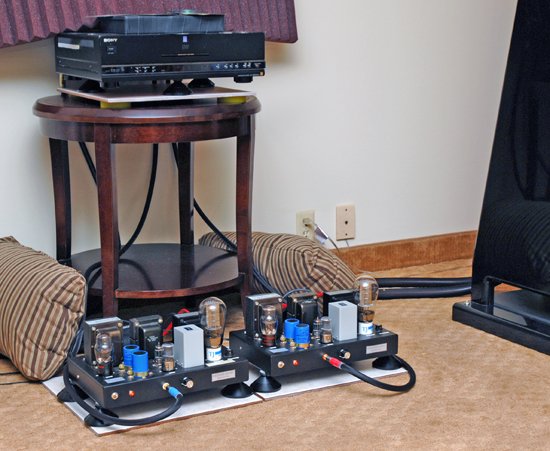 AudioKinesis showed off their Jazz Modules speakers.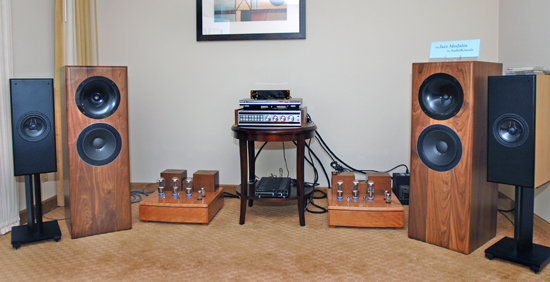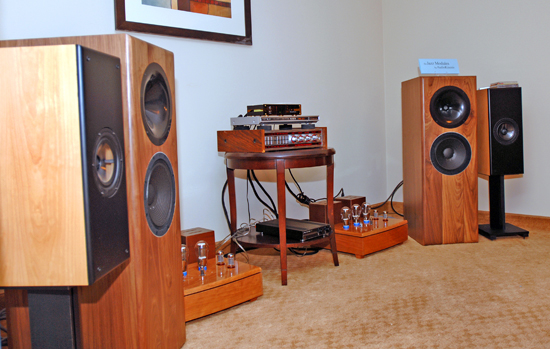 Associated equipment included a vintage Infinity FET preamp and the beautiful Richard Gray model NTV18 amps employing a WX-250 type tube. This model's rated at 18 watt per monoblock.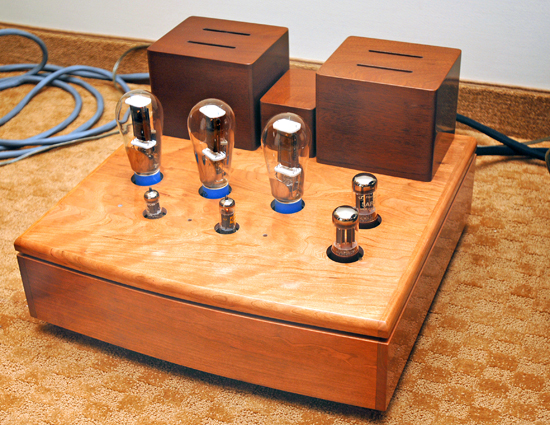 Source was the Oppo DV-970 with an outboard DAC
Brad Baker was in room 714, showing off his vintage Scott 222C from 1962.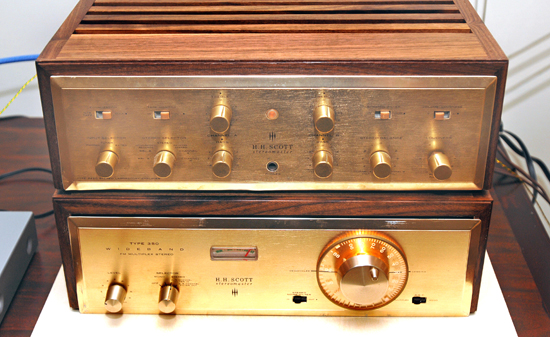 His source was a Toshiba Universal CD player and a 100 watt per channel plate amp. The sound from the Hawthorne Coax speakers was very nice.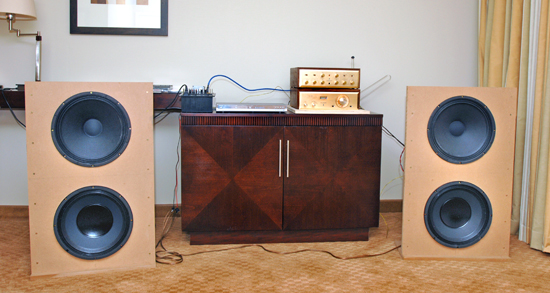 The tweeter is nestled in the center of the upper driver, providing nicely integrated sound.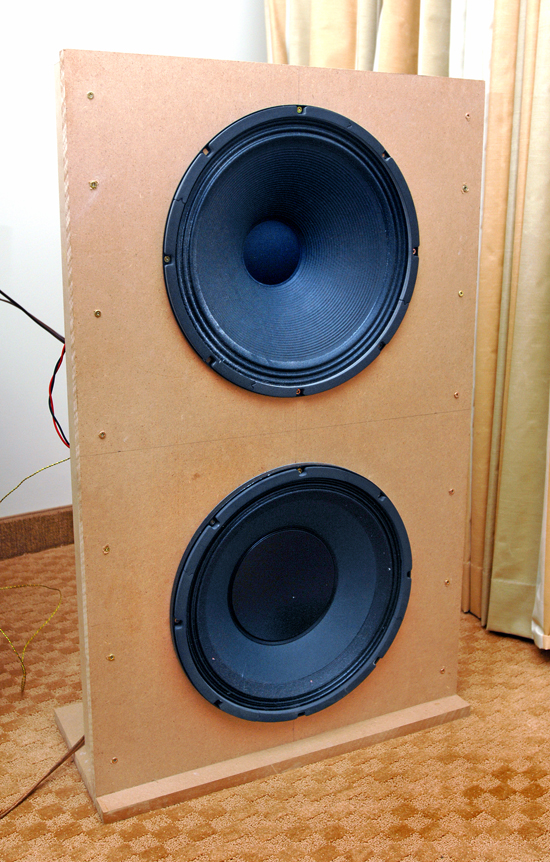 Room 707 was a personal project room, an open baffle speaker design using Peerless drivers and driven by the Musical Fidelity A308 integrated amp.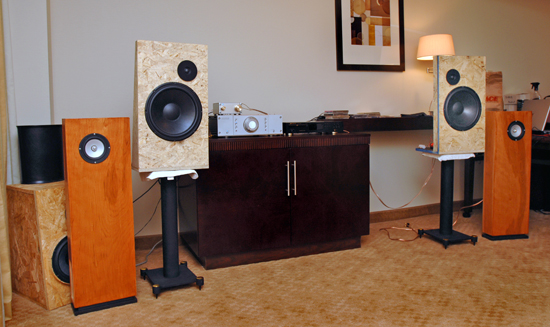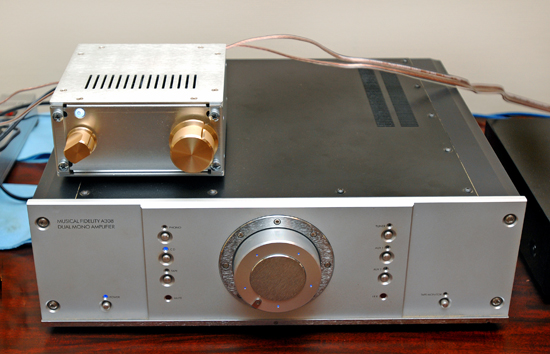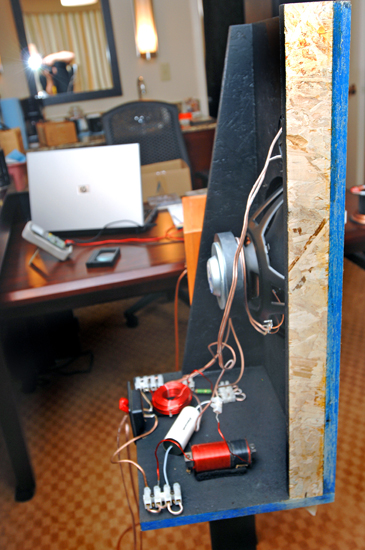 Room 704 featured the ART Array, a very inexpensive DIY line array that has received some raves at audioroundtable.
The drivers and crossover are less than $300.00 and the speaker cabinet can be as basic or fancy as the customer desires.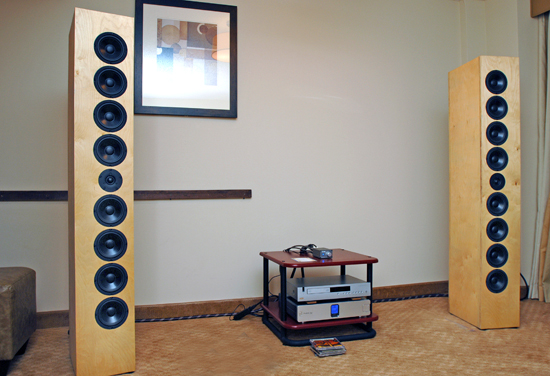 Amplification was The Trends TA101 amplifier.
The Dallas Audio Club showed a fancier cabinet version of the Fred Thompson ART array in room 726.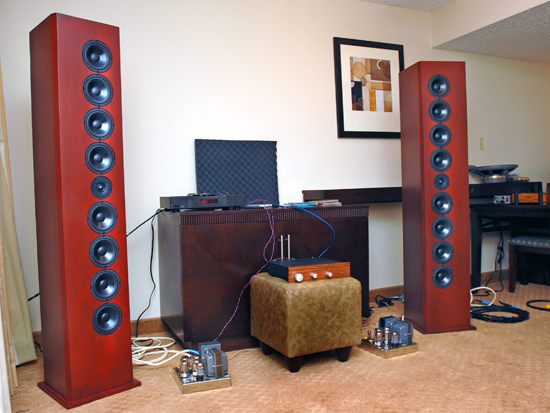 Vintage Dynaco amps powered these.
The most unusual design at this show had to be the speakers in room 728.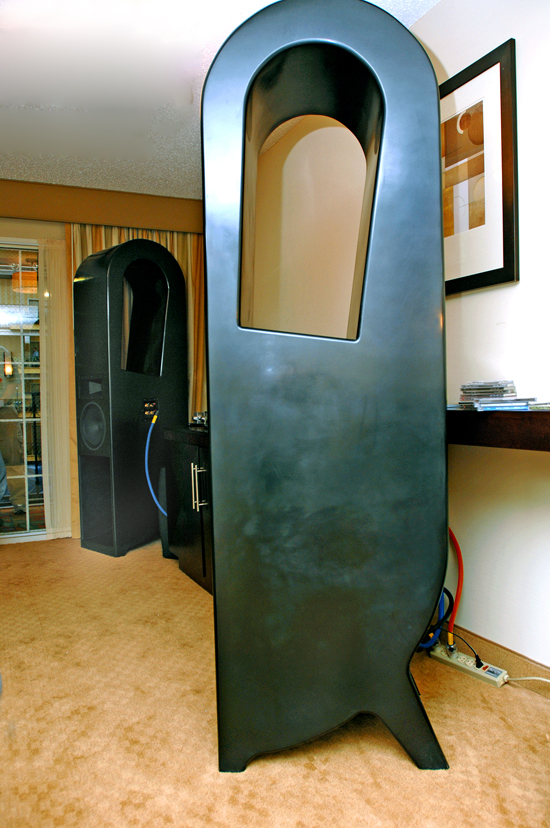 This horn speaker by Audio Mirror was shown with the T61 Audio Mirror preamp and Audio Mirror amplifier.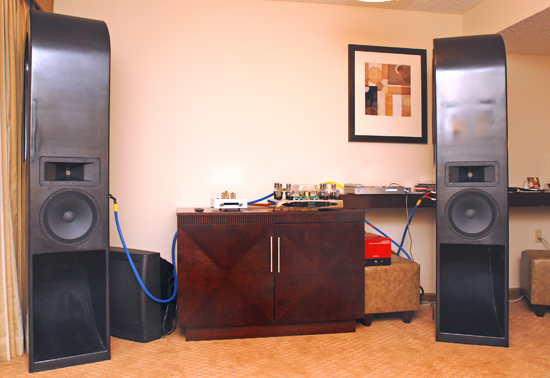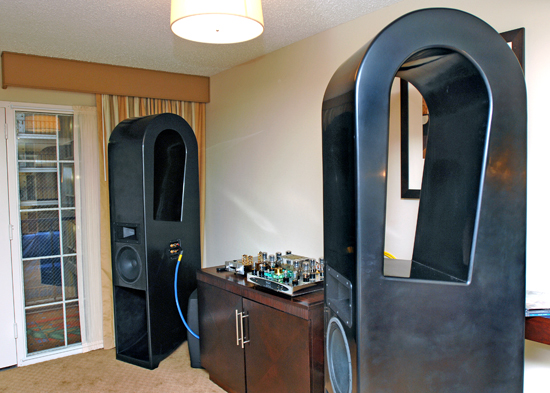 Audio Note UK showed off a very nice system consisting of their TT2 Turntable with Arm Three, Audio Note AN/E SPE speakers, Audio Note integrated amplifier OTO Phono SE, and the CDT-Three CD transport and DAC 4.1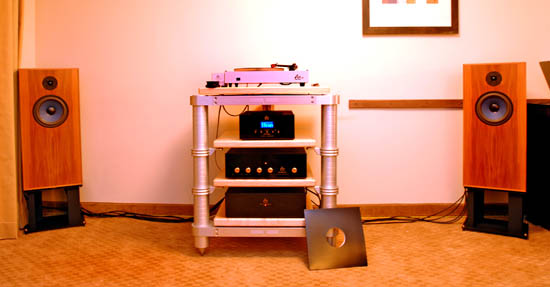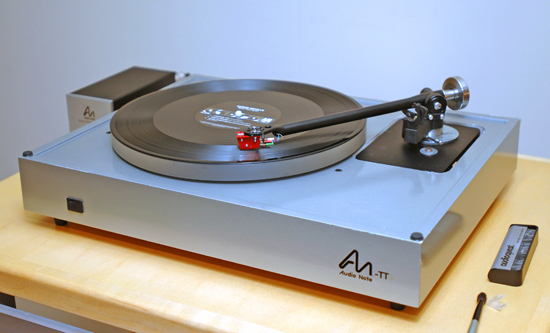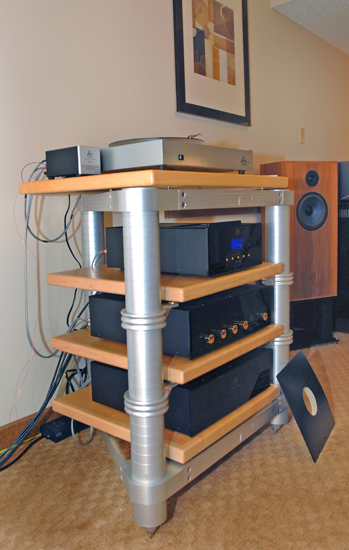 The Custom Isolation Products room was shared with the folks from Clarity Cables. The Custom Isolation Products Ultrasonic Racks, illuminated by blue lights made room a unique display. The racks held the well known Art Audio Concerto and Audio Aero CD/Preamp that was making nice sound with the Martin Design loudspeakers.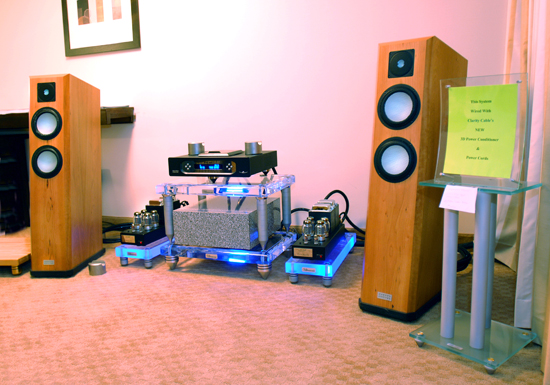 The power conditioners as well as all cables were by Clarity Cable Company of Wichita, KS.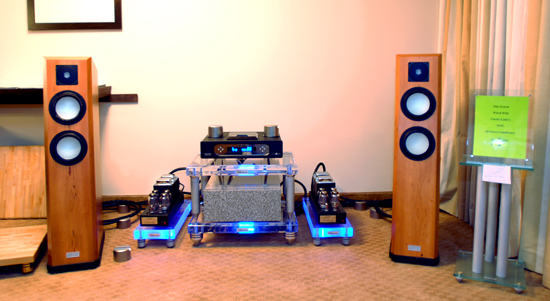 Local Dallas audiophile Russ had a nice display of Polk Audio speakers in room 721, powered by products from our local audio guru Gary Dodd. Gary's amps and preamps have received acclaim from around the globe and in this room were making great sound with the Polk Rti10 speakers.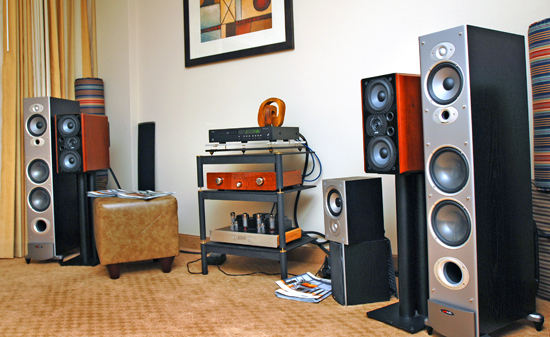 Jumping Cactus Loudspeakers of Tucson, AZ showed their speakers in room 718. This is a high efficiency, isolated aluminum enclosure design that is Patent Pending.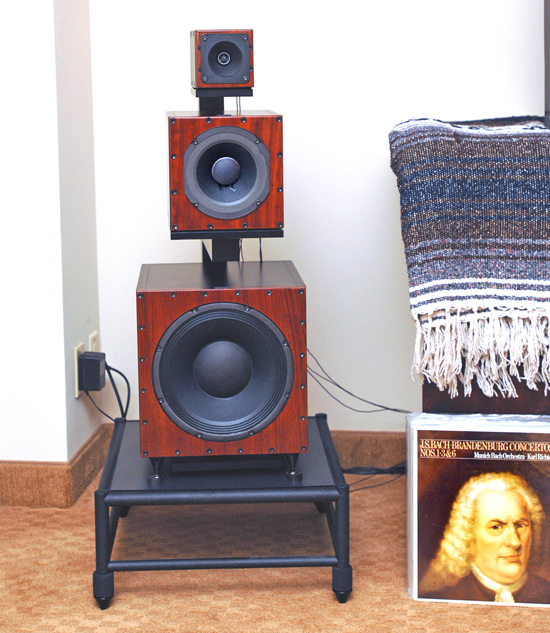 Electronics included a vintage Dynaco preamp, a Denon CD player, Sound Creative power and a Rega turntable.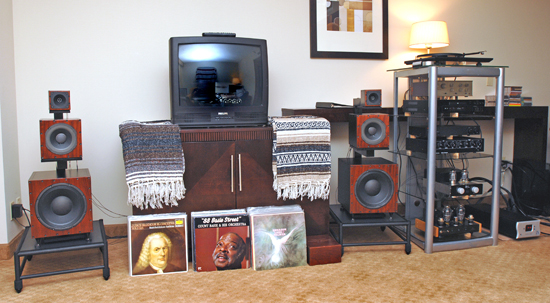 In room 706 I found Bob Brines of Brines Acoustics of Arkansas enjoying the fruit of his labor.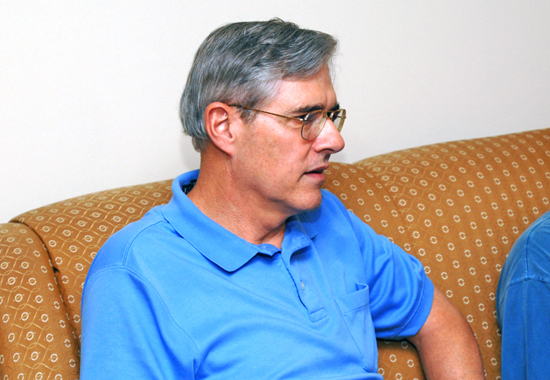 His line of speakers shown here include model FB-16, FB-20, FT-1600, LT-2000/FE207E and LT-200/DX2. All of these are based on either the Fostex or Lowther drivers.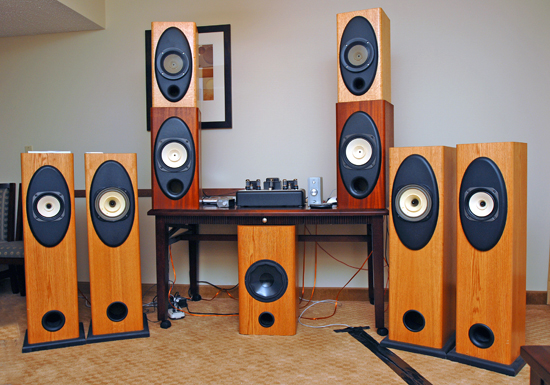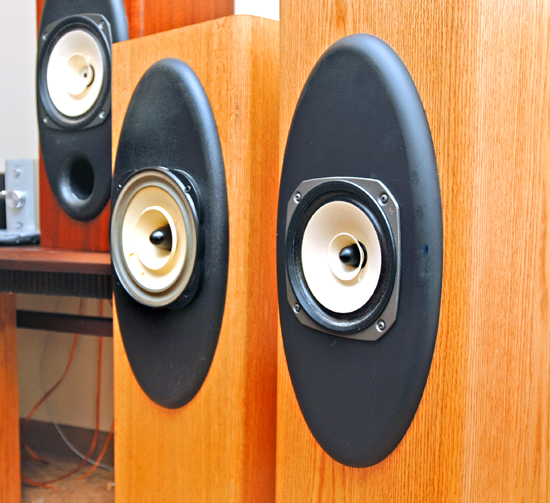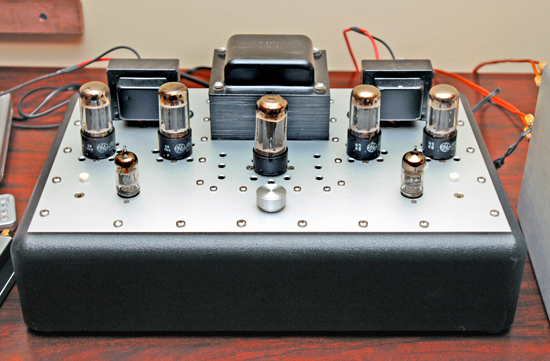 Speakers by π were shown in room 719 and I was impressed more with these than the corner horn display from the same designer (on 6th floor).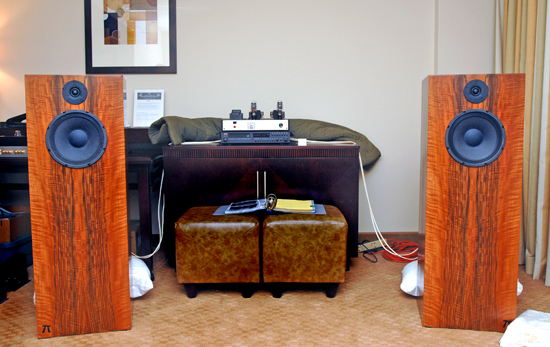 Jef of Abraxasaudio provided the Loftin-White 1626 (Darling) amplifier, utilizing a 2A3 output tube. This was making very nice sound with the π speakers.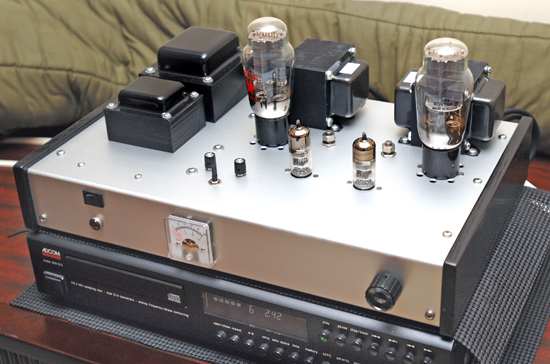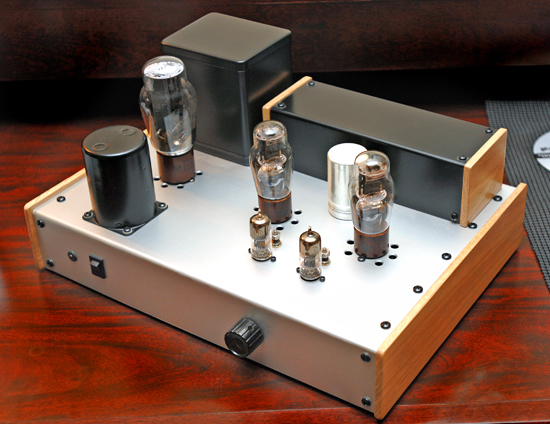 Room 729 is the Dallas Audio Club again, here I found Jim Rivers (on the right), standing in the back of the room with John Semrad (to the left).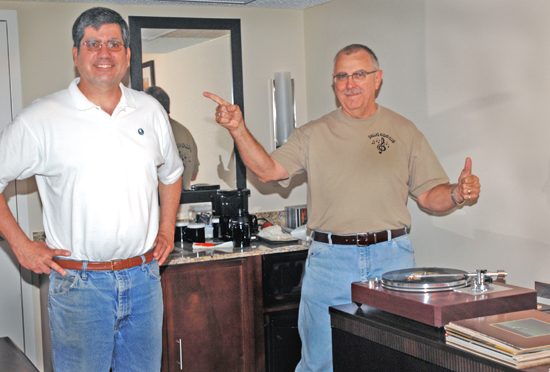 Jim Rivers is well known for his FM tuner site: http://www.fmtunerinfo.com/
John Semrad is a fine furniture builder by trade, producing custom hardwood designs for some of the top corporations in Dallas, TX.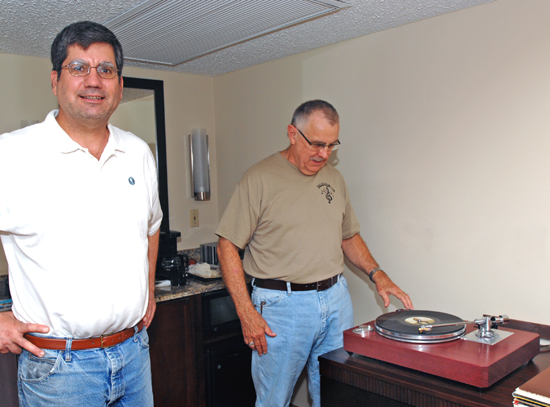 The image above shows Jim Rivers taking in the view of Johns' custom plinth for his Micro Seiki direct drive turntable.
Here are some nice close up's of his work.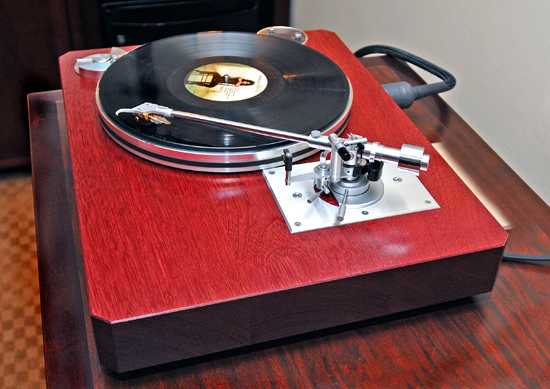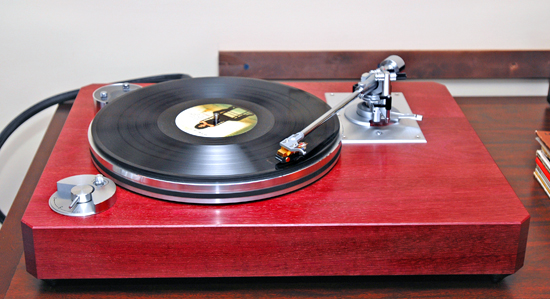 Nice sound in the room from the JM labs speakers and tube electronics are a Bottlehead knockoff. Phono stage began, as a Dynaco PAS but modified. Rega P3 table, Denon 1560 CD player and AES (Cary) 845 amps.
This was an enjoyable show, with very relaxed and friendly.
I suspect much of this is because exhibitors show for the price of an ordinary hotel room and visitors are admitted for free.
Smaller shows like this and The Denver AudioFest are the perfect balance of equipment and people. I'm already looking forward to next year.