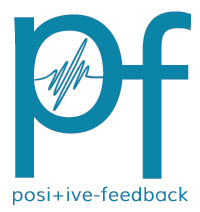 You are reading the older HTML site
Positive Feedback ISSUE
31
may/june 2007
Notes of an Amateur - June, 2007, Part 2
by Bob Neill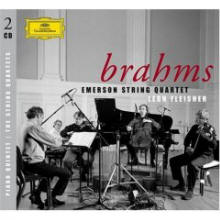 Brahms, String Quartets Nos. 1-3, String Quintet. The Emerson String Quartet: Eugene Drucker and Philip Setzer, violins; Lawrence Dutton, Viola; David Finckel, cello. With Leon Fleisher, piano. Deutsche Grammophone 8718 (2 CD's)
The Emersons are both praised and blamed for a sound and approach that has been described as "American," as in "not European": bold, full, and warm, tending towards the symphonic. They tend not to be elegant or restrained. Even their Haydn Project brings out the Beethoven side of Haydn. To my ears, their Shostakovich and Bartok are definitive among performers of their generation, and their Beethoven is among the very best.
All of which should make them promising Brahmsians, especially for those who like Brahms played nineteenth rather than eighteenth century. I am among the latter (I am very keen on Norrington's set of the symphonies on period instruments); but it is interesting to report that the Emersons' Brahms leans a little my way. Instrumental textures and lines are wonderfully clear, and the group's characteristic vigor is held a bit in check. This is not 'lite' Brahms by any means, but it is more graceful and lyric than I expected. Frankly, it is as close to ideal Brahms as I've heard in a long time. And Fleischer seems an ideal companion in the Quintet.
Special kudos as always to recording engineer Da-Hong Seetoo, who knows these musicians well and has always captured them perfectly. These records are the epitome of naturally recorded music.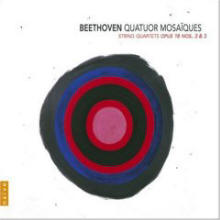 Beethoven, String Quartets Opus 18, Nos 2 and 3. The Mosaiques Quartet: Erich Hobarth and Andrea Bischof, violins; Anita Mitterer, viola; Christophe Coin, cello. Naïve Records E 8902.
If there is an ensemble which keeps the Emersons from being as definitive in Beethoven (at least in Opus 18) as they are elsewhere in the repertoire, it is the thoroughly European Mosaiques, who play on period instruments. What this remarkable group of musicians shows us in that there is another way.
Lean textures are the hallmark of period instrument chamber performances, and they are not favored by everyone, especially not by those relatively new to string quartets. Their chief defect, painfully demonstrated by the Soloman Quartet's Haydn recordings a generation ago for Hyperion, can be a tendency towards nasty nasal astringency. Their virtues, amply revealed in the Turner Quartet's Beethoven, the Festetics Quartet's Haydn and Mozart, and the Mosaiques' Beethoven, Mozart, Haydn, Schubert, and Mendelssohn, are clarity, an appealing bitter-sweetness, and masterful control over inflections that once tasted can be addictive. In the Turner Quartet's version of Opus 18 on Harmonia Mundi (the Festetics have not recorded any Beethoven), the clarity of period instruments is married to a commanding vigor. With the Mosaiques, we have instead lyricism and grace, which complements the taut sound of their instruments eloquently and suits these early Beethoven works perfectly.
It has taken an age for this ensemble and its label, Naïve, to complete this set. Quartets 5 and 6 came out in 1995, 1 and 4 several years ago. This concluding CD is every bit as good as the others.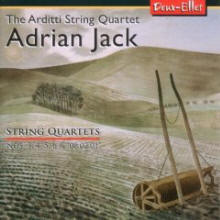 Adrian Jack, String Quartets Nos 3, 4, 5, 6 and 08.02.01. The Arditti String Quartet: Irvine Arditti and Graeme Jennings, violins; Ralf Ehlers, viola; Rohan de Saram, cello. Deux-Elles DXL 1116.
I have reviewer Colin Anderson of the absolutely essential Fanfare Magazine to thank for alerting me to this recording, though the Arditti Quartet are a strong recommendation themselves. As those of you who are fans of modern music likely know, their recorded repertoire includes Birthwhistle, Cage, Carter, Ferneyhough, Gubaidulina, Kurtag, Legeti, Rihm and Scelsi, among a great many other lesser lights.
Jack is a sixty-four year old British composer, who wrote the four quartets and additional short piece in this release between 1996 and 2002. He starts out in the earliest quartet on the program (Number 3) as a bold, crisp modernist. This is a style I am always drawn to. The musical ancestors are Bartok and Shostakovich with hints of Debussey. As we move onto the later work, it becomes clear that these major composers were merely starting points for Jack. By the time we have reached Quartet Number 5, the fourth piece on the program, we are into more contemporary idioms, where chant-like repetition and soundscape building take over. This contemporary Jack is not much interested in musical form, such that without program notes, the listener is hard pressed to hear where one movement (or work) ends and another begins. Being drawn to this music is more like being drawn to a musical world than to a recital of discrete works. It is an attractive world, characterized more by meditation than narrative flow. There is some drama here and about, but it fades rapidly, like everything else. The principal mood is transitoriness. The music does not conquer or order time, which is music's traditional role, or even create temporary stays against its passing. It submits to time's authority. It picks us up for a moment or so, then lets us quietly down.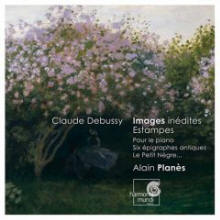 Claude Debussy, Images Inédites, Estampes, Pour le Piano,etc. Alain Planès, piano. Harmonia Mundi HMC 901947 (2 CD's).
Claude Debussy stands at, arguably is, the gateway between the nineteenth and twentieth centuries. When his music for solo piano is played right, we can literally hear both centuries. Played wrong, either too lush or too stark, its monumental stature is lost. And we don't have to hear many notes to know when a pianist has got him right. Planès, who has already given us the best Schubert within my memory, gets Debussy perfectly. The music rings with late nineteenth century lyricism; it strides with a grandeur that only a lean modern imagination could achieve without being overblown. Debussy's music for solo piano is to his oeuvre what Picasso's drawings are to his. Passionate but also absolutely clear. Apollo who understands Dionysus, who has been Dionysus. It is difficult to appreciate how extraordinary this music is until you hear it played like this, by a musician who clearly has come to inhabit it.
Planès is the first pianist who has made me feel the range and command of Debussy. It is hard not to think Bach - Beethoven - Debussy when you hear Planès play this music on his Steinway. I used to explain (and patronize) Debussy with the concept of Impressionism, the style in the arts that with impressions of the world 'transitions' us from realism in painting and late romanticism in music to modernism in both. But Planès' Debussy lifts the composer out of that role entirely. He is utterly late romantic and at the same time utterly clear. Passionate and rigorous, lyric and playful. This is what Planès did in his Schubert cycle: lifted the composer out of the box we have put him in. He enriches and makes more complex Schubertian melancholy. He enlarges and transforms Debussy's 'impressionism.' He shows us the composer who led Stravinsky from late romanticism where feelings are indulged to modernism where they are clarified.
This is Planès's third and final set of Debussy's solo music for piano, and while I heard a great deal to love and admire in the first two sets [http://www.positive-feedback.com/Issue25/neill.htm], either this one is even better or I have gotten better at recognizing what I'm hearing. It is only June, but for me this is already the album of 2007. I may be surprised later in the year, but at this point I can't imagine anything coming along that is this good or this musically important. Here are the earlier recordings:
Preludes, Books I and II, Harmonia Mundi HMC 901695
Children's Corner, Suite Bergamasque, Images I and II, Harmonia Mundi HMC 901893.
System used for these auditions: Audio Note CDT 3 transport and Dac 4.1 Balanced Signature; Blue Circle FtTH hybrid integrated amplifier; JM Reynaud Offrande Signature speakers; with Audio Note Sogon interconnects and Lexus speaker cable.
Bob Neill, in addition to being an occasional equipment and regular music reviewer for Positive- Feedback Online, is also proprietor of Amherst Audio in Amherst, Massachusetts, which sells equipment from Audio Note, Blue Circle, Manley Labs, and JM Reynaud, among others.