Just a few short years after the term "universal player" was coined, it's already obsolete. A true universal player would have to read a veritable alphabet soup of new, old, dead and soon-to-be-deceased formats including HD DVD, Blu-Ray, SACD, DVD (Audio and Video) and, of course, CD. In that sense, the Pioneer Elite DV-79AVi is so 2003. Let's call it a multi-format player instead and focus on what it can do, which is play everything except the new hi-res video formats.
The DV-79AVi ($1000) is the current flagship in Pioneer's Elite DVD line, and it's one hell of a nice piece. Though it's not as stout as the company's products that are more legendary (the massive DV-09 comes to mind), it's built like a bank vault compared to mass-market machines. More good news: it's $600 less than the model it replaces, yet it features a substantially beefed-up chassis, and added features like up conversion to 1080i (but not 1080p).
Speaking of features—where to begin? The DV-79AVi has just about every connection you could possible want, and certainly 90% more than I would ever use. I can't imagine bypassing the analog outputs on a player this good, but those looking for the simplest route from A-to-B will appreciate the HDMI output, which transmits the digital signals for everything except SACD, or better still, the i-Link connection that lets you ship everything, including SACD signals, directly to compatible receivers and processors.
A 'Pure Audio' mode goes a step further than most 'video-off' functions. It not only shuts down the player's video circuitry, but it also kills the front panel display, making a significant, audible difference every time I used it. Once engaged by a button on the front panel, it stays engaged until you eject the disc; it can only be activated or deactivated when the player is stopped.
Two processing modes—Legato PRO Conversion and Hi-Bit—can be accessed only via the on-screen menus. That's unfortunate because it makes them virtually impossible to navigate in an audio-only setup like mine. Legato PRO Conversion upsamples, Hi-Bit increases the bit depth, and both operate only during CD playback. You have to experiment to get the best results. Sometimes, using only one of the two worked magic, other times a combination of both made an improvement, and on a few occasions, I preferred the sound without either engaged.
Legato PRO also comes in four flavors: "standard", plus three effects described in the owner's manual as "bright and lively", "soft and rich" and "solid and well balanced." I sometimes noticed a slightly artificial quality to the sound when Legato PRO was engaged. It wasn't often present, but when it was, certain instruments (like snare drums and cymbals) could sound tinny and crunchy. I eventually turned off Legato PRO entirely, but left Hi-Bit engaged for part of my listening.
With or without the signal processing, this is a superb sounding machine, handily eclipsing similarly priced DVD players from only few years ago. It beat up on my Elite DV-45A from 2002 ($700 when first offered; technically still a current model but availability appears limited to dealer stock) as well as my Denon DVM-3700 ($1,200 when introduced in 1999). It also stacked up nicely against the Rega Planet 2000 ($995; discontinued) but with its somewhat forward character, the DV-79AAVi lacked the finesse and overall naturalness of Rega's new and improved Apollo (also $995).
Using its analog stereo outputs, the separation of individual instruments and voices was nearly impeccable on CD. I could pick any instrument in the mix, and easily follow it through a well-recorded performance. The DV-79AVi effortlessly untangled complex arrangements and rhythm tracks while offering a terrific sense of the recording space. I was equally impressed by the "wholeness" of individual notes, especially considering that CD playback is not this unit's primary mission. Instruments and voices were both properly placed and scaled, and imaging was rock steady.
SACD and DVD-A are by no means an afterthought on this player, as evidenced in part by the front-panel SACD setup menu. Rumor has it that earlier Pioneer units converted DSD to PCM, but the DV-79AVi doesn't. I was thrilled by the clarity and smoothness of SACD playback, especially considering that the format can sound a little too smoothed over on certain players. DVD-A performance was as crisp and sharp as I've come to expect, and the sonic differences between the two formats were easy to detect.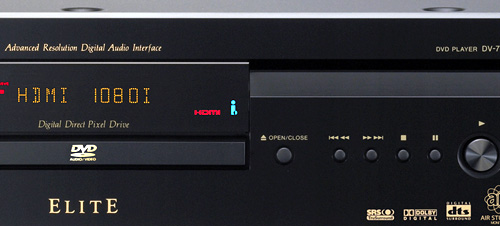 For example: Ryan Adams' "Gold" is one of the few titles that was issued in both formats. On the DV-79AVi, the SACD version sounded like good analog while the DVD-A disc was punchier and more precise—definitely digital, but without the Red Book artifacts. Though I'd all but given up on hi-res, the DV-79AVi has forced me to reconsider. It's that enjoyable.
Using the component video outputs, picture quality was a step up from the Elite DV-45A and at least two steps up from the Denon DVM-3700. The Pioneer handles video much the same way it handles audio: crisply, with razor-sharp definition and contrast. I don't know if there's a certain sect of videophiles who, like audiophile vinyl lovers, prefer a softer, more analog-like rendering. If there are, this isn't the player for them.
In summary, the DV-79AVi does everything exceedingly well. Though its CD playback doesn't quite match that of the overachieving Rega Apollo ($995), it's close in many respects. Plus, while the DV-79AVi carries an MSRP of $1000, its actual street price is considerably lower—about $700 as of this writing. At that price, I'd have no qualms about recommending it for CD playback alone. The addition of state-of-the-art SACD and DVD-A capability, together with superb video performance and solid build quality, puts it at the very top of my list. Highly recommended for audiophiles and home theater buffs alike. Ed Kobesky
DV-79AVi
Retail: $1000
Pioneer
web address: http://www.pioneerelectronics.com