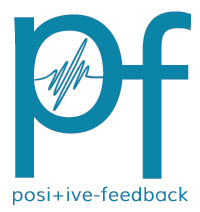 You are reading the older HTML site
Positive Feedback ISSUE
30
march/april 2007
Orpheus in der Unterwelt
by Karl Lozier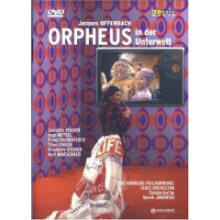 Jacques Offenbach Hamburg Philharmonic State Orchestra. Conductor: Marek Janowski. Chorus and Ballet of the Hamburg State Opera. Arthaus Musik DVD101 267
As you guessed, the title's English translation is simply Orpheus in the Underworld. This operetta by the well known French composer is presented here in what is essentially a German production. I have not and do not consider myself an operetta reviewer or critic. I simply was so impressed watching and listening to this recording that I wanted to share my feelings about this very special release. My wife, Pat, and I repeated watching/listening to this recording a second time immediately after the first! I cannot remember when the last time was that we did so. I readily admit that when I am watching something that really interests me, my usually critical audio faculties often take leave. That is certainly true here—I paid no attention to whether this video release has 5.1 soundtrack or not—simply good quality mono!
Unusual in my experience is included instructions for playing this DVD though different players may vary slightly—experiment. Do bring up and use the correct subtitles. This is important for fullest enjoyment. One of the principal characters is entitled "Public Opinion" and would be tough to figure out if you did not speak or understand German, without the subtitles.
I am listening and watching this fine DVD as I am writing these words. The fact that the picture is not high-definition and the sound is 35 years old mono bothers me not one bit. Admittedly playing the disc on my usual home theater system results in the sound coming out as a if it were a seven channel recording (plus a pair of subwoofers) though all channels are carrying the same sound of course. Accurate or exactingly correct—no, though surrounding and very pleasing from a well done mono recording of fine vocalists and orchestra is obvious. Fine, natural reproduction of the strings and smooth overall audio quality is apparent when listening intently.
The plot while rather simple has a number of twists and subplots going on at the same time. Beautifully rich singing and unusual costumes add to the enjoyment. Orpheus is the human world's greatest musician. He is cheating on his wife and vice versa. She gets killed and the very attractive "public opinion" talks Orpheus into following her down into the underworld (hell). Well the Greek "gods" are down there slumming with fun and games plus singing. As examples, "Mercury" arrives riding a motor scooter and "Eros" shoots a couple of crooked arrows of love from his poor excuse for a bow. Unfortunately, approximately three feet is its maximum range. Beautiful voices, both male and female (no harshness) fun situations, much subtle humor and great costumes, often on beautiful women, and a well done version of Offenbach's "signature tune" the cancan dance and music add up to delightfully more than the usual sum of the fine parts. Obviously a top recommendation!
A couple of background facts that might be of interest: Offenbach was German by birth though he studied in France, played the cello, conducted and composed there, mainly French comic operettas. The reviewed composition was the one that led first to his fame though he composed more than ninety operettas. He came to the United States in 1876 for the U. S. Centennial Celebration. For his orchestra at that time he hired a young musician to play first violin. That musician became famous in a different musical niche. His name was John Philip Sousa!