Short Background Note
The folks who demand stuff from me, like these follow up comments to my recent report concerning the remarkable Kubala-Sosna line of cables, are not easy to ditch, shirk, shrug, or diss. To be an audio reviewer, especially one plunged in the bowels of the high end, you need gumption.
Gumption's a Scottish word from the early eighteenth century that my Cherokee grandmother used on the Wyoming plains back in the early middle of the last century near the end of her life. I'd visit her, ride horses, and climb rusted out Model-T trucks sitting in her side yard staring across infinite prairie. I looked hard the same direction those frozen metal carcasses gazed at. A boy with some degree of shrewdness (gumption), I figured that spent husks of vehicles cast aside so carelessly must have reasons to imitate Bartleby's dead wall reveries …unless they were tireless Buddhists in a trance of godless wisdom.
I never figured out which, but I've known ever since that the Old Indian Lady was right. I loved my mom's mom for her rugged disposition and her lessons still pay off—like heeding grumpy demands from those higher up with a stiff upper lip. That's gumption.
Getting To It
Gumption can be defined also by the clever way an Audio Grunt grovels on hard wood floors behind his main playback rig. It takes a yogi's flexibility and a saint's patience to install heavy bi-wired speaker cables.
Did I mention how heavy Kubala-Sosna's Emotion speaker cables are? I won't mention (yet) how expensive they are. But, if you've got to install two (2) three-meter pairs in order to have one bi-wired set, you're up against issues of flexibility, patience, and weight.
Let's think this through a moment. If the "throw weight" of a NASA Titan rocket is so many millions of pounds of thrust to lift, say, a five hundred ton payload into medium earth orbit, how many pounds of lift do I need to thrust these speaker cable behemoths into the middle-low trajectory of my Tetra 606 nicely crafted spade lug connectors?
My calculator broke when I started the '07 tax season, so I can't run these numbers, but I'm sure the cable installation I underwent a few weeks ago took gumption to its maximum. Nonetheless (by definition), I got them snug in place. Why do innocent reviewers face such savagery? Imagine a guy coming into your work place and demanding servility (actually making you quake) or else: get this set of heavy objects delicately hooked with nuanced precision or else. It's that simple. One needs more than gumption.
I'm proud to report it only took a few hours of straining, twisting, contorting and, ultimately inventing new forms of manual digitations to complete my heavy speaker cable hook up. All this volunteer effort for cable duty when, on a normal day in sunny California, I could stroll a beach or lollygag in my sling, cerveza poured, Bach's cantatas purring heedlessly like Hawaiian breeze on a baby's bottom.
I'm certain the Kubala-Sosna guys are kidding. I'll bet they are actually going for a "best cable on the block" award. Or maybe "the speaker cables you most want installed by someone else if you want to win at audio" …something like that, because four of these three- meter Kubala-Sosna speaker cables drop a blue cloth-covered gravity bomb not easily dismissed by a single Boddington's or your average dram of single malt.
Did I mention the damn things are good …very (very) bloody good?
Hoisted Speaker Cables Examined
I have often mentioned that I despise speakers, nearly all speakers, because the vast majority are (a) colored; (b) phase deficient; (c) spectrally challenged; (d) lacking in three-dimensional and/or dynamic accuracy; and (e) colored more than a spotted palomino trashing a paint store. And I've noted, too, that the best most speaker cables can do with overpriced audio blur is cover it up or diminish its worst by acting as wired tone control devices.
Enter K-S Emotion speaker cables. Once you're over the work of getting a bi-wired set harnessed, you can ride them as long as you want—listening for audio coloration, sonic aberrations, and dynamic overkill or roll off. None of that no mo' here now. It ain't there. These stupidly heavy wires dismiss or dissolve or simply don't allow such grunge.
First, during this protracted listening period (at the coerced bequest of superiors), I've been fortunate to have speakers worthy of these cables. Second, this system has never reproduced music with such stunning vividness, coherence, dynamic accuracy, and just plain musical glory.
Because my main listening gear serves, also, as part of BluePort's two-tiered mastering set up, a great deal of critical scrutiny is brought to bear on how my recordings are reproduced through its unforgiving instrumentation. To that end, my main audio rig has never (not once) replicated both the smallest and largest details of carefully wrought high-definition (24/96 and 24/192) "on location" recordings with the degree of musical relaxation, sonic detail, and three-dimensional soundstage recreation now extant.
If you speculate that such a combination of increased accuracy, detailed vividness and truthful musical pace impresses this humble (too obedient) listener …you guess right.
Listening With Care
The initial sound I tested these hefty cables with was a recent recording of Herbie Hancock and Wayne Shorter that I made direct-to-two tracks at 24/96. Over many years some of the finest cable craftsmen have given me access to their exotic creations. Not long ago, I noted that I've been lucky to record with Kubala-Sosna cables, an experience to be reckoned (and repeated). For this particular recording, that was not possible. Learning of this session, Jeff Smith at Silversmith Audio offered two long sets of his Palladium wire as microphone cables along with short runs of these extraordinary, and mind-bogglingly expensive, cables. I'll report, before long, on distinctly different glories attached to recording with various high-end audio cables, each sonically obliterating wire that occupies the de facto recording industry standard
Alongside my Tascam RA-1000 direct-to-disc recorder, a requisite two channel tube mic-preamp gathered Herbie's delicate fingerings upon a $200,000 Fazioli piano. A Manley two channel "Dual Mono" tube mic-preamp received Wayne's ethereal soprano sax musings. Good gear is essential to superior sound; one records live music and hopes for the best. Few occupations make a person so humble. The recording was approved (and more, with my sincere appreciation) by Mr. Hancock. Because it owns an unusual degree of micro-signal audio energy, it provided a stern test of what Emotion speaker cables are capable of.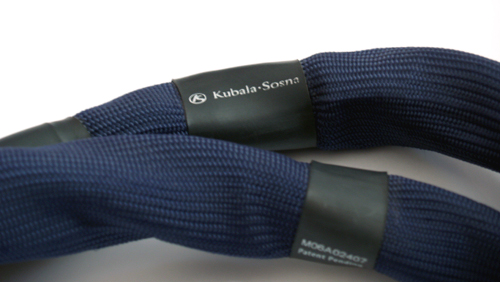 Wham, right away, I heard sonic nuances that my system had not previously reproduced. The cables that these Kubala-Sosna wires replaced were no less expensive than the hefty price of these four. Immediately I was aware of a second quality that surprised me: the effortlessness of the sound, utterly relaxed music. While recording, I heard this music directly, with naked ears at stage side, as well as through two pairs of expensive head phones. I'd listened to it multiple times before the Emotion cables were heaved into place. This early moment of audio recognition was surprising in the simplest way possible: because of the intimate proximity between the recording's Emotion-grounded reproduction, in my studio, and the sound I heard during the recording process on stage.
A digressive footnote here. Near approximation to a complete and absolute reproduction of an original set of sonic signals—of music performed live and captured at its source—is likely to remain just that (a "near approximation" at best) always. Why? For the inevitable reason that "live sound" heard directly at its moment of inauguration carries sonic traces, both enhancing and detractive, which cannot be fully, accurately replicated by recording and by reproduction—no matter how far a recording is pushed to gather an unblemished exact copy of the original creation.
All that notwithstanding, audio and musical relaxation may be, in fact, one of the most elusive attributes of both well-recorded sound and of accurately reproduced, well-recorded music. For me, listening across weeks through the "invisibility" (inaudible presence) of these speaker cables, has been a completely joyful experience. The tandem of increased audio detail and enlarged musical relaxation reassure me that the cable-swapping I endured was worthwhile work. Did I mention that the mysterious and crafty Kubala-Sosna cats, back near my alma mater in New Jersey, are not likely to pry these wires from my fierce grip (regardless of conclusions)? How does one, informed and seduced by new levels of awareness, throw such pearls in the sea?
Concluding Bottom Lines
Obedient, intimidated by reality's grim logic, I'm not inclined to acquiesce toward comfort or whispered threats. Perverse stubbornness forbids my forgetting an Old Cherokee Woman's strictures about gumption. I'll not betray those who've gone before. Nor those who go forward now, colleagues perplexed, as I am by the dangerous allure of music's limitless kingdom. Summon laughter on our witness, ganged together seeking perfect sound, since expertise and pontification are equal before stale grandeur's annihilation.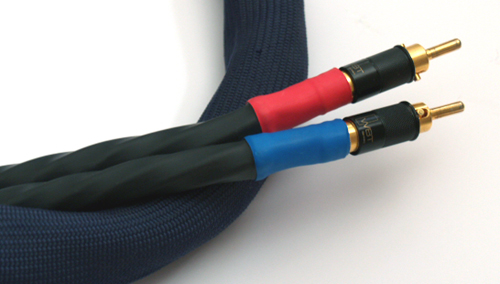 Emotions shown with WBT bananas
All the more need for beguiling music—and, no less, for enchanting music reproduction. Gumption, not obedience, lends urge to my admiration for Emotion speaker cables. They now represent, in a universe of relatives, an absolute. They aroused a set of expensive and genuinely excellent speakers. They awoke my ears to more delight and information within my own recordings (not only those with Wayne and Herbie) than I'd heard before. Beyond that, Emotion speaker cables establish, here at BluePort, a new standard for audio reproduction, described above in restrained terms …discretion being, to valor, what restraint is to truth and gumption.
Although enthusiasm and critical approval demand an admiring reviewer recommend attention on readers, the Unrepentant Disobedient Streak within this scribbler tempers praise, disinclined toward a huckster's spiel. The truth known here: these cables are expensive; they nonetheless earn certification as values commensurate with price.
One voyages as a Recording Bloke, or Reviewer Obedient to Orders, trepidation one's sole compass and companion. At the edge of things, asleep to life's miasma, this aging partner to truth's paradox (the way up and the way down are the same) here attests to happy satisfaction in the presence of sound crafted, never interfering with musical sources, by Kubala-Sosna's alluring Emotion speaker wire. Jim Merod
Emotion Speaker Cables
Retail: $2700 a meter, $800 each additional
Kubala-Sosna Research
web address: www.kubala-sosna.com