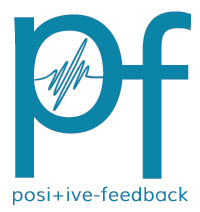 You are reading the older HTML site
Positive Feedback ISSUE
30
march/april 2007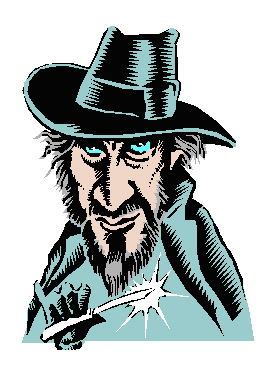 Dr. Sardonicus Speaks ...The Good Doctor Previews Some Tasty New Offerings!
The NEW EMM Labs CDSA SE CD/SACD Player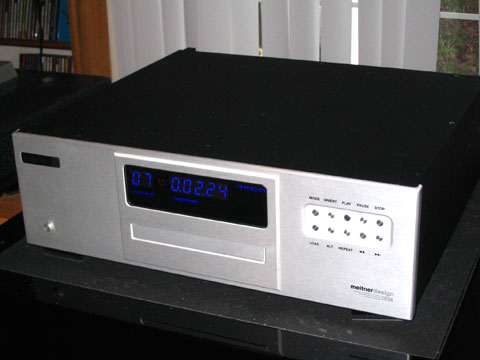 Those gentle readers who have followed my recent work know of my on-going love affair with the suave and musical Lindemann 820 SACD/CD player. This dulcet-voiced, German-made, single-box player, with an external power supply, has been my reference digital source for quite some time now. It has given me hundreds of hours of sublime enjoyment.
My estimable friend and editor, David Robinson, has used the EMM Labs CDSD/DCC2, two-box player as his reference for just a bit longer. He and I have duked our respective preferences out in print. David thinks the Meitner is more detailed and resolving; I think the Lindemann is more musical and harmonically rich.
But life changes, and in this particular case, it changes twice.
The Lindemann 820 has been around for quite some time now and digital technology changes more rapidly than most of the rest of HiFi. So, a few weeks ago, I get a note from Lindemann telling me it was time to return the 820, and they would supply a NEW model, the 820S. Yippy Skippy!
Concurrently, David tells me I am going to be taking receipt of the new, single-box EMM Labs Player, some time shortly after its formal introduction at CES.
Double-Yippy Skippy!
As I am getting ready to pack up the 820 for shipping back to Germany, David shows up with the brand new Meitner single-box player.
Jennifer and Michael Crock of JENA Labs also arrive to participate in (nay, even incite) yet another of our PFO listening sessions/Asian food bacchanals. They each know my room and equipment intimately. Let the games begin!
The sunset of, and sad adieu to, my reference digital player ...the chance to do direct comparisons with a new and less expensive single-box player from Meitner and Jennifer even tosses some more of her amazing Model One/EZ One AC Cables into the ante. Add this to black-bean oysters, scallops in butter and garlic, and roasted duck...
Well, how much audio fun is this going to be?
A Little History
I have history here. My (indirect) relationship with Ed Meitner goes back a while, back before I actually got a chance to meet him in person at some audio conference or another and exchange initial insults (we ended up being good buddies before the conference ended).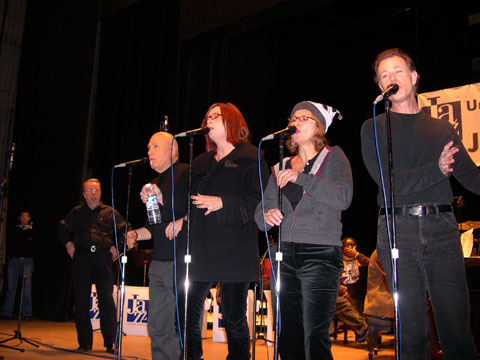 I am one of the few audio journalists who has actually had the experience of moving from a live concert venue in progress, to recording control room during an actual live to DSD recording session(s).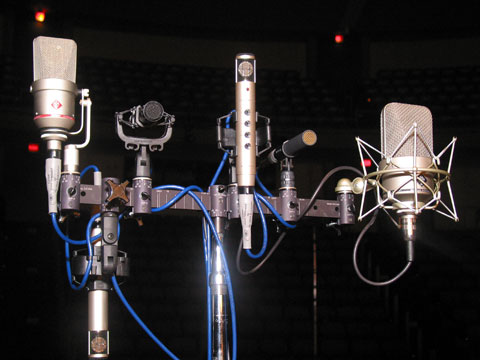 From classic piano-based trios, through 20-piece big bands, to exotically-instrumented world music, I have listened to DSD recordings versus actual microphone feed on quite a number of occasions (and in times past, I have had similar experience with 96k PCM and even 7.5 IPS and 15 IPS analog tape), so when I speak of DSD and Meitner, I know of what I speak.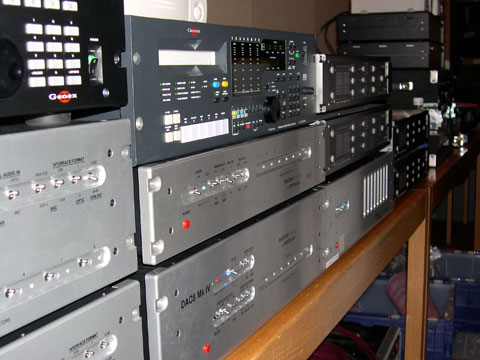 You see, a bank of Meitner converters (the professional's choice) drove each of these DSD recording sessions.
And while I have always had the greatest respect for Ed, his delightfully caustic sense of humor and his pro gear ...his consumer units always struck me as: A.) a bit pricey, and B.) a little clinical. My head could certainly appreciate the enormous wealth of detail and resolution, but my heart just got left at the station.
And, unlike David, my primary listening medium remains Redbook CDs, for the primary reasons I have many thousands of them, and most of the music I love continues to only be available on CD.
The Lindemann was killer on Redbook. Unlike the Meitner, it did gerzillion upsampling and kept PCM in PCM, rather than taking it through DSD land. Perhaps that was its advantage ...I do not know. I just know I have not been seriously tempted by anything else I have heard, since first hearing the Lindemann, including earlier iterations of the Meitner kit.
Well ...until now.
CDSA SE Description
This new offering from EMM Labs is their first all-in-one box. Ed says they paid huge attention to the Redbook side this time, and the machine contains a host of refinements and improvements, including DSD upsampling for BOTH PCM and SACD to 5.645MHz and the Meitner Digital Audio Translator (MDAT). Like the Lindemann, the CDSA-SE now features a dual differential DAC.
Features:
Meitner Digital Audio Translator (MDAT) Technology

Proprietary Dual Differential DAC Circuit

Exclusive Composite Laminate Circuit Boards

Remote-Controllable Polarity Inversion in the Digital Domain

Active Power Factor Corrected (APFC) Power Supply

Balanced and Single-Ended Outputs
The chassis is all aluminum, and while not quite as substantial and silky as the Lindemann, it is very nice indeed. Of particular note on the ergonomics front is the huge display, which is actually useful from the listening position. Ed's about my age; perhaps he is learning the virtues of BIG displays.
The hefty remote is backlit and furry ...well, OK, fuzzy. I would have preferred less fur, and more differentiation in the size and type of buttons, so I could find what I wanted by feel.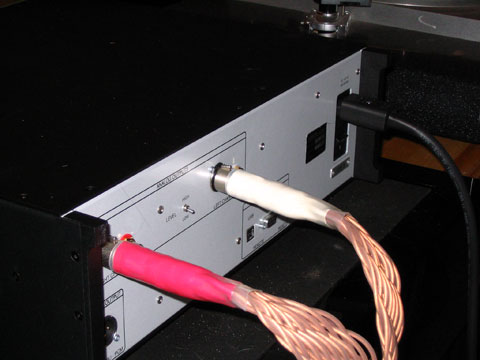 I like the ability to switch from high to low output (listen to them both, they sound differently).
Missing is the ability to hook up my SONY CD recorder (no RCA digital out). Ah, well, Jennifer can always do me one of her custom lash ups...
I think a bit more attention to the visual design would be wise ...something that suggests how gorgeous the thing sounds. Don't get me wrong, it's not unattractive ...it just looks very different (industrial functionality) from how it sounds.
So, Doctor ...How Does it Sound?
First, I will officially apologize to Ed, but despite his efforts in AC management, the JENA Labs Model One™ power cord produces more of an improvement with the CDSA SE player than in any other application in which I have heard it used. An impaired Yak would be able to hear, and would probably even appreciate, the difference. This machine should be sold with this cord; it's that good.
As fine as it is, whatever final shreds of attachment I held for the Lindemann 820 were blown away when we hooked the EMM Labs CDSA SE up with this phenomenal JENA Labs AC treatment cord. The effect was absolutely transformative on what is already an incredible achievement.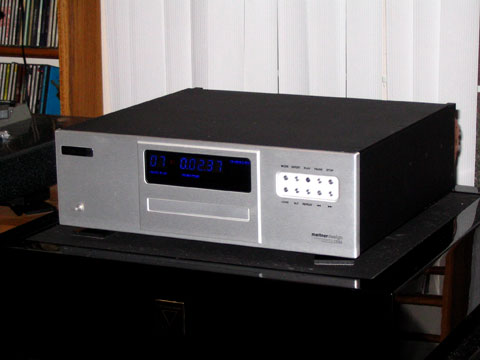 There's no reason to hide my initial take: with the JENA Labs Model One™ power cord in place, the EMM Labs CDSA SE is heads and shoulders above the competition. It IS the best sounding single-box player on the planet, period. It retains and even expands upon the historically fine resolution of the previous two-box Meitner unit, but now at about 60% of the cost, betters the previous generation two-box in every other way.
Virtually every trace of "digital" character is removed on both SACD and CDs ...a wealth of harmonic detail, air and sheer musical richness imbues every recording we played. Gone is that tiny bit of "chill" that always marred the EMM players for me.
From top to bottom, and side-to-side, this is simply the best consumer-level digital playback you will hear at this point in time.
Grainless, razor-sharp resolution, huge amounts of phase-coherent detail ...stygian bass, and baskets of harmonic texture presented in this absolutely silken, lush wash of true music. SUPERyummylicious!
That first night, our little PFO listening group started our marathon listening session with George Martin's, Beatles Love. We listened to every cut (25), sequentially, without pause ...ever see a group of audiophiles do that?
Whatever you may think of the claim some are making that the new Meitner upsampling results in SACD-like resolution for Redbook, I just know that when I grab digital music now, I pay no attention to the format. For once, the incredibly banal admonition, "It's all good," is finally true. From stock Redbook, through JVC-XRCDs to SACDs, it IS all good.
I have had the CDSA SE for some weeks now, firmly ensconced on the superb Critical Mass Source Filter and stand, and other than a very occasional fussiness with some discs, it has performed flawlessly. At USD $9.95K, full retail, it doesn't take a genius to figure out this should soon be the hot ticket.
And it doesn't matter if you don't have even one SACD.
Perhaps you have decided to follow the unwashed masses that have wrong-headedly concluded because not all SACD releases are sublime, there is something wrong with DSD, or perhaps you have abandoned or never investigated SACD because Sony obviously cannot find its collective ass with both hands (I know, Beta, let it go ...Elvis is dead too), or maybe you fell from the path, because this or that anal-cranially inverted music or audio spokesman has declared SACD dead ...again ...it doesn't matter.
Put the CDSA SE up against any Redbook player extant, smile with confidence, and just take SACD as a lagniappe.
At this point in time, on planet Earth, digital music reproduction just doesn't get any better than the CDSA SE.
As David Robinson has been known to say, "Get thee forth to a Meitner!" Or, something like that.
The VMPS RM-30-C Loudspeaker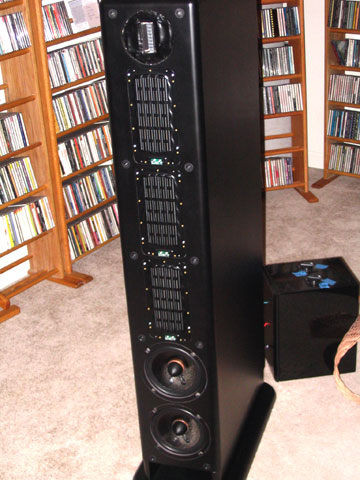 I have waited patiently for Jennifer Crock of JENA Labs to finish her masterpiece four-column, take-no-prisoners loudspeaker for longer than I care to say. She swears the first three prototype pair are at the cabinet shop as we speak, and should be ready for stuffing within a few weeks. During this time I have hosted a number of main system speakers in my room.
From the charming Piega P-10s, currently residing in my HT room, through such creations as the ESP Concert Grand SIs, I have steadfastly remained in the five-figure price realm, sincerely believing that while there are superb two-ways for less money (such as my much beloved ACI Sapphires) a full range, reference-level speaker, is of necessity, large and expensive.
I am not sure exactly how I ended up with a pair (plus a big-ass sub) of under-$6000 VMPS speakers headed my way (I have GOT to stop cruising the Internet for review possibilities when I am drinking!). Heaven knows, they make speakers more in line with my size and price expectations, but for some reason, Brian Cheney of VMPS was loath to send them. He is an obdurate man. Bad Brian, bad!
At any rate, when they showed up in four boxes, I was even more disconsolate. Not only would I have to live with "price conscious" speakers, but complicated ones at that. Brian ships the towers, bases, and external crossovers separately. Then of course there is this huge sub I will never get integrated either sonically or visually. Sigh.
But what kept me going was my early affinitive for ribbon speakers, dating from my Infinity QLS days. The 30s are ribbon-based for the mids and highs, like the old QLSs.
Description (taken from the manufacturer's website)
"RM30 is 50 cm (20") deep, but can be placed directly against a back wall if needed. The FST, Soundcoat and 10" Megawoofer are all standard. M and C versions are exactly the same except for the M's sidefiring woofers. The large cabinet of the C version provides good quality bass flat to 39 Hz from the four 16 cm WCF woofers. The RM30 uses three 2.4 Ohm midrange panels wired in series. The FST is at the top of the column. The C version is a true line source. The active 16 cm is a specially developed WCF 16 cm Megawoofer. They offer higher power handling, cleaner sound and have the ability of not bottoming out no matter how hard they are driven."
Driver Array: the sequence below matches the driver positions on the baffle, from the top down.

1. Standard FST tweeter, previously standard only at the RMX.
2. 3 vertical Neo mids.
3. Dual active 16 cm, the ideal diameter in the critical transition range, w/punchy, quick midbass.

Passive Radiators: tunable, down firing, slot & mass loaded (classic VMPS). The ultra-slim baffle requires dual 16 cm PRs (a VMPS first), mounted inline front to back. Mass adjustments are performed on both or only one PR (the front), providing finer & smoother tuning increments.
Specifications
Bass: 25 cm (10") WCF Megawoofer bass, 2x 16 cm (6") WCF midbass, 2x 16cm (6") Passive Radiators

Mid: three rectangular 10 x 20 cm (4 x 8") Neo ribbons, 280 Hz - 6.9 kHz

Treble: FST, 6.9kHz - 30kHz

Impedance & Sensitivity: 4 Ohm (3.6 min.) 93 dB/1W/1m

Power handling: 400W rms / 4 Ohms, 20 W min.

Frequency response: 32Hz - 25kHz +0/-3dB*

Dimensions & Weight:122H x 18W x 49D cm, 50kg (48"H x 7"W x 19"D cm, 110 lbs)

Output levels and distortion: max. 1% THD fullrange / 1W, max. 115+ dB SPL/1m

Finishes: standard lite oak, dark oak, MLS rosewood, African ebony. Optional MLS piano black"
*Please note, the large powered sub Brian sent extends bass response down to below 20Hz, with considerable authority.
The pair I received were "Reviewer Satin Black", for the towers and a gloss black powered sub, which I plunked down in vertical orientation (it works in either vertical or horizontal placement). I lusted after the Rosewood covers, but Brian apparently has a very good understanding of what witness brutes we reviewers are.
I am also starting with the "standard" rather than the upgraded model (which features a host of well-thought-out and incrementally priced upgrades). Brian really works to give his customers the broadest flexibility in controlling price and priorities. Again, in a Hi-Fi world that eschews customer involvement, bravo ...Brian, bravo!
While the speaker is touted as being place-able against the back wall, the towers went in my historical speaker sweet spot and with the exception of a bit of incremental moving around to get them dialed in, have never moved.
The first couple of things that struck me were: this is a lot of speaker for minor ducats, before you even get to how it sounds. How many sub $ten-k commercial speakers do you know are available with external crossovers?
The second thing was the waveguide front covers, which essentially create a lens for directing the output of the mids and tweeter. In my room sentiment was universal, and I discarded them. Mileage apparently varies by room configuration and which of the realities you prefer, razor sharp focus in a narrow area of your room, or more diffusely accurate, but less precise presentation.
The third thing was flexibility. In the politically-enforced absence of tone controls we are held hostage to speaker design considerations, which have never been touched by our equipment, rooms and tastes. I have always loathed this audiophool hair-shirt approach and find it to be mindless ritual and collective idiocy by momentum, rather than carefully thought out engineering.
Not here. You get lens or no lens, you get enormous amounts of adjustments in the mid and tweets (allowing you to even vary response to side of room issues) ...same with the sub.
If you are patient, and you can hear, you will be able to dial this speaker in to your room, your equipment and your tastes, in a way few will allow. Bravo again, Brian! This is a designer that respects his customers.
But How Does it Sound?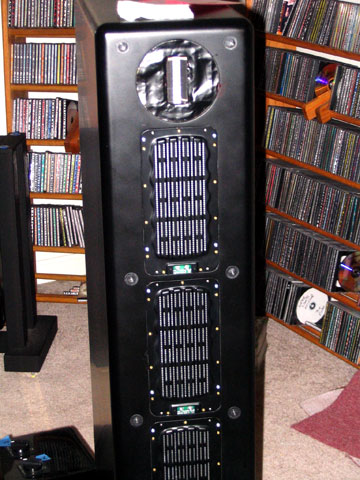 The last speaker I liked cost $45,000.
Attempting several speaker reviews over the past two years has resulted in: speakers being sent back without review, a recent rant which got me publicly fussed at by one feckless and apparently completely humorless ex-reviewer on the Audio Asylum Critics board (Gee, Clark, thanks so much for hanging a pork chop around my neck and dangling me out there for those piranhas! ;-) ), and a plethora of other outrages.
As is my custom, of course, I suffered said outrages in the stoic silence of the philosopher-king I am.
In addition to what I actually reviewed, I have listened to a host of speakers at or above the $45k price point over the last two years, and variously experienced ...confusion, disbelief, horror, boredom, pain and suffering, and other unpleasant maladies. In NO case have I been tempted to either review or own.
So what chance is there for me to actually have a positive relationship with this "off the rack" sub $6k speaker?
Truth is, while I can hear what I am missing by not having the upgraded version, I could happily live with these modestly priced girls.
They do nothing seriously wrong, and they do a host of things as well or better than any speaker I have ever heard. AND their omissions are probably 99% fixable with the offered upgrades.
Imaging: OMG ...think wrap around sound stage with precise, concrete level vertical and horizontal placement, even outside the speakers; DEEPLY three-dimensional with the primary presentation about two feet in front of the speakers and layering back to the wall. I do not recall this SOLID a sound stage anywhere else.
Dynamics: Fast, fast, FAST ...no smearing of transients. Extremely rapid rise and fall. And they will play loudly enough for the most dedicated head-banger (me) without distress. The wondrous BAT VK-600 SE hooks them up like a core tap, and this ever-more-common malady of the high end, dynamic compression, is banished from the land, like the soul-sucking demon it is.
Resolution: While they could benefit from the upgrade package for the last soupçon of resolution, I have never heard anything in or near this price range that, top to bottom, was more accurately resolving in getting you to the meat of the musical experience.
Musicality: That ineffable quality which walks so often by the door of so many high-end speakers. Did you ever wonder why audiophiles so often listen to a handful of recordings, for twenty seconds at a time, and confine their remarks to specific sections of the audible spectrum? It's because there is no MUSIC in the house.
Here there is music, how high my heart ...I can listen to these modest babies for hours upon end. After months of them holding court in my reference system, I am a happy boy.
That long-night listening session with David Robinson and the folks from JENA Labs was with the VMPSs, and not ONCE did anyone comment, other than favorably, on the speakers. We just talked about music.
Aye, but Here is the Rub
Rationality is not a common commodity in our hobby.
The average audiophile is way too controlled by—and yet, simultaneously repelled by—the audio press and other self-appointed experts.
I have a little behind the scenes tip for you readers: an overbearing ego, huge amounts of misplaced self-confidence, and a vicious verbal forehand, doth not an expert make. In polite circles, we call that having a "personality disorder."
Someone says, years ago, tone controls are "bad". Away the herd goes, and no one has the courage to bring them back.
Someone anoints this piece or that, and suddenly it is the rage, until most of the iterations of it blow up ...or show up on Audiogon. Shit, this is more like fashion than anything else. For all the protestations of science, engineering and self-congratulatory technical expertise, as a species we are about as rational and self-directed as the David Koresh Memorial Madrigal Choir.
These highly worthy speakers won't get the attention they warrant for two reasons. First because they are not hugely expensive. That is their primary sin. No big expense, no big markup, no rich distributor = no distribution and no press. How can they be good if they don't cost a bazillion dollars?
Right now, as I pen this, there is some SFB audiophile plunking down Lexus-level bucks for a pair of speaker-fashion-fad coffins, which in many cases transgress even the most basic speaker building premises (time alignment, no sharp edges, etc), when, for the price of some good tires, they could have these sweet VMPS honeys. Even clad in Rosewood and with all upgrades, they would still be under USD $10K!
The second reason they won't get the attention they disserve is they are adjustable, which means to get them to really perform in your room, you have to be able to hear. This may be the greatest limitation of all. The listener cannot trust someone else, unless you pay Brian to come set them up. They actually have to commit to their own experience ...brrrrrrrr, what to do with no Guru? How do you know what sounds good with no one to tell you?
Wait, I suddenly had an epiphany. This would solve both problems ...PAY Brian to come and personally set them up! Then they will cost a lot, AND you won't have to trust your own ears! Problem solved. Brian, send the check to my home address, will you?
Well, ahem, for myself I plan to give this remarkable speaker ongoing attention, until we finish the cycle and Brian is sick of seeing me write about them, and finally calls them home for rehab and resale.
If I can wrangle a pair of the VMPS-30-Cs for myself, I will. They are that good.
Anyone interested in a nice pair of Piega P-10s?
This is an extraordinary speaker for minor money. Trust yourself.
The Sound Quest SQ-88 Integrated Tube Amplifier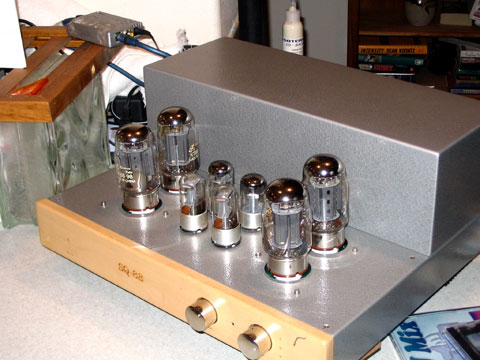 Everyone needs a couple of reliable, inexpensive, good sounding integrated amplifiers in stock. You will always find uses for them; trust me.
Well, everyone knows by know that we are seeing a virtual flood of Chinese-sourced (mostly tubed) integrateds. They are everywhere. It's that "reliable, inexpensive, good sounding" thing that is the problem.
These imports are definitely inexpensive ...and many are surprisingly good sounding, at least for a while. Long-term service and reliability is somewhat less clear. And with the distribution of these pieces about as reliable and predictable as Paris Hilton, one does need a certain courage to do that whole, caveat emptor thing.
See, there are a couple of basic schemas.
The Reseller
These folks are mostly buying a unit at a time when they get your credit card, and shipping them from China. Most often, they will have to have new power supplies to run on US AC, which can create a HOST of problems. You are paying several hundred dollars in shipping, and who knows what will happen if something goes wrong. I have attempted to communicate with several of these re-sellers, and they steadfastly refuse to respond—never a good sign. Some have big websites, and others go on Ebay.
The Distributor
Two kinds, "sole distributor" ...and just another guy with a few bucks and garage. While you are not necessarily guaranteed anything by "sole" distribution, generally you are better off than with someone who is buying one or two units at a time, and living hand to mouth selling them. But personally, the smell of desperation as dreams of Circuit City fade is depressing to be around.
Think of organizations like Meritline, where so long as you don't expect any after-the-sale service, you are generally OK. If anything goes wrong, you are statistically as likely to get help, as you are to win the lottery. If it goes wrong, you mostly just throw it away, because return and warranty polices are specifically designed to make you crazy. Of course, I am just speaking from personal experience.
The OEM Distributor
This approach is to work with the factory to manufacture to spec (even if its just a different face-plate), in consideration for buying several (perhaps hundreds) of units. The units are shipped most often by water, which greatly reduces the cost, but it takes some capital to play at this level. This is significant.
This distributor had to have the money and technical expertise to work a deal, and now has INVENTORY, which means supporting sales with warrantee work, or everything dies and he or she is left holding the bag.
Generally, the most common problem here is the markup, which can be savage. You will spend more for this sourcing, but you get the advantage of more stability both in the distributor and the product (Do you want to own one of only five pieces of something actually shipped out of mainland China? Brrrrrr!).
So, with this as the context we come to the Sound Quest SQ-88, a classic KT-88 based, modestly designed and executed integrated amplifier, OEM'd from China by Quest for Sound.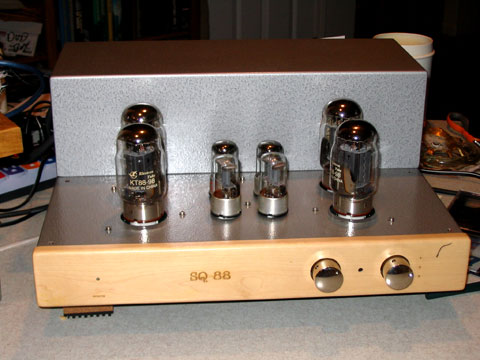 Description (taken from Manufacturer's Website)
Control Functions: Volume, Input, Power On/Off

Remote Volume Control

Power: 55-watts x 2, RMS 1kHz

THD: less than 1%(10-watts, 1kHz)

Frequency Response: (-3dB points at 10-watts) 6Hz-60kHz

Input Sensitivity: 290mV

Input Impedance: 100k

Output Impedance: 4 & 8 Ohms

5 way binding post

Signal/Noise Ratio: 90dB

Consumption: 120-watt

Inputs: 3 groups (RCA) -1,2 & 3 on rear panel

Overall Negative Feedback: Very little (-6db)

Vacuum Tubes: kt88 x 4, 6N9P/6SL7 x 2, 6N8P/6SN7 x 2

Self Biasing Design

Dimensions: 428mm/16 ¾" (L) x 340mm/13 3/8" (W) x 200mm/7 7/8" (H)

Weight: 18kg/40 (net); 20kg-45LBS (shipping)

Includes one set of Isol-Pads

Warranty: 1 year parts and labor, 90 days tubes

List price: $1579
I have had the SQ-88 in my third system (with various digital front ends, and the ACI Sapphire two-ways) for some months now.
Yep, it is more expensive, initially, than units with similar power ratings and features you can find every day on EBAY. But you get the advantages of an OEM distributor, for a less than usurious mark-up. And since they have many units, there is a commitment; both to the piece itself and to keeping customers happy. They have to make sure future sales are not killed off by failed units improperly handled in warranty. Word gets around.
Although, if my experience is any indication, the warranty issue for this specific unit is moot. I have been driving the crap out of it with not so much as a burp. The ACIs can be challenging to a small tube amp, if you run them hard in rock and HT applications, which I have been doing, DAILY!
I want to emphasize this. My third system is the house workhorse. It gets used hard, every single day. Movies, rock, no mercy, and I have been driving this baby near, or at maximum output much of the time.
The SQ-88 has taken every licking, and not one second of misbehavior or complaint. This thing is solid as a rock.
But, Doctor, how does it sound?
Precisely as you would expect a classic KT-88 integrated to sound. Bold, dynamic, big sounding for the output ...a little soft at the extremes. Kicks ass on home theater with the Sapphires. Does a great job on human voices, adding just the slightest bit of glow and richness to enhance TV and movie sound tracks.
No, this is not a high-resolution amplifier, but neither are its competitors. The Ming Da integrated I reviewed a few months ago was an exception, but so far as I know, its distribution is still a major unresolved issue. Caveat Emptor.
The SQ-88 is absolutely charming and utterly reliable. In a simple system with a great speaker such as the ACI, it will do equally well on music and movies ...and so far as I can tell, it is bullet-proof, even when driven very hard, day-after-day.
Great little piece. I am really enjoying my time with it.