Tempus fugit…
It's been a few years since I last reviewed Audio Research Corporation (ARC) products. (Way back in Positive Feedback, Vol. 8, No. 3, to be precise.) In that number I praised the work that ARC had done in producing a very fine preamp/amp combination, the LS-25 and VT-100, which we listened to in tandem with Cal Audio and Classé on the front end, and von Schweikert on the back end.
Since 1998, Audio Research has not been resting on its laurels; a number of their products have been upgraded (in some cases, several times) in an attempt to further improve their sound. Among these is ARC's current reference preamp, the Reference Two, now at revision level Mk. II.
Given my earlier experience with the LS-25, I was eager to audition the Reference Two several years ago. I contact ARC to see if the Reference Two was available for review. Dave Gordon of ARC was very helpful, as always, but advised me to wait while Audio Research worked up its revised design.
"You won't be sorry, David," he told me. "The new Ref 2 will be quite a preamp!"
He was right…
Arrival
The Mk. II version of the Reference Two arrived in mid-2001. As always, ARC gear is exceptionally well packaged, with splendid "box-in-a-box" construction. As I've stated before, this is not a minor consideration; more than one piece of gear has arrived at Positive Feedback in utter ruins over the years. This is not likely to happen with ARC.
A careful unpacking of the preamp revealed a unit finished in the standard brushed aluminum finish, looking very much like an Audio Research product. The appearance is classic and quietly impressive, with the Reference Two definitely displacing more space and mass than the earlier LS-25 that I had reviewed. All tubes are sealed inside the preamp in foam parcels, and trussed in plastic wrap. A remote control is included, as is a screwdriver for opening/sealing the vented top of the Reference Two. The screwdriver is useful; there are a lot of precision screws holding down the top panel. This is very good for preventing vibration, but means that getting into the Reference Two is not a quick project.
Instructions for installing the tubes were securely attached to the outside of the preamp's wrapping, a very intelligent step. I put on my tube installation cotton glove (newbies, take note: never handle an audio tube's glass with bare fingers! We now return you to your regularly scheduled programming…), and had all eight tubes in place in just a few minutes. There are six 6H30's, one 6L6, and one 5AR4 to insert, but the tube layout chart makes it very hard to misjudge; even tube twits can get this right!
I was pleased to see that Audio Research is still shipping its preamp tubes with tube dampers in place. These are clear devices that girdle the tube, and act to minimize vibrations. They can help to reduce ringing, and are another thoughtful touch.
These 6H30's are an item of interest. The significant change from the earlier version, according to Dave Gordon, was a redesign around this new component, rather than the 6922 used in earlier designs. Why the change? According to various industry sources, 6922's had been running into some reliability issues of late, though I haven't been able to determine whether or not this is still true. On the positive side of the sheet, the 6H30 has garnered attention from some very fine designers as a new wundervakuumröhe, with companies like Audio Research, Balanced Audio Technology and Joule Electra implementing 6H30's in their creative work. The better reliability and greater clarity of these tubes is a powerful attraction to tube audio designers looking for every advantage as they push the envelope.
A quick survey of the components inside the preamp revealed that Audio Research is not skimping on the parts; this is a very well made preamp. (See interior photos below.)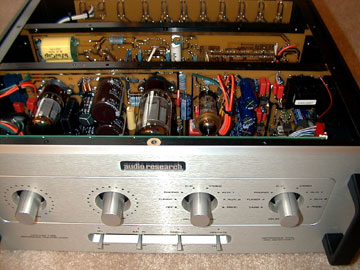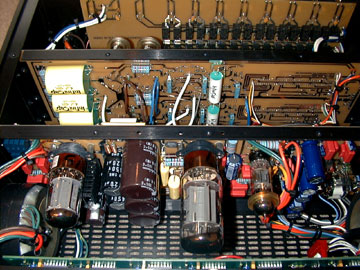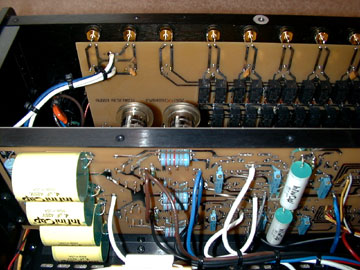 A "Swiss Army Knife Preamp"!
After plugging the tubes and replacing the cover (LOTS of screws!), I looked over the preamp more carefully. I was immediately struck by the flexibility and the intelligence of the design. The Reference Two, Mk. II has an impressive collection of input/output capabilities, which is a matter of concern to those of us who have multiple sources—and I do—and prefer to have a maximum of options to deal with them. To my delight, the Reference Two, Mk. II has no less than eight inputs, each with both balanced and unbalanced jacks! (Tape, tuner, phono, CD, video, AUX 1, AUX 2, and processor are all supported.) Now that's serious business, sports fans.
The output features both balanced and unbalanced, as well. Tape looping is supported. This is a non-inverting preamp, with the additional element of phase inversion. This is not always present on preamps, and its absence is a major irritation to me. Happily, I was able to avoid frustration this time around—especially since this function was on the remote control, as well.
Speaking of the remote control, the Reference Two has a very useful one. Though rather plain in appearance, it has the ability to remotely control volume, mute, phase inversion, inputs, power… anything that you'd need to do from the listening position. And that's the main concern with remotes, anyway.
Volume control is via a soft-touch, spring-loaded, auto-centered knob. This walks the preamp through 125 steps of gain very smoothly. There are a series of LEDs around the circumference of the volume dial that track the general level of gain, so that you can see at a glance the amount of volume that's been achieved. This works quite well, is precise and quiet in operation, though it takes just a bit of getting used to. Once you have the hang of it, it's quite easy to tap a single step up or down at the main console.
Some other controls (e.g., Power, Mute, Phase Inversion) use the classic Audio Research switches for operation. I have to warn our readers that these work well, but are vulnerable to being snagged laterally by limb or clothing, and can be torn off. Make sure that you place ARC gear in such a way that these switches are recessed from incidental traffic/contact. (Yes, this did happen to one of our reviewers once… learn by our experience!)
For those curious about such things, the warranty from Audio Research is three years on the preamp, and 90 days on the tubes. This is what I would consider middle-of-the-road warranty coverage: better than a year or two, but not as good as some firms who warrant their products for 5-10 years—an enlightened few of whom even making such warranties transferable. This is a relatively minor quibble, but should be noted.
Anyway, after placing the Reference Two, Mk. II on an Extremephono isolation platform (which I was very pleased with, by the way; I'll be doing a brief review of this in an "accessories roundup" elsewhere in this issue… meanwhile, check www.extremephono.com) and powering up, I noted the "soft power up" feature. The Reference Two, like other good tube designs, allows the tubes to come up to speed before going fully online, a very good thing.
The System
At the other end of the line from the Reference Two was a pair of the very fine Linn Klimax amplifiers. I ran the connection in balanced mode via a pair of the JENA Labs Duo XLRs. The first speakers were the Nova Renditions; later, we put the Linn Komris (see www.positive-feedback.com/Issue1/komri.htm for the review). In between, there was a very brief time when the very promising Silverline Audio Grandeurs made an appearance; unfortunately, these were removed before I had a chance to round out my sense of Alan Yun's work. Speaker cables were Cardas and JENA Labs (Rendition II's and Grandeurs), or Linn (Komri).
A different configuration was used during my review of the very fine deHavilland Aries 845 monoblocks with the Buggtussel Amygdala speakers, published in Issue 2. (See www.positive-feedback.com/Issue2/dehavilland.htm for the review) In that case, we ran the Reference Two in unbalanced mode via a pair of JENA Labs shielded interconnects to the Aries, and via JENA Labs Trio speaker cables to the Amygdalas.
Upstream, we used my modified Sony SCD-1 SACD player (see my comments on these magnificent mods at www.positive-feedback.com/Issue1/draudiocom.htm and www.positive-feedback.com/Issue2/drmods.htm), the Linn CD-12 (still king of the CD hill over here), and the Linn LP-12/Ekos/Arkiv/Cirkus/Lingo/Cardas feeding the Linn Linto phono preamp. Power cables at various moments were by Cardas, VansEvers, and JENA Labs, plugged into a Sound Application CFX conditioner; interconnects were by JENA Labs, Cardas, Stereovox, and Linn.
I usually let a new preamp warm up for a few hours before listening, and for a week or two before I get serious about gathering impressions. Right out of the box, the Reference Two was a bit lean and congested sounding. (By the way: anyone who doubts the reality of break-in's for fine audio gear simply hasn't listened carefully to the sound of components right out of the box. Most are rather dreadful, and don't even begin to sound like what they'll become for a while. Like most human beings right after getting out of bed, and before shower, shave, and that first cup of coffee!) I didn't let this bother me; I simply set the SCD-1 to Repeat Mode, and let her rip for a few days.
Before I did so, I was pleased to note how quiet the Reference Two was, however. In balanced mode used with the Linn Klimax monoblocks it was dead quiet. In unbalanced mode when running with the deHavillands, it produced only a faint whisper of white noise. You would have had to place your head within a few inches of the tweeter to catch anything at all; at the listening position, this was inaudible.
The question of how all this very promising layout would sound after some "heat-up" was (as always!) next on the list…
The Sound, Part I
I found that the Reference Two, Mk. II came into its own with about 200 hours of operation. Having had an opportunity to listen to this preamp with several different combinations of sources, amplifiers, and speakers, I think that I came to have a feel for its basic character.
When fully broken in, the Reference Two, Mk. II excels in several key areas.
Articulation and detail: whether used with LPs, SACDs, or CDs, the Reference Two showed an ability to deliver a fine sense of the texture and timbre of recordings. LPs like Nick Drake's magical Pink Moon (Simply Vinyl SVLP 172) gave the feel of fingers on guitar strings, breath in throat, and the artist in the room. The wonderful sound of analog from the LP-12 came through without the loss of romance, yet retaining subtle musical information.
When listening to highly detailed, nuanced SACDs like River of Sorrow from First Impression Music (FIM 032) or the remarkably challenging musical textures in recordings like Silk Road Journeys by Yo-Yo Ma and the Silk Road Ensemble (Sony Classical SS 89782), the Reference Two, Mk. II was able to avoid congestion and help the me sort through what I was hearing without sliding off into the thickets of the "overly analytical" or—even worse—the world of "dry-to-astringent." Ditto for other personal references like the exceptional OPUS 3 family of SACDs… their Test CD 4 (CD 19420) and Showcase (CD 21000) are fantastic SAs for adjudging a preamp's articulation, which I define as "ability to deliver detail at both micro and macro levels."
Dynamics: The Reference Two, Mk. II is also no slouch when it comes to delivering the goods on dynamic transients. The sudden solo glissando… or the surprising orchestral crescendo… are delivered with equal aplomb, and no sense of stinting or overload caught my ear. My acid test for rock dynamics includes such SACDs as Spitball's "pedal to the metal" Pop Condition (out of print… don't ask me why), Satriani's Engines of Creation (Sony/Epic ES 67860), The Byrds Greatest Hits (Sony/Columbia CS66230), and Blood, Sweat & Tears (Sony/Columbia CS 63986). No problems with dynamics at all.
On the orchestral side, with its dynamic range that can be even more imposing, a very large set of SACDs were sent the way of the Reference Two, including: Winston Ma's wonderful Audiophile Reference IV (First Impression FIM SACD 029); the exceptional and surprising Järvi/Symphony Orchestra of Norrlands Opera performing Adams/Sumera, Shifting Landscapes (CCn'C SACD 01912); Ozawa doing Mahler's Symphony No. 2: The Resurrection (Sony Records SRGR 742, Japanese import); Georgie Szell and the Cleveland Orchestra, Live in Tokyo 1970 (Sony Records SRGR 747, Japanese import); Zander and the Philharmonia doing Mahler's Symphony No. 5 (Telarc 2SACD-60569); the Ancient Consort Praha, Beethoven's Symphony No. 5 & No. 8 (Exton KJGL-00002, Japanese import); or Mark Levinson's stunning recording of Charles Krigbaum on organ performing Bach's The Art of the Fugue (Red Rose SACD RRM 05). Just to name a few (lots more where that came from!)
The Reference Two does very well with full orchestral music; at no point did dynamics tap out the preamp (though various amplifier/speaker combinations were sometimes breathing very hard to keep up). There is an excellent balance of micro- and macro-dynamics, a strength that was maintained in all music and audio formats that I listened to. In part I attribute this to the quickness of this preamp; in part it comes from the very low noise floor that it presents. Dynamic passages appear out of a "deep black" background, and are thus more clearly launched.
Soundstaging and Imaging: The soundstage width is very fine with the Reference Two; ditto with depth. Depth of soundstage presentation is a particularly important indicator with LPs and SACDs, since they reproduce the music and signal phase with a much greater degree of fidelity than CDs do. I can always tell the DSD layer of a hybrid disc; the "depth cue" is a giveaway every time. This leads to real demands on the preamp, since extended frequency response and "rightness" of phase presentation will significantly improve both imaging specificity (placement within the soundstage) and soundstage dimensionality (width, height, and depth of a stereo sonic layout) in your listening room.
I was never disappointed with the Reference Two, Mk. II in this regard. It rendered soundstaging and imaging for LPs and SACDs in a splendid way… and did what it could with CDs. In that case, width was good… depth was what it generally was, which is unclear, even with the Linn CD-12. This is not the fault of the preamp; it's a result of an inadequate audio standard (Red Book PCM), as was clearly evident every time I went back to SACD or LP.
Imaging is very precise when recordings possessing this attribute are played back through the Reference Two. The placement of instruments/performers in a stereo field was convincing, which is particularly important when dealing with speakers which have superior powers of high resolution, like the Linn Komri do.
Notes on Tonal Structure
I should note that the tonal integration of the Reference Two… the sense of "top-to-middle-to-bottom tonal balance and proportion" was very good. Overall, it's my distant impression that this preamp does just a touch better with tube amps than solid state—the level of detail delivered to the wrong solid-state amp could definitely err in the grievous direction of dryness, which would be a real shame. High frequency extension was truly excellent; the midrange was neutral; the bass was controlled, though with perhaps a touch of leanness with the Linn Klimax. I would have liked to have heard the Reference Two in tandem with one of the larger monoblock pair of ARC amps, to assess the synergy. Given my past listening experience with the LS-25/VT-100 combination, this likely would have been a more sympathetic match in this regard. Nevertheless, "exceptional coherence" keeps coming to mind when I think describing the tonality of the Reference Two.
The overall tonal feel of this preamp comes in just a shade to the cool side of neutral. This is therefore definitely a more neutral preamp than the earlier ARC LS-25, to these ears. I speculate that you should avoid mating this preamp with any amplifier with lean or "cool" tendencies, as I suspect the sound would sin too far in the direction of analysis vs. music… never a good thing.
The Sound - Epilogue
In the fall of 2001, I shipped the Reference Two back to Audio Research at their request. They had come up with a further improvement to the unbalanced circuitry, which they said would lower the noise floor even further. I therefore sent it back. Within about three weeks, the amplifier returned. An audition in unbalanced mode confirmed ARC's claim: the sound of the white noise seemed even less than before. I had to get my ear within an inch or so of the Amygdala's tweeter to hear anything at all—very quiet, indeed!
Running the Linn Klimax in unbalanced mode, things were even quieter; this combination was very nearly as quiet with the new ARC unbalanced circuitry as balanced was with most preamp/amp pairings.
All other aspects of playback seemed pretty much the way that it was before, though there was perhaps a touch more clarity in unbalanced mode than there had been before. A very worthwhile improvement from Audio Research, and now integrated into all production units as far as I am aware.
Conclusion
I spent quite a while with the Audio Research Reference Two, Mk. II. It is gone now, but not forgotten; it made quite an impression on me. Overall, I adjudge it to be one of the five best preamplifiers that I have heard since 1990, and therefore definitely of world class quality. Its rare combination of reference grade audio performance, remarkable flexibility of input/output options, and a very versatile remote control made it a favorite here in my listening room.
Dave Gordon was right! This preamp is something special.
Coherence, fine neutrality, articulation, dynamics, soundstaging: the Audio Research Reference Two, Mk. II does it all. If this preamp is in your price range, you really must arrange an audition—it's a truly superior example of reference audio design.
Reference Two, Mk. II preamplifier
Retail: $9995
Audio Research Corporation
900 Annapolis Lane North
Plymouth, MN USA 55447-5447
TEL: 763. 577. 9700
web address: www.audioresearch.com