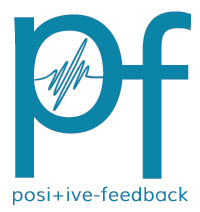 You are reading the older HTML site
Positive Feedback ISSUE 3

october/november 2002
Clark Johnsen has taken a column that he did back in Positive Feedback, Vol. 6, No. 2 and re-worked it slightly for Issue 3 of PF Online. Here's a classic—enjoy!
From Clark Johnsen's Diary: Some Thoughts Had At Three Dollar Dewie's And Gritty McDuff's While Pub-Crawling In Portland, Or Days Of Rockin' Radio!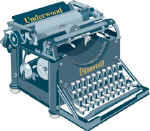 "Can music save your mortal soul?
And can you teach me how
To dance real slow?"
--Don McLean
"Don't waste your money
On a new set of speakers..."
--Billy Joel
On the road again. Destination: Partial oblivion.
Up the coast from Boston lies a nearly unbroken string of historic locales—Marblehead, Newburyport, Hampton, Portsmouth, York Harbor, Kennebunkport, and finally, that topmost jewel of down-east urban real estate and Maine's premier city, Portland. Each town typically boasts eighteenth-century red-brick buildings and clapboard houses converted to antique stores, clothing boutiques, art galleries and, more recently, brewpubs. Aha! Get thee to a brewery!
Somehow, after forty years in Boston, I have never traveled any further north than York Harbor. I can't imagine why not—Cape Cod to the south has become wholly familiar territory. So, early on this bright September Sunday I depart for parts unknown, and after some tarrying en route acquire my first target, the Smuttynose saloon in Portsmouth, New Hampshire. As luck of the Danish would have it, however, there's a Beer Fest happening down at Harborside Park. Five-ounce samples of everything local, for cheap. Much better!
Pretty-well-greased by two o'clock, I hit the road again. Taking the shore route through scenic Ogunquit, I linger awhile at the beach to enjoy the sparse post-season crowd, then set out straight for Kennebunkport and Federal Jack's, official tap dispensary of luscious Shipyard ales. Lubrication renewed, I slide into Portland just before sunset, determined to locate Fore Street, brewsky row, without external guidance. So I motor around this handsome Federal-style town until the gas lamps flash on and suddenly I find myself right here on Fore Street, down by the old harbor, wouldn'tya know?
Ditching my Jetta, I explore on foot. Three Dollar Dewie's and Gritty McDuff's, both recommended to me for variety, bracket a seven-block stretch of busy taverns, restaurants and colorful night life—a scene such as hardly exists back in staid Boston. This is great!
Stopping for a quick one at Gritty's, I find the place too crowded and head back to Dewie's, where I plunk down for most of the night, indulging myself with magazines, pizza, popcorn and thirty brands of draft. I order a Watney's. A Spaten. A Katahdin ... The young tourists who seat themselves beside me, three guys and a girl, ask, "Are you from around here?" I reply, "Yeah, well, Boston." "Oh. So are we!" Making the best of it, we call for Sam Adams Octoberfest all 'round. After some further jollity they depart and summoning a Whitbread's I open my notebook to jot a few solitary reflections. The jukebox strums up "Heartbreak Hotel," as it happens, and I begin to reminisce over my suds ...
My mind drifts back…
It was forty-five years ago today...
Bill Haley and His Comets, Sioux City Municipal Auditorium. I remember it well: The first concert I ever attended with friends, sans parents. What a scene! The early heyday of rock'n roll! Haley's "Shake, Rattle and Roll" (lifted from Joe Turner) was the new genre's first-ever million-seller1; "Rock Around the Clock" was to become the biggest-selling rock song (100 million) of all time2, the premier national teenage anthem and also the theme song of a movie celebrating juvenile delinquency, Blackboard Jungle,3 which my mother forbade me to see. "See You Later, Alligator" became their third million-seller in a row.
---
[1] A pro hockey team in Massachusetts, the Springfield Indians, presciently adopted "Shake" as their fight song and played it over the P.A. before and after every home game and after every goal they scored. Later, much later, came: "We will, we will rock you!!"
[2] And the first million-seller ever in Great Britain as well.
[3] Blackboard Jungle injected heretofore-innocent rock'n'roll into an atmosphere of teenage rebellion contexualized with rapid social change and incipient violence, a combination that forever revolutionized film and music. One gritty scene: The Gang trashes a hopelessly "square" teacher's collection of jazz 78s that he has been using to demonstrate the history of music to win the class over to a wider musical culture. The kids' reaction mythologizes them in imaginary revenge against societal repression, with "Rock Around the Clock" blaring in our ears. (Powerful stuff then, although rather a cliché today.) Another telling image: A chainlink fence in the schoolyard foreground, suggesting a jail yard; the kids must break out, as they later do quite literally in Pink Floyd's movie of The Wall.
---
Within one year the Comets sold six million records.
But much to our dismay, their stage presentation struck us as decidedly unhip, "hillbilly" even, if you will, a musical form that settled unhappily on us clued-in teenagers. (Mistakenly we blamed traditional styles for the artificiality and sterility of the radio music our parents adored.) To begin, there was the matter of their costumes: Red and white striped jackets, white pants and blue bow ties. Geez! The music was heavy, but the appearance decidedly hick. We who resided in the urban areas of Iowa were far above those embarrassing country roots!
Now I can see that the whole presentation was quite sophisticated and foreshadowed later concert practice. Instead of the usual spot-lit leader with anonymous backing band, we witnessed an ensemble act. Haley shared the spotlight, in classic quartet fashion; and were their antics ever wild! Saxophone player Rudy Pompilli bent his back into yogic contortions while rhythm guitarist Frank Beecher slithered around on the floor beneath as though to catch him should he fall; drummer Ralph Jones would pop up at the end of a riff-roll, toss his sticks into the wings and pretend to leave, then magically snatch a new pair from somewhere in the air and return to his post, to appreciative applause; then, and this brought the house down, string bassist Al Rex twirled his giant bass fiddle up in the air, caught it by the neck in one hand, landed it squarely sideways on the floor, climbed onto the damn thing and resumed playing in beat! All the while grinning maniacally! And as though that weren't enough, the third time he crouched atop his gigantically curved fiddle, legs racily planted on each side—in the spotlight—and the bottom ripped wide open on his pants! Old vaudeville trick, yes, but us kids were hooked. And the expression on his face, looking straight at us! The band's jive reaction! And they kept on rocking! We were dumbfounded, laughing and stomping along. Gradually, we went nuts.
Not only that, but the Comets were the loudest group we had ever heard, by far. Just four of them! The din was immense, although clean and punchy. Could sheer volume be what live rock was about? Holy cow-pie! Phonographs and radios had given us no hint of the experience
It was an air-tight set too: That great music pumping into your gut, coupled with occasional comic relief. How could it fail? Showmanship supreme! And each successive verse would turn the screw tighter.
Here was the first great rock & roll band in full cry.
There were some slow parts, however. Lacking an "opener," there were filler acts and naturally we resented it. Stage lights dimmed and Haley would announce, "And now, ladies and gentlemen, Bill Haley and His Comets present..." some corny country act, or some schmaltzy Arthur-Godfrey-type stylist, or a pathetic stand-up comedian. How stupid! We young rockers were into serious music, and protested by maintaining a studied silence. One particular artist really grabbed us, though, and in retrospect stands out indeed, assisted by a recent memory recovery.
Costumed in black, with silver rivets stitched up and down and across, he was authentically weird, yet not a rocker really. A singer, maybe. His first song, an earnestly plaintive ballad, caused us to nudge each other. The next selection he cranked the volume up, or the juice, or something, and we began to pay attention.
Billed as "The Hillbilly Cat" and introduced as "The Sensation from the South," his third and final tune was a smash, although regrettably I cannot recall its title. Probably not "Heartbreak Hotel," or I would have known his true identity earlier—because only weeks ago I learned to my astonishment that the Hillbilly Cat got himself famous later under another moniker.
"The King!"... Yes, I WAS THERE. In the presence of His Majesty, and didn't even realize it until I read a book recently on Bill Haley.
Those were the days, the innocent, halcyon days of yore, pre-gangsta, pre-slice-the-bitch and glass-up-her-ass rap music, when screen actors James Dean and Sal Mineo were the anti-Establishment heroes, when Elvis Presley struck an even more soulful chord... those were the days, my friend, we thought they'd never end... those sunny days, before the music died.
Later, 'Gator
1957. 1958. 1959. The years flew swiftly by. Making out in Dad's Chevy with Charity-Ann Davies, diggin' the Everly Brothers' sweet harmonies on the radio, Buddy Holly's swingin' rhythms, Elvis' censored contortions on TV... the wildly improbable Little Richard... ballads by the Coasters, the Platters, Dion and the Belmonts, Frankie Lymon and the Teenagers... Roy Orbison... The Everly Brothers again... Could Teen Heaven get any better than this? After the sterile and superficial pap of my parents' Your Hit Parade, not likely! "Now, Snooky Lanson delivers, America's number one hit this week, 'How Much Is That Doggy in the Window?"' Geez! In its place my generation now had real music, no crap, no obeisance to Tin Pan Alley's fiscal diktat, music seemingly created just for us and lacking the apparent unspontaneity of modern adult life.
That was the trap. We were being set up for a coup de grace, leaving our nation open to yet another British invasion popularly known as the British Invasion. But that's another story: Tavistock! MK Ultra!
All real rock music is local. But so innocent, and so in love, were we.
Then somehow I became a radio announcer, a DJ on KSCJ, and simultaneously a hi-fi salesman. John Wolff, with whose wild younger brother Dan I sometimes hung out, was the first-violinist of the Sioux City Symphony and proprietor of Wolff's Hi-Fi. My great buddy Stan Shedd was store manager, myself an unpaid assistant, so there I was, way before my day, occupied with duple roles in music and audio.
My system consisted of... no, that's a different story.
All too soon came the actual "The Day the Music Died," when the bottom fell out of our hearts. How many people today who recount pop music history, could name the date and precise location of that event? Everyone knows a plane carrying young stars Buddy Holly, Waylon Jennings and The Big Bopper crashed in a Midwest cornfield. That's about the extent. Oh, and someone drove a Chevy to the levee.
Except it was Ritchie Valens (born Valenzuela), not Waylon. Just checking! There had been a concert at the Surf Ballroom in Clear Lake, Iowa, and some members of the party needed to fly ahead and not take the bus. Last-minute rearrangements were made, with Waylon, who was in the party, losing the coin toss for the plane seat. The local airport operator and his wife observed the Beechcraft Bonanza take off, then doused the runway lights and went home to bed. Some ten minutes later the small plane crashed about two hours' drive northeast of Sioux City.
Bad weather was blamed for the accident, with snow and winds gusting at 35mph. Rather unpleasant conditions for flying in a four-seater, but the next date had to be made! Pilot Roger Peterson apparently lost altitude quickly, although passengers mercifully would have been spared the sensation of land suddenly appearing below at 170 mph. We do know though that the left wingtip, on the side Buddy was sitting, hit first. The outdoor temperature was 18 degrees as pieces of wreckage ripped off while the plane cartwheeled and plowed two city blocks across the field, piling up against a barbed-wire fence on the Albert Juhl farm. No one saw or heard the crash.
Three bodies were found near the wreckage, another remained inside. Coroner's reported cause of death: Rapid impact and "gross trauma" to the brain.
(That same day in New York, an American Airlines Lockheed Electra plummeted into the East River with 72 unfortunates aboard, visibility severely restricted by fog. AP reported "police switchboards jammed with calls from Bronx residents reporting cries for help coming from the river." Who today, commemorates those many dead in song and story?)
Some friends and I discussed driving up there that very morning, February 3, 1959, after hearing the fateful news, but wiser heads (not mine) prevailed. Instead we prepared a tribute for my late afternoon show on KSCJ, which unfortunately got scotched after the first hour because The Station of the Sioux City Journal was too high-minded for steady rock & roll, however sensational the story (and it did make their front page). No matter that I also announced two hours of classical music on Sunday, straight rock was forbidden except as a dash of spice in the pop music stew. (Previously the Station Manager had banned Tennessee Ernie Ford's "Sixteen Tons" as Communist-inspired: "Another day older and deeper in debt...") But one hour of music to memorialize the fallen artists was permissible.
Next day at school I took the flack, especially from the ladies, who back then were the really avid fans. Now here's a sidebar topic!
In those good ol' days, girls were the true rockers, the 90%-majority buyers of singles who dragged us poor snot-nosed boys onto the dance floor whenever they could manage, hence into physical musical consciousness. Nowadays rock has become fiercely male-oriented, and not for the better I think. (Listen to the names: Megadeath. Gangrene. Muttafuk.) But at its inception rock appealed to women particularly. Those were the days, my friend, days that the late Wolfman Jack once characterized as "real American music—what rock'n'roll originally was before people turned it around and sideways and upside down. From 1954 to 1964, that's real. Then the Beatles hit. They didn't give our boys long enough..." Along with the "boys" Wolfman Jack certainly included the Shirelles and Martha Reeves and the Supremes.
Back to my story. There was consternation among us for another reason as well, for on the very next night, February 4th, the Buddy Holly troupe was due in Sioux City for a Wednesday night Teen Hop at Shore Acres Ballroom. Everyone had tickets!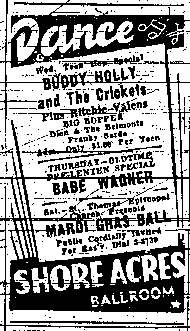 So all that day we discussed whether to go and try to have a good time, or suffer alone at home. Meanwhile replacements were summoned for the missing headliners—Frankie Avalon and Jimmy Clayton and Bill Haley and His Comets—to perform with the Crickets (and Dion and the Belmonts) in true show-biz spirit.
In the event over 1200 anxious, unhappy teenagers showed up, far exceeding the capacity of the venue, so my friends and I chose not to enter. But the occasion proved traumatic for the performers too and the Winter Dance Party tour was canceled after a week of memorial appearances.
Thus only by the proverbial hair's breadth did I miss seeing those three great stars.
In a while, crocodile
Anyway, life goes on. For many reasons (the plane crash, insipid top-selling cover versions, Elvis in Hollywood) I dropped out of rock & roll, took up the classics exclusively and went off to college. And there my rock life might have ended, with me garbed in Harris tweed jackets forever. But then, as noted, that British Invasion arrived and the Beatles' matey Northerner wit grabbed me, the Southerner Stones outrageously pissed on my shoes, the Moodys gorgeously elevated my consciousness, Steve Winwood sang a winsome tenor—and homegrown groups blossomed too: Frank Zappa (funnier than anyone), Bob Dylan (smarter), Buffalo (not Dusty) Springfield... The Airplane... The Dead...
The Great Tie-Die Loosening-Up!
But then, after a while, something slowly, terribly happened, again. To people, to the music, who knows? Somehow the scene turned ugly after the Summer of Love. And I had been there, in San Francisco—but minus the flowers in my hair. Cheap drugs? Free sex? Heavy metal?... Glitter?... In retrospect these seem like not such great ideas, but at the time...
Thus arrived my second rock'n'roll dropout. Much worse stuff than Pat Boone! Plus I had met Tony Sanchez at the Club Med in Corfu and learned that what he had written about the Rolling Stones in his shocking expose, Up and Down with the Rolling Stones, was only half the truth. That was enough for me! For the next decade I boycotted the Stones in every form.
The last authentic rock concert of the era I attended was either Loggins and Messina opening for the Mahavishnu Orchestra, or Billy Joel opening for Jesse Colin Young. Either way, not too shoddy a way to go! (...In a 'Seventies context...)
So you think you need a new set of speakers?...
Then, ten or twelve years ago, Roy Orbison, l' ancien-roi Orbison, came to town in August and some of us organized to catch his set at The Channel, a local nightspot three blocks distant from my place The Listening Studio, where we met for "pre-game" videos. Scheduled kickoff was ten PM, but upon arrival we were told that Roy would be on more towards twelve. So we adjourned back to Stillings Street where I broke out bottles of Burgundy ("...and soon hit the harder stuff..."). About midnight, suitably oiled and baked, we piled out onto the street again, whooped and hollered our way over to The Channel, regrouped and entered to join the expectant throng.
Damn, for the first few tunes I thought we had an impostor! The trademark white suit, yes. The white piano, yes again, and the horn-rim shades. But no patter, not one word. And stiff, rote rhythms—too mechanical to be true. And then, suddenly he burst out... and the joint was jumpin'! Yeah! ROCK AND ROLL!! Into the night! "Pretty Woman"..."Only the Lonely"... "Crying"...
Roy lives!
Three days later, poor Roy was dead.
Gave us all a funny feeling about our little fling.
But at least I got to see him, thirty years after.
Stay loose, mongoose
Labor Day comes around again, precious last warmth, myself back home in Iowa to visit Dad, age 91, who has seen some big bands too. In my coupon-upgrade convertible I take a breezy side-trip to visit Cousins Burnell and Sandi up at "The Lakes"—the Iowa Great Lakes region, not well known but able to boast East-Coast property values, and scene of early Johnsen family vacations on Lake Okoboji—Laura Ingalls Wilder country too. This afternoon we attend the Clay County Fair, "World's Largest County Fair," replete with food alleys, livestock exhibits, antique tractors, needlepoint and much more. And am I having a time! My first actual county fair. After Kielbasas and Cokes, Burnell and I separate from the ladies, who adjourn to their own special-interest tents, and head up to the John Deere exhibit to check out the latest farm machinery.
Last year I had climbed aboard my cousin's high-rise Deere harvester, but here we have the latest version, and the price tag reads, a grand one-hundred-eighty grand! The salesman grabs our lapels and begins to tout its myriad wonders. Burnell listens closely, although I expect he knows more about it already than the salesman. Myself clad in dungarees and feed-cap, I resemble everyone, so no one suspects a thing when I raise my hand to interrupt the spiel and inquire, in a mannerly drawl, "Yes, but can it..." And here I allow a long, verrry long pause.
Quintessentially Midwestern, such pauses are. Anyone of nervous Eastern disposition would jump right in—and ruin both continuity and outcome. These Midwestern moments of silence denote minds deliberately groping in the recesses of soul to locate truth, guided by a vocal instrument perhaps not secure, but altogether sincere. Good salesmen, ever alert to the customer, are in the Midwest prepared for these eventualities. They know such things may take time.
So the guy gazes at me calmly, confident I am formulating a sensible thought from this inchoate mass of brain cells. Eventually, however, because my pause intentionally exceeds all bounds, a slight worried expression crosses his face; thus I must conclude my query, referring back to his earlier warrants of performance: "...But... can this harvester..." He stares at me hard, clearly expecting nothing intelligent, so now I deliver the clincher, "Can this harvester… guarantee... the price of corn?"
Tension and release, classic technique; and corn be the ticket to prosperity hereabouts. In these parts corn is a god, the market a devil. My question earns another, much shorter pause, then a gigantic grin and the Deere guy goes, "Sure wish it could! I have a silo full of the stuff myself!"
In the Midwest, all men are buddies.
Hail Hail Rock 'n' Roll!
The main event later, a concert by the Everly Brothers, has been anticipated for weeks. After we regroup—my cousins and their friend Susan—I speak of my younger musical life and inquire whether they know what famous event happened very nearby, outside Clear Lake. "Hint," I say: "They call it, 'The day the music died."'
No. What?
So I recount the history. To prepare them, I had even played a tape in the car of the Everlys' recent appearance on Prairie Home Companion, in the inaugural concert broadcast from the newly-renovated Ryman Auditorium in Nashville, spiritual home of the country music Burnell loves. I am trying to establish connections here and give my cousins and Susan a bit of personal past, previously undisclosed, of life off the family farms, in the big city, Sioux City.
The Everlys are almost the last famous survivors of that sainted era. Plus, weren't they great? Who else in the Fifties—who else?—was comfortably at home on Grand Ol' Opry, Dick Clark's Philly-pop American Bandstand and Alan Freed's monster nationwide-hookup rock'n'roll shows?
Besides them, only Elvis and Roy!
The late summer weather bestows bell-clear skies as dusk settles over the grounds for this final night of the Clay County Fair. As we clamber up into the bleachers, we see the stage canopy and loudspeaker arrays located across six lanes of racetrack. Parked around the apron are hundreds of vintage Fifties automobiles to lend further authenticity to the occasion. A sense of thrill and an odor of fine Iowa popcorn inhabit the air. At the stroke of seven thirty an MC appears, briefly, then the Everlys themselves, launching right into "Wake Up Little Susie," ancient harmonies intact and with excellent sound.
Well! No mistaking these guys for robots! And the hits just keep on comin'! There's patter, too. Don, the talkative one, says, "You know, my brother Phil, he's two years younger than me. Back in our teenage days, when we first got really popular, that gap made a big difference. But as we grew older, it mattered less, and now that we're in our thirties..."
...To scattered applause...
(Later I recount Don's line to a young barwoman in the lakeshore restaurant we repair to, who wonders whether we had been at the concert—and she laughs merrily!)
Then come some other hits, and further remarks. "This band has been with us ever since our reunion ten years back. Give them a hand!" The players are duly spotlighted and each one is a stage character... from forty years ago! Shades of Bill Haley. Next the MC returns and introduces the Mayor of Everly, Iowa, just nine miles west, who presents the band with Everly, Iowa, red satin jackets and baseball caps. The audience applauds politely and the keyboard player, a lithe little Brit, gets especially juiced by the new duds.
After another string of tunes, Don delivers what must be The Speech. "I am grateful to my Daddy for moving us here from the East, to Shenandoah, Iowa, down on the Missouri River. He was a musician too and taught us everything we know. We are also grateful for our success, such a long time ago. And we are so happy to be back together, after too long apart, although my brother would never admit that. But then, he never says anything."
A round of appreciative applause, at last...
"We feel privileged to have spent our formative childhood years here in the Midwest, in Iowa, among everything that is clean, natural, decent and wholesome.
"We're not sure any place like that exists on earth today.
"But we keep on singing, and hoping such times and conditions will return.
"God bless you all, bless you and keep you."
Amen.
"Now for our final numbers..."
Rejoice! God is King! Long live every Spiritual Survivor of Original Rock'n'roll. Hallelujah! What a day!
Oh, we still have Little Richard among us too, who, when he's not being a perfect lady, dons the garb of a Christian preacher. Also not to forget Chuck Berry and Bo Diddley, and even some Platters are spinnin' together again...
It's been neat, parakeet.
So go the reminiscences of a geezer on a drunk, armed with paper and pencil and pub-crawling around Portland, a hundred miles from home, on this uncommonly warm autumn night.
As for audio, ya can all go ta hell! Music resounds in the soul without recourse to LPs or CDs, tubes or wires or tweaks or tables.
But enough about me. Bartender!
Pour another one, if you can.
(Next in this series: Bells & Cannons & Hot Mercs, or, How I Came to Love Classical Music and Hi-Fi.)