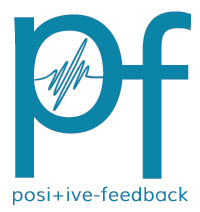 You are reading the older HTML site
Positive Feedback ISSUE 3
october/november 2002
"I Don't Drive Stock!" Chapter 4: In Which Ye Olde Editor Improves His Resistance…
by David W. Robinson
All photography and digital image processing by Robinson
The Never-Ending Story…
"Just when you thought it was safe to go back into the DSD stream…"
There's been a great deal of interest in the series that I've been doing for PF Online on modding/hot-rodding the Sony SCD-1 SACD player. A number of readers have been following the further adventures of yours truly as "he boldly voids his warranty where no man has…"
Well, you get the idea.
For those who missed the first several go-rounds, check out Chapters 1 and 2 of the story in PF Online Issue 1 at www.positive-feedback.com/Issue1/draudiocom.htm. This covers the installation of the Superclock, followed (after allowing for break-in) the Superclock Power Supply. The results, as I reported, were bloody irresistible to these ears. A number of you have followed my advice, and reported results that agree with my impressions, I'm glad to say. The Superclock/Superclock Power Supply upgrades are sine qua non as far as I'm concerned: if you're going to do any modding of your SACD player using the Audiocom parts, you really ought to start here.
Chapter 3 of this upgrade project is to be found in our Issue 2 at www.positive-feedback.com/Issue2/drmods.htm. In that exciting episode, our hero had the Elna caps on his analog/digital board replaced with Black Gate capacitors, with scrumptious results. As I said at the time, I would say that the Black Gate upgrade is more subtle than the Superclock mods, but still easily definable in its contributions to finer audio reproduction.
The question: where to from here?
This time around, good friend and trusty solder slinger Richard Kern of Audiomod (www.audiomod.com) advised that the next step should be the installation of Vishay resistors on the analog/digital power board. This was in place of the standard generic wire wounds used by Sony.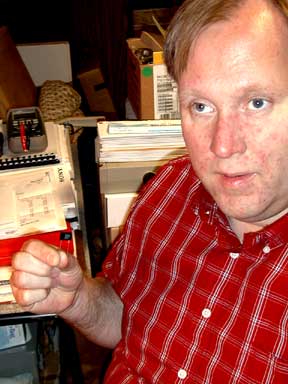 Richard Kern of Audiomod holds one of the Vishay resistors before installation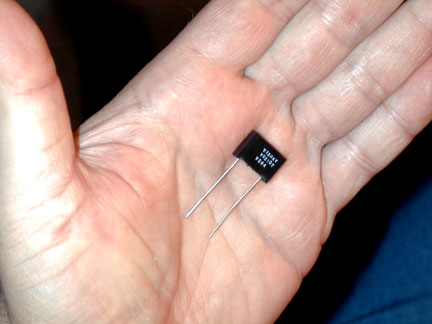 Yet Another Operation
Once again I made the drive over to Richard's place. Since time was short, I wasn't able to stay and watch the entire operation. Richard showed me the Vishays, which (as you can see in the photo above) are radically different in appearance from standard wire wounds. We chatted for a bit… I took some more photographs… then I left him alone to get the job done.
I will say this for Richard: he clearly knows his stuff, and has an incredible ear for the results of what he's doing. Every time I drop by, I'm more impressed by the quality of his work, and his attitude towards beauty and art in audio. His workmanship has been flawless… and he's been inside my SCD-1 more often than I'd like to think!
Am I recommending him highly?
Yep.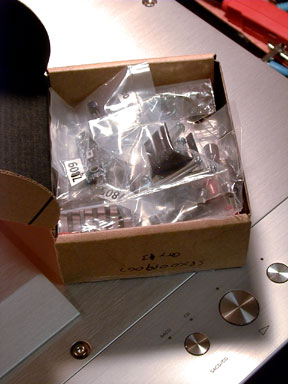 More parts, more upgrades…the beat goes on!
Anyway, by the next morning, it was ready to be picked up—Richard works well, works fast, and his rates are very reasonable.
(And in case you were wondering, no, not everyone in fine audio is the same way. Caveat emptor.)
"Don't worry about the break-in; this won't take long," he said.
He was right, too.
The Sound
It's interesting: there has been a definite progression at several levels as I've worked through these mods to the SCD-1. The Superclock/Superclock Power Supply are very obvious in their impact and improvement of musical playback through the SCD-1… but also take around 400 hours to break in. And that's even if you've gone through the legendary 400 hours of initial break-in for either the SCD-1 or the SCD-777ES. (You've been warned!)
The Black Gates broke in rather nicely with about 200 hours, as I reported. The results were more subtle, with a lovely burnished silkiness rounding the articulation, detail and increased silence of the first two mods.
The impact of the Vishays was even more subtle than that of the Black Gates, and the break-in doesn't seem to be much longer than a few hours. (Five hours? Ten hours? Maybe a few more… maybe not.) The sound seemed to settle in very quickly, anyway.
I would characterize the improvement in audio reproduction with the Vishays as being the improvement of micro-detail, and a slight movement away from the warmth of the standard resistors and towards tonal clarity. Let me see if I can make this impression more clear: it's as if the "burnished silkiness" that I mentioned above in my comments about the Black Gates had "moved" tonally after the Vishays were in place… as if the silkiness was still very definitely there, but that the burnishing had shifted from a golden tonal hue to a lightly silver one. The effect is just the slightest bit cooler and drier, with more of the aforementioned micro-detail evident. Some term this "inner detail"; I'll usually refer to "micro-detail." Regardless of the term used, by this I refer to the articulation of minor musical detail/nuance…the quiet sszzzhhhh of a cymbal in a jazz trio (see e.g., the brilliant new SACD by the Chris Lomheim Trio, The Bridge, on Artegra ART2004), or the distant sound of a back wall, or plucking/intonation and glissando (as in Äkta Spelmän's brilliant Swedish Fiddle Music, Artegra ART3001… be sure to check out this exciting new SACD label at www.artegra.com!. Micro-detail requires a more delicate awareness, and an ear to match; the Vishays will give such a soul much to enjoy and delight in.
While it took me a while to characterize the change, once I had located it aurally, I found that I was able to describe the lovely improvement that it made. If you're like me, you'll find that you'll notice—and appreciate—the Vishay difference much more when listening to acoustical instruments/small ensembles than when listening to major orchestral works going full tilt. (For those, the Superclock mods and the Black Gates come much more to the fore.)
For those who might be wondering: I did not notice any particular change in imaging/soundstaging—the width/depth of soundstage placement did not improve any further than the Superclock/Superclock Power Supply mods had already done. Timbre was a touch cleaner, of course, but I would attribute that to the improved micro-detail.
Anyway: those of you with musical tastes in these directions should pay particular attention: the Vishay upgrade is extremely important to a person like you. And if you're running tubes, I would underline this point. I spent the earlier part of the Vishay listening with the Linn Klimax amplifiers and the Linn Komri. Then I shifted to the wonderful deHavilland Aries 845 monoblocks (soon to be upgraded to the new 845-G's!) with the musical Buggtussel Amygdalas (as reviewed in Issue 2 at www.positive-feedback.com/Issue2/dehavilland.htm) to see what the sound would be with directly heated triodes (DHT) and moderate efficiency (91 dB/W/m) speakers. The combination of great 845 sound… glorious triode sound… with the increased clarity of the Vishays will bring acoustical, small classical and jazz ensembles, and the human voice to a finer focus than you've heard from SACD before.
Even after I shifted back to the Klimax/Komri, the impression of lightly more neutral, lightly more articulate micro-detail remained.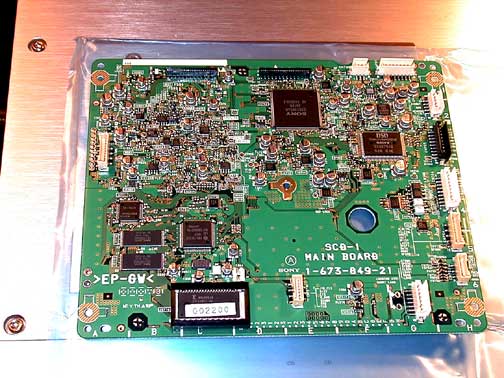 Now here's a rare sight: the SCD-1 main board, in all its naked glory. (Richard had an extra that he'd been sent; just for fun, and the public interest, I photographed it. We're including it here… no extra charge!)
Conclusion
Those of you who have the means and audio/musical interests as I've outlined above should strongly consider the Vishay mods to your SCD-1 or 777. There is no doubt that you'll find it to be a worthwhile upgrade. It should not be done in isolation, however; at the least, you'll want to do it in tandem with the Superclock and Black Gate caps… nothing less.
On the other hand, if you're on a budget, or looking for the "most bang for the SACD modding buck," on the other hand, I'd concentrate my shekels on the Superclock/Superclock Power Supply, followed by the Black Gate caps.
The Vishay resistor upgrade to the Sony SCD-1 therefore rates a Ye Olde Editor's "highly recommended," subject to the provisos above.
For more details or for current pricing, contact Richard Kern at 503-659-6599, or via email at RKern70055@aol.com.
Coming Up
Stay tuned… in PFO Issue 4, Richard and I will venture the wilds of upgrading the regulators and OP amps in the SCD-1. Should be great fun!
Also coming: an interview with another gifted audio artisan and SACD hot-rodder, Dan Wright of ModWright (www.modwright.com). It's terrific having such excellent audio folks here in River City… we'll be sharing them with you.