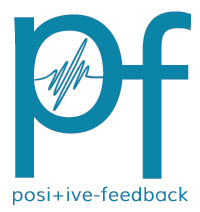 You are reading the older HTML site
Positive Feedback ISSUE 29

january/february 2007
Three from the Naxos American Classics Series
by Karl Lozier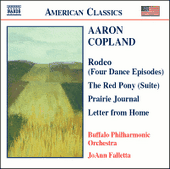 Aaron Copland - Rodeo (Four Dance Episodes), The Red Pony (Suite), Prairie Journal, Letter from Home. Buffalo Philharmonic Orchestra, Conductor JoAnn Falletta. Naxos CD 8.559240
Aaron Copland, if not the most famous American composer to be featured in the now well-known series by Naxos, is certainly one of the four or five best known ones. He exerted a tremendous influence on following American composers and his compositions are very wide ranging. In this recording, Rodeo is the best- known composition and The Red Pony is probably a fairly close second being taken from his score of the film of John Steinbeck's novel of the same name. The film starred Robert Mitchum and Myrna Loy and revolves around a boy and his family's life on a California ranch.
As often is the case, the above order of cover titles is not the order on the disc. Now in the twenty first century the ballet Rodeo is by far the best-known selection on this release and so it warrants top billing. The first composition heard on this varied release is Prairie Journal. It was commissioned in 1936 by CBS as part of that network's first series of American Composer Commissions. A particularly interesting bit of trivia is that the original title was Music for Radio. At the first network broadcast listeners were asked to submit proposed sub-titles. The winning suggestion was Saga of the Prairie. Copland evidently like that idea, at least in part, and re-titled the composition, Prairie Journal! With strong hints of being outdoors, varied hustle and bustle in the countryside ends very serenely to paraphrase Edward Yadzinski's liner notes.
The justly famous dances from Rodeo are simply pure American West cowboy music, tunes and nostalgia. (Copland's other "cowboy" ballet is Billy the Kid). Rodeo is high spirits and Americana all the way and a real workout for the orchestra. It is very well performed here even if conductor Jo Ann Falletta is not yet as widely known as she should be. Competing performances include those by Copland, Bernstein, Gould and others.
Letter from Home, written during World War II, is extremely evocative of feelings such as nostalgia, reminiscing and loneliness as felt by a U.S. soldier fighting overseas. The six or six and a half scenes from the Red Pony Suite are as varied as could be found on a western ranch and revolving around a family, a boy and a red pony. It is a fitting finale to a multifaceted collection of Copland's music well performed and once again surprisingly well recorded with no obvious failings. I need to stop saying, "surprisingly well recorded" and simply say, "very well recorded as usual in this fine series". All that represents another top recommendation at a bargain price.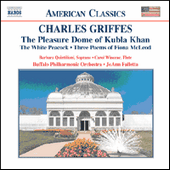 Charles Griffes - The Pleasure Dome of Kubla Khan, The White Peacock and others Poem for Flute and Orchestra, Three Poems of Fiona McLeod. Buffalo Philharmonic Orchestra, Conductor Jo Ann Falletta, Soprano Barbara Quintiliana (Three Poems). Naxos CD 8.559164
Griffes can be described as one of the most familiar of the least famous American composers. A peculiar definition by me but reasonably accurate I believe. His compositions pop up rather frequently and are often one of his many shorter works featuring a contrasting atmospheric or impressionistic composition of melodic beauty contrasted to the rest of a typical orchestral program. Nearly all, if not all, the compositions featured here (seven total) started off as piano compositions. Griffes seemed destined to be a concert pianist. While studying piano in Europe, Englebert Humperdinck influenced him to become a composer, a wise decision. This Englebert Humperdinck is the composer of the famous (for two reasons) children's opera Hansel and Gretel. The other bit of fame for that opera is the generally accepted fact that almost uniquely it is as enjoyable and effective when sung in English as in its native language. The White Peacock has become well loved though his Poem for Flute and Orchesta here featuring flutist Carol Wincone and The Pleasure Dome of Kubla Khan are his generally acknowledged to be his two masterpieces. Sadly while still in his thirties, Kubla Khan was performed to instant success and fame just months before his death; definitely an American tragedy.
This recording is seemingly beautifully performed and recorded with great clarity and natural perspective. That has been true of most of the Naxos recordings I have received recently. The Poems of Fiona McLeod feature soprano Barbara Quintiliani and here very full and rich soprano voice. Harlan McIntosh' novel This Finer Shadow has Griffes' White Peacock playing a vital part in the plot. The Pleasure Dome incorporates most of the well-known earthly pleasures from mental to atmospheric, visual and physical. Beautifully atmospheric and at times with hints of Ravel and Debussy impressionism. This release receives my highest recommendation for plain old musical enjoyment plus sympathetic recorded quality at a bargain price.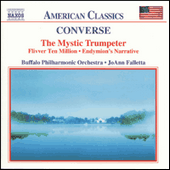 Frederick Converse - The Mystic Trumpeter, Flivver Ten Million, Endymion's Narrative Buffalo. Philharmonic Orchestra, Conductor: Jo Ann Falletta, Naxos CD 8.559116
As with many composers, Frederick Shepherd Converse displayed his musical talents at an early age. He pursed advanced musical studies at Harvard; however after graduation he entered the world of business. After a few years he returned to the world of music and specifically the niche of composition. In his mid thirties his opera, The Pipe of Dreams, became the first American opera ever to be performed at the Metropolitan Opera in New York!
Twice Converse wrote compositions based on the famous poem, Endymion by John Keats. This widely acclaimed masterpiece by Keats begins with the widely celebrated and quoted line.....? *Dear readers, I give you that line as the very last line of this review article in case you forgot it after your school literature days (don't peek), you are being tested! Converse's composition is simply derived from a single scene from Keat's poem and definitely not representative of the entire poem. His work, Endymion's Narrative is descriptively complicated and revolves around personal internal struggles, impulses and emotions particularly as might be found in the life of an artist, perhaps a musical artist. This composition is, for some listeners, not quite as immediately appealing as the other two works on this fine release.
The opening selection on this disc is The Mystic Trumpeter, a title that I found instantly interesting and appealing. Converse said that he recast Walt Whitman's Leaves of Grass as a tone poem into five sections. This mystic, strange or at times wild trumpeter creates (by Converse) the five sections descriptively: "Mystery and Peace", "Love", "War and Struggle", "Humiliation" and finally, "Joy". Readers should remember these are descriptive or at least impressionistic sections of a musical tone poem and very well handled by Frederick Converse who is best known for his fine tone poems. This is a most ambitious composition.
The other tone poem in this release has the longest full title that I can remember ever seeing or hearing. Flivver is an older term used to described an automobile and often specifically Ford's least expensive models for many years. Converse's full title is: "Flivver Ten Million: A Joyous Epic Inspired by the Familiar Legend The Ten Millionth Ford is Now Serving Its Owner". Again, dear readers, remember we are dealing with descriptive music—painting a mental image in other words. I believe that Converse created much more than he had originally intended. He is quoted as saying, "I set about it for my own amusement and he who wishes to express American life or experience must include the saving grace of humor". All is not humorous here. All is interesting and encompassing automobiles and that Detroit industry and life as well as life as influenced by the automobile. All this is accomplished in just over twelve minutes in a series of eight vignettes without pause. The beginning vignette is Dawn in Detroit and the sixth vignette is The Joy Riders to give you a strong hint of what Frederick Converse was valiantly attempting here.
Other than The Collision vignette in the above composition, that can be just a bit jarring, these musical compositions should be found musically enjoyable by most and would not be considered too modern or hard edged or too whatever. They belong in the romantic period. This is fine music by a relatively unknown American composer. It is also beautifully played by a fine American orchestra conducted by an excellent and sympathetic rising star. As with my other recent reviews in the Naxos American Classics recordings, all have been consistently well performed if possibly subtly yielding a bit in resources and power generated by America's largest symphony orchestras. The recordings' audio qualities are surprisingly excellent and consistent, perhaps yielding to no others in modern stereo sound reproduction. If you are not enjoying the excellent audio quality that I am attempting to describe, I respectfully suggest the following. If you are hearing harshness or distortions in the upper or treble range suspect your CD player and try a better one (such as mentioned in PFO reviews). If the clearly solid bass notes in these recordings are bloated or boomy, first suspect your loudspeakers or their placement in your room. With excellent clarity, overall perspective seems to be around one third to half way back from the stage and possibly slightly to the right of center. We could ask for some releases to be in the higher yet qualities of SACD recordings though. Highly recommend—very highly—search out these bargain priced Naxos recordings.
*Your teacher would be proud of you if you remembered that famous, very famous, beginning line in Keat's poem Endymion is, "A THING of beauty is a joy for ever.