How much flatter would you're platter be?
I can remember my friends Dad scrunching warped and forlorn records in between two heavy slabs of glass, placing them in the oven, and then pacing like a jumpy baker until the ting of the timer. He made a lot of black bubblegum.
Most audiophiles (vinyl loving at least) have tried numerous ways to flatten vinyl on their own, with varying degrees of success. Imagine the treasure trove of secondhand vinyl; the old school records that always sat untouched at garage sales (say an engine blocks weight of the stuff for a buck). If only someone could come up with a reliable way to do it, a way that left them flat and playable and sounding better.
My dealer Kenneth runs one of those neighborhood stores that harken back to the days when a dealer still lent someone something on his shelves to take home and try. Signature Audio is always full of some really great stuff from all over the world and Kenneth is always willing to help. Knowing that he had a copy of Air Tight's Disc Flatter on hand, I asked Ken if I could borrow it to try. It's a big beast and ways about 25lbs with a hefty price tag to boot (circa $2100 USD), but man does it flatten records… more on that in a moment.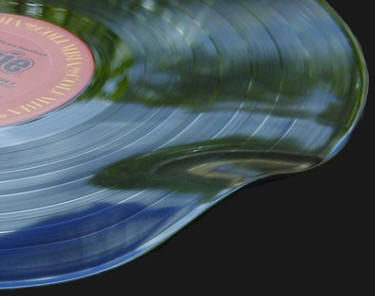 Think of the Disc Flatter as the easy bake oven of vinyl flattening. Regarding ease of use, it is not a toy. Its heavy metal casing inspires confidence, and if you're in any doubts as to the aesthetic sensibilities of the boys over at Air Tight the manual, in its almost poetic Japanese to English translation, tells you pointedly that the Disc Flatterers (that just melts on the tongue) 'black and gold colors match any sophisticated audio systems'. So there. However, the real story isn't its brawn but rather the delicacy of its touch and this applies to the 'semi-conductor film heaters'. Hidden away behind two heavy sheets of glass mounted top and bottom, and incredibly thin (..02 mm) they heat the vinyl placed inside to a purported maximum of 65 Celsius (about 170 F). The manual claims the unit 'self-regulates' its temperature and the whole process takes 4 hours; two to warm the record and two to cool it back down.
The process itself is devilishly easy. Simply pull up the top until it locks into place. Place the record in the center of the bottom pane of glass (guidelines for aligning the record are painted on the surface of the glass, making it a snap) and close the lid. Now simply locate the dial on the top of the unit, crank it all the way left, and return in four hours; the machine does everything else. If your goal is to flatten vinyl with the minimum amount of effort and anxiety, wipe the tears from your eyes and buy one of these things.
I had some pretty nasty stuff that I hadn't played in awhile including two copies of Miles Davis' Nefertiti pressed on 180 gram vinyl. Both these records had pretty severe outer edge warps, gentle rises in the middle, and were badly dished. My Mitchell record clamp cured the dishing, but couldn't do a thing with the other problems. I ran both the discs through the Flatter with both coming back in pristine shape—as flat as could be. Some of my Wes Montgomery records had similar problems and they too were cured. Playing Wes' "Moving Along" post-Flatter, the presentation was clearer, everything seemed more alive which made me realize just how much pitch distortion those warps had been causing. Older records were also helped (though I find most of my 50s and 60s vintage vinyl to be dead flat anyway), and never once were any damaged or their sound not improved. The Flatter is unperturbed about the weight of the vinyl—I tried everything up to and including 200 grams without a problem. About the only things that shouldn't be tried are Sheffield Labs pressings and 'records without grooves,' leaving out some 45rpm single-sided material and records without a groove guard.
If you're an avid collector of vinyl and you plan to be for a long time then you could look upon the Disc Flatter as an essential tool. If you're a garage sale addict, then you could buy the severely warped product cheap and voila, brand new records. My dealer has sold exactly one and that to a group of 5 vinyl enthusiasts who shared the cost of ownership and that makes a lot of sense to me. For a group of audiophiles or a club that is into vinyl it wouldn't hurt to have one of these things lying about. Graham Abbott
DT-01 Orb Flatter
Retail: $2000
Axiss Distribution, Inc.
17800 S. Main St., ste 109
Gardena, CA 90248
TEL: 310. 329. 0187
email address: info@axiss-usa.com
web address: www.axiss-usa.com