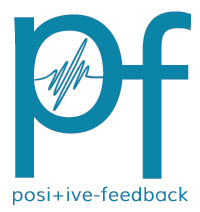 You are reading the older HTML site
Positive Feedback ISSUE 29

january/february 2007
CES - 2007 - Part 2
by Dave and Carol Clark
And the report continues...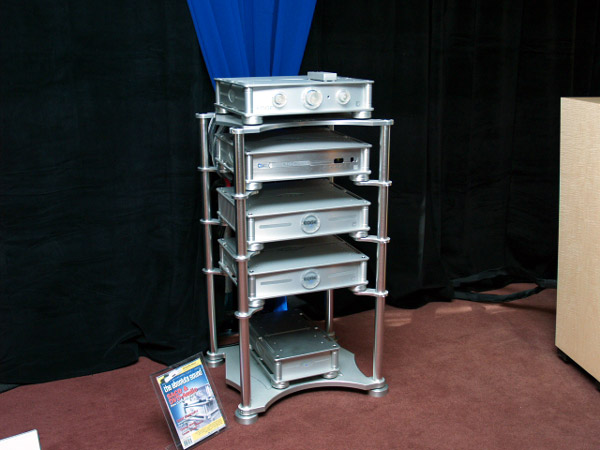 Edge Electronics System one with CRCD $5268, G2 preamplifier $5148, GST amplifier $12,248.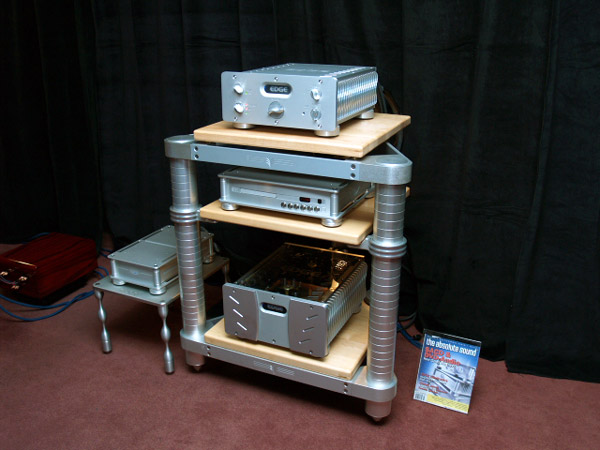 Edge Electronics CRCD $5268, Signature 1.1 preamplifier $12,268, NL12.1 amplifier $20,800.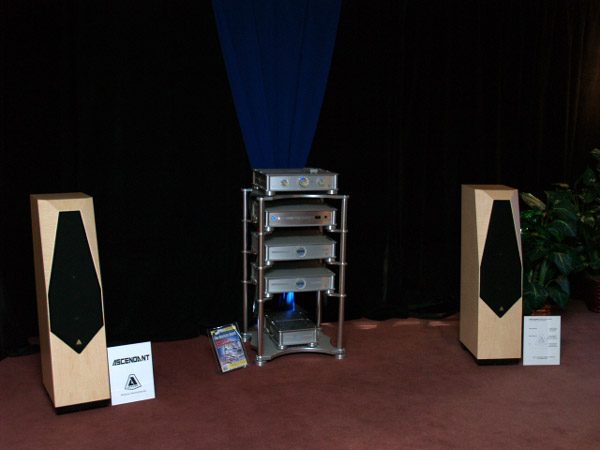 Edge System one with Avalon Ascendant loudspeakers, this system sounded really good.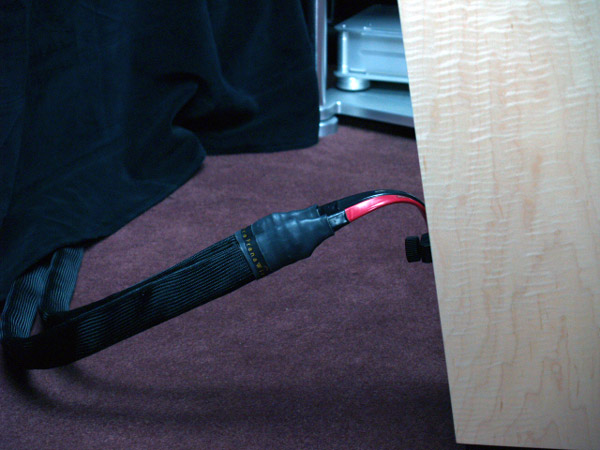 Edge used Prana Wire.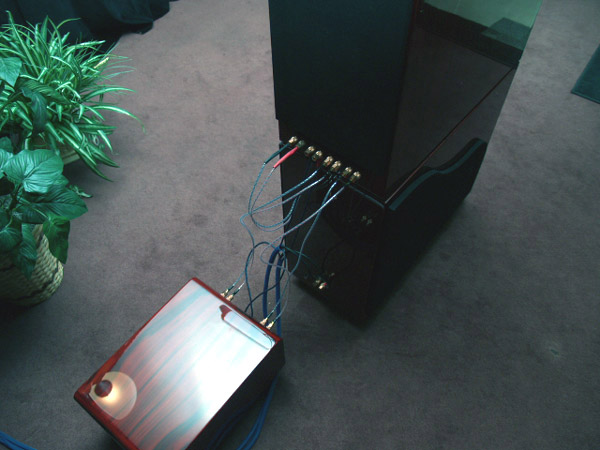 The Nola loudspeakers in the Edge room wired with Prana Wire.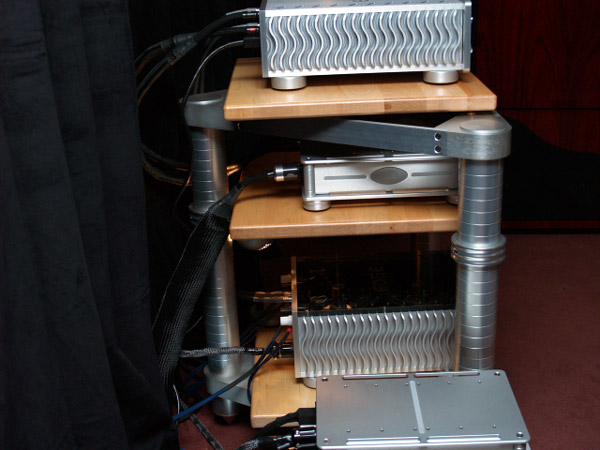 Another view of the Edge electronics wired with Prana Wire.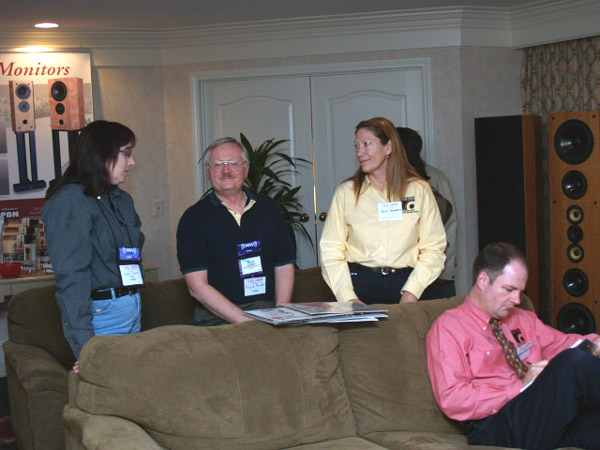 Carol Clark and Roger Gordon discussing The Secret Policeman's Ball with the folks from PBN Audio.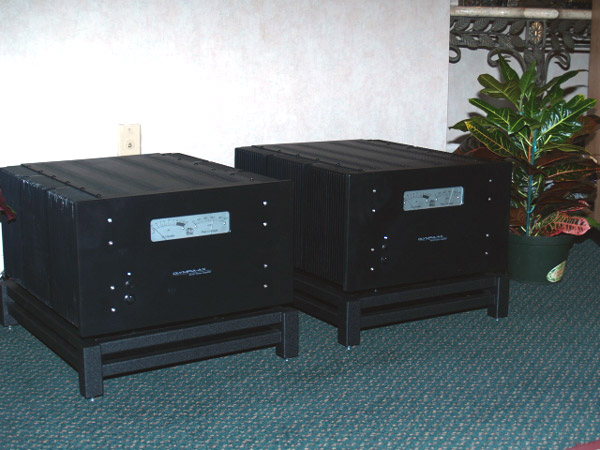 PBM Audio Olympia AX amplifiers $20,000.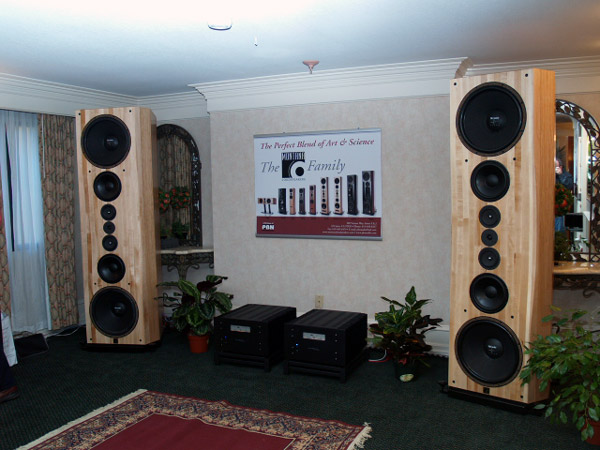 Montan Master Reference loudspeakers $85,000 pr.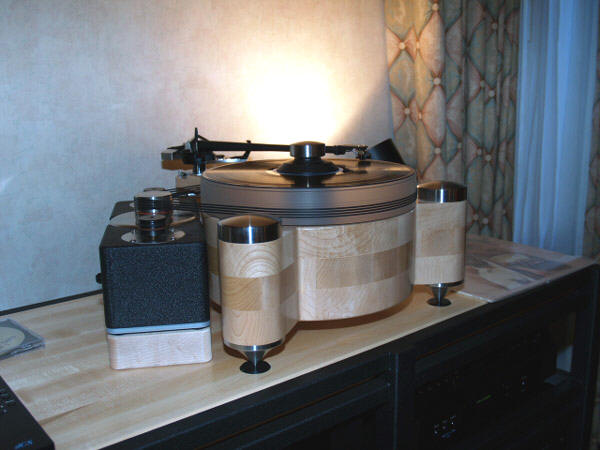 PBN Audio Custom Shop Turntable with SME 312 arm and Clear Audio Accurate cartridge $10,000.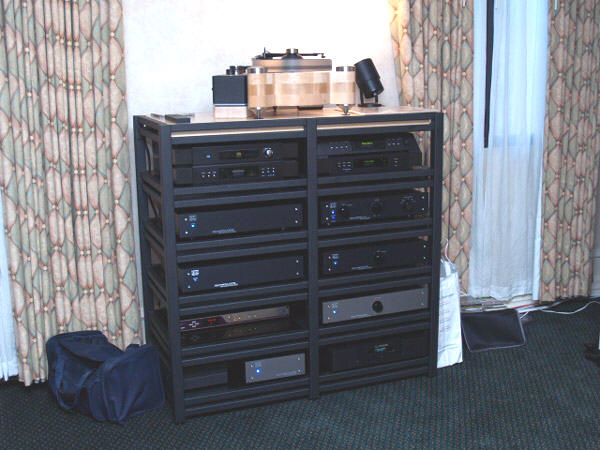 PBN Audio with Olympia PX phono stage $20,000 and Olympia LX line stage $20,000 and Olympia AX amplifiers $20,000.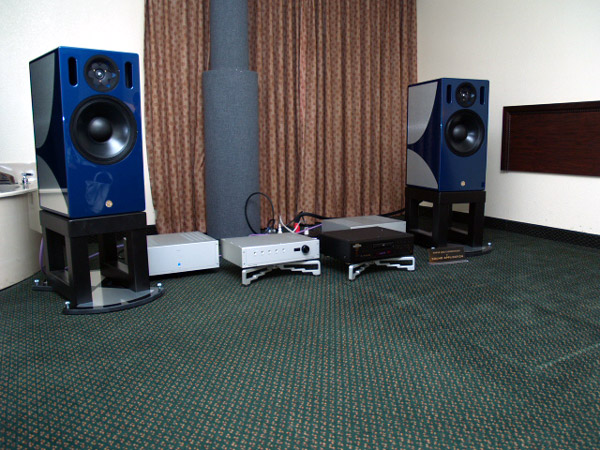 Audio Critical Mass and Concert Fidelity showed with Escalante Designs Freemont loudspeakers.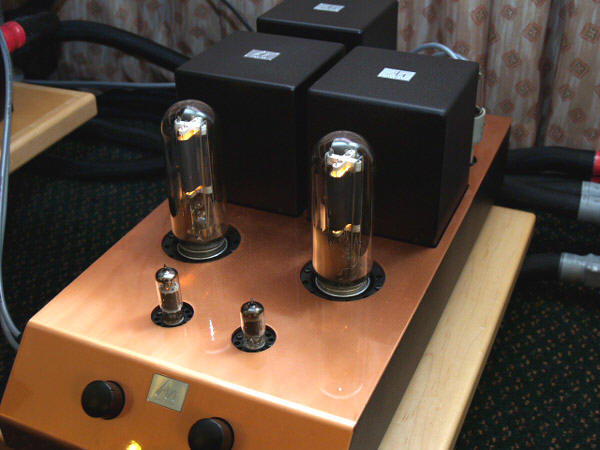 Audio Note UK showed Ongaku amplifiers.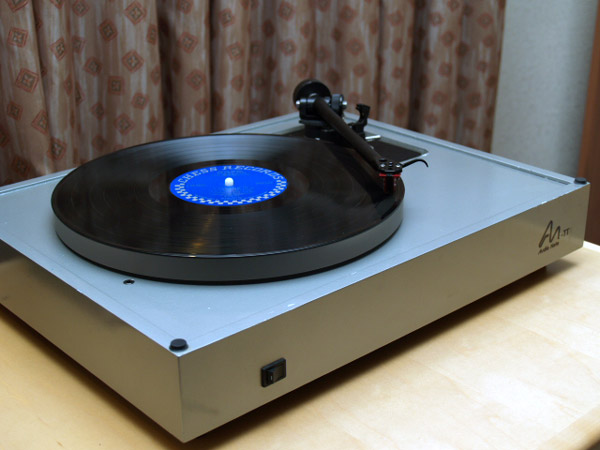 The Audio Note UK turntable 2, arm 3, and IO1 cartridge.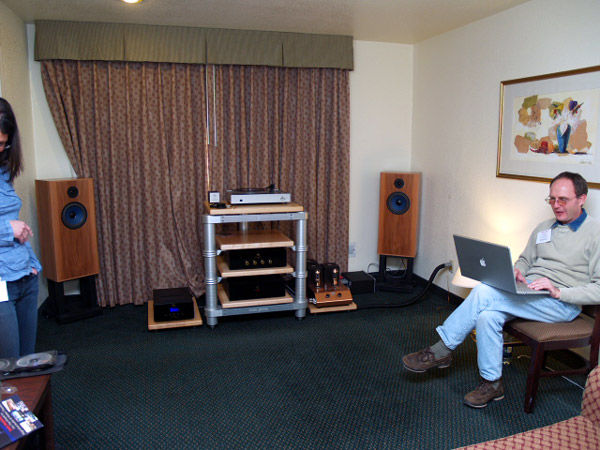 Audio Note UK with AN/E speakers, Acoustic Dreams equipment rack, and all AN electronics.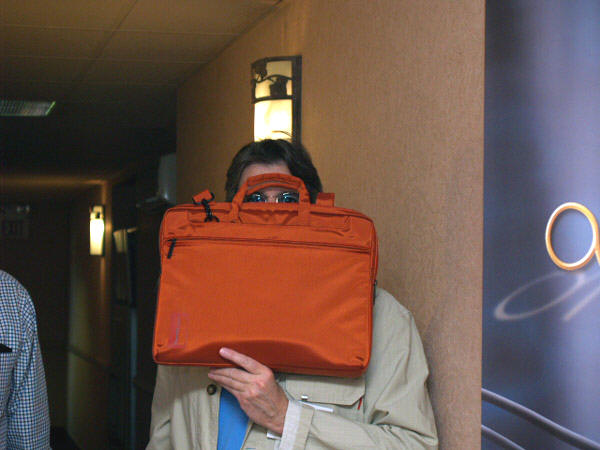 Alan Kafton, I presume.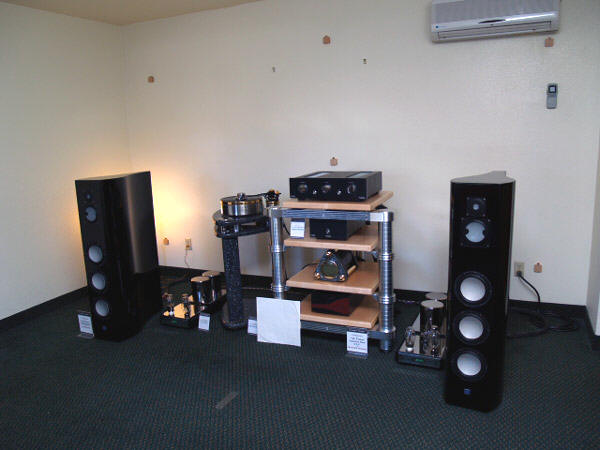 Acoustic Dreams system featuring Lumen White Silver Flame loudspeakers $27,750 pr and Ayon electronics.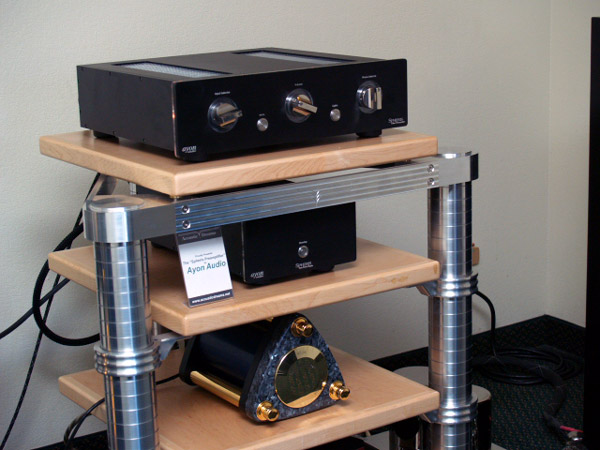 Ayon Spheris preamplifier $24,000.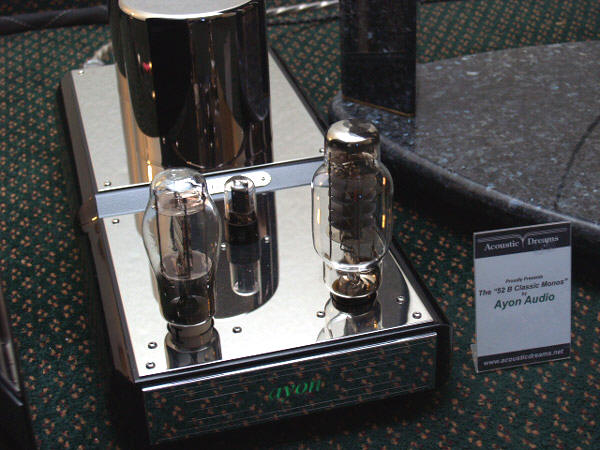 Ayon 52B Classic monoblock amplifier $23,000.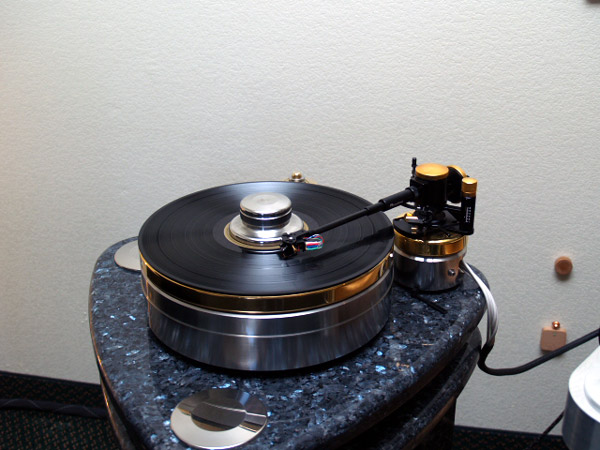 Blue Pearl Jem turntable $82,000.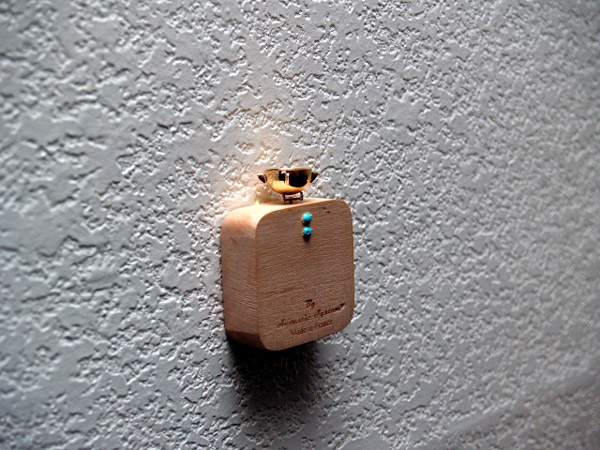 In the Acoustic Dreams room we find the resonance "wall-cups" from Acoustic Systems. These were used throughout the room.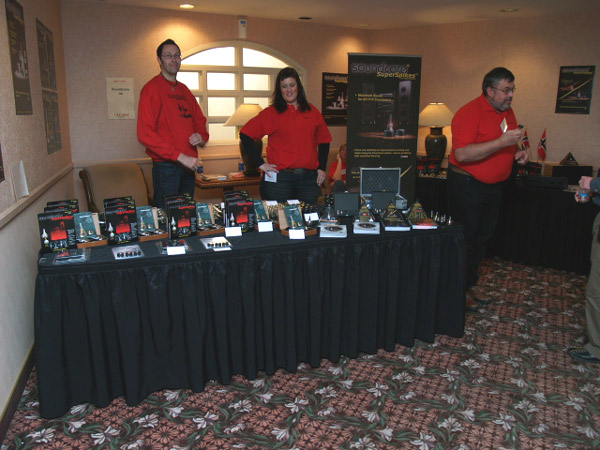 Soundcare as a Norwegian company offering some rather ingenious speaker and component isolation feet that do not damage floorings or table tops....