Hector Berlioz, La Damnation de Faust. Orchestra National de Lille/Region Nord-Pas de Colais, Jean-Claude Casadesus, Conductor. Naxos CD 8.660116-17 (2 discs)
by Karl Lozier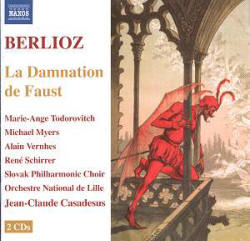 Here is an old, very old, favorite musical selection of my youth. It is a very pleasant surprise to have a new version for review. This outstanding composition is not a common selection by most regional orchestras and even less common to be performed by a touring group. The rather demanding scoring for four soloists plus chorus puts it out of reach for most musical groups. Here is a brilliantly scored composition of a bit more than two hours length performed mainly (particularly on the first disc) but by no means entirely, by three male vocalists and a large chorus. The well-known tale of selling one's soul (Faust's) to the devil, Mephistopheles, is loosely based on Goethe's tale of Faust with a significant change in location. Much may be familiar to even casual listeners as excerpts of this beautiful composition are commonly performed. Many of the excerpts are truly showpieces for orchestra or orchestra plus chorus.
My introduction to this rather unique composition was nearly 50 years ago in an outstanding and very powerfully passionate performance by Igor Markevitch. His conducting often seemed to range from a bit disappointing to simply outstanding with little in between consistency. I have had no need to search for other performances. This performance is better described as relatively lyrical, lovely and lovingly performed. Not one of the larger and better known orchestra's of the world, this group must have spent long hours rehearsing and rehearsing to get the outstanding results that are evident on this excellent two CD recording. For best results, turning up the volume or gain control, is definitely recommended. The overall perspective is pretty much of the mid-hall variety with some variability and featuring particularly nice reproduction of the horns. I have gotten a bit spoiled by the closer perspective often offered by companies such as Telarc and Reference Recordings, particularly of huge orchestral forces performing large-scale compositions. Berlioz's Damnation of Faust is very definitely a large-scale composition. While very enjoyable, there are times that I would turn up the volume a bit more while at the same time wishing for a slightly closer perspective with an even larger orchestra. That is simply my personal preference and while wishing, I would request the release of a SACD version of this music and with surround sound! This composition can be an audiophile thriller. Here it is more of a music lover's dream. If you are not familiar with this music, you should be! At Naxos' usual bargain price it is very easy to give this a relatively high recommendation. I remain surprised at the overall excellence of this release by performers largely unknown to me. While you are searching it out, I would suggest picking up a copy of another of Berlioz's beautiful compositions, Harold in Italy. Even though Harold is there, neither he nor anyone else is singing on that composition.