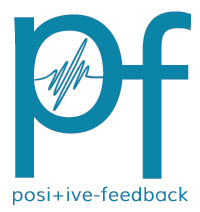 You are reading the older HTML site
Positive Feedback ISSUE 29

january/february 2007
Notes of an Amateur - February, 2007 Part 2
by Bob Neill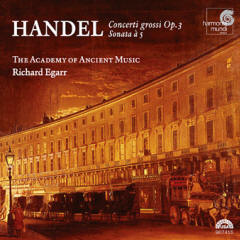 Handel, Concerti Grossi, Opus 3; Sonata a 5. Academy of Ancient Music. Richard Egarr, director. Harmonia Mundi, HMU 907415
The two premier English early music orchestras, the English Concert and the Academy of Ancient Music (no disrespect meant to John Eliot Gardiner's English Baroque Soloists which I consider an adjunct to his Monteverdi Choir, especially in recent times) are now under one roof, Harmonia Mundi. The Concert, directed for a great many years by Trevor Pinnock, are now led by Andrew Manze; the Academy, directed for at least as many years by Christopher Hogwood, and having been led lately by both Manze and Paul Goodwin on an interim basis, are now directed by Richard Egarr. Got it? Both orchestras are now fully into their second generation and ready to strut their new stuff. Oh, and Hogwood also directed and now occasionally guest conducts Boston's Handel and Haydn Society—more about that below.
What we have here is the Academy's first recording under Egarr of one of the most intoxicatingly melodic batches of baroque orchestral music ever written. Most of you likely know Handel's Opus 6 set of concerti, also perhaps Corelli's Opus 6—the pair of works that set the standard for the genre. Handel's Opus 3, which fewer of you probably know, becomes many music lovers' favorite on first hearing. Hogwood conducts the most ebullient and infectious version I know of with the H&S Society, recorded for Oiseau Lyre about twenty years ago. That version has held up well but we really were due for another take. (Hogwoods is still available on Avie.) Egarr's approach is conspicuously more deliberate, giving the rich melodic development additional room to breathe. Egarr also works with roughly half the number of musicians Hogwood had, so the Academy's sound is a bit more transparent and less full. Hogwood loves the music's energy and liveliness, Egarr loves its beauty—and Concert first violinist/leader Pavlo Beznosiuk's beautiful tone serves the conductor well.
You can't lose either way here. It's absolutely wonderful music, my favorite set of concerti grossi of the period. Egarr's version includes as a bonus the delightful Sonata a 5. The director's notes are instructive and lively. Like his predecessor Hogwood, he is a thorough student and effective writer about the music he leads. We are told this release is the first of a new series of Handel recordings, which will give Egarr's Academy plenty of opportunity to show us more of how they feel this composer should sound.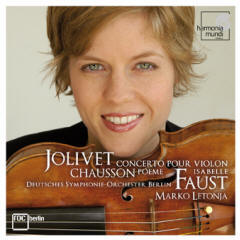 Jolivet, Concerto for Violin and Orchestra; Chausson, Poème for Violin and Orchestra. Isabelle Faust, violin. Deutsches Symphonie Orchester Berlin. Marko Letonja, conductor. Harmonia Mundi, HMC 901925
By pairing Chausson and Jolivet, this recording makes a historic point that is impossible to ignore. The music that preceded Impressionism in nineteenth century France—the late romanticism of Fauré, Saint-Saens, Franck, Lalo, Chausson—has remained extremely popular among many listeners made anxious by the music that succeeded it. In this music, if you are even just a bit of a cultural historian, you can hear the old world in its final act, the last world that some music lovers feel at home in.
Chausson's Poème sits at the heart of this late French romantic aesthetic. It is an attractive, rhapsodic piece that gives the soloist more than the usual space and time to perform than is usual in a work written for soloist and orchestra, which may be why the composer called it a poem rather than a concerto. It is also about half the length of a traditional concerto. Its flavor is a bit Russian, in the spirit of Rachmaninoff. It is 'full of feeling' and effective enough at that sort of thing. But in this pairing it can't help but serve as a straw man for the Jolivet concerto. I had better confess my general lack of responsiveness to the French version of late romanticism and move on to the main course!
Jolivet's concerto, written on the far side of the great divide—past the transitional Impressionism of Ravel and Debussey and deep into the twentieth century, dramatizes the aesthetic distance between the nineteenth century and modernism. This concerto was the composer's twelfth and last for the violin, written near the end of a life that came to musical maturity in the 1930s, the high tide of modernism. If your musical home is the 1920s and 1930s, coming to this work from the Chausson will be like coming out into the open air from a richly furnished salon. If you are more comfortable in Chausson's world, the Jolivet will feel renegade, dreamlike, and arch. I appreciate the Poème but am drawn into and spoken to by the Jolivet. It has all of true modernism's virtues—crispness, contrast, dissonance playing with harmony, melodious chromaticism, rhythmic energy. This is the spirit of Stravinsky, which in the hands of many of his contemporaries made that spirit into a musical world. For those of us who love and have grown accustomed to it, modernist music redefines the nineteenth century aesthetic. The older music loses none of its richness, but we find ourselves slightly distanced from it: we are more conscious of it as art, just as we are more aware of Dickens as art having read James, Conrad, Joyce, and Faulkner. We have to make a conscious adjustment, suspend more disbelief to hear it. We do it gladly, it is no less great music. It has not changed. But we have. Modernist music (and literature) has changed us.
I have never heard this concerto before and am extremely grateful to Harmonia Mundi for the opportunity; and also to violinist Faust, one of the first of Harmonia Mundi's 'new interpreters' ten years ago (with a fine set of Bartok's violin sonatas). She is an excellent musician and makes a compelling case for Jolivet.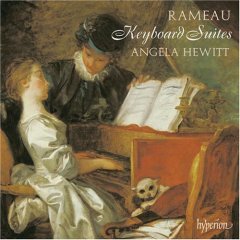 Rameau, Keyboard Suites, Angela Hewett, Hyperion. CDA 67597
Having recorded three CDs of Couperin's music for solo keyboard, Angela Hewett had to do at least one of Rameau's less introspective but more melodic work for the instrument. Thirteen years younger than Couperin and two years younger than Bach, he is very much of their stylistic frame of mind, which is to say eloquently baroque. I know of this music chiefly through Trevor Pinnock's harpsichord versions on vinyl for CRD. Rameau's music transcribes from the harpsichord to the piano as gracefully as Bach's and, some will doubtless say, a little more so than Couperin's. As with both her Bach and Couperin, her performance here does not attempt to imitate the strengths and limitations of the harpsichord but treats the suites as music of its time, as if written for piano. As a result, it is somewhat richer, more expressive, and more dynamic than Pinnock's version but retains the composer's sense of discipline and formality. I find it absolutely irresistible, one of Ms. Hewett's very best.
System used for these auditions: Audio Note CDT 2 II transport and Dac 4.1 Balanced Signature, Audio Note M6 preamplifier and Neiro amplifier, Audio Note AN-E/SPx SE speakers. Cabling is Audio Note Sogon, AN-Vx, and SPx.
Bob Neill, in addition to being an occasional equipment and regular music reviewer for Positive- Feedback Online, is also proprietor of Amherst Audio in Amherst, Massachusetts, which sells equipment from Audio Note, Blue Circle, Manley Labs, and JM Reynaud, among others.