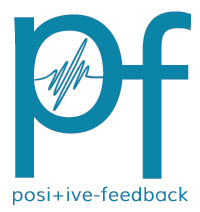 You are reading the older HTML site
Positive Feedback ISSUE 29

january/february 2007
Notes of an Amateur - January, 2007 Part 1
by Bob Neill
Back in Issue No. 2, I wrote a long-winded piece about "Profundity and Contemporary Music," (http://www.positive-feedback.com/Issue2/neillmusic.htm), which ended up focusing on Russian composers Sofia Gubaidulina and Gia Kanchelli. Lately I wanted to catch up with Gubaidulina, whose reputation continues to grow.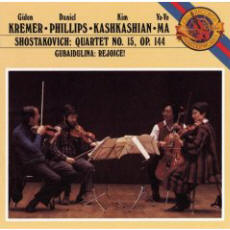 Sofia Gubaidulina, Rejoice!; Shostakovich, Quartert No. 15. Gidon Kremer, Yo Yo Ma, Kim Kashkashian, David Philips. CBS 44924.
This is an eighteen-year-old recording that I missed the first time around. The fact that it is still available says something about its quality. Like her British contemporary, John Taverner, Gubaidulina's aim in her major work is to create the musical equivalent of what many call 'spiritual' experience: experience beyond or outside of our everyday way of being the world. Or if you prefer the language used to describe meditation: direct apprehension of the world as it strikes our senses, a state of mind undiluted or unfiltered by our ideas about it. All art aspires to some form of meditation but few so ambitiously as composer Gubaidulina. To my ears, she has the advantage over Taverner in not having a head full of doctrine. Her work, when successful, feels closer than Taverner's to the human experience of otherness.
In the duo for cello and violin, Rejoice!, Gubaidulina is also a step or two closer to the meditative than Shostakovich, whose stunning Quartet No. 15 is the featured piece on this CD. Moving from the Shostakovich to the Gubaidulina can be a powerful experience. It is a brilliant piece of programming, almost as if the quartet is calling for the duo. Gubaidulina's work aspires to be what the Shostakovich quartet is about. As music, Rejoice! sounds (and feels) like purified forms of rapture. When those possessed by intense meditative vision speak in tongues to us who are not so possessed, it sounds like gibberish. If they could speak as a violin and cello, it might not. If they were gifted and eloquent, it might sound like Rejoice!, giving us at least a hint of how it is with them, of how extraordinary, radically beautiful, and terrible the world appears to the truly naked eye. When art of its time stakes a claim to knowledge of the world of its time, a kind that can regain the world for us in ways that science, for all its explanatory power, cannot, it does so through art such as this.
To truly hear this music, I find you must almost literally lose yourself in it, suspend your sense of self in the world confronting a piece of music, which is after all what meditation asks. That we are ushered into this music by such superb musicians as Gidon Kremer and Yo Yo Ma is, of course, a great help. And yes, Ma is still great, despite his departure into the world of crossover music over the last decade. He is exactly the right cellist for this piece. There is more lyricism in his expression of its ecstasy than Rostropovich would bring, who has performed several other of the composer's works. He is the perfect companion for the intense and highly strung (!) Kremer.
Sofia Gubaidulina, Complete Piano Works, Diana Baker, Stradivarius Records. STR 37716.
In her music for piano, while she is still her wild, fresh, and often jarring self, the composer is also, for the first time in my experience of her, Russian. Clear hints of Prokofiev and Shostakovich come and go, especially in the earliest piece here, the Chaconne (1962) written when the composer was 31.
Her Sonata (1965) is freer and plays effectively with the idom of jazz, something that commentator Gilberto Delmonte tells us helped keep her persona non grata in this period of suppression of modernist art in Soviet Russia. She also plays with sound in this piece, plucking the piano strings with her left hand while striking the keys with her right, creating a sense of being sometimes 'inside' music as we are accustomed to knowing it. This work has a marvelous sense of wayward exploration to it. This quality would (and often does) come across as self-indulgence and pointless experimentation in composers less able to hold us as she does.
Mind Toys (1969) is a suite of 14 miniatures which are by turns playful, curious, spirited, meditative, and surreal, bringing to mind the paintings of Paul Klee. The brief Toccata-Troncata (1971) and Invention (1974) are more of the same.
All of this music strikes me as a fascinating aside from the composer's main work. I could live without it but am glad I don't have to. It offers an entertaining glimpse into a composer who so often aims for profundity. The pianist, Diana Baker, is terrific, by the way. She recorded this music in1994 and it has just been released.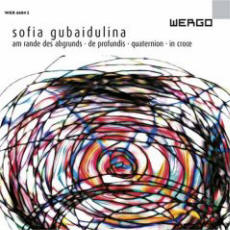 Sofia Gubaidulina , Julius Berger, cello; Stefen Hussong, accordian. Wergo Records WER 6684-2.
This is a selection of music Gubaidulina wrote between 1978 and 2002. And here again, we meet the composer who would use music to move beyond music: beyond our expectations of what music is, what it is for, and how it should proceed. Warning: Do not venture into this CD unless you are already drawn to contemporary modernist music on the edge!
In the most recent piece, Am Rande des Abgrunds de Profundis (On the edge of the abyss) (2002), we are presented with a solo cello, six accompanying cellos, and two aquaphones, one played by the composer herself. Aquaphones are water filled gourd-like instruments with strings, played with a bow. What we hear first is a long passage in which the solo cello predominates and then a predictably strange concordance of string sounds, mainly in the range of a viola, which is restless and then furious, eventually calling back the solo cello before it all drifts away to the wailing of the aquaphones.
De Profundis (1978) for accordian solo (!) calls forth sounds you have not likely heard from this instrument. It was originally written for a Russian instrument similar to an accordion called a bayan. To my ears, the sounds suggest varieties of the wind, the wind almost personified. Huffy, animal-like, stormy, arboreal, stentorian. It is an odd piece, even within the Gubaidulina canon.
Quaterion (1996), for four cellos is the piece which requires the most concentrated listening to 'get,' though truthfully, casual listening really won't work for any of her work, tending to turn it into background noise. I am still working on this one.
In Croce (1979/1992), for cello and accordion is, in effect, a conflict between these two instruments, which is more stark in the version of the piece where the accordion part is played by an organ, which is how I first heard it. It is a conflict in which the two voices reach toward each other and even periodically "cross." It is too clear to be anything but a spiritual conflict—no room here for psychological ambiguities that more instruments could bring to bear. And so, of course, the cross suggests, without insisting, which spiritual kind of conflict the composer has in mind. As always with Gubaidulina, it is the conflict explored from within human experience, so its human reality is utterly accessible and present. I have always found this piece in particular difficult, but it has the power to make me feel that it is my, not the composer's problem.
All in all, a challenging and compelling batch of music from the composer generally acknowledged to be the most successful in creating work that aspires to take us through the veil we generally use to screen our experience of the world. If you have slightly cold feet, start with the Rejoice! recording and move on from there at your own risk.
System used for these auditions: Audio Note CDT 2 II transport and Dac 2.1 Signature, Audio Note OTO integrated amplifier, Audio Note AN-K/SPe speakers. Cabling is Audio Note Sogon, AN-Vx, and SPe.
Bob Neill, in addition to being an occasional equipment and regular music reviewer for Positive- Feedback Online, is also proprietor of Amherst Audio in Amherst, Massachusetts, which sells equipment from Audio Note, Blue Circle, Manley Labs, and JM Reynaud, among others.