David Maslanka, Garden of Dreams: A Child's Garden of Dreams, In Memoriam. Symphony # 4, Dallas Wind Symphony, Jerry Junkin conductor. Reference Recordings HDCD # RR-108
by Karl Lozier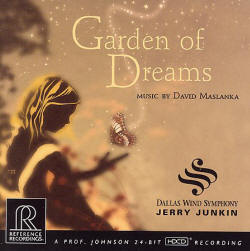 The first selection on this release takes its title from a case reported by Carl Jung. It is from a series of dreams reported by an eight-year-old girl to her parents. Maslanka chose five of the twelve reported dreams. Each of the composition's five movements is titled for one of the girl's dreams. I found much to enjoy in the quieter or more reflective dreams. The others, while descriptive of their respective titles, were not as appealing to me personally. It must be remembered that the music does not tie the dreams together; each is separate unto itself. The recorded sound quality is quite excellent here and in the following selections. In Memoriam opens with an edgy fanfare but eventually partly envelops a Bach Chorale with variations. Ultimately, the chorale is ominously and powerfully presented by the low brass and bass drum well enough to gladden many an audiophile's heart.
The Symphony No. 4 fares quite well as all five movements pretty much flow and tie together as is expected of most symphonies. Strong melodies including two Bach chorales and hymn- like tunes are very sufficient here to sustain traditional classical music lovers. There are no strings playing here and all the wind band's instruments are very clearly heard with their inherent beauty and cutting power intact. The huge percussion and wind forces (totaling approximately 60 performers) with added piano and organ create a true tour-de-force with this contemporary composition. To sooth music lovers and audiophiles, all is captured in great detail often with visceral power. This is a unique project in many ways for Reference Recordings.