When I reviewed the Jolida JD 9A, I added Herbies Hal-O Tube Dampers and Iso Feet. After making them a permanent addition to my system I was so impressed with the results I wondered if Steve Herbelin, AKA Herbie had any other wonders of tweakdom that were worth looking into. The Hal-O dampers and Iso Feet gave so much love for such a small investment my curiosity was really piqued. Why? Most of you reading these reviews are probably like me. Not independently wealthy, not a trust fund baby, a working stiff. When I come across products in the high end game that pack a big punch for very little scratch, it floats my boat.
After talking to Steve Herbelin we decided on three other "accessories" to bring out the best in my system.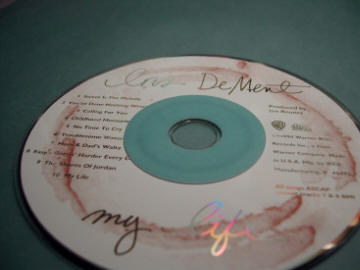 Grungebuster 2.2 CD Mat
The grungebuster is a re-usable hubcap-style mat that fits on the top center of a CD. The idea is to reduce "grunge, glare, and other anomalies while revealing more low-level detail". Easy to use, the mat sticks to the CD.
According to Herbie, this is how it works: "By reducing microphonic vibrations at the CD/clamp interface, the player's laser reads more accurately with less error. Because of a reduction of microphonics coming from the CD's rapid, imperfect spin and permeating through sensitive elements like capacitors, microprocessing chips and op-amps, the player performs more perfectly overall."
The Grungebuster worked perfectly in both my Cary 303. Never a problem with spinning a disc. The performance varied from disc to disc. Generally the Grungebuster made a bigger improvement on poorly recorded harsher discs. This little mat did, however, dig out some details on well-recorded discs I had never before heard; much like switching to a better cartridge on your turntable.
Where the buster really shone was with the iRiver 450/Headroom Supreme/Sennheiser 600 combo I use in my office system. Honestly, it cut down on the fatigue factor in a huge way.
For a couple of weeks I used it on every disc in both my systems. The eye-opener came when I decided to go cold turkey without the Grungebuster. Ouch! Once you get hooked on this little delight you will want to keep it.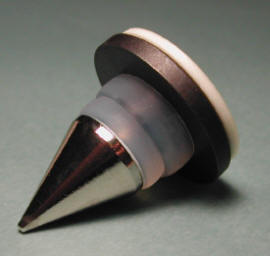 Superior Carpet Spikes
Not the largest spike I have ever seen, but very well built, the Superiors absolutely trounced the stock spikes that came with my Von Schweikert loudspeakers.
In an instant my high end was smoother, detail increased, bass was better defined, and the soundstage clarity increased. The entire presentation was noticeably faster – faster than an evangelical preacher denying ...whatever!
I wanted to try the spikes under other components. Originally designed to support a shelf that your component sits on, this strategy would not work with my rack. My amplifier was the only candidate. It normally sits on a large, heavy slab of rocky mountain granite. I tired the spikes under the granite, which was no easy feat to set up, and did not get much reward. I then switched the spikes in between the amp and the slab. Although not designed to work this way, the result was better than the first try, and was much the same as with the speakers: high end was smoother, detail increased, bass was better defined, although all these improvement were a much less extent than the speakers.
These spikes use an adhesive instead being threaded. Because of this you may want to experiment a little before pulling off the outside wrap and gluing them on to the component of choice. I used some rope caulk to make the temporary bond, and was able to try them in different configurations. Truthfully, I am still playing with them. Results vary from OK to great.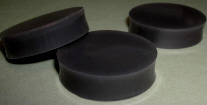 Big Fat Black Dot
Herbie suggested I try these for de-coupling duty on my Von Schweikert VR4 jrs. A two-enclosure loudspeaker, the mid-high unit sits on top of the bass enclosure. Von Schweikert includes small rubber cones built into the top unit that fit into the bottom.
I was not expecting much. In less than five minutes I substituted the Big Fat Black Dots for the stock rubber. My expectations were shattered. Instantly the big fatties became my favorite of this tweak trio.
Focus. Clarity. Detail. The presentation increased vertically. Mids and highs are noticeably cleaner. I lived with the dots for a week, and then took them out of the loop. Bummer. Things collapsed. In my Homer voice, "Must - put - dots - back - in."
The Big Fat Black Dots are a winner.
Inexpensive, easy ways to clean up and increase the performance of your system. That, my friends, is what Herbie's Audio Lab is all about. Value. Once again, all these fine products from Herbie are staying in my system. For all my fellow working stiffs out there who will never buy those $75K speakers or that $50K amp, much less even seriously think about them, you can look to Herbie's products for a true bargain.
Very highly recommended. Herbie rocks. John Zurek
Grungebuster2.2 CD Mat
Retail: $14.24
Superior Carpet Spike
Retail: $18.95 ea.
Big Fat Black Dot
Retail: $8.85 ea.
Herbie's Audio Lab
web address: http://herbiesaudiolab.net