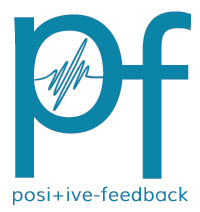 You are reading the older HTML site
Positive Feedback ISSUE 27

september/october
2006
Patti Smith, Horses – Recorded in 1975 by John Cale, Speakers Corner AL-4066. 180-gram premium vinyl LP
by Tom Gibbs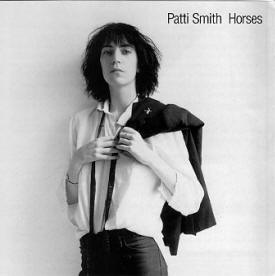 "Jesus died for somebody's sins—but not mine." Surely one of the most controversial lyrics in rock and roll history, the opening line of Patti Smith's Gloria shocked the record-buying public and inspired some true emotion from the listener. Whether you loved her for her brazenness or found her poetic stream-of-consciousness excursions blasphemous, at least she succeeded in shaking the average listener out of the corporate-rock complacency of the seventies, and drew a great deal of attention to her music.
The mid-seventies were a difficult time for fans of rock music, who were increasingly being held captive by an onslaught of bad music pouring forth from the airwaves. Beaten into submission by the pounding dance-floor rhythms and disco stylings of Donna Summer and a slew of imitators, the only rock alternatives available were the slickly produced offerings of the major labels (Fleetwood Mac, the Eagles, Boston, et al). Patti Smith recognized that rock music had strayed from its roots; her genius was made evident through her ability to fuse rock and soul classics with her own poetic ramblings. Her two signature songs here—Van Morrison's Gloria and the much-covered Land of a Thousand Dances (which appears on the record simply as Land)—offered something new and cutting-edge, while retaining the primal nature of the originals. Listeners connected with her vision, and the pre-punk cacophony she created inspired legions of new musicians, who rejected the conventions of current rock in favor of a much more primordial experience.
Patti Smith wanted to break the mold, and she achieved that goal on multiple levels with Horses. The album cover's stark Robert Mapplethorpe image of Patti with skinny tie and jacket immediately broadcasts that she's not your average rock diva. She enlisted former Velvet Underground member John Cale as producer, in hopes of achieving more of a "watercolor" type presentation; the two clashed almost immediately, and you can feel that tension throughout the record from the opening notes. The PSG's rhythm section, featuring Ivan Kral on bass, Richard Sohl on piano and Jay Dee Daugherty on drums, underpins the proceedings with precision. Many of the songs begin with simple piano and bass vamps, which are soon joined by Lenny Kaye and Kral on guitars, which alternately wail and scream in combination with Patti Smith's spoken/sung/screamed lyrics—all to dramatic effect. The only song that seems somewhat out of place here is Redondo Beach, with its quasi-reggae feel, but then look at all the ska and reggae-influenced groups of the punk and new wave era—so, I guess, once again, she was just ahead of her time.
From a technical standpoint, this 180-gram reissue from Speaker's Corner is flawless. It's really cool to hold a full-size 12-inch LP jacket, especially when its cover artwork is one of rock's most enduring images. The pressing is whisper quiet, with very few ticks and no pops. There's some tape hiss, but Speaker's Corner has chosen to not fade to black between LP cuts, so the ambient background noise is continuous throughout both sides of the album. Once you make that adjustment, what little hiss is present is completely unobjectionable, and Patti Smith's voice has never sounded so good and so real as on this disc.
Horses heralded the onslaught of a new generation of musicians. This record represents a piece of rock history, and is an essential part of everyone's collection. Many thanks to Kai Seemann from Speaker's Corner for his assistance. Very highly recommended!