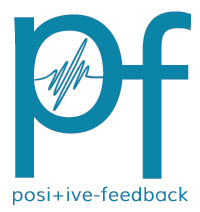 You are reading the older HTML site
Positive Feedback ISSUE 27

september/october
2006
Mahler Symphony No. 5
by Mark Wagner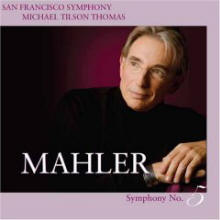 Mahler Symphony No. 5 in c sharp minor with Michael Tilson-Thomas and the San Francisco Symphony Orchestra
Recorded (live) in Davies Symphony Hall, September 28-October 2, 2005 on the SFSO's own label 821936-0012-2
Okay folks, this humble writer will now have to eat some serious crow. Some time back I wrote a massive comparative article for 6moons about the 14 recordings I had collected of Mahler's 5th Symphony. That article was appropriately entitled "Mahler to the 14th Power". So that you do not think that I am a total fanatic about the symphony, let me give you a little bit of my background. For a number of years I was an aspiring orchestral trumpet player and the opening solo of Mahler's 5th Symphony is perhaps one of the most famous orchestral trumpet parts in the repertoire. You could audition for a 4th /Utility trumpet position the world's worst orchestra (which could, in reality, never actually play Mahler in a million years) and still have to play that opening solo. So over the years I collected numerous recordings to use as study tools, not because I thought it a capital piece. It was not until much later that I developed an intense passion for the symphony itself.
For what reason do I have to eat crow? Well, at the end of my Mahler article I categorically stated that it might be impossible to ever hear a definitive recording of this symphony. I reasoned that the only chance of ever hearing a definitive performance of this work would be in a live concert setting, not on a recording. What arrived in my mailbox the other day has profoundly challenged this belief.
As many of you may know, the San Francisco Symphony Orchestra is nearing the end of their titanic recording project of the complete Mahler Symphony cycle. These are/were all live recordings usually done over at least three nights.
Over the years, I have heard this symphony performed live with some truly great orchestras: Chicago, Cleveland, Columbus (Ohio), The London Symphony (they were on tour when I was in school), and the Royal Philharmonic, our own Austin Symphony as well as a rather competent performance by the University of Michigan Symphony Orchestra. Add to these numerous live performances fourteen recordings, you might imagine that I have a good idea of what this particular symphony should and can sound like. Does this make me the world's leading expert on Mahler's 5th? HA, not hardly! Onwards to the recording!
We will start with the opening trumpet solo. Principal Trumpet Bill M. Williams, Jr. plays this solo at a level of competence that I have heard on only one other recording: an old Teldec CD with Zubin Mehta and the New York Philharmonic. I will now put these two opening solos on a special pedestal, as the only other time I heard the solo done this well was at a live performance with the Cleveland Orchestra back in the early 1990's. The playing is haunting, powerful yet confident ...as it should be as the first movement is a funeral dirge. This sets the whole performance on a level that I have never heard on any other recording….period!
I am not going to give a blow-by-blow description of each movement. However, the grandeur of this symphony is captured with every possible ounce of emotional energy from Michael Tilson-Thomas and the San Francisco forces. The tumultuous opening of the 2nd movement is exciting and the remaining movement is full of moving lines, demonically cackling woodwinds, and drama. The 3rd movement offers a brief respite from the angst with a nice waltz feel that is neither too slow nor not too fast. When I did my comparative article, I was stunned at the wide tempi that were used! This new MTT is just fine. I have to give a hearty cheer to the SFSO's principal horn, Robert Ward on the famous (or infamous?) obbligato part: whereas the opening trumpet solos is famous for trumpet players, the horn solo is equally famous, and perhaps more terrifying for the horn player! At two points in the 3rd movement, the entire horn section lets loose with the principal horn player emerging from the chaos with a truly ringing solo! The playing on this recording is very fine, though not quite as raucous as on some of my other recordings (or live performances). The most raucous playing I did hear in both a live performance (and on a recording) is by the same player: Dale Clevenger, Principal Horn of the Chicago Symphony. Despite my liking Dale Clevenger's playing, Mr. Ward's horn obbligato is truly outstanding!
Ahh, the 4th movement ...there are two Mahler symphonies in particular that seems to generate some debate; sometimes friendly, sometimes passionate and some times, downright ugly. In Mahler's 6th Symphony, people will argue over the placement of the second and third movements. Personally, I do not care what order the two middle movements are played in, as it does not affect my enjoyment of the symphony. The 4th movement, marked Adagietto, Sehr Langsam, has created quite a bit of controversy over the years as to the exact speed that this movement should be played. The term sehr langsam does indeed mean quite slow, but how slow is quite slow? Bruno Walter, a close friend in disciple of Mahler, performed the Adagietto movement at a breathtaking speed of just under nine minutes, whereas Leonard Bernstein's Deutsche Grammophon recording with the Vienna Philharmonic is well over 13 minutes!
By all current accounts, the fourth movement was composed as a love letter to Mahler's young wife, Alma. Whereas Walter apparently treated this movement as a love letter, Bernstein treated the Adagietto as a funeral dirge as he performed this piece for the memorial ceremony for the then assassinated Bobby Kennedy. Bernstein's earlier recordings of this movement were somewhat faster, making me believe that Bernstein was afterwards never able to disassociate this movement from the events surrounding the assassination of Bobby Kennedy. During my listening session of my 14 recordings, I found a wide difference in the timings of the fourth movement, from the ridiculously slow of Bernstein's to the brisk but still enjoyable of Solti's. I doubt that you will ever find any two people who agree on the appropriate tempo for the fourth movement but I will state that anything over 11 minutes is for me simply too painful to listen to. MTT's fourth movement, at 10: 49, appears at first glance to be too slow. After listening to this movement however I was grinning from ear to ear. We have a very comfortable tempo and perhaps some of the most beautiful string playing I've ever heard, with the only possible exception being the St. Petersburg Philharmonic on the Waterlily Acoustics SACD released last year.
The final movement culminates an extremely emotional and satisfying ride. The extremes presented here in both the emotional content and sonic content are superb. From the highest peaks to the lowest lows, MTT takes us on a journey that I have rarely heard on either recording or in a live performance. I am truly amazed that the San Francisco audience was an able to withhold their applause as the final thunderous cord reverberated in Davies Symphony Hall. I for one do not subscribe to the philosophy that applause should be left off recordings that were made in a live concert setting. No other Mahler symphony invokes the thunderous ovation like his 5th. Many of Mahler's other symphonies are so overwhelming in scope that it takes a few seconds before the audience realizes what has just happened. I have heard all of Mahler's symphonies performed live (with the exception of Symphony No. 8 in which I performed in) and only Mahler's 5th evokes such an immediate and usually overwhelming response.
I am now going to go out on a limb and state that I have found the definitive recording/performance of Mahler's 5th Symphony. Yes, you read correct. At the end of my Mahler article for 6moons, I did a sort of ranking of my recordings. Of these recordings, the Teldec with the New York Philharmonic was perhaps the best performance, whereas the Waterlily SACD with St. Petersburg was the best sounding. Now have a new standard for this symphony in both sound AND performance with which to judge all other recordings I own or will possibly own.
I own all current Mahler recordings from San Francisco and by far this is king of the crop. The amount of detail present on this recording is simply staggering. The ability to hear all of the minor inner parts of this symphony is unprecedented in any of my existing recordings. However, despite hearing all of these inner parts it does not sound so incredibly micromanaged like my Decca recording with Ricardo Chailly and the Concertgebouw Orchestra.
I cannot accurately put in words what makes a recording simply perfect for me. There is an overall combination of interpretation, excitement, overall sound and simply positive impressions that make me think that a particular recording is "perfect". In addition, this recording is 100% perfect in my book. Walter, Bernstein, Solti ...all considered some of the 20th century's great Mahler interpreters ...I now firmly believe that Michael Tilson-Thomas joins that exalted crowd as a champion of Mahler! Oh, I imagine that there will be some people who feel that MTT missed the mark by a wide shot. They are entitled to their opinion of course but I firmly stand by what I say and give this recording my absolute highest recommendation!