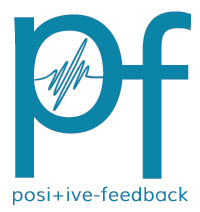 You are reading the older HTML site
Positive Feedback ISSUE 27

september/october
2006
In Search of the Lost 'Kor'd - A twenty-year odyssey come full circle - well, sort of...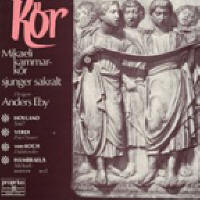 Mikaeli Chamber Choir: Kor - recorded 1976 - Proprius 7770 - vinyl LP (currently out of print)
by Tom Gibbs
"'Tis better to have loved and lost than never to have loved at all." Thus quothe Alfred Lord Tennyson in 1850, and how those words ring true to this day - to at least have had something you truly cherished is indeed much better than to have never possessed or known the joy of its experience, right? Or is it? Are you one of those persons who, having lost, never looked back, only concentrating on the future before you—or are you the type who constantly looked back with regret, bemoaning the loss of that treasured possession that once upon a time was a source of such joy? I think most of us occupy the ground somewhere in the middle of that most perplexing of situations. We allow ourselves to focus on what we currently have, and take some level of comfort in that, rather than spend our days in constant lament over precious things that have somehow slipped from our grasp.
Three years ago, I received Proprius Records' first foray into SACD, the ever-popular Cantate Domino, and my review of that disc was an all-out rant regarding its virtues. At the time, I called it a "benchmark disc for choral and vocal reproduction", and I still stand firmly by that remark. The SACD was and is glorius, and ameliorates any playback problems that might have plagued the listening experience for any but those with equipment capable of extracting the highest level of fidelity. It is, in a word, a remarkable achievement.
I had been focused on Cantate Domino for about twenty years, mainly because it was constantly being made available, and in a plethora of choices with regard to format. But after obsessing on the SACD, with it in constant rotation for months on end, my mind couldn't help but return to another Proprius disc—one that I had virtually shoved behind a locked door somewhere in the recesses of my mind. That disc was Proprius 7770, Kor, by the Mikaeli Kammarkor (chamber choir)—my first Proprius choral LP that had early on peaked my interest and awakened my love for choral singing of all types.
My involvement and lifelong obsession with Proprius 7770 was rooted in an instance of purest happenstance. A small audio shop had just opened in my hometown, and in addition to the usual selection of stereo gear with high-end aspirations was a modest collection of LPs, many of them from Mobile Fidelity. This was a blessing, considering that the nearest alternative in terms of high end LPs was in Atlanta, almost one hundred miles away. I'd become something of a regular fixture there, and business early on was somewhat slow, so the two owners were always eager to shoot the breeze and spend lengthy listening sessions showing off their equipment. The shop owners were really pushing a top-of-the-line cassette recorder made by Sony that had a cool fluorescent multicolor display, and had made a cassette tape for demo purposes with tracks culled from various MFSL LPs and some "other stuff" thrown in for good measure. I was intrigued by the MSFL content of the cassette (which was all that I had heard so far), and was offered the tape for a weekend to delve a little more deeply into the music.
The MFSL content included music by Joe Sample, John Klemmer and Earl Klugh, as well as more mainstream fare from Pink Floyd and Supertramp. But it was when I finally made it to the "other stuff" on the cassette that my interest was really peaked. Out of a prolonged silence came a deep, mysterious male voice speaking a narrative in a language I could not identify. As the narrative continued, the voice was joined by various choral members chanting and singing at a frenetic pace, which built into a tremendously chaotic climax that was joined by bursts from a rather large pipe organ. The impact was tremendous, with incredible dynamic range that my system was barely capable of reproducing. As the cacophony reached its staggering crescendo, it instantly fell to silence, from which the narrator continued and again was joined by the voices and organ—my senses were just blown away! I'd never heard anything like this in my entire life, and that weekend just dragged by as I hit the rewind button repeatedly and counted the hours until the shop reopened so I could find out just exactly who and what this music was!
The disc was Kor, which is Swedish for "choir", and as luck would have it, they were sold out. It would take a couple of weeks to get another copy, so I then counted the days until the LP finally arrived. I can say without hesitation that Proprius 7770 completely changed my frame of reference in terms of what music I listened to and how I listened to it from that point on - for the rest of my life. It was hard for me to quantify and process the mass of information that flowed into and out of my brain as I became more familiar with the LP's selections. First, having been raised in the rural foothills of the north Georgia mountains as a backwoods Protestant, I had no experience whatsoever with formalized choral singing, especially in a religious context. But what stymied me the most was the bizarre mix of the sacred and the profane that populated this LP of sources both classic and contemporary—and the variety of languages it was communicated in, including Swedish, French, English, and Latin.
Additionally challenging for me was—how was I supposed to explain this newly found guilty pleasure to my friends? At the time, the music that most frequently occupied my turntable was some form of progressive rock, including (but not limited to) Yes, King Crimson, Genesis, ELP, the Strawbs, etc. If any of my closest contemporaries got wind of this, they would most likely think I had lost my mind. The funny thing is how totally disparate I saw this music compared to my typical source material then. I now see much more of a firm connection.
Side one of the LP represents, for me, the absolute pinnacle of recorded choral singing. The LP's opening track, Pater Noster, is essentially the "our father" taken from the formalized Latin mass in an arrangement by Guiseppi Verdi. Sung acappella and in a style not dissimilar to any traditional mass, it is the absolute antithesis of the track Saul (the mystery language track) that I found so addictive, but is no less captivating—it has a haunting character that is very calming and also soothing. Track 2 is Norwegian composer Egil Hovland's Saul, the mind-blowing selection that initially turned me on to this disc. True music lovers will be drawn immediately to this track's brazen power, and if you want to break your lease—or possibly drive people away—this is your track of choice. Side one ends with what for me is the most sublime nine minutes in recorded choral singing, Cesar Geoffray's Triptych Marial. Another acappella rendering, this three-part offering to the Virgin Mary is both deeply beautiful and intensely powerful—do not let anyone ever tell you that the unaccompanied human voice cannot send your amplifiers into clipping!
Side 2 is equally satisfying, with works by Henry Purcell and Baltic composers von Koch, Vagn Holmboe, and Bengt Hambraeus. I've often had this internal mental debate as to which of the two sides is the most satisfying listen; while I'd generally ride the fence, wavering between the two, I'd invariably pick side one, with its unmatched combination of beauty, majesty and sheer dynamic power.
Was I not waxing poetic about love and loss? Oh, yes—after almost a decade of reveling in the joys of this vinyl beauty, I married and moved to Atlanta—an ordeal during which my beloved LP was somehow lost! We had entered the compact disc era at that point, and many specialty shops had just about totally ditched the poor LP in favor of its crowned successor. LPs were disappearing in droves from the shelves of retailers, and outlets that had been previously eager to special order obscure LPs were suddenly much less enthusiastic. Over a period of several years, I searched in vain, often at second hand shops, to no avail—it seemed hopeless. As the memories of my favorite LP grew fainter, I pushed it more deeply into the recesses of my mind, taking comfort in my recently acquired Red Book CD of Cantate Domino. While satisfying (though technically deficient), it was not anywhere nearly the religious experience that listening to Kor had been.
The eclectic collection that comprised Kor has never been duplicated, and only on rare occasion over the last twenty years or so have a mere handful of CDs offered any of the disc's titles to satisfy my longing. The most frequently offered title is Pater Noster, which has appeared on several CDs, most notably a release from Chesky Records. Unfortunately, the real tendency is to employ a bloated, much too operatic soprano soloist, which serves to destroy the delicate character of the piece. A near-hit was a long out-of-print issue on the Koch label, but it employed an all-male choir, and lacked the requisite femininity that the piece requires. All said, each of the four or so versions I have come across have just left me cold and lacking. Another track, Saul, turned up on a CD from the Christophorus label. Having had superb results from Christophorus in the past, I was hopeful, but an all-boy choir and an English language reading was sufficient to eliminate any of the mystique of the original.
Let us fast forward to the near present, where my job has forced me to become more computer and Internet savvy, and where I have suddenly discovered the wealth of information and resources available on the web. A Google search for Proprius 7770 turns up exactly four hits—two of them are ABC radio program listings for long-since passed airings of the recently departed Karl Haas' Adventures In Good Music program. The other two are in Japanese! A stroke of luck leads me to the Proprius web site, but unfortunately, it is barely functional with limited information concerning availability. There was, however, an email address, and a concerted effort on my part finally got a response from someone at Naxos, who apparently had just acquired Proprius. His response was not favorable or helpful in any way, other than to direct me to Proprius' American distributor, May Audio, who promptly informed me that nothing was available.
Two years later; now I am a reviewer for several internet-based, audio publications, and I decide - what the Hell—and contact Proprius again via email. This time, I get a prompt response from Tryggve Palmquist, who unfortunately has no news to offer with regards to Proprius 7770, but does offer to send the just released SACD of Cantate Domino. Another Google search for Proprius 7770 now yields numerous hits, all dead ends. Even a search of the massive GEMM database comes up empty.
Over the next couple of years, I would do a Google search on occasion, with the usual results. Early this spring, I come up with the novel idea of doing a web search for Mikaeli Kammarkor, and low and behold, they not only have a website, but there's also a discography page of available titles. When I reach Proprius 7770, of course, it is not available on CD, but a footnote reads: The choir has a few copies left! I fire off an urgent email, and get a prompt response from Lars Cronsioe, who not only sings in the choir, but also administers their website. For thirty U.S. dollars, he will send a sealed copy—that is fifteen for the LP, and fifteen for shipping and handling. I sent the money by Global Priority mail to Stockholm, Sweden, and he received it in two days, and shipped the LP the same day he received the cash.
For two weeks, I waited in anticipation, and when my work phone rang and my wife announced, "Were you expecting a package from Lars somebody-or-other? From Sweden?" my heart just leapt! It was finally here! She then followed with "What is it?" I told her it was the LP that I had been searching for, and it finally had arrived! "Oh," she said, "Well, there might be a problem. It's been sitting in the mailbox for a while today, and, well, the mailman kind of shoved it into the mailbox—it took every ounce of strength I could muster to force it out of the mailbox—and it's not exactly very flat, now." A twelve-inch LP, packed in cardboard, shoved into an eight-inch mailbox, in the sun for hours. It was my worst nightmare come true, and the thirty-minute drive home was one of the longest of my life.
Upon arrival and inspection of my treasure, I found the LP jacket was bent badly and cracked at the spine, but amazingly, the LP itself was only slightly warped. However, playback revealed that it probably suffered more damage than was immediately obvious, and had it come through the ordeal in slightly more pristine condition, would probably yield much better results. The surface noise on the LP is about the worst of any I have ever owned. Cleaning has not seemed to help much—I cannot help but believe that the hours bent double in a warm mailbox have stressed the vinyl and are a contributing factor to its excessive noisiness. Despite that, the music on this album is so enjoyable and essential, I have no problem getting beyond the noise and into the music. The LP is still, in my humble opinion, the finest recorded example of choral singing ever produced, and it would be a real service for Proprius and Naxos to reissue this disc on SACD, as they are doing with other titles in Proprius' back catalogue. When I close my eyes and listen to the LP—warts and all—it still takes me back thirty years to the time I first heard this music, and never ceases to thrill me infinitely!
I do plan on trying to acquire another copy of this LP. If you are interested in getting a copy, as of April, there were still about twenty copies available from the Mikaeli Kammarkor web site. However, I caution you strongly—Lars Cronsioe, excellent fellow that he is, is not really equipped to offer reliable mailing of LPs to the United States. The packaging he sent the initial LP in was, to say the least, flimsy—and the postage is excessive from Sweden. And there was no postal insurance provided. My plan is to mail the cash (yes, that's right —cash) inside one of the LP mailers I've gotten from either Acoustic Sounds or Elusive Disc, with protective material like bubble wrap within. When he repackages and mails the LP, it should arrive in better condition than the last time. And you would not believe the earful I gave the U.S. Postal Service! It has been months, and my postman is still walking on eggshells!