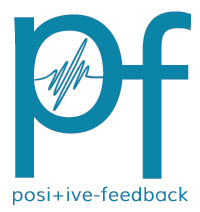 You are reading the older HTML site
Positive Feedback ISSUE 27

september/october
2006
A monumental tribute to the composer who's musical battles were fought with the "Gods"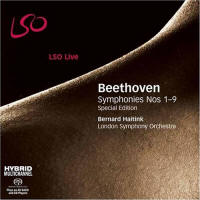 Beethoven Symphonies Nos 1-9 Special Edition, Conductor: Bernard Haitink, London Symphony Orchestra and Chorus - LSO Live, 6 SACDs LSO 0598
by Karl Lozier
This, soon to be, historical project was done during a half year period of time concluding at the end of April, 2006. It also includes a fine performance of Beethoven's Triple Concerto and the Lenore overture No 2. All are available separately in CD and SACD offerings. Note, to our many international readers, at this time this special edition is only available in the USA and not even in the UK! As usual the SACD version offers better sound quality even when played in a typical two channel stereo system. Played back in a reasonably good multichannel surround system, the resulting sound quality takes a giant step or two toward offering some of the audible qualities music lovers enjoy at live concerts! SACD sound is not a gimmick; it is for music lovers. Avery Fisher Hall patrons, will in October, be enjoying this same grouping performed by the LSO. That may be a reunion of sorts; former LSO managing director, Clive Gillinson, now manages Carnegie Hall. Hopefully some of these discs' selections will be performed at the LSO's biennial two-week series held in Daytona Beach, Florida coming next in July, 2007.
A book could, and probably should, be written about this monumental project. That would be covering a long and intimate psychological journey of man or mankind. Only Beethoven could do it musically. Reading my brief review cannot replace hearing these performances for yourself. These superb performances by every section of the orchestra can probably stand comparison with any orchestra in the world. Being the most recorded group probably helps. The leadership of Haitink, is perhaps, just a bit surprising. Many of us had not completely realized how very good he has become. The relatively light weight symphonies number one and two, not only suggest preceding composers such as Mozart, but reveal what is coming in the future from the master, Beethoven. The lovingly playful numbers four, six and eight suggest he is toying with himself, the audiences or perhaps "the gods" with whom he surely believes to be their equal. Number three may turn out to be my favorite and most nearly perfectly performed and recorded. Numbers five and seven, rightly considered great are giving given fittingly great performances. I will need repeated hearings of the great or greatest, symphony number nine (choral) with strikingly beautiful performances and reproduction revealing the layered great depth of each section of the chorus before making a final decision. The four soloists are clearly but slightly distantly placed. As usual I expect most reviewers to be hyper critical of at least one or two of them. At times there are hints of the effects of the Barbican's acoustics but overall much of the time the then seemingly closer microphone placements reveal much of the full and rich LSO sound! My highest recommendation is required here. I would warn against waiting for a superior overall performance from any group or recording as you may grow old and weary waiting for it to ever arrive.