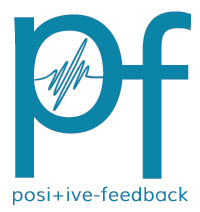 You are reading the older HTML site
Positive Feedback ISSUE 27

september/october
2006
Notes of an Amateur, September, 2006 - Part II
by Bob Neill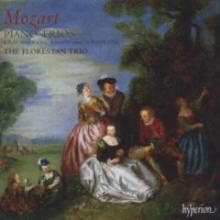 Mozart, Piano Trios, K.502, 542, and 564. The Florestan Trio. Hyperion 67756.
Does the term 'Mozartian' have any consistent meaning these days? The Early Music movement challenged the orthodox view of the term as elegant, refined, and benign beginning with Christopher Hogwood's version of the symphonies that were acerbic even by Early Music standards. And there have been recordings of the string quartets (Soloman Quartet) and the violin sonatas (Rachel Podger, Cipriani, and others) that have maintained at least a version of Hogwood's point, which I take it is that Amodeus was no royal prince's fool or slave.
As more of a music lover than music historian, I'm willing to listen to anyone's idea of Mozart, so long as it doesn't submerge his genius, geniality, and gallantry. A good deal of Early Music Mozart loses all three – and a lot of traditional Mozart does too.
I came to my favorite performing piano trio and their Mozart with no concerns that anything essential would be lost and was not disappointed. Pianist Susan Tomes, who can move gracefully and convincingly among Beethoven, Schubert, Schumann, Mendelssohn, Saint-Saens, Debussey, Fauré, Ravel, and Martinu, among others, dives into Mozart with enthusiasm and assurance, achieving just the balance we want between brilliance and sophistication. We can hear Mozart throwing off his eloquent phrases with just the right amount of boldness and ease, asking 'Isn't this the way all music should sound?' And Anthony Marwood's violin shares Tomes' ever so slightly saucy eloquence. To play Mozart by confusing seriousness with earnestness is the last generation's error—and to hear him played by Tomes and Marwood is to hear that sad truth brought to the stake perfectly. They are deadly serious in getting Mozart perfectly but are equally committed to getting his transcendent, truant manner right as well. Richard Lester plays a playful, smiling cello, if that makes any sense. His principal contribution to my ears is dynamics—sometimes he has his instrument's line dancing along in quiet continuo fashion, sometimes he has it prance forward for a step or two, which strikes me as exactly the right behavior for the occasion.
As regular readers know by now, I love the Florestans and am always pleased when they give me new reasons for praising their work. Their versions of these three piano trios are Mozartian in the very best and most durable sense.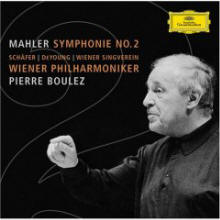 Mahler, Symphony No. 2. Vienna Philharmonic, Pierre Boulez, Deutsche Gramophone DG 6684.
I have been looking for the right occasion to write about Boulez's Mahler symphony cycle since it began in 1995. While a great many Mahler lovers, with Bernstein in their ears, have found the brilliant French modernist too cool for the nineteenth century tradition's last giant, I have always found his tendency to let Mahler's sonics do the work some other candidates take on with a flourishing baton very satisfying. You can't take this approach with Mahler unless you believe the music itself, as written and fully revealed, is sufficient. And unless you have an orchestra as fine as the VPO! The view of some Boulez critics that his refusal to indulge the music reveals a lack of commitment to its worth makes no sense. Who in his right mind would undertake such a venture if he were indifferent to the music's value? A satirist?
To my ears, Boulez finds Mahler more moving than his romanticism. He clearly believes that when Mahler is played without indulgence: played at a brisk pace that refuses to linger overlong on sonorous phrases, (Boulez's Second is nine minutes faster than Bernstein's), played to make the most of its brilliant dynamic contrasts—that is, played for a modernist's ears, the composer's true greatness emerges. This is not an easy sell for an audience raised on Bernstein, who is clearly my straw man for the day. But going the other way, that is from Boulez to Bernstein, can make Boulez's point tellingly. Just to hear the gorgeous Vienna Philharmonic strings in the second and third movements is to realize that beauty can be more ravishing when it is not drawn out for effect. Boulez cuts Bernstein by four minutes alone in these two movements.
I think what I most admire about Boulez's Mahler is its ability to escape from the composer's biography. I resent being told what Mahler is about, even by the composer, who, as it turns out, provided notes for this symphony against his better judgment. If art is good enough, it escapes its creator. It enters the world and takes on a life among other works of art, which together speak to us of what art speaks about. Which is not about particular artists' lives. When I hear Boulez's Mahler, I hear extraordinarily beautiful, monumental music as I have never heard it before. And I hear more of its difference, its uniqueness in the tradition of western music, than I am used to hearing. Clearly what draws Boulez to Mahler is his sense of the composer's role as a precursor of modernism. Every major composer looks both backwards and forwards, Beethoven being the most often cited example. We are used to hearing eighteenth and nineteenth century interpretations of him. We are less used to hearing twentieth century interpretations of Mahler, Bruckner, and Wagner. I just copped Boulez's The Ring on Ebay on vinyl and can't wait to hear what the modernist 'hears' in Wagner.
Lest you fear such an approach will cheat us of the lyric beauty of the fourth movement of Mahler's Second, fear not. Mezzo soprano Michelle DeYoung is superb, the music around her hauntingly beautiful.
The final movement is all that any Mahlerian could ask for (and it's 1:30 shorter than Bernstein's), and here especially the stunning and sumptuous sonic excellence of this recording, conspicuous throughout, really comes to the fore. Foundational bass, radiantly clear brass, lush and airy strings. This is a demonstration quality CD, in Redbook! If you have a really good CD player, ideally one without up-sampling and filtering, this recording should persuade you what a diversion SACD has been over the past couple of years. The recording team of Rainer Mallard, Wolf-Dieter Karwatky, and Matthias Spindler deserve great praise for their work. This should be somebody's Record of the Year.
So here we are, eight symphonies (plus albums of orchestral lieder and Das Lied van de Erde) down, one symphony, No. 8, to go. A great Mahler cycle nearing its end. Don't listen to the sentimental nay-sayers, and get on board.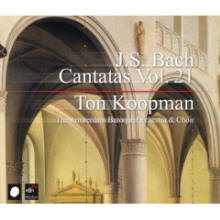 J.S. Bach Cantatas, Vol. 21. Ton Koopman, Amsterdam Baroque Orchestra and Choir. Antoine Marchand/Challenge Classics CC 72221.
On coming to Koopman's Bach from Gardiner's, where many of us have been lately, the first thing we notice is a decrease in brilliance, 'light,' freshness, energy, and intimacy and a complementary increase in ease, sweep, and gravitas. Those who are unhappy with Koopman's Bach find it a little detached and overly reverent. Those who like it find it appropriate for the subject and deeply satisfying, exuding quiet confidence, faith perhaps. There is also a sweetness to Koopman's Bach, for which we must thank first chair Margaret Faultless and her violin section along with Koopman.
Comparing Koopman and Gardiner on Cantata BWV 34, a work which appears on both the latest Gardiner set, Volume 26, and this (penultimate) set of Koopman's, is interesting. Listening to the first section, for chorus and orchestra, Koopman's version has a wonderful open sounding sweep to it. The choir's voices are so well blended they are like an instrumental chorus alongside the violins and brass. Gardiner's is lighter sounding, more intimate, the delivery less sweeping, more energetic. The forces (chorus and orchestra both) are considerably smaller and so we are more aware of individual instrumental textures.
Comparing them on the third section, an aria for alto solo, Gardiner uses a counter-tenor, resulting in a darker, more poignant sound. The pace is deliberate, phrases are lingered over. Koopman uses a female alto and the pace is quicker, resulting in a more beautiful, less poignant presentation.
As is often said of him, Bach can take just about any approach so long as it represents a clear and effective point of view. Koopman's set, with one more album to go, is very fine and highly recommended.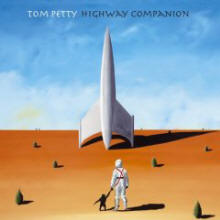 Tom Petty, Highway Companion. American Records 44285.
I consider Tom Petty a guilty pleasure, though his last CD, The Last DJ, was so disappointing, we gave it away. He is possessed of the richest natural baritone voice in the world of rock music, though, especially in this new release, he uses his lower range sparingly, riding up top. Petty has a range Dylan would die for—and bigger balls. Dylan crossed with Joe Walsh? In this house, he is the consummate rocker.
There are some singers who are the pure essence of what they do: Irish Dement, (early and middle) Jane Siberry, Van Morrison, Ricky Lee Jones, jazz singer Anita O'Day, and Petty come immediately to mind. They take you closer to the genre than their often more popular peers.
Judged by Torpedos and Full Moon Fever, this new CD isn't a stunner. But it's his best in a while. "Jack" is Petty at his absolute best, the pure Petty contrast of lyric play and kick-ass slam; though his accompanying forces, as good as they are, especially in solos, are lighter than I generally like—no Heartbreakers here. Petty is the master of the chord change: he can make the whole room feel as if it's changing with him. In "Damaged by Love," the changes carry most of the song's emotional charge: who else can do that?!! "Square One" is another of the very good ones − Plaintive Petty. It's all good stuff. At his least imaginative, Petty is still better than most. And the best few cuts will be with us for a long time.
The sound is decent for a commercial rock CD, but Petty deserves better. Maybe the LP ...?
System used for these auditions: Audio Note CDT 2 II transport and Dac 4.1 Balanced Signature, Audio Note M6 preamplifier and Neiro amplifier, Audio Note AN-E/SPx SE speakers. Cabling is Audio Note Sogon, AN-Vx, and SPx.
Bob Neill, in addition to being an occasional equipment and regular music reviewer for Positive- Feedback Online, is also proprietor of Amherst Audio in Amherst, Massachusetts, which sells equipment from Audio Note, Blue Circle, Manley Labs, and JM Reynaud, among others.