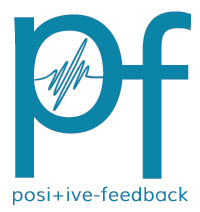 You are reading the older HTML site
Positive Feedback ISSUE 26

july/august
2006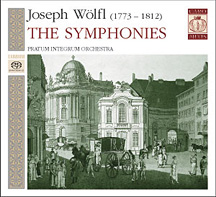 Joseph Wölfl - The Symphonies, Caro Mitis
by Mark Wagner
Wölfl (1773-1812) is not exactly a household name in the world of classical music. Having to share the musical world with none other than Beethoven himself, Wölfl still had plenty of recognition at the time. Wolfl also had some rather famous teachers: Leopold Mozart (father to one of the greats) and Michael Haydn (brother of another classical era great). Besides being a composer, Herr Wölfl also maintained a successful playing career as a pianist. However, it was Herr Beethoven's fame as the symphonist that led to Wölfl composing only three symphonies (though he also wrote operas, two ballets, seven piano concertos, as well as many other sonatas and chamber music).
The SACD here is from a new label out of Russia called Caro Mitis ("succulent fruit" in Latin). And what a sweet treat this SACD is. The music offered here is performed by a wonderful ensemble called the Pratum Integrum Orchestra ("unknown meadow" in Latin) as plays (like the Orpheus Chamber Orchestra here in the US) without a conductor. The ensemble is comprised of many former musicians of the period instrument group called Ancient Music Ensemble and performs all compositions using period instruments on all current Caro Mitis recordings.
Wölfl's music is very typical of the classical era using musical techniques that were neither unusual nor uncommon. If you are familiar with the music of WA Mozart or early Haydn you will hear nothing revolutionary. However, this is not intended to imply that Wölfl's music is in no way ordinary, plain, or dull. Rather, the music is rich, pleasing and very enjoyable to listen to. Period instrument enthusiasts should also appreciate the enthusiasm that the Pratum Integrum players display in Wölfl's music.
The sound captured on this SACD is superb, with plenty of air, space, depth, soundstage ...everything that one should expect of any great recording. The recording team is primarily made up of people from the Dutch uber studio, Polyhymnia (of Pentatone fame). Then again, any recording team that uses the EMM Labs studio gear usually obtains great results; as is shown in this SACD.
I wanted to make my first offering for PFO a Caro Mitis SACD as I hope to make more people aware of this outstanding label. I had to jump through hoops to get my first Caro Mitis disc. Needless to say, the Wölfl was my 11th Caro Mitis SACD, and there are still 5 to go. In North America, Caro Mitis SACDs can be ordered from MA Recording (www.marecordings.com) as well as Elusive Disc (www.elusivedisc.com)
HIGHLY recommended!