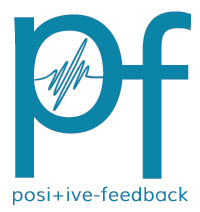 You are reading the older HTML site
Positive Feedback ISSUE 26

july/august
2006
Brahms: Symphony No. 4 in E minor - 200g Super Vinyl LP reissue
by Greg Weaver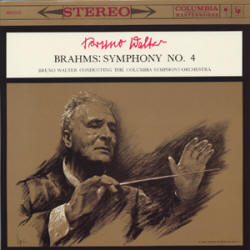 Brahms: Symphony No. 4 in E minor, Op. 98, Bruno Walter, Columbia Symphony Orchestra, Columbia Masterworks, Quiex 200g Super Vinyl LP reissue

Born in Hamburg in 1833, Johannes Brahms was the son of a double-bass player and an older seamstress wife. Originally taught by his father, he had his public debut as a pianist and had begun earning a living teaching and playing in public places by the age of thirteen.
He first visited the musically storied city of Vienna in 1862, and was appointed the conductor of the Vienna Singakademie. After serving just one year, he resigned that post, but made the decision to settle in Vienna. It was there that to some he surely seemed to be the awaited successor to Beethoven, perhaps as much due to his gruff idiosyncrasies, which, also like Beethoven's, were tolerated by those who both recognized and appreciated his genius.
While Brahms is considered a master of every musical form of composition except Opera, which he never attempted, he completed only four symphonies over the space of a little less than decade near the end of his life. In fact, his First symphony, often jokingly referred to as Beethoven's 10th, took nearly 20 years to come to fruition, and was not completed until he was 43 years old. This scarcity of Symphonic output was most likely due to his concern for how his work would be received. You see at that time, anyone writing symphonic works would inevitably be compared with the acknowledged master Symphonist, Beethoven. That would surely have seemed a daunting prospect, even for Brahms.
The Fourth, the last of his symphonies, was begun in the summer of 1884. Having completed his Third Symphony only one year earlier, this new symphony progressed rather quickly. And although Brahms routinely spent years engaged on his massively structured symphonic works, the Fourth was completed just the following summer and epitomized his increasing economical command of material that has come to be the hallmark of Brahms music. Brahms himself conducted the work's well received premiere on October 25, 1885, in Meiningen, a small German town situated on the Werra River.

Its reception in Vienna was somewhat less enthusiastic. Yet in time, the Viennese came to appreciate the work. The Fourth Symphony was included in a concert given on Brahms' sixty-fourth birthday, May 7, 1897. Though he was already fatally ill with liver cancer, he was able to stand and revel in the magnificent ovation and the audience's appreciation at the concert's conclusion. Within a month, Brahms passed away, his own Fourth Symphony having been the last symphony he ever heard.

Bruno Walter was born Bruno Schlesinger in Berlin in 1876, and he began using the surname Walter in 1896. In 1933, as the political situation began to heat up, Walter left Germany for Austria. During this time he was a frequent guest conductor of the Amsterdam Concertgebouw Orchestra (from 1934 to 1939), and he was able to make many guest appearances, including annual visits with the New York Philharmonic (from 1932 to 1936). In 1938, the Anschluss (the annexation of Austria into greater Germany by the Nazi's) uprooted him once more and, thought the French granted him citizenship, he chose to settle in the United States by 1939.
In America, he conducted the Chicago Symphony Orchestra, the Los Angeles Philharmonic, the NBC Symphony Orchestra, the New York Philharmonic, and the Philadelphia Orchestra, among others. Between 1941 and 1959, he also conducted at the Metropolitan Opera. It wasn't until 1947 that he was able to begin to make many return visits to Europe, returning to Salzburg, Vienna, and Munich.

Walter was also a very capable pianist who was known to conduct Mozart concertos from the keyboard. His own compositions, mostly dating from the first decade of the twentieth century, include two symphonies, a symphonic fantasia, as well as some choral works, chamber music, and songs. As a disciple of Mahler, Walter's recordings of Mahler's works contributed to the eventual, if somewhat slow, acceptance of the composer.

Like Arturo Toscanini, he is considered one of the greatest conductors of the early twentieth century, especially with respect to the works of Beethoven, Bruckner, and Mahler. It was his warm expansive approach, nearly diametrical to Toscanini's precision and brilliance, that won over the audiences of his day. Bruno Walter died on February 17, 1962, in his adopted home of Beverly Hills, California.

Why have I subjected you to all this background on the composer and conductor under examination? I want you to understand the significance of both the work and the interpretation you will experience with this superb remaster from Classic.

Recorded in February 1959 at American Legion Hall in Hollywood, this Fourth was part of entire Brahms and Beethoven cycles produced by Columbia's John McClure. It is here, with this splendid reading of the Fourth, that we are provided the most evident and progressive example of Brahms's ability to introduce many novel thematic developments while staying true to his devotion to classical music architecture. And Walter's portrayal captures all the Fourth's romantic lyricism and lean sonority, fortified with his hypnotic rhythmic flow.

As an example, take the opening of the second movement. It provides winds and horns repeating a central theme, accompanied by strings played exclusively pizzicato. When the bowed strings enter, they provide a hushed gentleness that is rich in timbral tone and ethereal in delicacy, a contrast that presents a challenge even for a conductor with Walter's gifts. Yet he deftly preserves the delicate balances of horns, plucked, and bowed strings, making this reading a stirring success, in my opinion.

While the stage is somewhat foreshortened, typical of all the Columbia "6 Eyes" in my collection, its width and height are more properly portrayed and illuminated. It is so luxuriant in low-level detail that it lays bare the nuances of the performance, effortlessly communicating the genius that made Walter one of the masters. Dynamic contrasts are explosive yet properly scaled. String and brass tonality is remarkably natural and lucid, if not quite equal to that afforded by some of the Shaded Dogs. This is one sumptuous symphonic feast, offered up in vivid and rich detail, with wonderful tonality, stirring dynamics, undeterred in its rhythm and pace. Quite simply, this is the most masterful and emotive reading, as well as the finest recording, of this important Brahms work I have heard, and I have three others on vinyl alone; VOX, MHS, and DG.

While the original pressings were made from two track production mix downs, this transfer was done from the original three track session masters. According to Classic, those production mix downs suffered heavy equalization that was responsible for the overly steely string sound and accentuated tape hiss so evident on the original. This session master allowed Classic engineers to reveal the dynamic and melodic contrasts of this romantic and sweeping work that they claim were obscured on the original pressings.
If you haven't heard this performance, you owe it to yourself to do so. Quite honestly, I haven't heard a better, more expressive performance of this work, and I know of no other recording that sounds even close. Grab this one before it is gone!