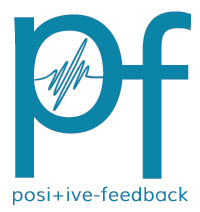 You are reading the older HTML site
Positive Feedback ISSUE 26

july/august
2006
Telluride Bluegrass - The Best Bluegrass Festival on the Planet
by John Zurek
Tucked away in the San Juan Mountains, in the Southwest corner of Colorado, is the small town of Telluride. Born of mining concerns, but today more famous for its ski resort, a controversy still exists as to the origin of the town's name. Some are adamant that the name stems from telluridium, a most rare form of gold ore―which was never actually found in the area. Others say it came from the saying "to hell you ride", a reference to the town's rowdy reputation that began with the miners, and continues with its steep, unforgiving ski slopes, and après-ski watering holes.
Telluride sits in a large box canyon, completely surrounded by cliffs covered with tall pines and large stands of aspen trees. Bridal Veil and Ingram falls are at the head of the canyon, along with the exit from Black Bear pass, the most feared and respected four-wheel drive trail in Colorado.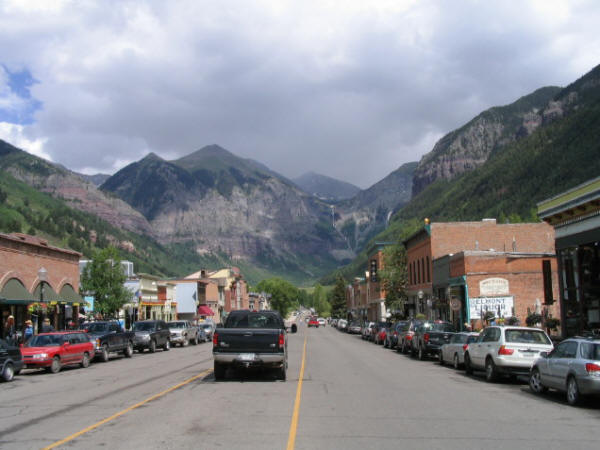 Every year, without fail, each and every artist that steps up on the stage spends a minute or two communicating their love of the venue. It is a truly awe-inspiring view, and IMHO, one of the most beautiful places on earth. A fit setting for four days of great music.
I've been going to this festival since 1988, and have made it every year since '95. It's become a tradition, a must-do, what we look forward to every winter. You've got to start planning this trip around December or you won't make it. This year we started counting down the days in February.
People come from all over the world to spend 4 days in June in Telluride. I've met folks from Germany, New Zealand, England, Australia, and many other countries at this festival, and they are so stoked to attend. Who cares if they had to travel 2 24 hr days to get here?
Me, I'm lucky. I live in the Centennial State. Starting from my place in Colorado Springs on the Front Range of the Rocky Mountains, a 5-hour drive takes you on a breathtaking ride over the Continental Divide, and though the Western Slope. Soon, you'll start to see the San Juan Mountains―the highest concentration of 14,000 foot peaks in the US, a breathtaking panorama. Excitement builds. When you get to the little hamlet of Sawpit (I love the name) you know you're in spittin' distance of a great time.
Although not my favorite type of music, I have become a bluegrass fan over the years. Something about the sincerity, the niche, the buzz of this event has made its mark on me, a former jazz snob. Not only is this music good for your soul, some of these cats are very, very fine musicians.
The folks at Planet Bluegrass know what hey are doing. They consistently employ a true variety of class acts. Usually you'll see a core group that were once associated with the New Grass Revival: Sam Bush―the official King of the Telluride Festival, Bela Fleck―the only man to get a degree from Julliard in Banjo, and John Cowan, known as "the Voice" in Bluegrass circles. Beyond that you'll hear a tasty variety of performers. This year's performers included: The absolutely authentic represented by Del McCoury, John Prine from the more folksy school, new comer Shawn Camp, the always great Nickel Creek, gospel by Linda Tillery & the Cultural Heritage Choir, old school funk with Sharon Jones and the Dap Kings, and the hard to categorize Drive-by Truckers. I like the way Planet Bluegrass mixes things up. If you're going to listen to music for four days you need some variety.
Each morning the proceedings start with a run for the best seats. Many festivarians dedicatedly line up early get the chance to run for the best spots. Be warned. Sprinting at 10,000 +ft can leave you a more than a little light headed. I did get up in the middle of the night Friday to take my turn in the line. When I woke up about 7am a layer of frost adorned my sleeping bag. Eventually they herded us in the chute, ready for the run. People mooed like cattle. Finally we were ready. The two hundred or so yard sprint left me gasping, but we had a stellar spot. It was worth it. My crew treated me very well indeed that day.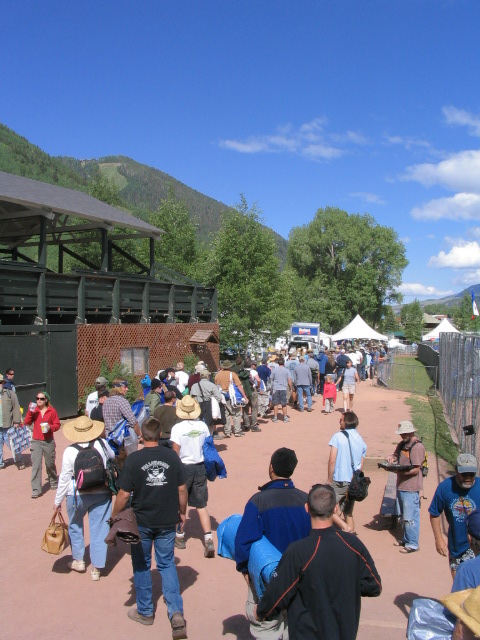 My personal highlights:
Thursday: Ryan Shupe & the Rubberband. These guys were great musicians and entertaining. One of the few non-headliners that really shone. Bonnie Raitt's set was spot-on. Nor only was the music killer, her politically-charged diatribe in-between songs was something we really needed to hear. Thanks Bonnie!
Friday: I have never heard a dobro player quite like Jerry Douglas. Phenomenal. Virtuoso. Veteran of countless Nashville sessions, Jerry stretches out when he comes to Colorado. His version of Weather Report's "A Remark You Made" was my personal favorite of the festival. What can you say about Bela Fleck and the Flecktones? These guys are some of the finest musicians on the planet, no matter the genre. Their high-energy show lit up the mountains for miles. And Victor Wooten? Arguably the best electric bass player the world has ever seen, Vic just tore it up. The jaw-dropping virtuosity the Flecktones consistently provide is truly amazing.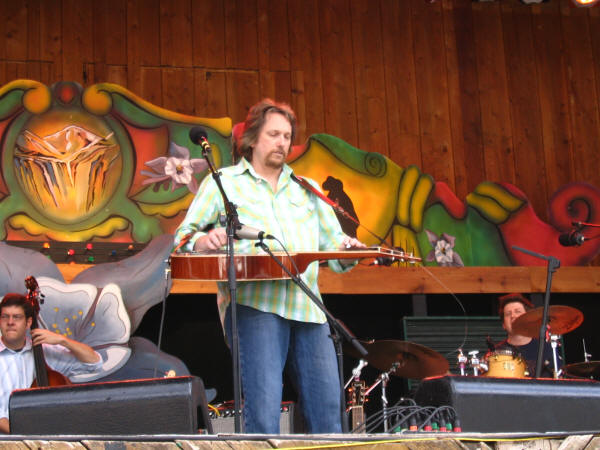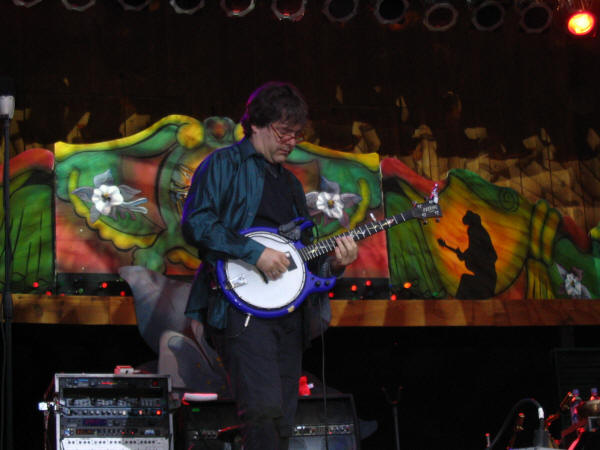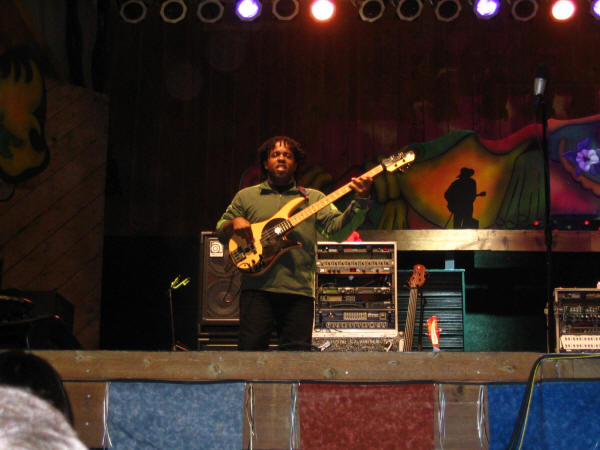 Saturday: There is a reason that John Cowan is known as "the voice". The man communicates. A damn fine songwriter, he always puts on an emotionally charged show. This year, for some reason his mother was in the audience, so he got to perform a song written about this father who had passed. There wasn't a dry eye in the house. What a moment…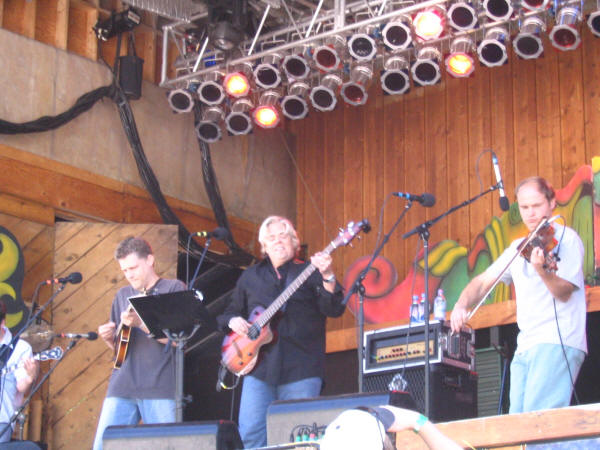 Sam Bush, the king of Telluride always puts on a top notch show. When he shows up with his band the music that comes out is what I call fusion with a twang. Sam gives it his all, and the crowd loves it. Each and every year.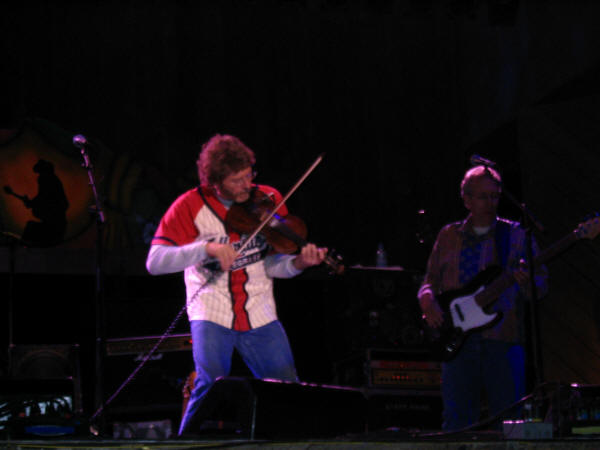 Sunday: Peter Rowan spent many years with father of bluegrass Bill Monroe's band. Always a Telluride favorite. he and Tony Rice put and interesting spin on things, and Peter's hits are well loved by this audience. Del McCoury is the real thing. He and his troupe play the original bluegrass music, all acoustic, that "high-lonesome" sound. This is where it all evolved from.
Not all the great performers were on the main stage. Throughout the campgrounds you could hear music, guitars, banjos. mandolins, and occasional djembe. Lot's of jamming, some local groups trying to drum up interest and hawk their CDs. I was lucky enough to be camped very close to a true talent. Every day we were graced with wonderful songs from Leslie McClure, a student at Nashville's Belmont University. This gal has the stuff, and quite frankly put some of the performers on the main stage to shame, much less the amateurs that were vying for top spot in the contest the festival holds every year. Accompanied by her father John on guitar, she was one of this year's highlights for the Warner Field crowd.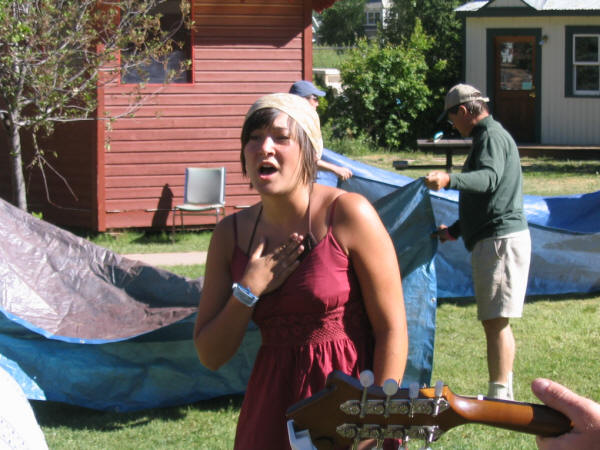 About the sound. One of the reasons this event draws me back year after year is the sound. Always artfully mixed, never too loud. The engineer used an unusual combo of a main PA at the stage and staggered smaller speakers through the crowd. When I first saw this configuration I had serious reservations. Somehow, it worked. Have any idea how hard it is to mix outside, day and night, rain and shine for 10,000 people at 10,000 feet? And get it damn near perfect, every act, every year? It was perfect―'till this year. Mitch Hodge, the sound engineer who had been mixing the show since forever passed last year, and left a definite void. It took until Friday afternoon before things started to approach their previous level of perfection. Once the sound started to lock in, all was well again, although it never was quite as fine as Mitch's mix.
This festival has been and continues to be one of the great musical experiences of my life. The people are great too. Always well behaved, a partying bunch indeed, it's like all of a sudden you've got 10,000 new friends. A gaggle of misfits who, like me, could care less about the junk that's on the radio these days. A t-shirt that I saw summed up the attitude: Legalize Bluegrass.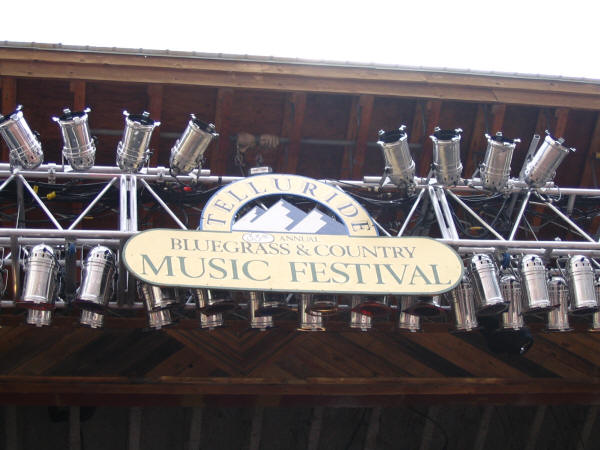 Every year I've been luck enough to attend I feel the same way. I'm part of a giant partying tribe, brought together for four days, hoping nothing gets in the way of making it out next year. It does take some serious planning and commitment to get to Telluride. I'm giving you fair warning, start watching the Planet Bluegrass site around December of '06 to make it to Telluride '07. See you there next year.
Great job Planet Bluegrass. Please don't make any major changes. I want to keep attending this event for the next fifty years or so. It's probably the only place I can ever hear great music for four days in a heavenly setting AND see tie-dyed panties on a flagpole.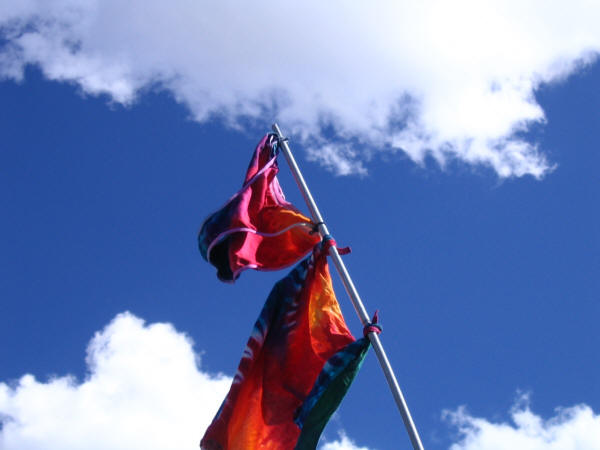 Planet BlueGrass: http://www.bluegrass.com