ED MORAWSKI'S SYSTEM:
LOUDSPEAKERS
DIY with Scan Speak 9700 & 8535 Drivers and Series Crossover or Magnepan MMG with modified crossover and stands.
ELECTRONICS
Musical Fidelity A308 power amplifier and a BAT VK-3ix preamplifier.
SOURCES
Musical Fidelity A308 CD player (used as a transport), a Tri-vista 21 DAC, and a Roku M1000 SoundBride Music Server.
CABLES
Empirical Audio interconnects and speaker cables, Stealth XLR interconnects, Analysis Plus Oval 9 Speaker cables, and Cardas Cross XLR interconnects
ACCESSORIES
DIY Flexy rack of plexiglass, dedicated circuits with Brick Wall surge suppression, Balanced power transformer feeding the CDP and Acoustic First foam panels. Vibrapods, Herbie's Magic Feet and good old hockey pucks. Stillpoints ERS paper
This is the third in a series of reviews of late-model CD players in the $3000 - $4000 range. I have already covered the Musical Fidelity A308CR and the Meridian 588-24, and will now cover the brand-new Accuphase DP-57 ($4900). I will then compare the players, and the winner will serve as my reference digital source. In the final article, I will also review a top-secret current turntable and compare it to the digital contenders.
No comparison of CD players would be complete without the inclusion of an Accuphase unit. This Japanese company has been at the top of the audiophile world for a long time. I was lucky enough to own a DP-65 at one time, and now comes their newest "entry-level" CD player, the DP-57. Accuphase is always trying new DAC configurations, and the DP-57 continues this tradition. To quote from the spec sheet:
MDS (Multiple Delta Sigma) is a revolutionary design which employs several delta sigma type converters in a parallel configuration. In the combined output of these multiple converters, conversion errors cancel each other out, resulting in a drastic improvement in all relevant aspects of converter performance including accuracy, S/N ratio, dynamic range, linearity, and THD. In the DP-57, two delta sigma type PCM1796 converters (made by Texas Instruments) are driven in parallel. Compared to a single converter, this results in an overall performance improvement by a factor of 1.4 (= √2). The MDS++ used in the DP-57 features an enhanced current-to-voltage (I/V) converter for processing the D/A converter output current. In combination with voltage summing, this design results in even better stability and top-notch performance.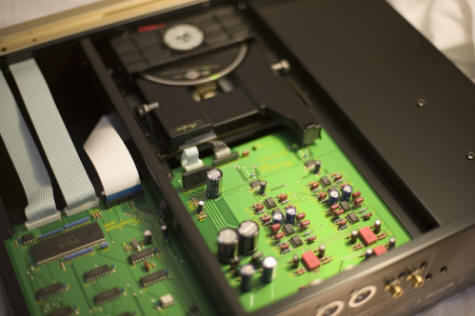 The DP-57 weighs a substantial 26 pounds, and as usual for Accuphase, has a multitude of inputs and outputs. Like all Accuphase CD players, you can use the DP-57 as either a transport or as a DAC. It has balanced and unbalanced outputs, coaxial and optical inputs, and coaxial and optical outputs from the transport. Pretty cool, and very flexible.
I've been reading comments on the web about poor sound from the DP-57, and I suspect that the reason is that it takes forever to break in. My DP-57 was brand new. After powering up the player, I let it play overnight, then had a listen. I was underwhelmed. It sounded lightweight, laid back, and not very detailed. It was a distant third in the three-way comparison. I let it play for another 150 hours and listened again. The bass was there, but the sound was still somewhat light. I could detect no other improvements, and was pretty disheartened. I went back to the Meridian and Musical Fidelity players. I tried the Accuphase again from time to time, to no avail, and was pretty sure I would have to sell it while I chose between the 566-24 and the A308.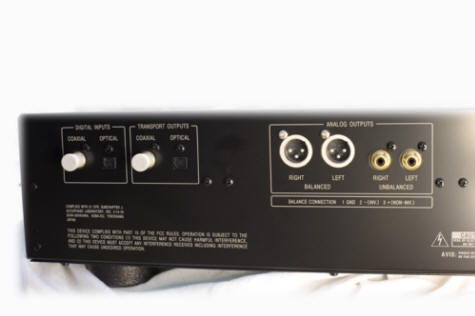 After three weeks, I flipped to the DP-57, and had a glimmer of hope. While I heard significant improvements, it was still a distant third to the other players. I am pretty familiar with the Accuphase house sound, and the DP-57 now sounded pretty close to that—musical but polite, with good detail but not too much. Then, one fine day, after about five weeks of continuous operation, I tried the Accuphase once more. Bingo! After what had to be 400 to500 hours of continuous play, the DP-57 finally came into its own.
For this review, I paired the DP-57 with the Musical Fidelity A308 power amp, my BAT VK-31 preamp, Olympic Audio speakers, and VooDoo cables. From an ergonomic standpoint, the DP-57 is similar to the Musical Fidelity. The tray opens and closes smoothly, and the machine is ready to play in seconds. The display is not quite as complete as the A308's, but still pretty good, and much better than the 588-24's. In construction, the DP-57 falls between the extreme heft of the A308 and the light weight of the 588-24. Accuphase also takes a completely different approach to engineering. The A308 relies on large chokes, while the DP-57 depends on shielding. A look inside revealed… nothing! The power supply section is enclosed in its own sheet-metal box, and the transport and DAC sections are also walled off from each other by sheet metal.
I'm sure that regular readers are sick and tired of my music choices, so for this review I went in a completely different direction. Although all the CDs I used were fairly new to me, I have heard them on lots of other gear. One of my new favorites is My First Holly Golightly Album, a compilation of some of her greatest hits, and there isn't a bad song on the disc. I've seen her described as Phil Spector and Dusty Springfield's lovechild, Be that as it may, she's fresh, exciting, and extremely listenable. Her gravelly voice can be pretty hard-hitting, and it was interesting to hear her tamed just a bit on the DP-57. Through the 588-24, it was almost too much, but the DP-57 smoothed it out just enough to make it enjoyable. In fact, I liked the DP-57 the best on this disc. It no longer sounded polite or laid back, but was just assertive enough. The details of the music really came out, but never called attention to themselve. The bass was very good—not as low as the 308's or as slamming as the 588-24's, but deep, smooth, weighty, and detailed, yet very musical. The midrange was a bit harder to pin down, because nothing stood out. The DP-57 seemed to have better integration across the sonic spectrum than the other two players. The A308 emphasized the low end, the 588 emphasized the top end, while the DP-57 emphasized nothing.
Violinist Vanessa Mae's newest CD, Choreography, is a compilation of dance-inspired classical music. It sounded wonderful through the Accuphase. Her violin sounded soulfully smooth when it was supposed to, yet fast and furious in cuts like "Sabre Dance." While listening to this CD, I noticed that the DP-57 was especially adept at extremely low volume settings. The detail, pace, and rhythm were just as enjoyable at low volume as they were when the music was loud. I could listen quietly long into the night, and enjoy the experience. Some of this has to be attributed to the DP-57's noise-free background, but I also believe it is due to its superb integration—no part of the music is emphasized over the rest.
As the days went on, I began to favor the DP-57 more and more. I must admit that my turnabout surprised me. This is one of the very few times that my initial reaction to a component has gone from completely negative to completely positive. The DP-57 had somehow seduced me into liking it the best! When I listened to a piano, it sounded natural, in perfect pitch, and very, very musical, with absolutely no harshness or edge. Drums and percussion instruments were also very good, especially cymbals. Brushes were detailed, again without calling attention to themselves. During the final week of the review period, some friends were over, and could not believe the DP-57 was the same player they had disliked six weeks before. It now sounded rich, golden, full bodied, and perfectly in tune with itself.
As I was wrapping up this review, I played The Very Best of Julie London, and as I listened to this torch singer of bygone days, I was struck with the perfect way to describe the relative sound of the DP-57, the A308, and the 588-24—by comparing the way they sound to singers you might know. The 588-24 is sort of like Madonna a few years back—brash, loud, and attention-getting. The A308 is Diana Krall all the way—cool and sophisticated. The DP-57 is Julie London—honey poured over silk. If you like to listen late into the night with a glass of wine, the DP-57 could be just for you. Ed Morawski
Accuphase
web address: www.accuphase.com
Ed is currently involved in the manufacturing of Olympic Loudspeakers.