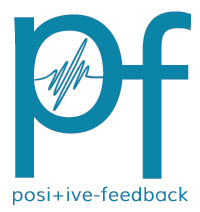 You are reading the older HTML site
Positive Feedback ISSUE 24

march/april
2006
Two from LSO Live
by Karl Lozier
These two LSO Live recordings are about as diverse as any two symphonic recordings could be. LSO Live is the London Symphony Orchestra's recording company and label. Available at bargain prices or ordered at Borders and Barnes&Noble. The LSO is now the world's most recorded orchestra and features some of the best conductors and performers.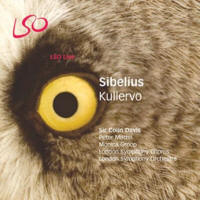 Sibelius, Kullervo. Sir Colin Davis conducting, London Symphony Chorus. London Symphony Orchestra. LSO Live SACD Hybrid LSO0574
This particular composition is not very well known even though it was penned by the now famous Finnish composer Jean Sibelius. As might be expected, it is a very early work. Though written and performed as the first symphony written by Sibelius in a way it is more like a series of tone poems. Actually it is officially described as a Symphonic poem for soloists, chorus and orchestra. It certainly does not have the expected fluid coherency of later works by Sibelius.
Though the first performance of this work (as a symphony) was generally considered a success, less than a year later Sibelius withdrew it from consideration for future performances. Even so, this early success of this "Symphony" was enough to make Sibelius's name famous in Finland. The first movement introduces the famous ancient Finnish hero, Kullervo. As might be expected in an opera, the next movement lays the background for the ultimate tragic story of Kullervo and his sister. In the last section of this movement, baritone Peter Mattei and mezzo-soprano Monica Groop are heard to fine effect singing the parts of Kullervo and his sister. Most listeners would probably prefer a bit more highlighting of the two fine soloists though what is heard is rather faithful to a live concert event. The excellent London Symphony Orchestra Chorus very, very ably joins them. I found the chorus particularly pleasing while performing exceptionally well. It did not take long to realize why I was so captivated by the sound of the chorus. With a few more than sixty singers, more than half are basses and the others are tenors-no female voices! In the tragic final movement, once again the chorus is heard to great effect. Here the tragically fated hero, Kullervo throws himself on his sword while the orchestra powerfully offers the original theme heard at the beginning of this Symphonic poem. Repeating it brings the story full circle.
Sound quality is quite good and very pleasing with nary a hint of added brightness, harshness or distortions. The actual listening perspective is a little further back than midhall. The result is a quality that could be called full or rich with a nice smooth or sweet quality. Strings are almost ravishing and the full richness of the horn section is particularly appealing. It must be noted that the ability of the brass section to cut through dense orchestral passages as an aid clearly revealing each individual instrument or group is definitely muted here. As an example, the easily noticed and highly regarded, almost piercing quality of trumpets, is definitely subdued as is "that cutting through and rising above" ability of cymbals, live in a concert hall. These characteristics are considered sins of omission as they do not add to or distort fundamental sound quality. The overall sound quality of the all male chorus is particularly impressive.
This composition was not performed during a time period of more than sixty years and at least one of my reference sources still considers Kullervo to be a symphony, Sibelius' very first one.
If you are just starting in the world of classical music and want to add Sibelius to your beginning collection, I would suggest his second symphony, violin concerto, Finlandia and Karelia as better initial choices.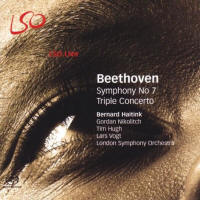 Beethoven, Symphony No.7 & Triple Concerto. London Symphony Orchestra, Bernard Haitink conductor. LSO Live Hybrid SACD LSO 0578
It is difficult to imagine two symphonies that are so dissimilar than the previous one reviewed by me, the Sibelius and this, the seventh symphony by Ludwig von Beethoven. The fact that these two composers were born almost 100 years apart really has nothing to do with it. The unnumbered symphony by Sibelius was, as I mentioned a very early work and he had not yet fully developed his immense abilities that would be forthcoming. The seventh symphony by Beethoven shows a genius at work, flexing his powers and at times seemingly toying with the music. He apparently or possibly was just having a bit of fun with what has turned out to be a great composition. I believe it was Richard Wagner who commented that the seventh symphony by Beethoven could be considered the apotheosis of the dance. Perhaps, not surprisingly, some nationally known dance (ballet) companies have danced to some of the movements of this, Beethoven's Seventh Symphony! Unlike Sibelius' unnumbered symphony, there is no question that this seventh symphony by Beethoven is a symphony and one of the truly great ones. Most writers would add his unsurpassed ninth (choral) and fifth symphonies to that list and I would add his sixth (pastoral) as a "must hear" composition even though not typical of him. This Beethoven composition I can wholeheartedly recommend to anybody considering a basic collection of recordings of classical music, particularly symphonic music. As with all his other symphonies, this symphony by Beethoven contains four movements. With many classical compositions there are many ways that the music can be performed or interpreted. With Beethoven's compositions, there is often a tendency for conductors to try to make the music even more powerful than perhaps Beethoven had intended. It is also possible to make the music lighter, seemingly less bold or imposing than he probably intended. In those respects, here the well-known Bernard Haitink, has selected a middle road and seemingly brings out all the power that Beethoven intended. The romantic melodies and almost playfully lightly scored areas are not quite as fully revealed as by some conductors. A situation such as this is why classical music lovers often wind up with multiple performances of the same composition. Ultimately most listeners will admit to definitely preferring just one. This performance of the Symphony is quite good, easy to recommend and will stand comparison with nearly all competing versions, new or old.
The Triple Concerto by Beethoven is an unusual composition and is a rarity in the classical music world. Only a handful of double concertos are commonly performed. Many years ago it seemed like a number of the companies famous for classical music recordings were vying for the best version of the triple Concerto by trying to round up the best individual performers that they could find. This turned out to be quite a problem because many of the greatest performers on individual instruments had never bothered to really know or even learned to perform Beethoven's Triple Concerto. This is probably because they were sharing the glory of performing with two other performers. Probably the most famous group was three performers—pianist, violinist and cello player who were generally regarded worldwide as the finest individual performers in all of Russia. That recording became quite famous worldwide though not everybody agreed that it was the finest version but certainly one of the very best. That version exists to this day on a remastered EMI recording. The performers on this fine LSO Live recording are fairly young and each has an impressive background such as placing highly in competitions and as soloists with well-known orchestras. They are Gordon Nikolitch, violin, Tim Hugh, cello and Lars Vogt, piano. Most, if not all, famous soloists prefer to be the featured soloist with a Beethoven composition and many do not consider his Triple Concerto to be one of his very best compositions. This popular selection was thought to be composed with certain performers in mind, including Beethoven's patron/pupil, and not as good as a result as he might have been able to do. Here all three performers are easily up to the task and the end result is very satisfying. Add the consistently fine contribution of the London Symphony Orchestra led by the veteran conductor, Bernard Haitink, and the musical satisfaction is as excellent as would be expected.
I find the overall quality audio quality on this recording to be particularly outstanding and as good as I have ever heard from the LSO Live recording company. The overall perspective is definitely at least six to ten rows closer to the orchestra than it is on the preceding Sibelius recording. There is no rounding off or shortchanging the higher frequencies in this recording as was observed in the Sibelius recording. The recording is rich full powerful and overall just simply musically pleasing. Detail is naturally excellent. There is no unusual highlighting and no downplaying of any instrument or instrumental group. Basically there are no shortcomings to this recording whatsoever. That is another way of saying that this recording is outstandingly good. If you hear any failings, irritations or distortions when listening to this fine SACD recording I suggest checking your equipment, perhaps starting with your player. It is playable on any regular CD player with sound quality almost, but not quite, the equal of the SACD layer. Some years ago you would have had to buy two recordings to get both Beethoven's Seventh Symphony and Beethoven's Triple Concerto. So it is very easy to say that here we have outstandingly good performances in truly excellent sound quality (subtly even better with SACD) for perhaps the price of one. That has to translate as an outstanding value and I give it my top recommendation.