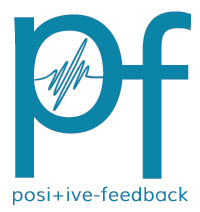 You are reading the older HTML site
Positive Feedback ISSUE 24

march/april
2006
My Audio Experience: an Introduction to the new Omega Speaker Systems Superhemp Loudspeakers and Skylan Custom Speaker Stands
by Gary Beard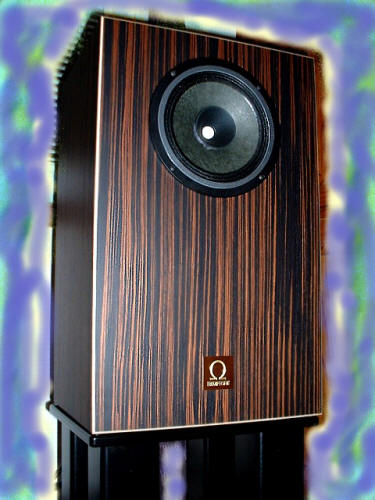 During the past year, Louis Chochos of Omega Speaker Systems has been working with manufacturer Hemp Acoustics (www.hempacoustics.com) to develop a custom OEM full range Hempcone driver for his newest cabinet designs. Hempcone is a trademark of Hemp Acoustics and was designed by Mr. John Harrison of A Brown Soun Inc. (www.abrown.com). I have followed Louis Chochos' march to excellence with more than passing curiosity. During my review of Omega's Fostex-based Grande 6s, I fell for their beautiful cabinetwork and terrific value, but was not in love with the Fostex sound, so when Louis told me that the new hemp drivers would be more to my liking, I wanted to hear them. Not only did I get my wish, but I unwittingly participated in the development process.
Late in the fall of ought-five, Louis sent me a beautifully crafted and great-sounding pair of teak HempTone Compact 8s. When the new Superhemp cabinets arrived, just before Christmas, he instructed me to install the Compact 8 drivers in the larger cabinets. After a few days of listening, I told him that I thought they lacked balance and that the top end was not quite right. Apparently he agreed with my assessment (long before I made it), and a new pair of drivers arrived at Chez Beard shortly thereafter. After installing them in the beautiful new macassar ebony cabinets, it didn't take me long to realize that this was the final version of the Hempcone. Roll it up and add fire, baby—these new Hemps smoke!
I am drug-free and proud of it. The only real addictions to which I succumb are buying too much audio gear and listening to great music as time allows. But as person who recently crested the half-century hill, personally knows every character in Dazed and Confused, and still thinks Cheech and Chong are funny ("Dave? No man, Dave's not here. He's at CES or RMAF or somewhere, man."), I could not resist making veiled references to marijuana use throughout this review. I even told Louis he should call the Superhemps the "BF" model (for "Big Fatty," of course!). Thanks to him, I get my fix these days by listening to "Purple Haze" through a pair of smokin' hemp speakers!
Omega Speaker Systems is about three things—great sound for the money, beautiful cabinet execution, and customer service. These things make Louis one of the (thankfully many) cool people in audio. When it comes to speaker design, he is his own biggest critic. He loves to talk audio, and is more than willing to listen to ideas and feedback from his customers. Sometimes he will even build a new speaker cabinet based on a client's suggestion, just to hear how it will sound. The Superhemp is a design that Louis wanted to try for some time, but when a several regulars (myself included) suggested that he build a speaker of this size and configuration, he went down the road full-tilt. The Superhemp is a timeless design—a large-volume, bass reflex, stand-mounted speaker that employs a single 8-inch Hempcone driver and a rear port. The concept may be simple, but the level of execution is high. My speakers are wrapped in a gorgeous ebony veneer, and their fit and finish are superb.
The $1995-per-pair Superhemps are 23 inches high, 15 inches wide, and 12 inches deep, weigh 38 pounds each, and are available in several wood and Italian laminate finishes. According to the Omega website (www.omegaloudspeakers.com), each cabinet consists of a three-layer composite baffle and back of ¾-inch Ultralight MDF (for top, bottom, and sides), 6mm Finland Birch ply, with an extra layer of phenolic under the veneer. The cabinet is ladder-braced internally, and uses a special coating of Omega's "R" Compound, a heavy asphalt/vinyl composite with talc and crystalline granules applied to the cabinet walls. According to Louis, this reduces cabinet resonance and standing waves. The speakers also feature Vampire gold-plated binding posts and rear 3-inch flared precision ports. In-room sensitivity is reported to be 96dB, and frequency response 36-18KHz. Omega also warrants the speakers for ten years! The shipping boxes contain a couple of foam plugs (they look like Nerf balls) that convert the speaker to a sealed-box alignment when inserted into the ports. This allows the speakers to be used closer to the back wall. It also lessens the amount of upper-bass bloom and tightens up the sound considerably. There are tradeoffs with both approaches, but my desire for a more robust lower midrange made me keep the ports open for most of my listening, although it meant that I had to position the speakers further into the room than I prefer.
If you are in the camp that believes no component breaks in, don't read this: The 8-inch Hempcone has the craziest break-in of any component I have ever heard. The Fostexes took forever and the Zu Tones were resistant, but the Hemps couldn't have been more bizarre if they had been riding the Magic Bus down California Highway 1 with the Merry Pranksters. They sounded pretty good out of the box—a little bass-shy perhaps, but not too bad. I thought I was home free. I was wrong. If you buy a pair, fasten your seatbelt for the next 100-plus hours, because these things will change from terrific to terrible in a heartbeat, and when I say "terrible" I mean absolutely-sucks-to-be-the-listener terrible. The audio equivalent of ditch weed! Then, one fine day, the smoke clouds parted and the Superhemp's sunny disposition showed itself like a newbie at a NORML smoke-in. That was a signal that the worst was over, but it was definitely not the end of the burn-in time. I now have a few hundred hours on the speakers, and they continue to improve each day.
Those who gravitate toward the musical midsection, as the part of the audio spectrum that can beguile, enrapture, and enthrall, should know that this Hempcone driver gets it right, and does so with immediacy and vibrancy. As you might expect from a driver (the Brown Soun/Tone Tubby) designed for use in guitar speakers, the Superhemp is a tone monster with guitar, especially slashing rock guitar. That was apparent as soon as I fired them up. The Superhemps do all the good things that single-driver speakers are known for—seamless soundstaging, outstanding clarity and musical lucidity, remarkable speed, and a fabulous midrange. Add reasonably deep, expressively articulate bass, and solid treble performance, and the Supers fall solidly into the bargain category. That isn't to say they are without flaw. They are not as tolerant of poor sources as some speakers. In fact, if you can't handle the truth, you probably won't like them. Their top end can become edgy if provoked. They immediately provided insight into the limitations of my stock Squeezebox2 (which will be remedied soon, I hope). They can become a bit congested with really complex material, and will boom if not set up correctly.
As with any loudspeaker, setup is all-important. The SHs can be positioned in several ways, depending on whether or not the foam balls are used to close the ports. They can be placed fairly close to the back wall if they are closed (balls in), but while they gain a bit of punch and directness, they lose bass extension and become a bit leaner in the mid-bass. With the ports open (balls out), the sound becomes more fully developed, but the speakers need more room to breath. I prefer the sound with the balls out. (Keep your balls out of the speakers, and get your minds out of the gutter!) For those who do not have the luxury of space, it is wonderful to have the choice of running them sealed, and they do sound excellent this way. Still, I believe that the Superhemps sound the way Louis intended them to sound when the ports are open and they are situated away from the back and side walls. Like many other audiophiles on a budget, I don't have gobs of space to devote to my speakers. I have made a concerted effort to find the best of all possible worlds while leaving the ports open. The Superhemps sounded best when they were approximately 18 inches from the back wall, 24 inches from the side walls, and 6 feet apart in a short-wall configuration. I toed them in just slightly, which seemed to improve their coherency and provided very good off-axis listening. Stands are critical, and Louis worked with Skylan Manufacturing's Noel Nolan to develop a custom stand worthy of the Superhemps.
At Nolan's suggestion, I listened to the Supers on their new stands for about a week before filling the four vinyl composite posts with play sand. Since the top and bottom plates are connected with steel threaded rods that run through the centers of the posts, vibrations running down the steel rods from the top plate are damped by the sand, which also provides additional mass loading. The addition of the sand gave the Superhemps more authority down low, with increased depth and focus. After a few days of listening, I realized that the stands gave the entire spectrum of sound a lift. Their effect was most noticeable in the bass, but they also improved balance and clarity. If you want to know more about the benefits of stands, visit Skylan's website (www.skylanstands.com) or call Noel Nolan. He'll be glad to fill you in about the reasons why his stands work. At $350 dollars per pair, the Superhemp stands are an excellent value. Instead of using old concrete blocks covered with Zig Zag beach towels, buy a pair of these stands. They provide much more improvement than any other tweak I can think of for the same money. I am very glad to have them, and I can still dry off at the beach.
Can the Superhemps leap tall buildings in a single bound? No, but they may make you want to might melt into the chair with some munchies. Two things immediately strike me whenever I listen to the broken-in Superhemps—their fabulous tone and their bell-like clarity. On one of my favorite discs, Joe Jackson's Jumpin' Jive, I was able to distinctly hear every word of the frantic lyrics on the cut "Jumpin' With Symphony Sid." With most of the other speakers I've had in my house, the words were lost in a rhythmic whirlwind. The clarity of the Superhemps can be a double-edged sword, as you will hear just how crappy your source or source material can be.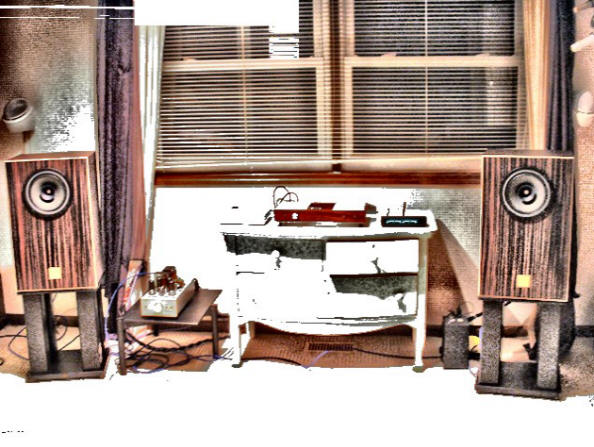 Not only can you easily discern differences in sources, but amplification as well. I have driven the Superhemps with a Fi-Xi 2A3/45 amplifier, the 10-watt-per-channel 6V6 push/pull Sound Quest SQ-84, and, for a very short time, a pair of Manley Mahis (EL84s are really good sh*t, man). It was very easy to distinguish the SET amp from the push/pull amps. All three sounded excellent in their own way. The Sound Quest was punchy and dynamic, with lots of energy up top, and the Mahis were powerful, boldly dynamic, and tonally rich. Yet both push/pull amps had slightly flat soundstages compared to the Fi. Conversely, the Fi, though all about refinement, with billowing space and beautiful tone and texture, lacked the control and drive of the other amps. All of these attributes were easy to appreciate through the Omegas, and while the speakers are not without some colorations of their own, they speak with the voice provided to them by the upstream components.
I will be writing more about the Omega Superhemp loudspeakers in the coming months as I progress toward an article about my completed system, but for now let me say that I've had my first hemp-based audio experience, and it stoned me… uh, I mean it was a good one! The Superhemps are not perfect. They must be carefully partnered with amp and source to avoid aggressive treble performance. They need excellent stands and solid setup skills to sound their best. Their bass goes fairly low, but they are not quite full-range speakers. Still, I could live with them without a subwoofer if they were partnered with the right amp. The Fi needed a little help down below, but the Sound Quest passed, and the two little Manley dolphin-fish kicked (b)ass! However, if you choose (as I did) to add a sub, it must be really fast to avoid bass discombobulation (a highly technical term referring to poor bass amalgamation, which can be caused by electrical disturbances from The Force, Dina-Moe-Hum, or the neighbors' personal hovercraft).
I gravitated toward the Omega Superhemps for several reasons. I have become a lover of the single-driver sound, and the Superhemps are a reasonably easy load for the low-powered tube amplifiers that have also been charming me of late. The Supers are very dynamic, expressive, and tonally adept. And while they are near the top of my self-imposed price range, I find them to be an excellent value. I have learned that giving out raves is a tough gig in this business, because nothing is faultless. However, I think Louis Chochos may soon be forced to grow some weed in his backyard to keep up with demand. I am smitten with my new speakers, and I didn't need to vacation in Amsterdam or to contract glaucoma in California to buy them legally. I also have no need for rolling papers or bongs, and there are no stems or seeds to clean. The only ritualistic paraphernalia required is a record cleaning machine and a remote control. These are more important than a double album cover! So with a needle grooving on the Doobie Brothers, or Jimi Hendrix losslessly wafting though air like smoke from a Big Fatty, the Omega Superhemps give me a very nice buzz indeed. 'Scuse me while I kiss the sky.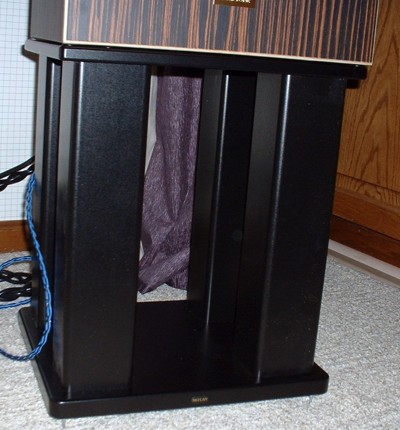 Sidebar: Skylan Manufacturing speaker stands
Skylan Manufacturing Ltd. of Calgary, Alberta is a Canadian near-mirror-image of Omega Speaker Systems. Run almost single-handedly by Noel Nolan, Skylan is willing to build highly-developed custom products for its customers at a value-conscious price. Nolan and Chochos have worked together for a long time to design stands for each Omega loudspeaker. One evening, I spoke for over an hour with Noel, and he is just as knowledgeable and passionate about building speaker stands as Louis is about building speakers. The stands that Nolan sent me were constructed specifically for use with the Superhemps. The top and bottom plates are exactly the same size as the Supers, and the 18-inch height brings the hemp drivers to 36 inches at their centers—the height considered perfect by Louis and echoed by my experience. The stands are very well made. The assembly instructions are clear, and they went together without a hitch. The packaging is solid, and Skylan provides little extras like a wrench to tighten the nuts and two paper funnels with brass tips facilitate filling the stands with sand. The stands include adjustable screw-in spikes as well as soft feet. One of the things I like most is the use of high-friction neoprene decoupling pads on the top plate. The Skylan website states that the pads "improve the speaker/stand interface," and they certainly do. No more sticky-tacking speakers to their stands—the pads eliminate the need, and make it difficult, if not impossible, to push the speakers off the stand without knocking over the whole shebang.