FOWN-MING TIEN'S SYSTEM
LOUDSPEAKERS
VonSchweikert VR-4Jrs (on loan for review), Hyperion HPS-938 (on loan for review), Thiel CS 2.2
ELECTRONICS
Aesthetix Callisto Signature line stage, Scott Endler Passive Stepped Nude Attenuators, Jeff Rowland Model 10 amplifier, Onix H34 tube integrated, Eastern Electric MiniMax phonostage (on loan for review), Eastern Electric MiniMax M520 Integrated (on loan for review), NuForce Ref 8 (on loan for review).
SOURCES
Digital: McCormack Audio UDP-1. Analog: Oracle Delphi MkII, SME 3009 tonearm w/ Cardas cabling, Denon 103 cartridge.
CABLES
Paul Speltz Anti-Cables speaker cables, CryoTweaks Trinity speaker cables, CryoTweaks Silver Reference MkII interconnect, Aural Thrills WBT Gold digital S/PDIF coax interconnect, custom Dodson "secret skunkworks" digital S/PDIF coax interconnect, Audience powerChords, Revelation Audio Labs Precept power cord, Eichmann eXpress6 AC power cable, Electraglide Reference Tri-Glide power cord, Silversmith Silver interconnects and speaker cables (on loan for review).
ACCESSORIES
Audience adeptResponse power conditioner (on loan for review), Tice Power Block power conditioner with Hubbell 20A hospital grade outlets, Hubbell 20A hospital grade outlets in wall, Bedini Ultra Clarifier, Auric Illuminator Optical Playback Resolution Enhancement, Quantum Symphony Pro, Black Diamond Racing cones Mk3, Polycrystal amp stands (2), and Verastarr Granite Vibro- Slabs.
A few months ago, the audio forums were buzzing with excitement over a new amplifier from a manufacturer named Nuforce. Curious about the chatter, I visited the Nuforce website and found that the amp was the $1600-a-pair Reference 8 monoblock utilizing Analog Switching Amplifier Technology.TM This did not mean much to me. A quick check of the specs revealed that the Reference 8 is capable of delivering 100 watts into any load between 2 and 8 ohms. As I glanced at the rest of the specs, the other number that jumped out at me was the weight. Each Ref 8 weighs only three pounds! I had not heard any lightweight amplifiers that delivered world-class sound, especially at this price, so I assumed that this was just another pair of mediocre-sounding Class D amps, and wrote them off as a flavor-of-the-month product from a manufacturer that would fall off the face of the earth in a few months.
You know what they say about making assumptions, and one day I got a call from a trusted friend telling me that I had to hear some new, incredible-sounding, but affordable amps. When I asked him the name of the amps, he told me that they were the Nuforce Reference 8s! Because he raved about them, I figured they deserved an audition, so I contacted Jason Lim at Nuforce, who immediately sent me a pair. When the review samples showed up, I was surprised that they could be so light, even though I already knew that they only weighed three pounds. They look understated in their black anodized aluminum cases. The front panels are adorned with the Nuforce name on the top left corner and a blue LED smack dab in the middle. Each rear panel houses a rocker switch for power, an IEC inlet for a detachable power cord, a RCA input, and a Cardas spinlock speaker connector.
I admit that it was foolish to make assumptions about the sound of the Reference 8s before hearing them, but it is impossible to review every piece of audio gear on the market, and I have to pick and choose. I am glad that my friend brought Nuforce to my attention—to miss out on these little gems would be a mistake! Do not let their diminutive size, light weight, and affordable price fool you. The Ref 8s are the real deal. As soon as I fired them up, my jaw hit the ground. They had a fluidity and naturalness that is usually found only in amps costing two to three times as much. They sounded similar to my Rowland Model 10 amp, and that was downright scary. They were not in the same eye-candy category, but that would be an unreasonable expectation at their price.
The Reference 8s were stunning. The highs were clean and clear, with a transparency, openness, and lack of congestion that I have rarely heard in amplifiers costing much more. The midrange had the same sense of clarity, but also had a sense of weight, texture, and body that many budget amps lack. In fact, the Reference 8s reminded me of the Spread Spectrum Technologies Son of Ampzilla amplifier, minus some warmth. The bass was tight and taut, but did not have the vise-like grip that pricier and higher-wattage amps can provide. The bottom end was not quite as controlled as that of my Rowland 10. Compared to the Rowland, the Ref 8s also lacked a bit of slam, detail, and transparency, but not much. In fact, they sounded much more similar than the price difference would indicate. I can think of no amp for $1600 that can match the Reference 8s. Like the Son of Ampzilla, the Nuforces give no hint of their 100-watt rating.
When I told Jason Lim about the differences I was hearing between the Reference 8s and the Rowland 10, he recommended that I listen to the Reference 8Bs, which are the balanced versions of the 8s. According to Jason, the Reference 8Bs are identical except for their balanced design, but improve upon the 8s' already high level of clarity and transparency. A few weeks later, a pair of Reference 8Bs were on hand, but I was on the road on business and did not get a chance to fire them up for nearly three months.
The Reference 8Bs cost $900 each, or $200 more per pair than the 8s. The sonic improvements are well worth the additional cost. The 8Bs bring the listener closer to the music by removing a layer of haze that was only apparent when I made the comparison. The Reference 8Bs were very nearly on a par with the Rowland Model 10 in all respects. The Rowland had just a tad more nuance and articulation. It also sounded a little more refined in the highs and mids, and delivered more dynamic slam. To put the comparison into perspective, I should mention that I have heard the Rowland M201 class-D monoblocks in my system, and was not completely satisfied with their midrange performance. The Reference 8Bs had the body, weight, and color that I found lacking in the Rowland M201s. Also, unlike the Rowland M201s, the Nuforce amps did not need to be cranked up to deliver meaty bass.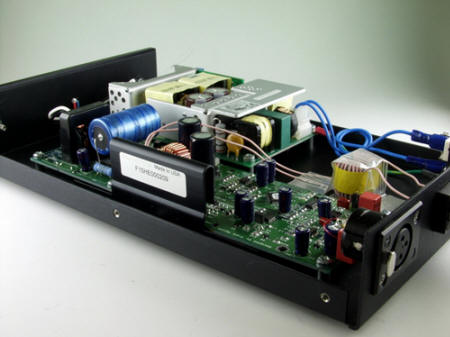 Although every aspect of the sonic performance of the Nuforce Reference 8Bs was world class, they did not sound like world-class tube amps or world-class solid-state amps. They sounded world class in their own right. In comparison with my Rowland 10, they refused to take a back seat in any category. They sounded nearly equal to the Rowland for far less money. What truly separates the Nuforce Reference 8s and 8Bs from every other amp I have heard at the price is their level of transparency, neutrality, and balance with all music, from classical to rock. My experience with the Nuforce amps has convinced me that a new era of amplifiers is upon us. We are no longer approaching the doorsteps of high-end audio, but are kung-fu-kicking them down. No longer does world-class sound require large, heavy, expensive amplifiers. There is now a lightweight alternative, and the best part is that it is affordable! Fown Ming-Tien
Reference 8B amplifiers
Retail: $800 per unit
NuForce
web address: http://www.nuforce.com