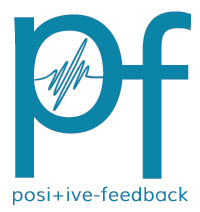 You are reading the older HTML site
Positive Feedback ISSUE 24

march/april
2006
Mirrored Nature Records - Brand New Classical Music Label from Canada
by Robert H. Levi
With their slogan, Music Made Not Manufactured, Mirrored Nature Records explodes on the classical music scene with fresh, exceptional SACD dual layer disks of important chamber music. With three recordings out so far, Joseph Paterson, their Toronto based producer, speaks of his love for music and the delicate art of fine recording. Using only two microphones in "MS" configuration with simple, direct to DSD methods, these recordings will rock your world with a rarely heard honesty and organic sound.
Utilizing both Harmonic Technology Cyberlights and Kubala-Sosna Emotion interconnects with the new Edge G8+M Statement amplifiers, these Mirrored Nature disks sprang to life in my primary reference listening room. It is such a joy to hear new recordings of time honored works. I've got so many reissues of these classics that I was craving a modern effort for a change. An effort not hampered by how cheap and fast they could be made, but instead, no holds barred!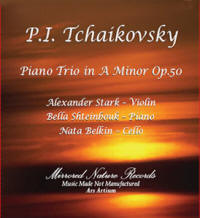 Tchaikovsky, Trio for Piano, Violin, and Violoncello in A Minor Op.50, Mirrored Nature Records, SACD/CD, MNR 5001
This was the first of the MNR disks I auditioned and is, in itself, a work of art. This rarely heard, ultra lyrical and melodious work, is pure P.I. Tchaikovsky delightful. I listened to it twice in my first sitting and have taken it over to nearly every audiophile's home I know. With a Row M, mid hall sound, the work is at once intimate and grand. You are surrounded in warm, soft ambience at the listening position [in two channel], and enjoy the bell like piano tones, sweet shimmering violin, and intense cello chords. The imaging is superb and the instrument placement quite natural as a performance setting. This is not so much in the room sound as in the hall sound. I loved the perspective of not being too close to the performers so that I might be able to hear all three instruments in consort.
This is a reference disk of the first quality with a performance so compelling I dare you to stop it mid way through. I had to rethink my opinion of two channel recording. With three channel efforts so common today, this is at once a throw back to earlier times and a leap into something new. It all boils down to the taste levels of the producer and recording engineer, and these folks are musical wunderkinds.
Performance: A
Sound: A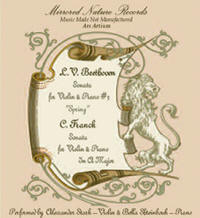 Beethoven, Sonata for Violin and Piano #5 "Spring," C. Franck Sonata for Violin and Piano in C Major, Mirrored Nature Records, SACD/CD, MNR 5002
Recorded with a fresh intensity and suave playing, the "Spring" Sonata just felt right as rain. Recorded with a mid hall perspective and spot on imaging, you forgot you were listening to a recording within minutes of touching play. The most intimate and, I think, most sensitively recorded of all the works, you will just love the artful and playful pacing as well as the way the artists' compliment each others performance. This is a world class performance and and a solid recording effort. The only reason I'm not totally just gushing over this beauty is I hear a slight dryness on this recording. This is nitpicking at it's best and it should not stop you one bit from buying it. It's truly 98% perfect at the end of the day.
The Franck Sonata is as good as you can get. This is the performance and the recording to own. With a touch bigger and more natural dynamic slam and none! of the mild dryness I heard in the Beethoven, this performance is a true beauty. With its magical "Allegretto" and all around superb playing, it is standard setting sound in every way. Again featuring lovely mid hall sound, this is tweaked out so naturally and dynamically as to engage the listener to the max. This may be one of the sweetest violin sounds I've heard on SACD to date. The playing is tip top and the blend of the instruments is just right. This one's a must own, too.
Performances: A
Sound: A- on the Beethoven, A+ on the Franck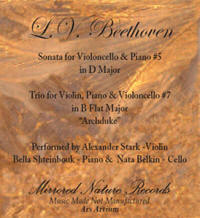 Beethoven, Sonata for Violoncello and Piano #5 in D Major, Trio for Violin, Piano, Violoncello #7 "Archduke," Mirrored Nature Records, SACD/CD, MNR 5003
The Sonata #5 is a less played piece and is very well done. Unlike the Tchaikovsky or the Archduke, the recording is Row A and in the room. The piano is rock solid between the speakers and with the cello stage right and imaged beautifully. I found myself reducing the volume substantially as this piece is recorded full out. The intensity of the presentation is very complimentary to the cello sound. I don't think this "Mercury-like" recording is as accessible and musically natural as the others. You may, however, find the upfront sound to your taste. The performance is outstanding. It's commanding Beethoven with passionate touches and virtuoso playing. The pianist, Bella Shteinbouk, though unknown by me, is world class here.
The "Archduke" is fabulous and exciting. It is recorded mid hall like the Tchaikovsky and sounds even more alive and natural. This performance is so organic and beautiful, I was thrilled. With stunning violin playing by Alexander Stark, the performance had a sweetness and smoothness one craves. I've never heard it played better or sound better. With drive and delicacy, the lyrical intensity and wondrous melody are something to hear. A stellar effort and a must own I think. I'd buy this disk for the "Archduke" in a heart beat!
Performances: A
Sound: B on Sonata #5, A+ on the "Archduke"
These are three incredible efforts and three overall winners to own. MNR is SACD sound at its best and most musical. Imagine, fresh, high-end recordings of the greatest music in the world …I'm way sold.
Mirrored Nature Records, Joseph Paterson, Producer
web address: www.mirrorednaturerecords.com
email address: joseph@mirrorednaturerecords.com
TEL: 905. 884. 1377