ROBERT H. LEVI'S SYSTEM
LOUDSPEAKERS
Avalon Eidolon and REL Stadium III subwoofer.
ELECTRONICS
E.A.R. 324 phono, Pass X1 preamplifier, and an E.A.R. 834L tube line stage. E.A.R. 890 and NuForce 9.02 amplifiers.
SOURCES
VPI Scout/JMW 9 tonearm, VPI SDS Controller, ZYX R100H phono cartridge. ModWright Sony 999 SACD/CD Player with Signature Truth, Mod/Bybee Filters and Revelation Cryo Silver Umbilical. Pioneer DVL 919 LD/DVD Player, and a Marantz DV8400 DVD/SACD/CD player. Magnum Dynalab MD-108 Reference Tuner, Marantz 10B tuner, and Scott 350B FM tuner, AQ 7500 FM Antenna, Stax 7t Electrostatic headphones, Grado Reference 1 headphones, and a Grado headphone amplifier.
CABLES
Harmonic Technology CyberLight interconnects, Kubala-Sosna Emotion interconnects and Dual-Connect Gold interconnects, Soundstring interconnects and speaker cables, or Kimber Select balanced, Kimber TAK phono AG, Kimber Hero balanced and single ended interconnects, Eichmann Express 6 Series 2 interconnects, and Acoustic Zen Silver Reference II balanced interconnects. Kimber D-60 Digital Interconnects. Kimber Select 3038 Silver speaker cables, Harmonic Technology Magic Reference Silver speaker cables.
ACCESSORIES
Monster Reference 350 Mark II v2 Power Conditioner and World Power Power Wing, Kimber Palladian power cables, Tara RSC and Decade power cables, Tiff power cables, Tice power cables, Tice Clock, and Audio Prism Quiet Line IIs. Cable Cooker 2.5, Winds Stylus Pressure Gage, Bedini Ultra Clarifier, VPI Record Cleaning Machine 16.5, Soundstring Pro Power Cables, and Kimber Pro 10 Gold Power Cables.
Edge Electronics bets the bank on its newest, top-of-the-"G"-line, G8m monoblock amplifier, a "quasi" class D amp with Rolls Royce fit and finish. The only amp in the series to sport the laser biasing of the NL series of amplifiers, the G8m is the most expensive class D amp on the market at $7888 the pair, and it is one cool-running piece of audio jewelry. Its luxurious midrange often reminded me of the very musical "house" sound of the Edge amps that preceded it.
Ergonomically, the G8ms trump all other class D amps on the market. Beautifully constructed and completely shielded from anything that might upset your tuner or TV, they have very serious, ultra solid on/off switches, top-quality balanced and single-ended inputs, and switches to select either. They have gorgeous, oversized binding posts and detachable power cords. Bright blue lights on the faces tell you the status of the amps. They can be powered up without speakers hooked to them—something other class D amps can't do—although as balanced designs, the amps cannot be bridged for subwoofer operation. My only criticism is: Why put 20-amp power cords and connectors on these amps? Beefy 15-amp cords would have been plenty. For this review, I had to use the rather ordinary 20-amp cords that were provided rather than go up-market. By the way, the G8ms require 200 to 300 hours of break-in to reach their potential.
The G8ms' midrange is richer and fuller than that of any other class D amplifiers I've heard. Fleshy and organic, it's close to that of top-notch bipolar solid-state designs. The amps have lots of presence, and this really serves the music. They also yield top-notch depth and ambience, though the ambience is slightly dark and slow. Though intensely euphonic, the G8ms were not quite neutral enough for me, so I went on a quest to bring up the extremes. I began by substituting interconnects, looking for the cables that would flatten these babies out. My Harmonic Technology Cyberlights were too neutral to help. The Kubala-Sosna Emotions added more midrange, which normally is lovely, but not needed here. Finally, I realized that I needed cables with silver content to wake up the highs and copper content to reinforce the bass. The solution was the Harmonic Technology Pro Silway IIIs, which have about 60 percent silver and 40 precent copper. The Pro Silway IIIs evened out the frequency response and restored performance at the frequency extremes. At only $475 per meter, the Silways are quite the audiophile bargain. I would also have changed power cords, but had no other 20-amp cords.
With the HT Pro Silways, the G8ms' midrange opened up, smoothed out, and became less dark. Soundstage width and depth improved, while imaging remained rock solid. I never could get real warmth from these amps, but I did hear sophisticated textural nuance and a lovely, relaxed sound. The mids hovered somewhere between enticing and dull, which is a pretty good description of live acoustic sound, my reference. String sound was airy and very textured, with good tonal color. A moderate darkening of all textures sweetened strings and made most instruments in that range sound delicate and a bit soft. This is a very likeable and livable sound, one that complements most instruments and the human voice.
The highs, while good, were rolled off, and there was a lack of sparkle and snap. The combination of these two characteristics focused my attention on the mid-band, further hyping those frequencies. Cymbals and bells were bronze-like, instead of having a nice, silvery sheen. Silver-content cable helped, but did not completely cure the problem. I did find that I could listen at very high volumes without fatigue. This is unusual with solid state designs on the Avalon Eidolons.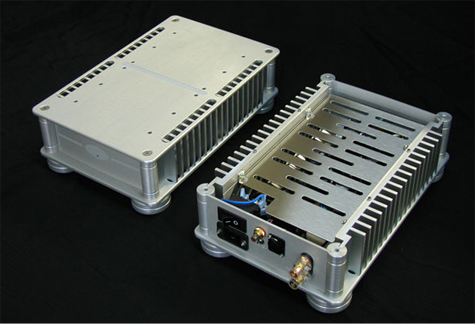 While soprano voices were slightly darkened, men's voices sounded first rate. Surface noise and tape hiss were diminished, and image height was slightly lower than I'm used to. Horns sounded very good, with relaxed, detailed texture. Theoretically, the G8ms would be a good match with a system that has very extended and flat treble response or maybe a rise in high band prominence. Usually you would need tubes for this purpose, but here's a solid state solution with lots of power to tame those ribbon tweeters or the like.
The bass was slightly rolled off as well. I used my Rel Stadium III sub to compensate somewhat for the lack of slam. There was a definite softening on the bottom, and it starts fairly high, say around 500Hz. The bottom end was nicely defined, musical and textured, but the drama and pace was missing. The bass was a bit slow and soft. It wasn't fat, like some vacuum tube bass, or tight like solid-state bass. Most listening rooms have a bass bump at these frequencies, and the G8ms' deficiencies in the bottom end may not be noticed.
Interestingly, I preferred the G8ms with LPs, and wondered whether this was by accident or design. With my best LPs, the sound was excellent, and toe-tapping. My favorite Classic Records discs had an organic truthfulness and vitality that was very attractive. Surface noise was also somewhat suppressed. Again, the highs were a bit dull and the bottom end slightly polite, but the lovely midrange was very complementary to the sound of LPs. If the G8ms had given me a bit more warmth with those richly colored textural cues, I'd have bought them for LP listening alone. It was a very close call!
I truly enjoyed playing my reference tuners, the Magnum Dynalab MD-108 and Marantz 10B. FM is basically a mid-band experience anyway, and the G8ms sounded very musically pleasing. Edge must have done their homework in shielding these amps, as I had no problems with noise being picked up by the tuners. I clearly heard the sonic differences between the two tuners when using the HT Pro Silway III interconnects.
In conclusion, the Edge G8m amplifiers are among the most musical class D amps on the market, with a very musical mid-band and a smooth, elegant sound. They should mate well with just about any loudspeakers. Long listening sessions were a pleasure with the G8ms, especially with acoustic and LP sources. It will be important to experiment with interconnects if you acquire these lovely amps, even if you listen only to analog sources. The G8ms may be a bit pricey compared to excellent bipolar designs, but they offer stellar fit and finish and cutting edge technology. I recommend that you try these in your system before you buy. They may be just right for your needs. Robert H. Levi
Recordings I used to evaluate the Edge G8m amplifiers included:
The Carl Saunders Sextet (BluePort CD BP-J011)

Beethoven, Archduke Trio (Mirrored Nature SACD MNR 5003)

Tchaikovsky, Trio in A minor op. 50 (Mirrored Nature SACD, MNR 5001)

Beethoven/Franck, Violin and Piano Sonatas (Mirrored Nature SACD, MNR 5002)

Dvorak, Symphony 6, Davis, London Symphony Orchestra (LSO Live SACD LSO0526)

Dvorak, Cello Concerto, Queyras, Prague Symphony (Harmonia Mundi SACD 801867)

Gene Harris, The Best of the Concord Years (Concord Records CD 4930-2)

Hovhaness, Symphony 22/Cello Concerto (Naxos CD 8.559158)

Jacintha, Here's to Ben (Groove Note SACD 1001-3)

Rubinstein, Chopin Concertos 1 & 2 (RCA/BMG SACD 82876-67902-2)

Dvorak, Cello Concerto, Piatigorsky, Munch (RCA/BMG SACD 82876-66375-2)

Suppe Overtures (Mercury SACD 470-638-2)

Hovhaness, Mysterious Mountain (Telarc SACD 60604)

The Absolute Sound SACD Sampler (Telarc SACD 60011)

Howard Hanson, Symphony No. 2 etc. (Telarc SACD 60649)

SuperBass2 (Telarc SACD 63483)

Orff, Carmina Burana (Telarc SACD 60575)

Diana Krall, Love Scenes (Impulse SACD 2841-35)

Duke Ellington, Blues in Orbit (Mobile Fidelity SACD 757)

Miles Davis, Kind of Blue (Columbia SACD 64935)

Isomike Sampler (Kimber SACD 2005A)

Chick Corea, Rendezvous in NY (Stretch SACD 9041-2)

J.S. Bach, Goldberg Variations, Gould (Columbia SACD 37779)

E. Power Biggs, Four Antiphonal Organs (Columbia SACD 87983)

Saint-Saens, Piano Concertos Vol. 1 (Audite SACD 92.509)

Linda Ronstadt and the Nelson Riddle Orchestra, What's New (Asylum LP 60260)

Duke Ellington, Blues in Orbit (Columbia CS8241/Classic Quiex 200-gram LP)

Harry James and his Orchestra, The King James Version (Sheffield LP Lab-3)

Brahms/Bruch, Violin Concertos, Grumiaux, Haitink (Phillips LP 835234)

Elgar, Enigma Variations, Monteux (RCA LSC 2418/Classic Records Quiex 200-gram LP)

Louis Armstrong and Duke Ellington, Recording Together for the First Time (Roulette SR 52074/Classic Records Quiex 200-gram LP
Specifications
Chassis: 2

Transformers: 2

Number of Channels: 2

Power Supply: 1.5 Kw Power wave technology

Damping Factor: >1,000 @ 100 Hz.

Power Rating: 550 watts/channel into 8 ohms, 1,100 watts/channel into 4 ohms

Input Impedance: 50,000 ohms

S/N Ratio: >115 dB

Constant Current Capacity: 22 amps

Input Type: RCA/Balanced

Approximate Weight: 66 pounds per pair

Dimensions: 15.5"d x 9.5"w x 5 "h
G8m amplifiers
Retail: $7888 a pair
Edge Amps
web address: www.edgeamp.com