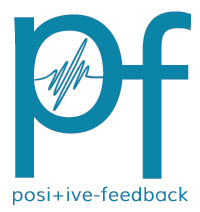 You are reading the older HTML site
Positive Feedback ISSUE 24

march/april
2006
CES and T.H.E. SHOW 2006
by Francisco Duran
Carol and Dave Clark, Lila and David Robinson do such a fine job of covering the CES for our magazine in the last few years it has made my CES reporting a lot easier. Having attended this years event I would be remiss if I didn't mention some of the gear and people that really moved me the few days that I attended.
As usual the many audio delights were bountiful. The first stop on my self guided tour was the Margules Audio room (1) at the Alexis Park Hotel. CEO Julian Margules and company were ever so hospitable as usual. These folks really make you feel at home when visiting their suite. I was surprised to learn that my U280SC amp has had an upgrade. Seems that the old gentleman who made the transformers for this amp and others in their line has passed away at 90 years old. So a new craftsman was found. Mr. Margules told me he was very happy with the new transformer source for his amps. The upgraded U280SC amps are said to be improved in the areas of bass heft, dynamics and better able to handle low impedance speaker loads. These facts were confirmed on the spot with the way that this amp had a tight fisted grip on one of their floor standing speakers playing in a side room. I have owned one of these amps for almost three years and love it!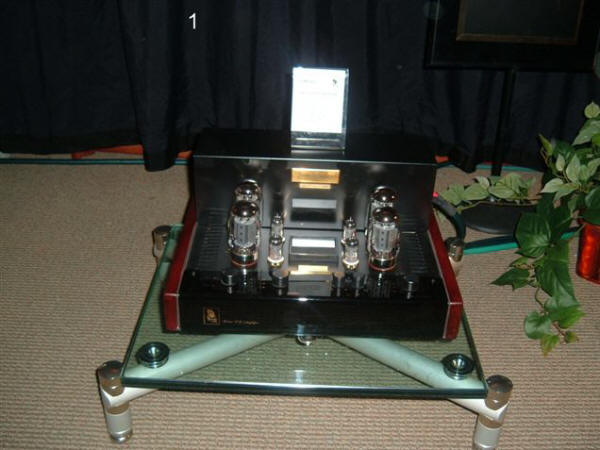 Considering the wide spectrum of technology this company encompasses is proven in a little silver box sitting on the bottom of a small audio rack in their suite. Their I-FI high end interface (2) is specifically designed to improve the sound of the venerable I-Pod. Does it work? A quick flick of an A/B switch clearly showed an improvement for the better through the I-Pod that looked like it was being eaten by the I-FI unit. Now this is thinking! Way to go Margules and we wish you great success with this product.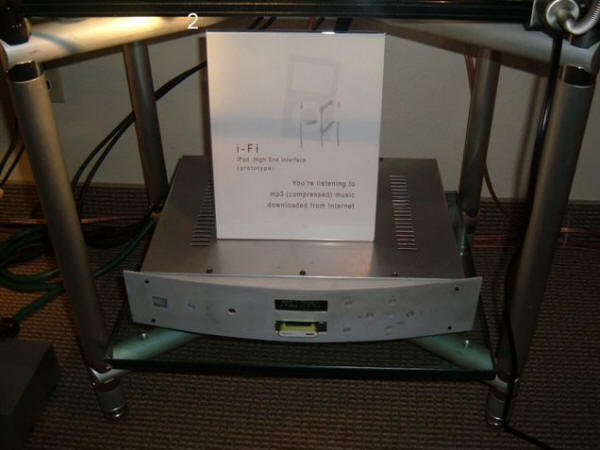 Climbing up the price ladder considerably was the Von Schweikert/Dart Zeel room. The sound in this room was sweet and musical to the third power. Price be damned. Von Schweikert speakers (3) were in quite a few rooms but this room was making absolutely beautiful music!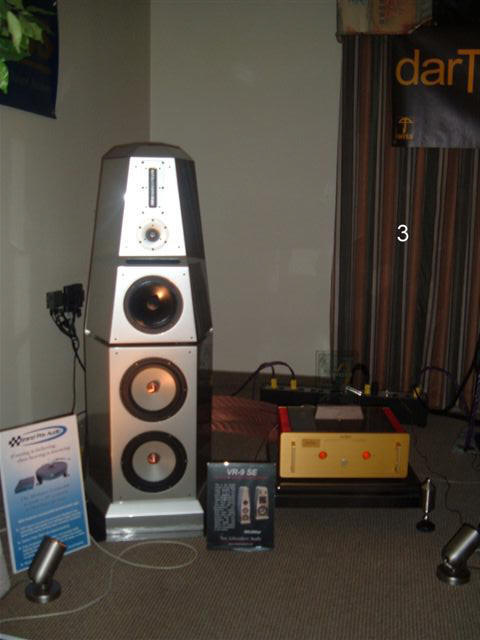 Another musical room and with a very congenial host to boot was the Antique Sound Labs/Divergent Technologies room. Mr. Tash Goika, a gentleman of the highest order graciously took the time to show me some new goodies from ASL and Reference 3A. The new Vienna (4) floor standing speakers were playing away hooked up to a pair of ASL 845 tubed mono blocks to very good musical effect. I got a peek at two interesting preamps in the form of the solidly built Flora DT and TX2 DT, both transformer based and remote volume. The Flora is quite a substantial piece of gear and should be seen to be appreciated. The folks from Chang Lightspeed were also showing quite a few of their wares along with Divergent Technologies.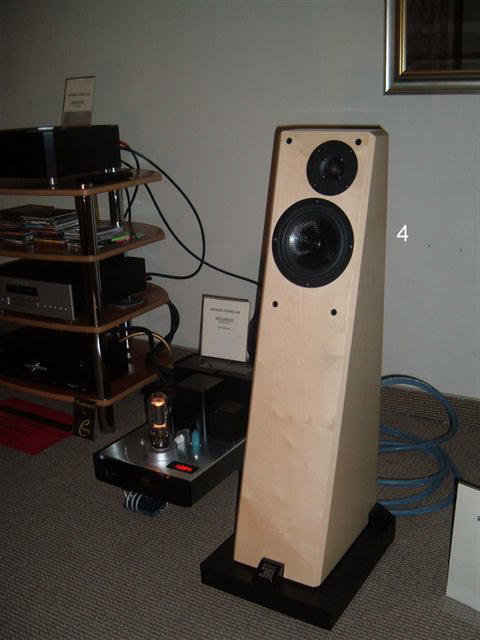 Cruising over to the Q-USA room I found myself lusting after the stack of Vincent Audio tube/hybrid gear perched on a shelf. (5) I did my best to twist Brian Anderson of Q-Sound for a review of one of their CD players. It is said that Vincent pays a lot of attention to the power supplies of their CD/DVD players. We shall see.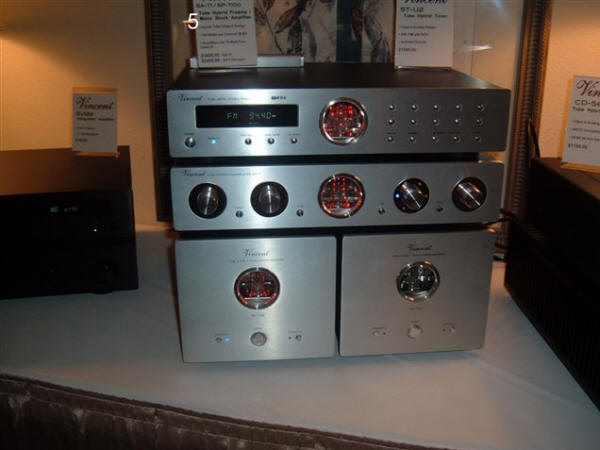 In the AAA Audio room their XLH Reference 1812 Loudspeakers (6) were proudly displayed. Not only that they were making some serious music. You can't miss these speakers. They are big, bold beautiful horns that were sounding sweet, delicate, dynamic and you name it! These speakers were hooked up to their LLH amp and preamplifier along with the beautiful Leonardo CD player which we have in for review now along with several other CD players in their line up. Talk about generous, these guys have that quality in spades. A pair of their 1812s are also said to be on their way to a lucky PFO reviewer soon.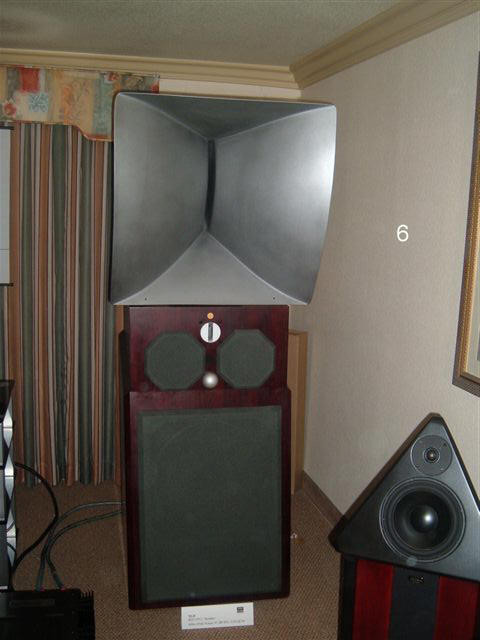 Another surprise in the AAA Audio room that was hardly noticeably sitting on the floor was a pair of Tetra 306 speakers. Tetra is no stranger to audioMusings and Positive Feedback. These little silver triangle speakers had the cool looking factor sewed up tight.
Cruising over to the Musical Surroundings room and just looking at the gorgeous analog gear had me drooling and lusting for this gear in a serious way! Just look at the Clearaudio Statement (7) for a true analog masterpiece. After a nice chat with the Musical Surroundings boys it was off to the ...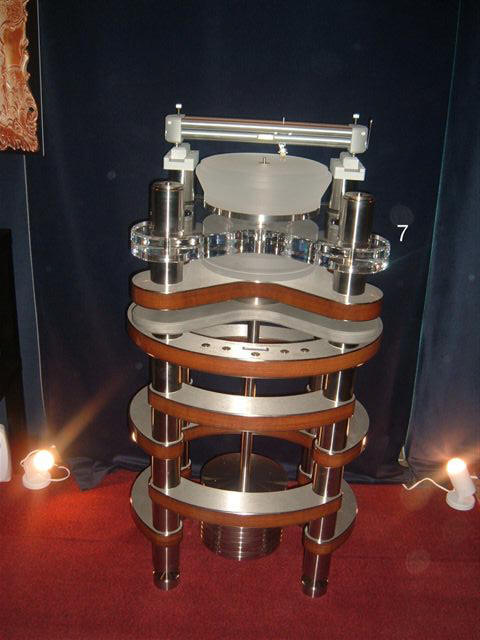 Nuforce Audio room. These people showed that size clearly doesn't matter. Their small mono blocks were driving a pair of Usher CP 8571 floorstander speakers with ease and power to spare. Their new model 8.5 is my new solid state reference amp. (8)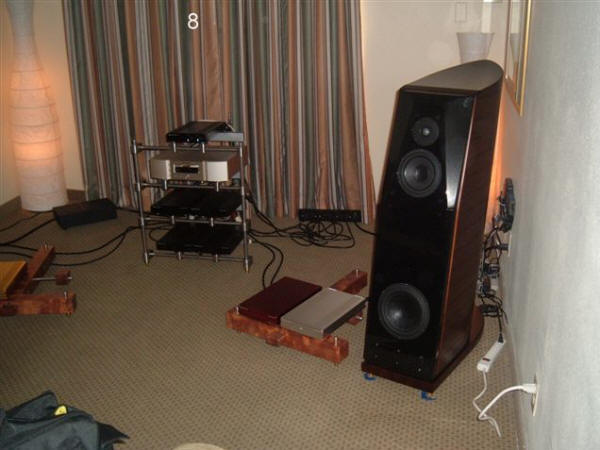 I was awestruck by the build and sound of the Marten Statement speakers. Talk about realistic timbres allied with rock solid SPLs and fidelity and soundstage. The Nordic Concept turntable wasn't bad either. (9,10,11)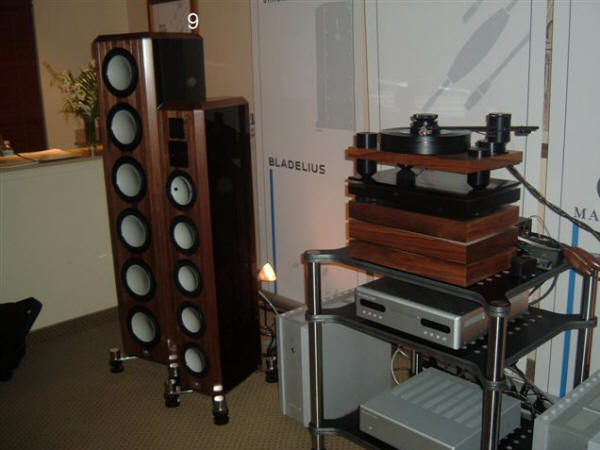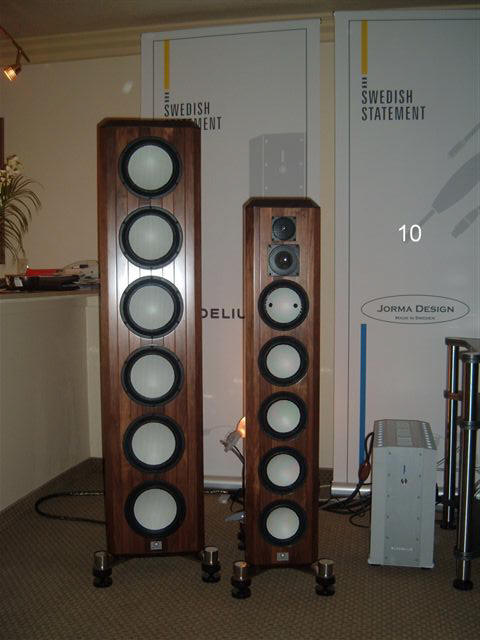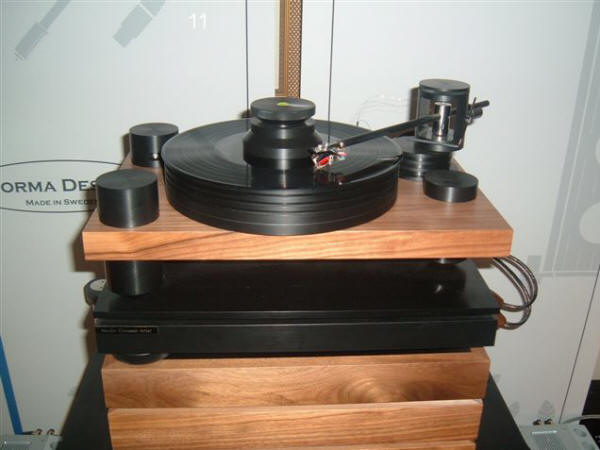 Speaking of musical how about the Upscale Audio room. They had a new pair of Prologue mono block tube amps driving a pair of Sonus Fabor Cremonas. All I can say about that combo was it was very musical and very sweet. What more could you want for musical bliss? (12)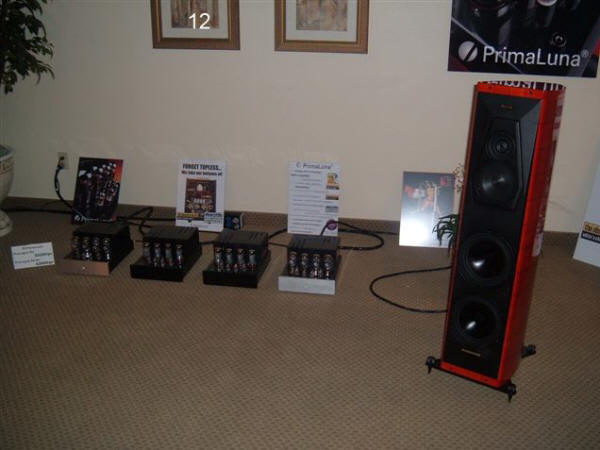 30 grand for a pair of JBL speakers. Wonder if I could get an accommodation? Driven by Ayre electronics was another pair of speakers on my lust/want/gotta have list. (13)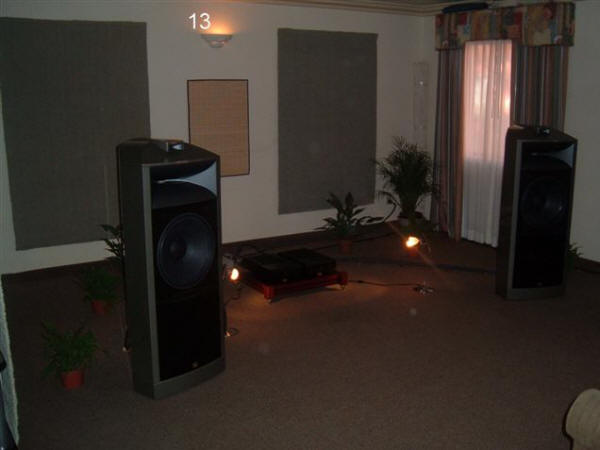 By the time it got dark on Friday night a few of the PFO staff ran into each other at the Zu cable room. Talk about two turntables and a microphone? These guys had Technics turntables all over the place. I fell in love with the Yamamura 2 watt tube amp driving a pair of the latest version of a pair of textured red Druids to quite high, undistorted and musical levels. (Druid review coming soon by yours truly) Zu's Sean Casey and Adam Decaria asked us to come back later to experience their DJ'ing skills first hand. I wonder how many other rooms threw Raves that night? (14,15,16)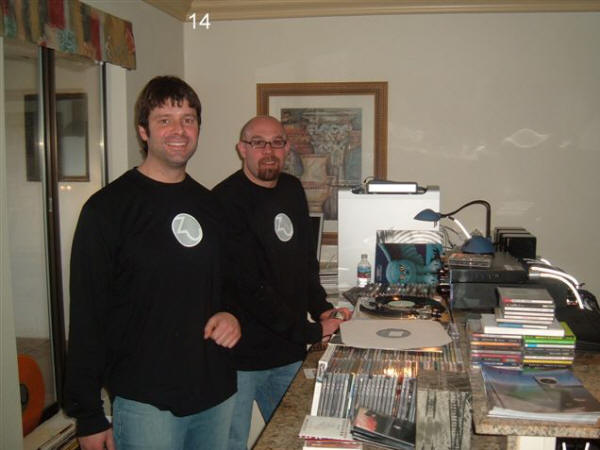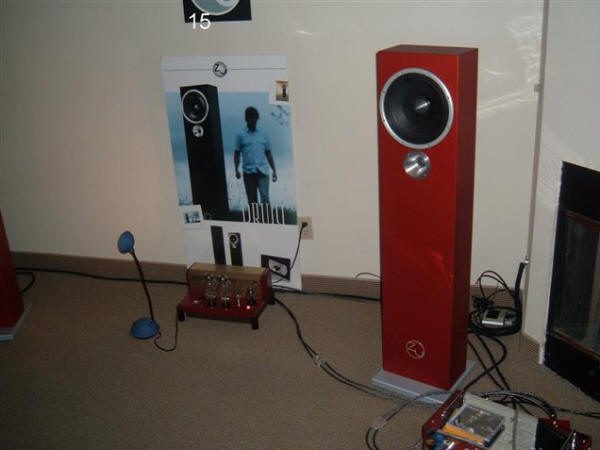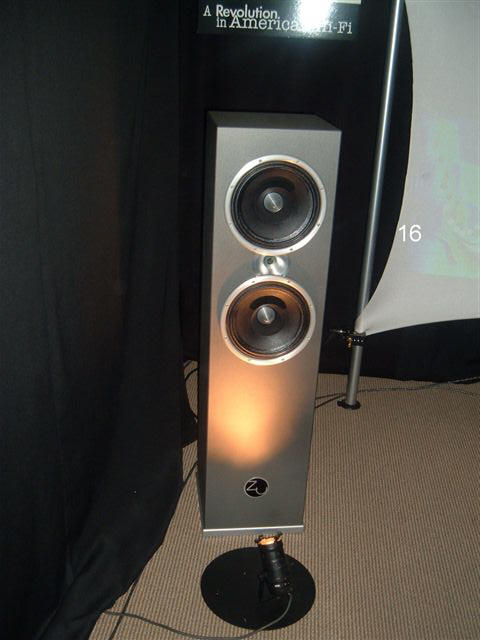 Mark O'Brien and his Rogue gear had it going on with a pair of Eggleston speakers, Stereo 90 amp and his new Perseus preamplifier. His new and very affordable Metis preamplifier is getting some pretty positive press. This system was also making music in a very beautiful way. (17)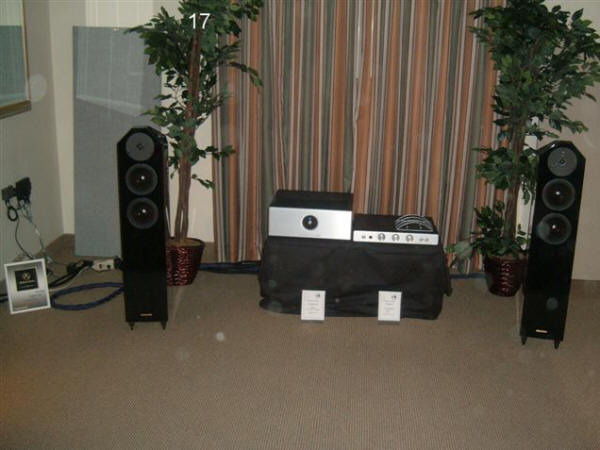 I was treated like royalty in the Gingko Audio room by Mr. Vinh Vu and Mr. Norm Ginsburg. Their new Tubulous speakers sounded great driven by a pair of Channel Islands Audio D-200 amps, a Modwright preamp and a VPI table. The vinyl sounded fine and the conversation was very friendly. I also got to chat with Dan Wright who was also in the room to tend to his great new preamp. What, no pictures?
I didn't cover much at the SHOW due to time constraints on my part. But one system really stuck out both visually and sonically. The Studio Electric type One speakers and XLR-8 bass module are anything but run of the mill. But they didn't stop there. Their Electrodyne Hybrid amp is a real unique looking amp too. (18,19, 20)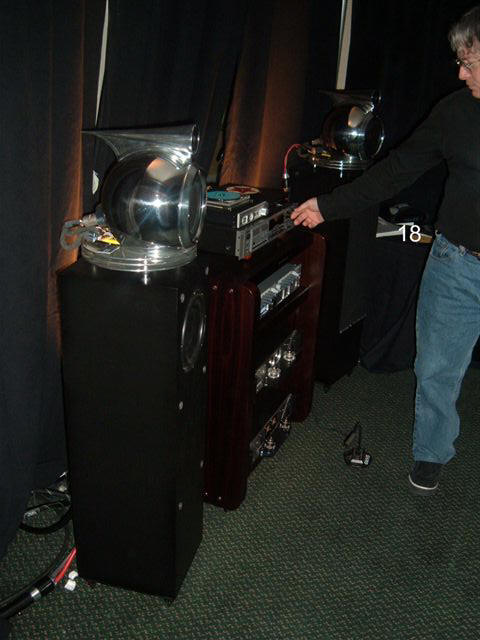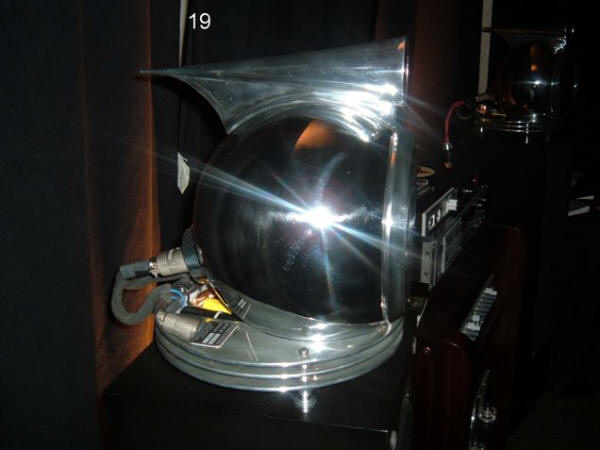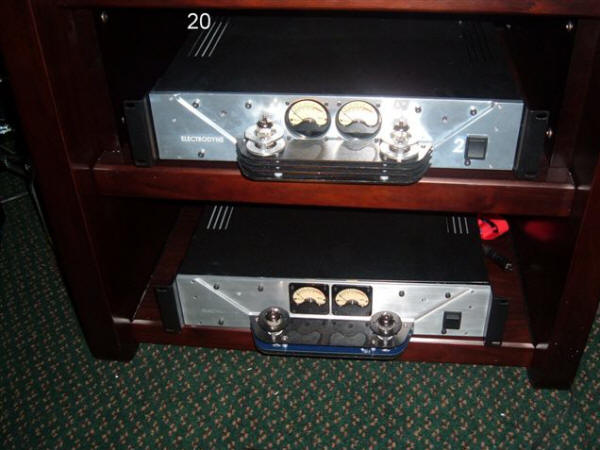 At the SHOW we met the Big Kahuna. He is actually quite small! (21)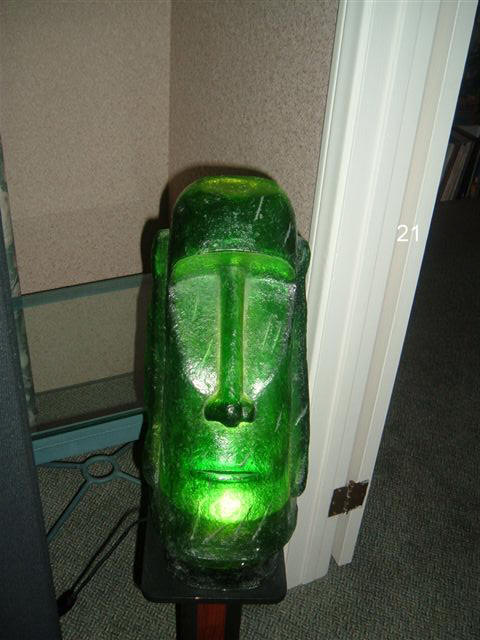 Some of my favorite people I caught up with at the SHOW and after hours at a bar in the Alexis Park hotel. Can you guess who they are? (22, 23, 24)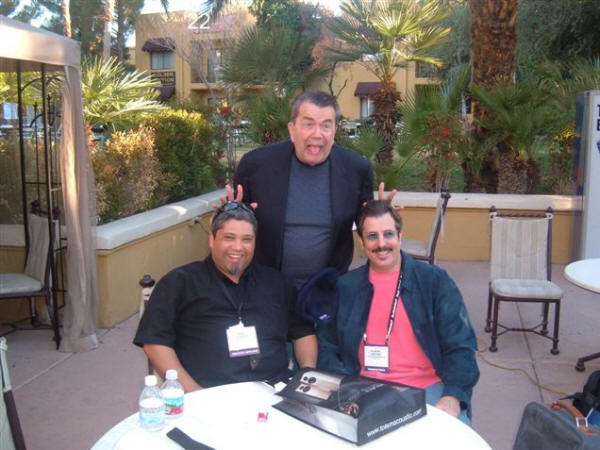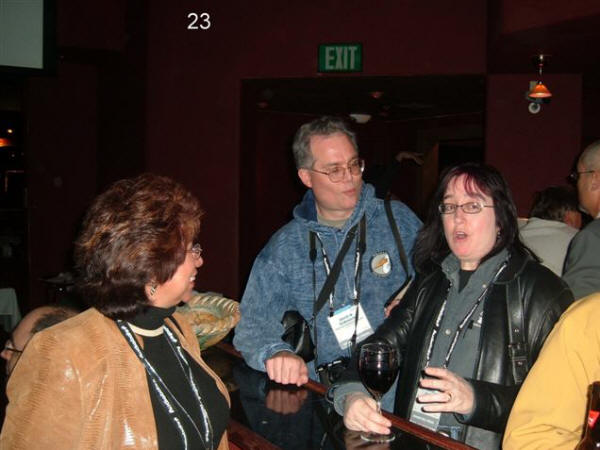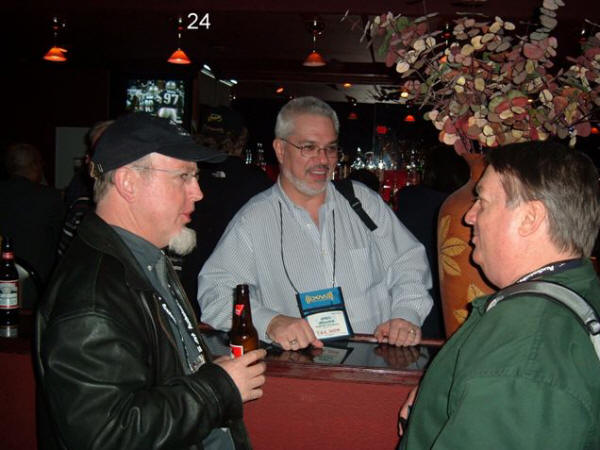 The real show stopper for me was the E.A.R. room. Not only were the Marten Miles III speakers, E.A.R. electronics, their new CD player and fantastic turntable sounding great, it was the music that mattered in that room. No audiophile crapola played in that room. With Dan Meinwald taking care of the room, Tim de Paravacini took over as Master of Ceremonies. After Dan played a bit of Sly and Robbie, Tim threaded a master tape of none other than Malcolm X doing what seemed to be the very first Rap song recorded with music accompanying him in the background. Excellent! Where else in the whole CES are you ever going to hear that? A few other tapes in Tim's personal stash of master tapes were some Marianne Faithful and Gerry and the Pacemakers. They played them on a Technics machine that Tim re-built for Dan. (25, 26, 27)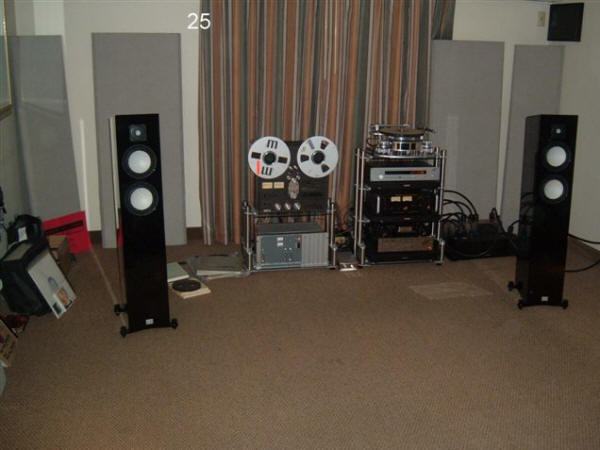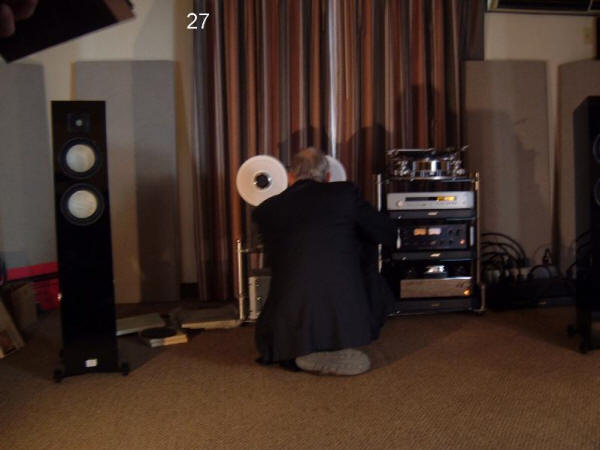 We simply had to spend a day at the Zoo, er the Convention Center. The first person we ran into was this man. Recognize him? None other than Mickey Jones. Actor and musician. If you think hard I bet you can remember him in a number of movies including Sling Blade. Ex drummer for the First Edition with Kenny Rogers and Bob Dylan and a nicer gentleman you will ever find. (28)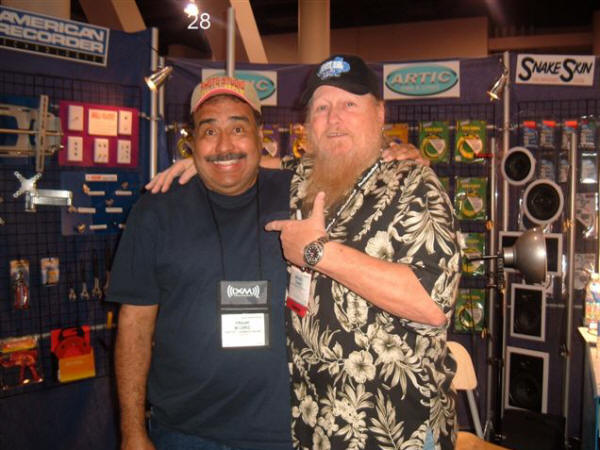 Stroll around the North Hall of the Convention Center and you will run into more celebrities. In this case it was Herbie Hancock and Quincy Jones on the XM Satellite radio stage. They were doing more talking than making music though. Mr. Hancock was pretty preoccupied with the little electronic keyboard he was playing with and treating the audience to an array of synthesized sounds. (29)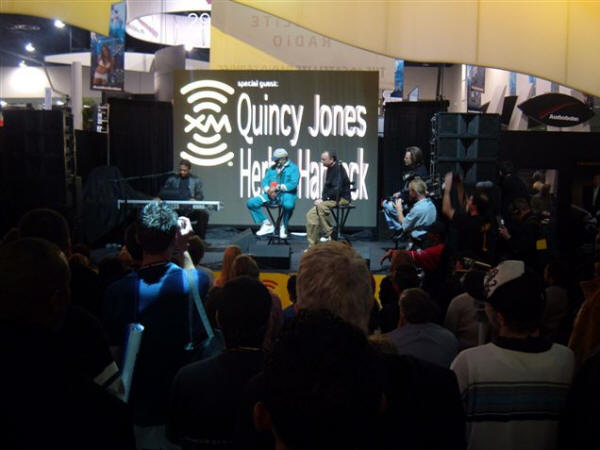 My son was pretty amazed at the array of Bluepod mini speakers. But the picture came out a little blurry. It is hard to take pictures when you are dodging show goers.(30)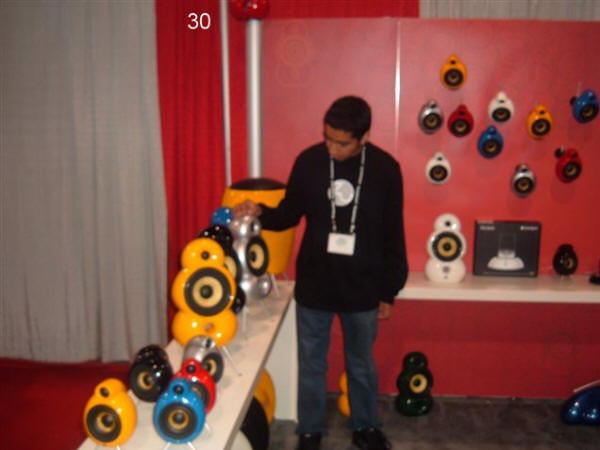 We were really impressed by the new Sony PlayStation Three demo. By the looks of the crowd, so were a lot of other people. Got to have one of those! (31)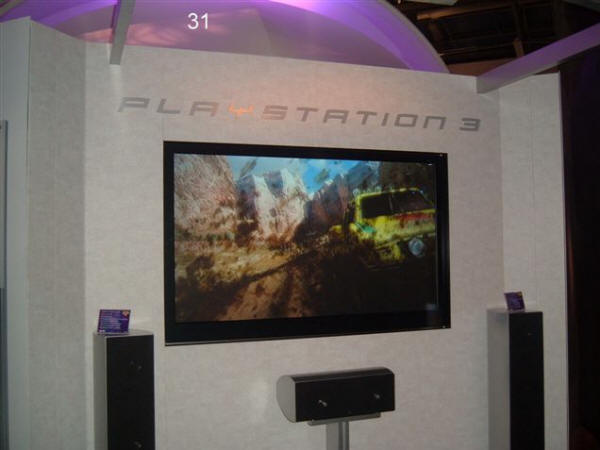 In the Gibson tent at the Convention Center the array of guitars and the Jimi Hendrix memorabilia were most impressive. Not to mention real cool! (32) No son, I can't afford that axe!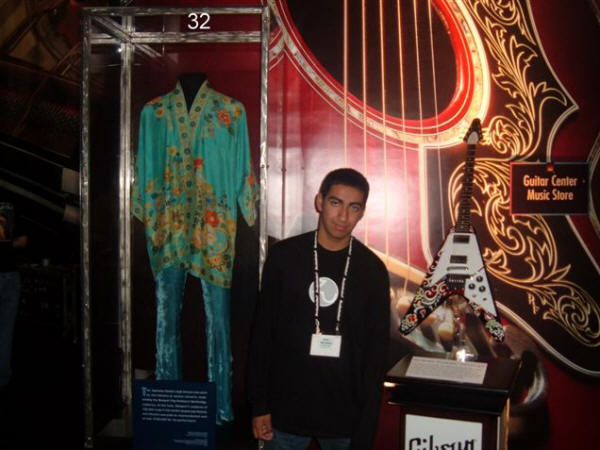 I bet he even opens wine bottles! You meet the most interesting people at the "zoo". (33)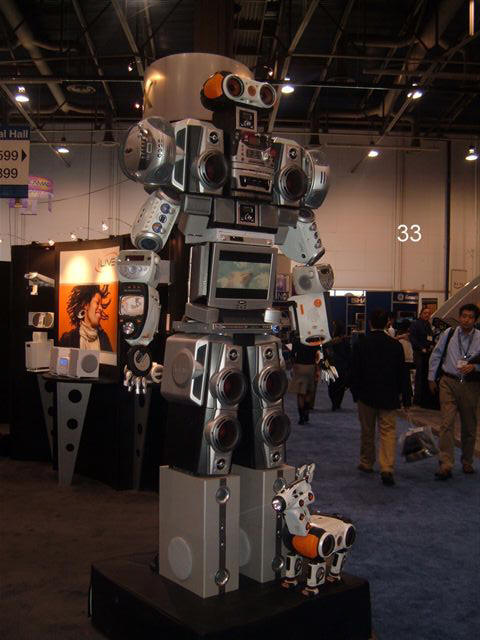 There were so many cool looking cars in the North Hall of the Convention Center. Check out this primo '63 Impala. "All my friends are low riders". (34)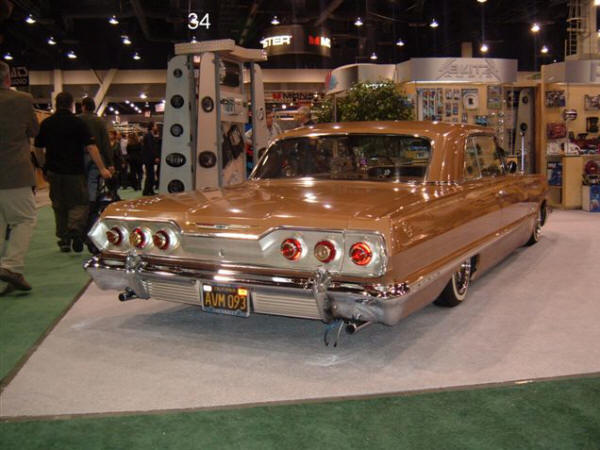 Speaking of cars, Saturday night while my audio buds all went out for dinner, my family and I went to check out the new Wynn Hotel and Casino. Impressive is an understatement. But what really caught our attention was the car collection that resides there. It was literally Ferrari and Lamborginni heaven. This is just a sample of the beautiful machinery in house. One thing that is very apparent is that you could literally eat off the floor of the garage area. (35, 36, 37)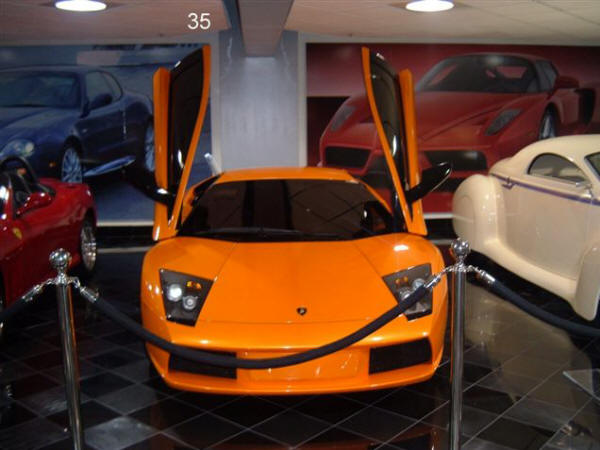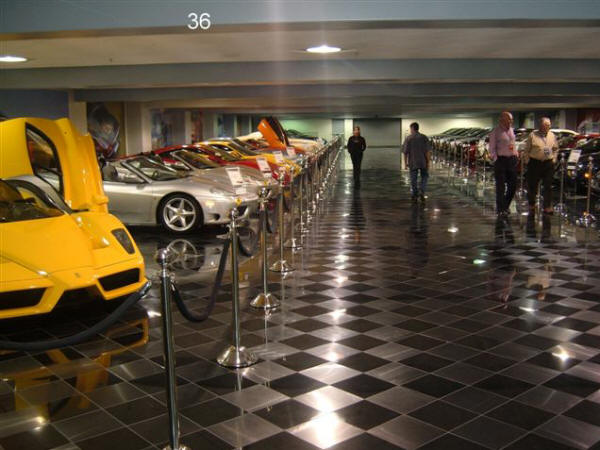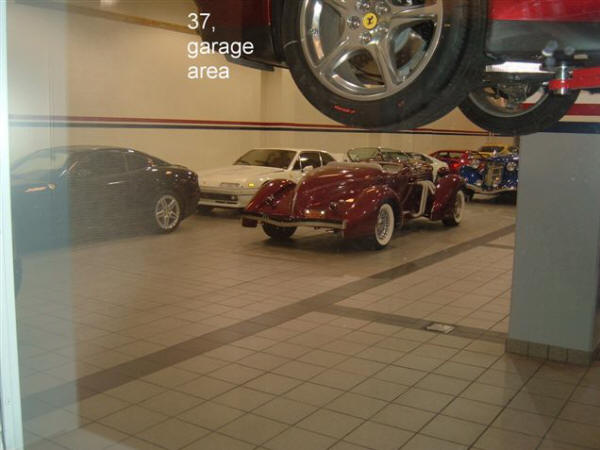 One more stop back at the Alexis Park to pop in and say hi to Ben Gosvig and Mona Nielsen of Dali Loudspeakers. What a dazzling array of speakers they had on hand. From their affordable line of Ikon to the top of the line Megaline. In fact the Megalines were my favorite pair of speakers at the CES this year. (38, 39, 40)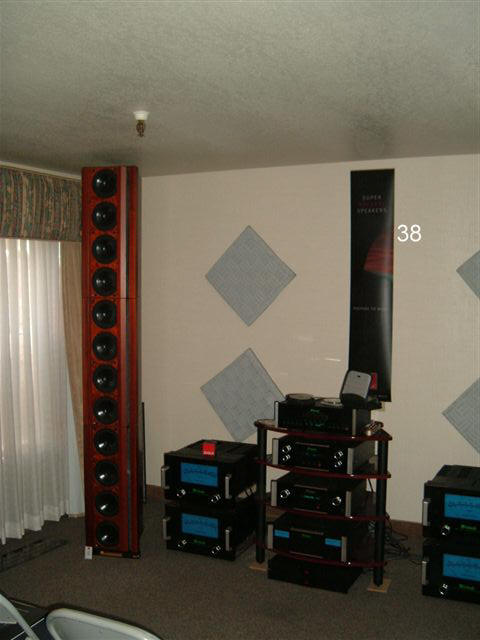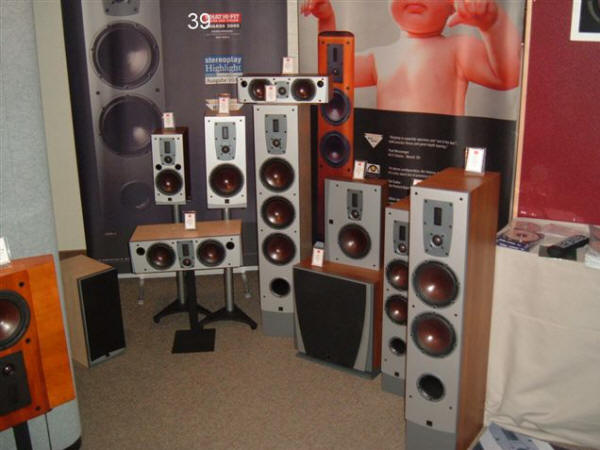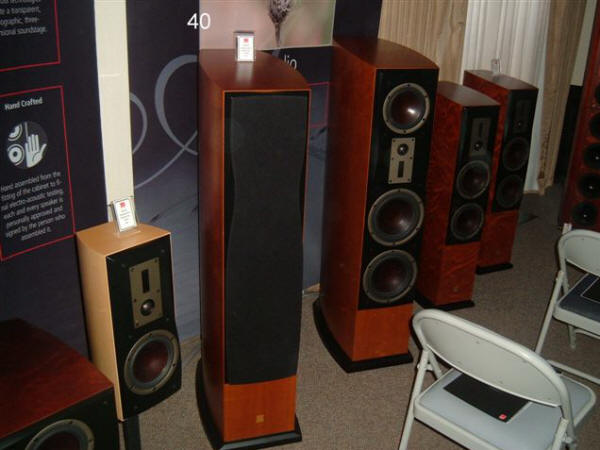 Sunday morning and time to drive back to LA. We covered a lot of ground this year and still didn't seem to scratch the surface. But that is part of the excitement and fun of attending this event. The Hard Rock is always one of the last stops on the way out of town. It is always a great excuse to sneak across the street and buy that last CD or LP at the Alexis Park. On the way home we had Jr. Brown, Gary Burton and Robert Lockwood to help with the drive home.