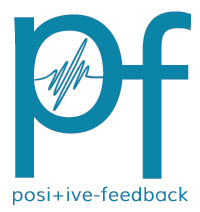 You are reading the older HTML site
Positive Feedback ISSUE 23
january/february
2006
Fernando Landeros - Piano Recording the Michael Green Way
by Sasha Matson
This past August, pianist Fernando Landeros recorded an album of solo piano repertoire at the State University of New York, College at Oneonta, in the recording studio designed by Michael Green. That album is now in current release on the Forte label, and can be purchased directly by going to: www.forte-arts.com
This article is a review of that recording, but anyone reading this should also take a look at the two other articles that directly relate to this project included in this issue of Positive Feedback—interviews with designer Michael Green and recording engineer Paul Geluso, and further remarks in this issue of Positive Feedback included in the Audio Discourse section.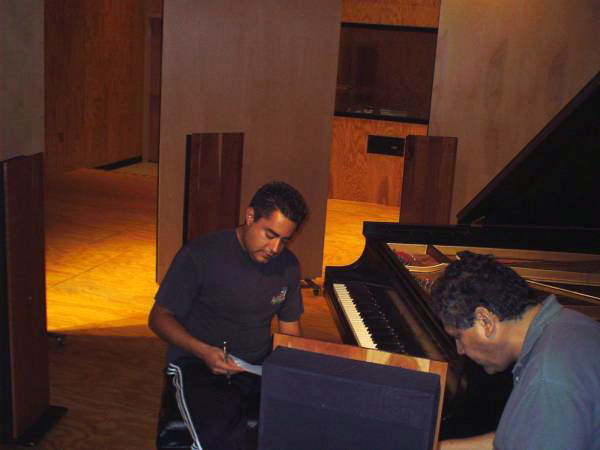 Producer Elias Guzman and Pianist Fernando Landeros at the Steinway
As I discussed in some detail in my other comments, I was most interested to hear and see how Michael Green's studio design and concepts worked in action- during an actual recording project. Therefore, when I was told that Michael would be visiting the SUNY Studio to assist in preparing it for the Fernando Landeros solo piano album, I made a point to visit and take notes. I was present at the first day of recording in August, and now have a copy of the completed CD on hand to audition on my own system.
Fernando Landeros is a native of Tijuana, Mexico. His initial musical studies were in the San Diego area, and he later went on to study at the Juilliard School, where he received his degree in piano performance in 2000. Landeros has performed with a number of orchestras and significant music festivals. This is his first complete solo album recording.
One of the things that struck me immediately, on the day when I met Landeros and his producers, Vadim Ghin and Elias Guzman, at the SUNY Studio, and asked what they were going to record, was the fearless variety and ambitious nature of the program. The repertoire consists of a historically varied mix, and there are no throwaways or filler—each one of the chosen pieces are significant pieces by each of their composers, and full of technical and musical challenges. This is not a program for the faint—hearted pianist! Fernando and his producers chose works by Debussy, Haydn, Chopin, Schumann, and Ginastera- programmed on the released CD in that order.
As discussed in my companion article, and in the interviews I conducted with designer Michael Green and engineer Paul Geluso, the manner and techniques employed to capture this piano performance are almost as much a part of the aural story as the music itself. I say "almost" for obvious reasons—it still boils down to the music, and to the magic of a particular performance. I have read many an audiophile article bemoaning bad music that is well recorded, and vice versa. What we as listeners all seek is to have our cake and eat it too—we all want great music, in a great performance, on a great recording, and, in the case of audiophiles, re-created on great sounding gear.
This is a tall order—big musical shoes to fill. Young musicians working in the jazz or classical genres are faced with the entire history of recorded music—a mountain that continues to grow ever larger, even in an era of market-challenged record companies. So I do respect the musical blood and guts that go into tackling a program as meaty and ambitious as the one designed for pianist Fernando Landeros.
The booklet accompanying this CD is rather skimpy; in fact, it is not a booklet, but a single folded page with just enough room for the artist's bio. No mention is made of the still somewhat unique nature of the recording studio and the recording techniques utilized, and Michael Green's contribution to that. Considering that the producers and the artist were the beneficiaries of these creative approaches, I feel it would have behooved them to at least mention briefly these aspects. So, after the fact, here are some program notes of my own:
The recording opens with Debussy's famous three-movement work, Estampes. This much-recorded work of Debussy dates from 1903, right in the core of his output. Perhaps "prints" (the literal translation) can seem quite accessible to most listeners, but like all Debussy, it is a highly sophisticated musical texture open to infinite nuance. The multi-leveled nature of this music is something that it shares with the other pieces on this recording; multiple musical parts in motion, demanding of great pianistic technique in their voicing. For me, opening the recording with this Debussy composition again speaks to the take-no-prisoners nature of Landeros's approach. I recall a conversation with the great Mexican composer Manuel Enriquez, whom I had the pleasure of knowing briefly while I was a graduate student at UCLA. I was speaking with Manuel about an early digital recording I owned, an all-Debussy orchestral disk, conducted by Michael Tilson Thomas. I mentioned that I really disliked the sound, (remember, this was an early digital recording from the 80's), and that I did not care much for Tilson Thomas's performances either. Manuel Enriquez replied, "He's a beginner!" And just in case Tilson Thomas were to somehow read this, I would say that I firmly believe that artists can, and should, grow musically and spiritually during their careers- the recent Tilson Thomas Mahler cycle recordings are among the very best sounding, and finest musical performances on record that I know of!
In this performance of Estampes, compared to the score, I was left wondering somewhat what had happened to the indicated pianissimos. Some of this may be artistic interpretive choice, or some of it may be due to the piano itself. There are great pianos, less-than-great pianos, and junkers that need a lot of work. I would put this particular Steinway D, dating from 1966, in the second category. It is no gorgeous Hamburg Steinway that is for sure. I have played this piano—it has a big bold sound, almost closer to what I associate with Baldwins, than some Steinways. Piano technician Erik Mazarak, who tunes my own piano at home, had to wrestle with some unevenly voiced notes, and so forth. Some pianos, and this particular Steinway may be one of them, simply do not play at the softest levels- the action won't allow the hammers to release and strike below a certain level of amplitude.
Just as I am no sound engineer, I am no piano technician either. However, I have been around pianos all my life, and know enough to understand that the instrument itself will affect any performance or recording. One of the most striking examples in the recorded canon of an awful piano in action can be found on all those great Rudy Van Gelder recordings from the late-50s through the early 60s. The tinny junky sound, of what I have been told was a Baldwin Acrosonic upright, is immediately recognizable every time I hear one of those sessions. And of course, the music is truly great, and the sound of that lousy piano is not enough to ruin that for me. Yet I feel sorry for the parade of great jazz pianists who passed through that studio and had to try to wrestle some music out of that pile of firewood. I believe Van Gelder finally got a better piano sometime in the mid-60's, because his later recordings have a much better piano sound. The jazz dates that feature the Hammond B-3 are in some ways my favorites, because the piano is not an issue. For an example on the positive side, check out how great Thelonius Monk sounds on the recently released Monk/Coltrane Carnegie Hall recordings. You can almost feel Monk's pleasure in not having to face down yet another jazz club heap, and it comes through in the music!
The second work on the recording is Haydn's Sonata in E-flat Major. This work dates from around 1789, when Haydn had confronted the genius of Mozart at its peak- he had attended a rehearsal of Mozart's great opera Cosi Fan Tutte right around this time, and was greatly influenced by his younger colleague. The weight of the drama, the dark areas that Haydn goes to—not all of these qualities are what some people think of when they think of the Haydn of the jovial earlier string quartets, for example. Landeros bites into this powerful three-movement piece with drama and sparkle in his playing. I like it very much- the power of the music is brought out, and Beethoven is foreshadowed. The Sonata makes a good segue from the preceding Debussy as well—there is a similar use of high ornamentation in the piano texture, as contrasting inner parts carry the melodic and dramatic content. Landeros chooses not to take many of the repeats; this contrasts, in terms of the form, with the very slow tempo he utilizes in the gorgeous Mozartian second movement. A fine performance of a significant work.
The third work on the program is Chopin's well-known Scherzo in B-flat Minor, Opus 31. This quintessential Chopin dates from 1837, and like other works on this album, reflects the ambitious serious side of this great composer for piano. Some scholars categorize Chopin's works in terms of their intended audience. This Scherzo falls into the category where Chopin is not in any way 'playing down' to any client or audience, but rather, reaching fully into his compositional and pianistic technique. Landeros respects Chopin's dynamic markings in this performance—and there are plenty of dynamics in this recording too! Boy, those high Fs sure pop, and there is plenty of big clear low rockin' bass. Almost Fremeresque 'slam', if that is your bag! As engineer Paul Geluso mentioned in my interview with him, Michael Green's design for the SUNY Studio has resulted in exceptionally clear and transparent bass frequencies, and overall I think this is a standout aspect of this particular recording- compared to other piano recordings, the bass is comparably un-muddy and un-thick, and I mean this in a positive sense.
Next on this disc is an early composition of Robert Schumann, the Variations on the Name ABEGG, actually listed by scholars as Schumann's Opus 1. You can look it up—I did, and if I ever knew, I now know that ABEGG refers to an early love of Schumann's. This dates from1830, a few years before the Chopin was written, when Schumann was all of 20 years old. And what a debut too! I mentioned the Chopin, and again this is another aspect of the creative programming on this recording, for a reason. Landeros gets at the 'Chopinesque' aspect of the Schumann, and, to my ears, makes an interesting connection between these two very different composers. My only quibble here is that again I was not hearing as many "pp" passages as are indicated in the score. This again, may or may not be a function of the piano itself.
Concluding this recording is Alberto Ginastera's great mid-20th century work, Sonata No. 1. I have analyzed this work back in my grad-school days, and it will knock your socks off if played with verve and power. Landeros is a very physical player—I heard him play this work, along with most of the others, live in concert some weeks after the recording session. I recall him attacking this piece in a particularly fiery manner, which made those cynical 20-something college students in the audience sit up and take notice. The Sonata makes use of the full range and dynamic power of the piano- the ultimate percussion instrument after all. There are tricky multiple parts enacted in the musical texture capable of stumping many a piano player. There are echoes of Ravel, and I heard a connection to the earlier Haydn work from this disk as well. Debussy meets Stravinsky, and all hell breaks loose! A great work, played with real youthful vigor, balanced with technical accomplishment. And the dynamic markings here are respected.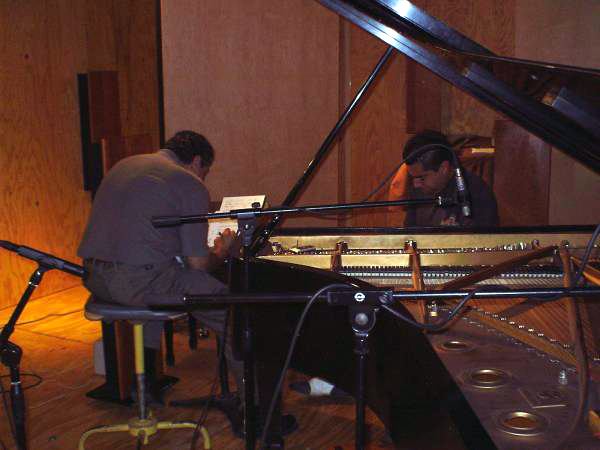 Guzman and Landeros at the Steinway with Microphones
How does this recording sound? My impression is that the ring of 'PZC's' surrounding the piano helped contribute to the overall feeling of a closely miked recording. Michael Green in his own articles mentions the term "acoustical barricading", and that literally seems to have been in effect when a piano is ringed in by tall panels. Though I know three different microphone zones were employed, I have a hunch that the close-in stereo pair predominated in the end mix. And I mean literally close—inside the piano as many jazz and pop recordings place them. Initially I thought I was hearing some sort of weird digital filter misbehavior, until it dawned on me that I was actually hearing the sound of the pedal dampers rising and falling off and onto the strings. This is a very faint sound that cannot be heard in a room very far away from the piano itself, but if you stick you head inside a grand piano lid you will hear it. This, as much as the immediate attack of the transients, and the absolute almost visual clarity of every note, confirms that this recording is the remotest possible approach from a distant 'large hall' sonic perspective. The low notes of the instrument are heard loud and clear, but without any clunkiness or fudge-like character that comes from more blurred recordings. If you have ever hankered to really get inside a piano and up close, this recording achieves that. There is no room whatsoever for the pianist himself to hide; what you hear is what he played. Recording engineer Paul Geluso discusses this in my interview with him, and you can read his comments for yourself- it was definitely a conscious production goal to go for a 'chamber' type recording as opposed to the effect of a larger venue. All this would be moot if it did not serve the music, but the choice of this repertoire is so consistent, that the dramatic content present in all of these works is well served by the almost forceful, heroic sonic presentation.
Not only does the pianist have no place to hide on solo piano recordings, but also neither does the audio system. Flaws become immediately apparent. And I share the embarrassing proof- when I first sat down to listen to the finished mix of the album with engineer Paul Geluso in my living room, we both quickly discovered that one of my tweeters was blown! Here I had been happily listening, for who knows how long, with a blown tweeter- and had not noticed it because it was masked by other types of music I had been playing. However, any false resonances or buzzes are going to be revealed when you really do focused listening with solo piano recordings; it is very tough stuff for audio playback gear to reproduce faithfully. Some audio reviewers simply refuse to believe that a piano recording can ever sound like an actual live piano- and they may have a point. This particular recording gets darn close!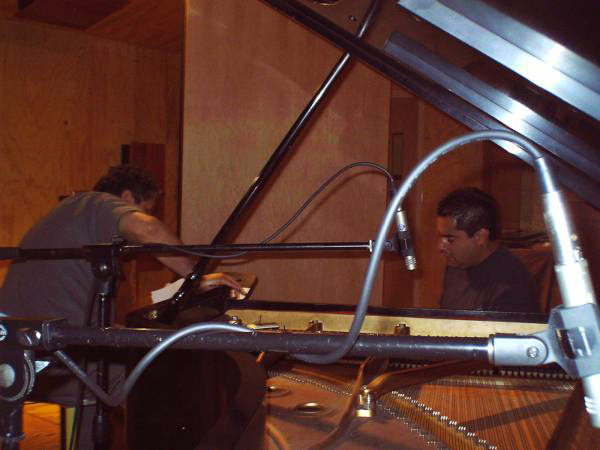 Producer Guzman and Pianist Landeros study a score
After having had a chance to adequately absorb the musical performances on this recording, I then pulled some of my favorite solo piano disks from the shelf simply in order to compare recorded sound. One thing that is immediately apparent if you do this is that no two piano recordings sound remotely the same. It gets back to that crucial element of the particular piano employed, but when you then factor in different recording or performance venues and different engineers and producers deciding what constitute a fine piano sound—and you have variety—which much is for sure. Is one end-result better than another in terms of serving the music and the listener? That boils down to a judgment call, and I am happy to make them- some piano recordings are definitely more pleasing to my ears than others. Many have said that recording a piano well, and reproducing that recording well, may be among the most difficult challenges in audio—the explosion of powerful transients alone is difficult enough, and for that reason I actually prefer the CD medium when it comes to listening to solo piano; vinyl playback finds this aspect a challenge, as do the people who manufactured the LPs in the first place.
Having now listened closely to the results of this particular recording session at the SUNY Studio, I would like to offer a few comparisons- hopefully to get you interested enough to check out the Fernando Landeros CD for yourself.
In no particular order, some favorite piano recordings I compared, in relation to the recording from the SUNY Studio:
Horowitz, Studio recordings - Deutsche Grammophon, 1985
There is more reverb, less highs, and less low end too. The piano is made to appear further into the 'soundstage', and as the album title makes clear—these are studio recordings in the first place- the 'stage' is a creation of the recording process.
Keith Jarrett, Handel - ECM, 1995
This one is much more forward than the Horowitz is, and in some ways more so than the Landeros as well. There is a larger stereo spread, (too much of which can be distracting, if the image jumps around like a Jimi Hendrix mix). As is ECM's wont, lots of reverb, and less highs. More mid-range than the Landeros, it seemed 'thicker.' Interestingly, the CD booklet states this was recorded at the SUNY Purchase campus—an academic and musical cousin. I think they have a fine recital hall there; I have seen it used for other new recordings as well.
Casadesus, Ravel - Columbia, 1951
(recent digital remaster—on a Studer with Cello Audio modifications, no less.) More highs here than the Jarrett, less lows, but very good upper mids. This great pianist playing in what seems to be a real stage, though it may have been in Columbia's famous studios, the notes do not say. Without a lot of reverb- very beautiful!
Pires, Chopin/Nocturnes - Deutsche Grammophon, 1995
She is a truly great interpreter of this music. Two different halls were used. Sound is distant, but not swimming in reverb. A good balance between highs and lows, with sharp transients. Less high-end than the SUNY/Landeros, but feels closer.
Gould, Bach/Goldbergs - Columbia, 1955 and 1981
Both of these justly famous sets were recorded in the same Columbia Records studio in New York. On the famous early one, Gould had to play the piano that happened to be there; it was a small piano, not in the greatest condition. Very little reverb, intimate sound, 'chamber-like' perspective. Somewhat prominent mids. The 1981 set is a different world, re-mixed in the recent Sony recording from the original analog master tapes (thankfully discarding the terrible early digital!). There is a wonderful balance here between the various elements of the audio spectrum, with little or no additional reverb. I agree with Paul Geluso's comment in my interview with him, that the piano is a "mini-orchestra". This final great Glen Gould recording is the closest of this bunch to the sound of the Fernando Landeros recording from the SUNY Studio—and that is high praise!
For further thoughts and information, I refer you to my interviews with engineer Paul Geluso and studio designer Michael Green, as well as to my summary of aspects of Michael Green's work as it impacted the recording process and the musical end-result. Both of these articles can be found in this current issue of Positive Feedback Online.
In conclusion, Fernando Landeros is an extravagantly gifted pianist deservedly on his way up in the musical world. You can say you 'knew him when,' by listening for yourself to this interesting and artistically valid recording on the Forte label. I highly recommend it. Fernando Landeros has made a stunning debut solo piano recording, which deserves to be heard by lovers of piano music and by audiophiles interested in creative approaches to the art of recording music.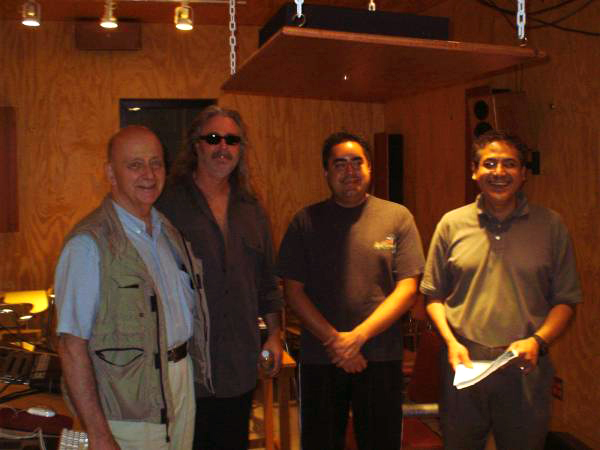 Dr. Robert Barstow, Michael Green, Fernando Landeros, Elias Guzman