DANNY KAEY'S SYSTEM
LOUDSPEAKERS
Marten Design Miles II.
ELECTRONICS
E.A.R. 899 integrated and E.A.R. 324 phono stage.
SOURCES
Sony SCD-1 CD player, Brinkmann LaGrange w/2-arm and Brinkmann EMT cartridge. Brinkmann Tube Power Supply.
CABLES
Audio Magic and Analysis Plus interconnect and speaker cables.
This year has been the year of the tweak, or perhaps I should say, the year in which I improved my system's performance by several notches. I am speaking of such exemplary products as the RealTraps room treatments, the EquaRack Model A component rack, and most recently, the Power Wing line conditioner, manufactured by Alan Kafton under the name World Power and marketed under the name Audio Excellence AZ. The Power Wing is a passive, six-outlet AC filtration device that is, in my opinion, in a class of its own when it comes to providing your prized components with the best AC. Kafton's primary goal was to provide state-of-the-art performance, and although this term is overused (and given to components that do anything but), he has succeeded.
Apart from its performance, two factors determine my opinion of this astounding unit. The first is price—compared to other units in its class, it sells for an unrivaled factory-direct price of $2650. The second is build quality. The Power Wing is truly a work of art, a marvel of superlative construction and parts quality. The look and feel of the Power Wing is right up there with its sonic performance. The trapezoidal chassis, measuring 20 inches in length, is made of beautifully finished stainless steel. Corian™ end caps, available in two different colors, not only offer a beautiful visual statement, but provide strength and structural integrity. A high-quality magnetic circuit breaker that acts as the on/off switch is located at one end of the unit's stainless steel top plate, which also contains three pairs of Oyaide-sourced outlets that offer yet another ingenious (not to mention brightly colored) performance element. These receptacles, which are installed end-to-end rather than side-by-side, represent a quantum leap in performance compared to even the finest Hubble or similar outlets. They are the most exotic, gem-like power outlets I have ever seen—truly works of highly skilled Japanese craftsmanship. Think Hermes scarves and leather goods. These outlets appear to be made for the likes of Rolls-Royce or Bentley salon automobiles rather than audio components.
I have heard many of the top line conditioners, so I have a good idea of what is available, and how to judge the performance of the Power Wing. Some would argue that line conditioners contain more snake oil than, say, CD players or amplifiers. Many audio manufacturers advise against the use of line conditioning devices because they feel that they either do sonic harm, or provide a placebo effect at best. The Power Wing is no such device. The technical information is available in great detail on Alan's website (www.audioexcellenceaz.com), so I will simply mention that the Power Wing is a non-current-limiting design that takes advantage of many long-standing practical theories, in combination with up-to-the-minute technology. The layout and circuitry have been optimized by PSpice computer modeling software. Each of the three duplex receptacles is electrically isolated and filtered from the other, so that you may, for example, use audio and video equipment (or analog and digital) on the same conditioner. Due to its non-current-limiting design, subwoofers, and even the most powerful amplifiers, may be connected to the Power Wing, without any adverse effects on the sound.
The Oyaide receptacles are imported and distributed by Joseph Cohen's Lotus Group (Lotus Group), then double-cryogenically treated and conditioned on an AudioDharma Cable Cooker by Kafton. The internal components of the receptacles are made of highly polished, deoxidized phosphor bronze, onto which one of an unprecedented three choices of plating material is applied. The finishes include: (1) gold on gold, (2) rhodium over silver, and (3) palladium over gold. Each provides a distinct sonic character. Do you want immediacy in your sonic soup? Try the rhodium over silver outlets. If you prefer more sweetness and opulence, try what Oyaide calls the "direct gold" outlets. Lastly, palladium over gold will give you the soundstage of the direct gold outlets, with a touch more coolness and detail.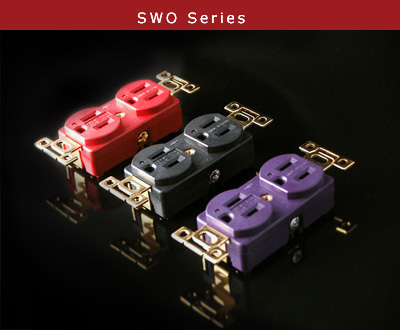 What is really neat about the Power Wing is the fact that you can customize each unit to your liking. How's that for customer service! Upon lengthy discussions of system matching and setup, Alan will send you one of his demo units (identical to the one I received) that features all three of the Oyaide outlets, giving you the ability to match your components to the outlets. When you have made your decisions, Alan will manufacture your Power Wing with the outlets of your choice. Do you want all three to be direct gold? No problem. Any other combination is also possible. The lead time is the same, and you get exactly the product that you want. I do not believe that any other manufacturer of line conditioners offers anything similar, much less at a direct-to-consumer price.
My AC odyssey began when I plugged each of my components into one Oyaide receptacle after the other and observed the changes in the character of my system. The system had always sounded really really good, but until that day, I had not missed the improvements that a good line conditioner could make. To my great surprise, really really good can always be better! Everything that Alan had told me the Power Wing would do—including being able to clearly identify the sonic characteristics of each double-cryoed Oyaide receptacle—was immediately discernible. Most of the time, I preferred the rhodium over silver or the palladium over gold outlets. The sonic signature of one or the other of these outlets made each component sound that much better.
No matter which outlets I used, noise had been lowered to such a low level that my system was silent, but I did not have the feeling that it was being choked or robbed of micro- and macro-dynamic impact. Perhaps because of the lowering of the noise floor, the soundstaging and imaging sounded much more real. The awesome Marten Design Duke loudspeakers, in combination with the Velodyne DD-15 subwoofer, made truly beautiful, full-range music that didn't seem to lack anything. Interestingly, plugging the tube power supply of my Brinkmann LaGrange turntable into the Power Wing produced a noticeably more dynamic picture. I'm not sure why this happened, but several people independently verified what I had heard. This Uber-turntable sounded amazing before, but it sounded much better through the Power Wing. Go figure.
Alan also provided an original version of the Power Wing, outfitted with double-cryoed Hubble receptacles. The old and new Wings look identical, but the new, Oyaide-equipped version offers much better performance (and customization to boot). The older Wing (see Dave Clark's and Bob Levi's reviews in a past issue of PFO) clearly improved the sound of my system, but the new Wing (let's call it Version 2) was much more dynamic, and I much preferred it.
Late in the review process, Alan dropped off a set of Oyaide-equipped, six-9s-copper Acrolink power cords, a new product line that he is refining through the double-cryo process and conditioning used on the outlets. At a retail cost starting at $400 apiece (depending upon your choice of Oyaide receptacles), the Acrolinks quickly became my new reference for power cords, regardless of price. I compared them to the $2000 Shunyata Anaconda power cords, and double-cryoed Acrolink/Oyaides bettered the Shunyatas in every respect. In combination with the Power Wing, the Acrolinks raised my system to yet another level of refinement. So impressive was their performance that I simply could not believe that they cost so little. (A separate review of the power cords should appear on PFO soon.)
Alan Kafton is to be applauded for his efforts in bringing the Power Wing and the cryo-treated Acrolink power cords to market. Both products dramatically improved the sound of my system. Both are unquestionably of reference quality. The build quality of both is exemplary, and both are very pleasing to the eye. (The Power Wing, especially, looks like anything but your typical generic black box.) Most importantly, the price of both products undercuts that of the competition by a sizeable margin. Finally, the option of customizing both the line conditioner and the power cords with any of the three Oyaide connectors should be considered a pioneering achievement. What are you waiting for? Danny Kaey
Power Wing
Retail: $2650
Audio Excellence AZ
TEL: 602. 277. 0799
web address: www.audioexcellenceaz.com
email address: alan@audioexcellenceaz.com
Danny is the US Importer/Distributor for Zero One.