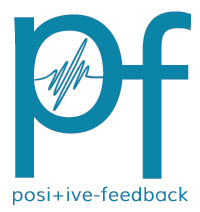 You are reading the older HTML site
Positive Feedback ISSUE 22

november/december
2005
Three Stocking Stuffers from Firestone Audio
by Ed Kobesky
Taiwan's Firestone Audio is virtually unknown to American consumers despite its line of very good and well-priced headphone amps. That's a shame, because they now offer three relatively bizarre but equally good mini-components at pint-sized prices. All are ideal for patching holes in your system.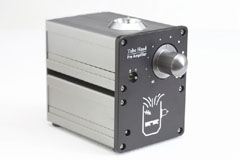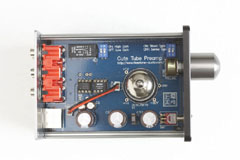 The most intriguing is the Tube Head miniature preamp, a deal at $255. It is based around a single 5670 (2C51) tube that costs as little as $5 if you shop around, yet manages to offer a generous helping of tube magic. The Tube Head is a dual-chassis design with a separate power supply linked by a supplied DIN cable. On the front is a volume knob and an input selector switch. Everything else is packed onto the busy rear panel: two sets of inputs, one set of outputs, the in/out jacks for the power supply, and a tiny, horrendously inconvenient on/off toggle switch. When all of the inputs and outputs are in use, a spaghetti-like mess protrudes from the back, with power cables coming within millimeters of signal wires. Grab some cable ties—you'll need them to keep everything properly isolated. The Tube Head offers a very warm midrange in addition to soft, silky highs that will please anyone who likes their music tube-flavored. If you have a dry sounding solid state amp collecting dust in your basement, pairing it with the Tube Head could give it new life in a second system.
Then there's the Big Joe power amp ($200). Though tiny, it puts out 16 strong watts per channel and exhibits genuine audiophile character. Firestone recommends Big Joe for use with small, sensitive monitors. I tried it with a pair of big, inefficient bookshelf speakers. Guess what? It drove them to reasonable levels and sounded nice, except when pushed. Dynamic compression set in very early, but this was a torture test. Paired with more efficient speakers, it will get the job done. Big Joe is sensitive to ground loops, and I wasn't able to completely eliminate the one I encountered during testing. I've had the same problem with a pair of Antique Sound Lab Wave DT monoblocks and my vintage Onix OA-21S, so it probably has more to do with my house wiring than with the amplifier.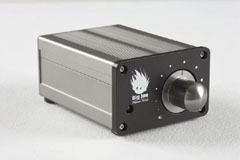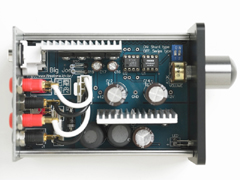 Big Joe is a single-input integrated amplifier, though an internal shunt allows you to defeat the front panel volume control for use with a preamp. Connect a compact DVD player, and you've got a bedroom system that sounds better than most desktop micro-systems yet takes up less space than an alarm clock. Big Joe would also be ideal for driving small satellite cubes in a powered sub/sat system. In keeping with the Firestone philosophy, the Big Joe is more an audiophile toy than a serious listening tool, so they make it easy to switch out the op amps. The on/off switch is again located inconveniently around back. There's one set of inputs and two sets of speaker jacks that only accept banana plugs. (Binding posts, or even spring clips, would not fit on such a small enclosure.) An outboard switching power supply is included, but it terminates in a female IEC jack, which means that you'll need to add a power cord. It's not the most elegant solution, and I hated plugging one power cord into another.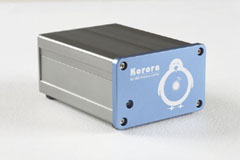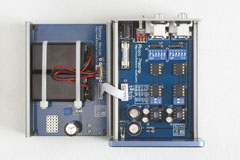 Finally, we have the Korora battery-powered phono stage. At $300, it's the priciest of the three, but still intriguing. Yet again, the on/off toggle is around back. The Korora performed on a par with the much cheaper Music Hall MMF Phono Pack ($120) in most respects, but in battery mode, the noise floor was noticeably lower. Is that worth an extra $180? Maybe not, but the Korora also offers almost infinite adjustability, courtesy of internal DIP switches—a rarity at this price level. You can use it confidently with a wide range of cartridges.
The instruction manuals of all three units are rather vague. The manufacturer plans to revise them in the near future, but the current versions offer no real guidance aside from a few bullet points and diagrams. The Korora's was the most frustrating. There was no mention of how to switch between AC and battery mode, nor was there an explanation for the dire warning on Firestone's website which states that the Korora should not be charged for more than 24 hours. (Firestone's U.S. distributor explained that you can leave it plugged in for up to a week, but to allow the unit to take deep dips into the battery when necessary, you must completely cut the juice.) That said, the Korora's flexibility makes it a good value. It's built better than the Music Hall, and is a better long-term investment because it will grow along with your analog rig.
Taken together, these three components form a combo that only a gadget freak could love. At $755 for the trio, they're not the most sensible purchase. Rotel's $500 RA-02 integrated amp will do most of what these units can do, plus it has remote control capability, more power, and even a headphone jack. You'll also eliminate two power cords, one umbilical, and at least one pair of interconnects. Separately, though, these components are great niche-fillers that will happily pinch-hit whenever you need them. They all sound quite good considering their diminutive dimensions. Their tweakability will tickle tube rollers and op-amp swappers. Build quality is generally excellent. True, they lack practicality, but if we valued practicality, we'd be listening to Bose Wave Radios. Think of them as an audiophile's erector set—a fun way to complete your system or start a second one while reviving the inner child you've been suppressing since you started making house payments.
Firestone Audio www.firestone-audio.com
US
New York Service Center
Jack Ker
email: jack.ker@mail.firestone.idv.tw