FOWN-MING TIEN'S SYSTEM
LOUDSPEAKERS
VonSchweikert VR-4Jrs (on loan for review), Hyperion HPS-938 (on loan for review), Thiel CS 2.2
ELECTRONICS
Aesthetix Callisto Signature line stage, Scott Endler Passive Stepped Nude Attenuators, Jeff Rowland Model 10 amplifier, Onix H34 tube integrated, Eastern Electric MiniMax phonostage (on loan for review), Eastern Electric MiniMax M520 Integrated (on loan for review), NuForce Ref 8 (on loan for review).
SOURCES
Digital: McCormack Audio UDP-1. Analog: Oracle Delphi MkII, SME 3009 tonearm w/ Cardas cabling, Denon 103 cartridge.
CABLES
Paul Speltz Anti-Cables speaker cables, CryoTweaks Trinity speaker cables, CryoTweaks Silver Reference MkII interconnect, Aural Thrills WBT Gold digital S/PDIF coax interconnect, custom Dodson "secret skunkworks" digital S/PDIF coax interconnect, Audience powerChords, Revelation Audio Labs Precept power cord, Eichmann eXpress6 AC power cable, Electraglide Reference Tri-Glide power cord, Silversmith Silver interconnects and speaker cables (on loan for review).
ACCESSORIES
Audience adeptResponse power conditioner (on loan for review), Tice Power Block power conditioner with Hubbell 20A hospital grade outlets, Hubbell 20A hospital grade outlets in wall, Bedini Ultra Clarifier, Auric Illuminator Optical Playback Resolution Enhancement, Quantum Symphony Pro, Black Diamond Racing cones Mk3, Polycrystal amp stands (2), and Verastarr Granite Vibro- Slabs.
Boys and girls, Christmas is right around the corner, so you should include two items on your list for Santa to bring you! The first is the $1799 Eastern Electric M520 integrated tube amplifier and the other is the $1499 Eastern Electric MiniMax phono stage. Hopefully, you have been nice and not naughty, because you are going to want these.
The M520 integrated tube amplifier is an absolutely gorgeous piece that looks like it should cost twice as much as it does. Tipping the scales at over 50 pounds, the M520 requires some manhandling to move around, but the two chrome rails on the sides make the task infinitely easier. Included in the box is a pair of white cotton gloves to avoid leaving unsightly fingerprints all over the amplifier's beautiful, shiny, silver surfaces. The rear panel has a 15-amp IEC inlet that allows the M520 to be powered by an aftermarket cord. With its WBT-like binding post and taps for 8 ohms and 16 ohms, the M520 is designed to work well with a variety of loudspeakers. It has four RCA inputs and a tape loop. Hooking up a preamp to the single-ended input jacks allows the preamp stage of the M520 to be bypassed, permitting it to run as a tube amp.
The M520's front panel is clean and uncluttered, with a volume knob placed smack dab in the middle of the faceplate. The power button sits to the far left, while the source selector button and a button to select between pentode and ultralinear modes resides on the far right. The two banks of five tubes on the sides of the amp are separated by a metal box in the middle that contains the transformers. The tube compliment consisted of a 12AU7 serving as the phase splitter, an EF86 for the first driver stage, a 5AR4 rectifier, and a pair of EL34s. In front of the bank of tubes on each side is a toggle switch allowing the listener to experiment with three negative feedback adjustment settings—zero, "min," and "max." Finally, to further sweeten the pot, the M520 comes with a beautiful aluminum full-function remote control.
Although rated at only 24 watts per channel in pentode mode, the first thing that struck me when I fired up the M520 was how powerful and neutral it sounded driving the Von Schweikert VR-4 Jrs. The tonal balance was gorgeously pure and natural, with high levels of transparency and neutrality. There was great detail and a wonderful sense of air, and nice, neutral midrange tone. In comparison, my Onix H34, also an EL34-based integrated, was warmer and less neutral. The M520's bass was warm and full, not as extended and controlled as that of solid-state amps, but compared to the more powerful Onix (which is rated at 45 watts), the M520's bass was less weighty, but both faster and tighter.
I experimented with the feedback settings, and found the zero position to be the most to my liking. The minimum and maximum positions overdamped the sound, with the minimum position sounding darker than the zero position and the maximum position sounding darker still. Depending on the speakers the M520 will be required to drive, the feedback settings can be mighty handy.
The ultralinear mode is a very cool feature. By switching to ultralinear (which, by the way, can be accomplished without getting up from the listening chair via a push of a button on the remote control), the output of the amp drops to 18 watts per channel and the presentation becomes dramatically slower and warmer. It was like having two completely different sounding amps in one chassis. After a long work day, I would use ultralinear for a mellow listening session, but if I really wanted to boogie I would switch the amp to pentode mode.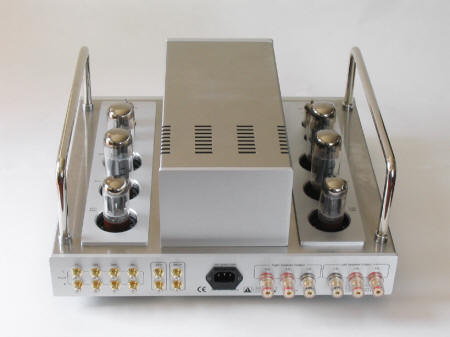 The M520 impressed me with its handsome appearance, great build quality, low noise, wonderful neutrality, and most importantly, its engaging musicality, but as much as I loved the amplifier, the MiniMax phono stage dropped my jaw! As the name implies, it is mini in size, but it delivers maxi sound. I admit that I do not have a lot of experience with phono preamps, but the ones I have tried have left me permanently spoiled. I had the misfortune of starting with the Manley Steelhead, the phono stage that many consider to be the best available. Then I had the misfortune of trying the Sutherland PhD, which is not only one of the best-sounding phono stages around, but also one of the quietest. When your first two cars are a Ferrari and a Porsche, every other car you drive will be completely underwhelming, and this pretty accurately described my feelings about other phono stages until I test-drove the MiniMax. It comes with a Toyota price tag, but performs like a Ferrari.
Do not let the diminutive size and price tag fool you—the MiniMax can kick some serious booty. Compared to the amazingly adjustable and pricey Manley Steelhead, the MiniMax's only weakness is its lack of adjustments, but it does not cost $7000 either. On second thought, I cannot consider this a weakness, since I know of no other phono stage in the MiniMax's price range that comes with options for cartridge loading, output, etc. The MiniMax works with MC or MM cartridges, and has loading of 47K or 100 ohms. MM gain is 42dB, while MC gain is 57dB.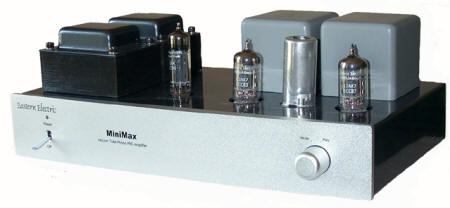 The MiniMax has no sonic weaknesses. It sounds neutral, quiet, and glorious. Its soundstage is maxi-wide and maxi-deep. The intonation of instruments is accurate and full. Voices are sexy and sultry if recorded that way, wispy and ethereal when required, bold and forward when asked. Dynamics are bold and impactful, details and textures delicate and exquisite. As Austin Powers would say, this MiniMax has some serious mojo, baby, but exactly how much mojo qualifies as serious? Let me put it this way: It had more than enough to make my yearning for a friend's Steelhead a distant memory.
So, boys and girls, be nice, and when Santa pulls into town this December, he just might be lugging an Eastern Electric M520 integrated amp and a MiniMax phono stage to stuff into your stocking! Fown-Ming Tien
M520 integrated
Retail: $1799
MiniMax phonostage
Retail: $1499
Eastern Electric
web address: http://www.morningstaraudio.com