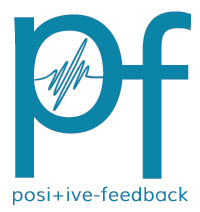 You are reading the older HTML site
Positive Feedback ISSUE 22

november/december
2005
Christmas Goodies, Part I
by Bob Neill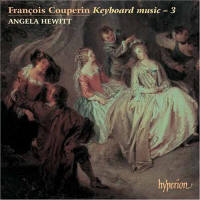 Francois Couperin, Keyboard Music, Vol. 3. - Angela Hewitt, piano. Hyperion
I think what many of the doubters who object to Angela Hewitt's traversal on piano of Couperin's keyboard music written for harpsichord miss is the coppery warmth, resonance, and intimacy of the plucked instrument. Presumably, they do not feel that the brilliance, openness, greater powers of expression, and dynamics that are gained compensate for what is lost. My reference for this music has always been Kenneth Gilbert's harpsichord versions on Harmonia Mundi, which I find more musically satisfying than the more recent versions by Rousset, also on HM. (And now that I've got them on vinyl again, I am a very happy fellow.) But I like what Hewitt makes of this music a great deal. It has eighteenth century clarity and the piano's rich variety of sound—piano, forte and everything in between. I like her (and Periah's and Gould's) Bach on piano too.
A harpsichord is an intimate sounding instrument; the piano is a more public one. Couperin on the piano is larger and less closed in, which is extremely effective for his larger moments; and the smaller moments are eloquent because of the piano's ability to render subtle inflections. The marvelous sonorities of the piano fill my large living room, bringing my wife from the other end of the house to listen to Couperin as if for the first time. Hewitt's Couperin is not better than Gilbert's, it's different. And they are both Couperin, truly.
Here is the composer himself whom I will give the last word on this subject:
The harpsichord is perfect with regard to its compass and brilliance; but as one can neither swell nor diminish the sound, I am always grateful to those who, by an art sustained by taste, are able to render the instrument susceptible to expression.
This volume features the Third Order of Book III, closing with selections from Books I and II. As usual, Ms. Hewitt's program notes are superb music history. All three of her Couperin CDs are musical treasures.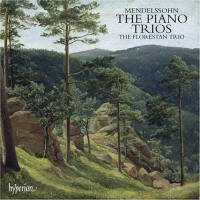 Mendelssohn, Piano Trios - The Florestan Trio: Susan Tomes, piano; Anthony Marwood, violin; Richard Lester, cello. Hyperion
So here comes Neill's favorite piano trio again, they who can do no wrong! Yes, here they come again, with definitive performances of Schumann, Brahms, and Beethoven, among others, in their wake. Here they come, all with solo careers blossoming on the side, with another marvelously convincing release from the standard piano trio repertoire.
All of their virtues as an ensemble are once again clearly in evidence: balance, poise, and expressiveness. What we hear from them in this outing is a Mendelssohn who is notable for clear instrumental textures, lightness of touch, fleetness, and grace. I have heard these trios played with more gusto, I have heard them played more ponderously; but until now, I have not heard them played with the Florestan's sense of their possibilities for lyric grace. This is the first time I have been quite so taken in by them, so I'm concluding they've got them right.
There is also something downright delicious about the sound of the instruments. Tony Faukner, longtime recording engineer for the Florestans at Hyperion, is long gone, but clearly Simon Eadon is a worthy successor. The Florestans have always been attractive to listen to, but as we have learned in this field, mediocre engineering can kill the sound of instruments dead.
So, no surprises here. The news continues to be good. Add another definitive set of performances to the Florestan's curriculum vitae.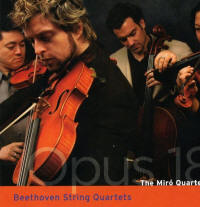 Beethoven, String Quartets, Opus 18, 1-6. - The Miro Quartet, Vanguard Classics.
Who needs another Beethoven Opus 18? And who are the Miro Quartet that we should care what they think of this oft-recorded music?
Here is the first movement of Quartet No. 4: fleet, flowing, wonderfully inflected, full of compelling dynamic contrasts which, partly because of the fairly rapid tempo, remain within an coherently elegant view of this music. Absolutely infectious and exciting to listen to.
Second movement: a dance, impossible not to air-conduct at the very least—some will likely get up and dance with it. And it keeps getting better, ebullient, full of joie de vive—all within an integrated view of the music that expresses great respect and great affection equally for the work.
The punched up notes and jazzy visual layout that accompany this set do it a bit of a disservice, in an apparent attempt to sell both the music and the Miros to a young audience. I can understand why Vanguard may have felt the need for this. Times are hard for classical music; attracting a new clientele or justifying a new Beethoven Opus 18 to those of who already have several is a formidable challenge.
But the truth is, this is a terrific set of performances. The musicians have a fresh view of the music, play it wonderfully—and behold, they have the benefit of one of the industry's leading recording engineers, Da-Hong Seetoo!
Don't let this recording slip by.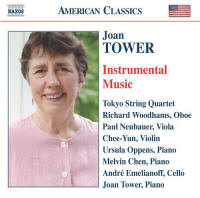 Joan Tower, Instrumental Music - Naxos
Who is the preeminent contemporary American composer? If you say John Adams, you'd have a lot of company. If you say Oscar Golijov, you might get more points for originality and acuteness of judgment. But I would expect to see a few votes for a composer many of you probably don't know very well, yet.
Joan Tower, born the same year as Adams (1938), has not achieved anything approaching the public stature of Adams or even the generation younger Golijov, which may account for the issuing of this musically exciting new CD by Naxos in its very fine American Classics series. The choice of music for the anthology is excellent, the performers (Tokyo String Quartet, Ursula Oppens, Paul Neubauer, the composer herself) is superb, and the sound, via recording engineer Da-Hong Seetoo, is state of the art digital.
I consider this a contender for classical record of the year.
System used for audition: Audio Note: CDT 2 II transport, Dac 4.1 Balanced, M6 preamplifier, Neiro 2A3 monoblock amplifier, AN-E/SPe loudspeakers with Sogon, AN-Vx, and Spx cabling.
Bob Neill, in addition to being an occasional equipment and regular music reviewer for Positive Feedback Online, is also proprietor of Amherst Audio in Amherst, Massachusetts, which sells equipment from Audio Note, Blue Circle, Manley Labs, and JM Reynaud, among others.