2005 December - Excerpts from our latest SACD, DVD-A, and xrcd Reviews
MULTICHANNEL DISC OF THE MONTH



HOWARD HANSON: Suite from Merry Mount; Bold Island Suite; Symphony No. 2 "Romantic;" Fanfare for the Signal Corps - Cincinnati Pops Orchestra/Erich Kunzel - Telarc Multichannel SACD-60649, 66:12 *****:
Most senior audio buffs are well-acquainted with the many recordings by Howard Hanson on the Mercury Living Presence series of LPs—both of his own music and that of others. And they are being discovered by younger generations via the reissues on first CD and now three-channel SACD. Hanson was one of the most important figures in music in the 20th century—not only for his compositions but for his career as longtime Director of the Eastman School of Music and his pioneering support of American composers. Hanson had studied for two years in Italy with Respighi and his individual version of continuing the Romantic tradition therefore showed Italian and French influences rather than the Germanic of most other American composers who had studied in Germany.
Of the Hanson seven symphonies the Second or "Romantic" is his best-known—probably for its cornucopia of gorgeous melody and rich neo-Romantic feeling. The work was a commission from the Boston Symphony in 1930 and is in three movements. The opening three-note theme returns in various guises in all three movements, tying the work together. I was initially surprised to see that Kunzel and his Cincinnati Pops were selected to record this work, which would probably not appear on a pops program in its entirety. In auditioning it all hesitations fell away; I find this not only a more attractive interpretation of the music, but also a far superior sonic presentation than the classic Mercury effort. Telarc's 5.0 surround puts the listener in the center of the glorious sounds of this work and makes me so thankful that tonal music of this sort can again be part of our musical life without any apology to the academic serialists who used to control the classical music world!
The suite from Hanson's opera Merry Mount is another one of his works which will be familiar to many. What was unfamiliar to me was the synopsis of the actual opera from which the instrumental music was derived. Quite unlike the bouncy and celebratory mood of such sections as the Maypole Dances, the opera's plot concerns warfare between two early groups of American settlers, with murder, double-crossing and death by immolation in it. This disc boasts the world premiere recording of Hanson's Bold Island Suite, inspired by the composer's place of summer retreat which was located two miles off the coast of Maine. The three movements describe Birds of the Sea, the Summer Seascape, and God in Nature. This superb hi-res hybrid disc helps celebrate 40 years of Kunzel and the Cincinnati Pops. John Sunier
First recording from a new edition following Verdi's instructions on dynamics, scoring and instrumentation.

VERDI: Messa da Requiem - Eva Mei/Bernarda Fink/Michael Schade/Ildebrando D'Arcangelo/Arnold Schoenberg Choir/Vienna Philharmonic/Nikolaus Harnoncourt - RCA Red Seal Multichannel SACD (2 discs) 82876 61244 2, 47:15, 40:28 ****:
Verdi's is one of two requiems in the repertory which stand out for their astonishing dramatic power and originality, and which incidentally make excellent material for surround sound reproduction (the other is the Berlioz). The operatic theatricality of the Verdi work allows the four soloists full reign dramatically. This superb performance was recorded during a live concert just one year ago in Vienna's Musikverein, and benefits from a new edition of the work by David Rosen, which for the first time uses the composer's own indications of dynamics, scoring and instrumentation.
The dramatic quality that the work is best at communicating is fear—as in the Dies Irae (Last Judgement) sections. The multi-tympanis and big orchestral exclamations aid in this. As per Verdi's instructions, some of the sections are sung at a reduced volume compared to previous interpretations, those creating even more of an impact when all hell breaks loose. I couldn't help doing some frequent A/B comparisons between this version and the previous hi-res Requiem—on a Philips DVD-A conducted by Valery Gergiev. That one features better known singers—Fleming and Bocelli among them—and with the longer capacity of DVD-As is containing entirely on a single disc. It also is a more dramatic interpretation, with the fear factor upgraded in the Last Judgment sections, and it comes with a fascinating video about the recording of the work.
However more subdued the Harnoncourt recording may be (something in common with his recent Messiah recording), it is not boring or overly subtle. It points up the religious aspects of the work more than the drama, and is just as thrillingly presented in surround as the DVD-A option. If you have a universal player I would go for the Gergiev but the Harnoncourt on SACD is no slouch. There is also a stereo SACD reissue of the Eugene Ormandy/Philadelphia Orchestra performance available, but the sonics are a bit dated in comparison to these two more recent offerings. John Sunier
The entire play in Norwegian in surround sound, with all of Grieg's music—vocal and instrumental.

GRIEG: Peer Gynt--(Complete Drama and Incidental Music) - Svein Sturla Hungnes, Peer Gynt/ Marita Solberg, Solveig/ Kari Simonsen, Ase/ Bjoern Willberg Andersen, Mountain King/ Andrea Braein Hovig, Ingrid; Woman in Green; Anitra/ Staele Bjoernhaug, Boyg; M. Ballon; Stranger; Button Moulder/ Haekan Hagegaerd, baritone/ Marita Solberg, soprano/ Ingejoerg Kosmo, mezzo-soprano/ Kari Postma, soprano/ Hilde Haraldsen Sveen, soprano/ Likka Leppaenen, bass-baritone/ Bergen Vocal Ensemble/ Bergen Philharmonic Orchestra/ Ole Kristian Ruud, conductor - BIS Multichannel SACD 1441/42 (2 discs), 53:29; 60: 05 ****:
Ibsen originally conceived his picaresque play Peer Gynt (1867) as a "dramatic poem" fit for narration but not stage production. Ibsen wanted to combine pagan and Christian moral elements into one continuous narrative, evolving as discreet tableaux. In 1874, Ibsen proposed to composer Edvard Grieg a collaboration to transform the drama into a theatrical work that would maintain audience attention for its five acts. A morality play, Peer Gynt is a variation on the Prodigal Son motif: the dreamer and wastrel whose egotism, greed, and lust lead him around the world in exile, until broken by experience and a number of betrayals, he returns to his faithful Solveig, the patient lover who swore eternal devotion. Alternately whimsical, passionate, materialistic, and carnal, Peer is a complex figure who occasionally waxes urbane: he quotes Goethe when courting Anitra, calling her "Das Ewig-Weibliche." But he also makes crude puns when playing with the Three Herd Girls, and he quips to the ardent Woman in Green, "Great folk may be known by the mounts that they ride!" Musically, Grieg employs any number of folkish modalities to communicate Peer's Norwegian roots; exotic orchestration to depict Anitra's desert kingdom; a fervent a cappella chorale-style when waxing religious; but the sea-storm and horn-calls clearly owe debts to Wagner's The Flying Dutchman. The last act heavily smacks of allegory, with Peer's ruing his lost kingdoms, his failure to answer the Sphinx's riddle, his bearing the mark of Cain. When Ase's voice comes to remind Peer of his frustrated quest, the allusions to Homer's Odyssey would seem complete.
Each Peer Gynt I review becomes increasingly ambitious: is this the Peer Gynt par excellence? The Norwegians certainly love their Grieg—every bar of music, every declamation by the actors, has the ring of total conviction. The accompanying booklet allows you to follow the original-language text as well as its simultaneous translation in English; the sojourn into Ibsen's native dialogue reveals the music of his words. The surround sound medium permits all sorts of vibrant effects to emerge in your musical space, the horns, the timbrels, the peasant violin. I have a picture of a beleagured John Garfield speaking to Karl Malden in their 1951 production of this drama; were their realization, too, preserved with as much fidelity as this inscription! Kudos to vocalists Hagegaerd, Kosmo, and Solberg for their splendid contribution to the sung incidental music. I doubt not that actor Hungnes is the Maximilian Schell of Norwegian drama. Conductor Ruud and the recording engineers for this 2003 production have created a definitive account of Peer Gynt, until someone resurrects Grieg himself at the podium and Ibsen in the narration. [The included booklet of photos from various Peer Gynt productions since its premiere gives a fascinating summary of this popular drama, which is right up there with Shakespeare in its popularity...Ed.] Gary Lemco
A reflective and gentle Messiah in complete contrast to Harnoncourt's effort of 24 years ago.

HANDEL: Messiah (complete) - Christina Schäfer, Anna Larsson, Michael Schade, Gerald Finley, with the Arnold Schoenberg Choir and Concentus Musicus Wien conducted by Nikolaus Harnoncourt - Deutsche harmonia mundi Multichannel SACDs 72039 (2 discss, 2 hours, 22 mins.) ****:
There is no shortage of outstanding recordings of Handel's Messiah. According to your taste, you can find Handel's masterpiece on modern instruments with a modern aesthetic (Colin Davis' 1966 recording on Philips, still notable for its razor sharp sound, quick as a flash choral work and tremendous quartet of soloists led by John Shirley-Quirk) or authentic instruments with an authentic aesthetic (either Mark Minkowski's 1997 version on Archiv, faster still than Davis, or Paul McCreesh's version for the same label of a year earlier, while many regard John Eliot Gardiner's 1983 version on Philips as the best). And then there is Nikolaus Harnoncourt.
His 1982 recording was vintage Harnoncourt at his most excessive: dramatic contrasts, details subsumed in the sweep of the musical progress, exciting, almost tumultuous, a brilliant tour de force. This new recording is its polar opposite: reflective, gentle, with an organ continuo that soothes the nerves, and a quartet of singers that feature elegance, technique and ornamentation but always to raise the spirit, never merely to dazzle the ear. Not to mention a wonderfully imaginative "Hallelujah" chorus that will most likely startle you beyond any reasonable expectation.
The performance, recorded live in the Musikvereinssaal in Vienna last December, benefits immensely from as much volume as your system can comfortably afford, and expands confidently into the beautiful space. The liner notes consists of a flow chart of the work and a few brief comments on the edition, both by Harnoncourt, and a provocative essay by Sabine Gruber, "Who was George Frideric Handel?" And while Harnoncourt's new version does not answer Ms. Gruber's question (indeed, adding together all the available Messiahs would not bring us much closer to the answer), it is a remarkable response at a time when its qualities of compassion and reflection should be prized very highly. Laurence Vittes
4 GB of hi-res & hi-def digital music audio and video, sampling a variety of genres.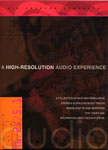 A High-Resolution Audio Experience - Aix Records Video & Audio Sampler, 29 tracks, 11 videos, two different mixes, test tones & system setup info (contents listed below) - AIX DVD-A, DVD-V, DTS 5.1, 16:9 enhanced video, many extras - 70433-82001-9 ****:
Aix Records, which was founded in 2000, has been one of the pioneers in the production of original DVD-Audio recordings. They have developed the video portion of their productions from a simple stationary 4:3 record of the surround recording session to a series of highly professional 16:9 widescreen videos shot in hi-def format. The small label has also provided the maximum amount of extras on all their discs, normally including test tones, setup information, background on the label, a choice of either close up "Stage" or more distant "Audience" mixes in the 5.1 channel mode, usually both 96K surround and 192K stereo options, and sometimes short intros to the selections or interviews by the performers themselves. Five of their most recent albums are two-disc packages in which Aix furnishes a separate audio CD of the music. They have built up a library of original recordings in many genres, examples of which are presented on this jam-packed 14GB-full double-sided disc. They include Acoustic Instrumentals, Acoustic/Vocal, Classical, Electric/Instrumental, Jazz Instruments, Jazz Vocals, and Pop/R&B/Blues.
Even those with the most entry-level DVD player and receiver can surely access the Dolby Digital 5.1 tracks provided on all these discs, and its quality is excellent. Next step up would be the DTS 5.1 tracks, which are so good that my feeling is many users would prefer to view the 11 videos with the DTS soundtracks and not even bother with the DVD-Audio option on the other side of the disc for those selections. Seeing all the performers in action in high-quality widescreen images seems to make up for the soundtrack lacking that last little bit of transparency that the purist 96K/24-bit DVD-A option can give you on the best system. (On this sampler users are given a choice between not only the Stage and Audience mixes in surround sound but also an additional Stage mix in two channels.) This is a terrific way to bring exciting musical performances right into your living room or home theater in surround sound and with the highest quality images up on the screen.
Contents: Mosaic - Laurence Juber; Miner's Night Out - John McEuen & Band; Gardenia Shuffle - Dorian Michael & Band; Moonlight Acoustica - Aix All Star Band; Nordenham - Carl Verheyen Trio; Ocean - Jonathan McEuen; Charmed - Lisbeth Scott; Cold Outside - Lewen & Navarro; Lowlands - Brand New Opry; CHOPIN: Nocturne in B Flat Major - Robert Prosseda; Now Is the Month of Maying - Zephyr; BRAHMS: Clarinet Quintet, 1st. Movt. - D. Ashkenazy/Ives Quartet; HAYDN: Piano Trio, 1st movt. - Pro Arte Trio; RAVEL: Pavane for a Dead Princess - George Enescu Philharmonic Orch.; MOZART: Sym. No. 41, 1st movt. - George Enescu Philharmonic; STRAVINSKY: Fire Suite Finale - George Enescu Philharmonic; Rumor Mill - Carl Verheyen Band; The Hag at the Churn - Bad Haggis; Three Pope - Ernest Ranglin & Band; LA Blues - Brant Geissman & Band; Yo Go Jo Po - Emil Richards/Joe Porcaro Big Band; Wet Jackson - Vantage Point; The Very Thought of You - Cheryl Bentyne; Sweet Georgia Brown - Steve March Tormé; My Boy Lollipop - Alana Davis & Ernest Ranglin; You're Gone - Paul Williams & Band; More Today Than Yesterday - Surf City Allstar Band; Best of My Love - Nicci Gilbert & Friends; Coming On Home - Steve Pierson & Blues Head. John Sunier
Report on Monster's new series of discs boasting DTS 5.1, Dolby 5.1, 96K PCM 2.0, multiple audience & stage mixes, and computer music files encoded with Dolby Headphone.

A Charlie Brown Christmas - Vince Guaraldi Trio (with Fred Marshall, bass; Jerry Granelli, drums) - Monster Music SuperDisc = DVD: Dolby Digital 5.1, DTS 5.1, PCM 96K stereo, Music files encoded in WMA, AAC and Apple Lossless, all Dolby Headphone processed, extra video & test features - MMU 44172, 40:23 ****:
Monster Cable has released a couple of their own CDs in the past, but are now back in the recorded music software business in a big way with their new double-disc combo DVD & CD packages. This one is the first of the initial five we have auditioned so far. Feeling that there are too many problems with the compatibility of DualDiscs, Monster has opted for a separate DVD which can be either entirely audio or include video concert footage, plus a separate standard stereo CD for playing in any CD player including computers, portables and car systems. The cost will be somewhat higher than most hi-res discs.
Some very logical and clever thinking has gone into Noel Lee's new SuperDisc project. His intent is to promote SSfM (Surround Sound for Music) to a wider audience than it's been getting at present, and that has our full support here at Audiophile Audition since that's what we've been doing for many years now! He found that dealers usually didn't have proper surround sound demos set up for SACD or DVD-Audio, so the general public didn't know about it. Also, the requirement for six separate analog cables from the hi-res players to preamp or receiver was too complicated for most people. [Denon, Sony, Integra and others now have single i.Link connections for that but it is admittedly a niche sort of thing.] He also felt consumers were confused by requiring a different type of DVD player to handle DVD-A discs and that the two hi-res formats "didn't support multichannel music with up-to-date releases." [I must disagree with that in regards to SACDs. At least in the classical area they are doing very well supporting new releases!..Ed.]
"The failure of surround sound music has been the lack of the ability to demonstrate," says the Head Monster. Right on. Lee also complained of most multichannel mixes putting little information on the surround channels, which problem he has addressed in the SuperDiscs. So it was decided to use neither DualDisc, DVD-Audio or SACD on the SuperDiscs, but instead to provide a surround sound experience which could be accessed by everyone with a DVD player, and even those without a surround speaker system could get a pseudo-surround experience by downloading the computer music files on each disc, which are encoded with Dolby Headphone processing. The timing is propitious because both DTS and Dolby have upped the sampling rates of their codecs not long ago and both now can often achieve an improved transparency with music. Finally, for steadfast two-channel audiophiles, the SuperDiscs provide a 96K/24-bit hi-res uncompressed PCM stereo mix of the music.
The SuperDiscs feature a number of video extras even when they are strictly audio albums without concert footage. I found these accessible both on the DVD player and on my computer CD/DVD-ROM drive. Noel Lee speaks to us onscreen about the discs' various features and what gear is required to enjoy them. There are tips on getting the best performance out of your home theater, and the THX Optimizer tests for both video and audio are included. When played on a standard DVD player, at the bottom of the Song List are four choices for different mixes, similar to the options which have been provided on most of the Aix Records DVD-As. After you select DTS (the default is Dolby if you don't make use of an onscreen display) you can select either stereo, front row surround, on stage surround, or on stage jazz club surround. The liner notes also say you can use the audio or angle buttons on your remote control to select among these various mixes while the DVD is playing, but I wasn't able to replicate that with the Integra universal playe—having instead to use the select button on the remote while the options displayed on the screen.
The computer audio files are an innovation on the disc. The Charlie Brown disc has four folders in the WMA folder, covering the three surround mixes plus the stereo mix. In the AAC folder only the on stage jazz club option had files in it. They were encoded at the least data-reduced rate of 320 kbps for best quality, rather than the 128 kbps used on most iPods. The publicity states that Apple Lossless tracks are also provided, but I could find none on this disc. Using the headphone output of my Onkyo SE-U55 D-A processor and my iMac I listened to the various audio files with Grado SR-80 headphones. I heard little difference between the WMA and AAC files and I also heard little difference between the three different surround sound mixes. Perhaps the reason is that this album was not recorded for multichannel to begin with, so the surround channels even on normal DVD home theater playback are probably synthesized or derived from difference information in the two-channel signal. (The other SuperDiscs of newly-recorded material have more obvious mix variations and more obvious surround channels by far.) When I switched to the stereo mix I did hear a difference—an improvement of clarity and detail. In fact, this same Vince Guaraldi album was reissued as a stereo SACD by Fantasy, and we reviewed it some time ago [See Archives]. It's about equal sonically to the 96K stereo mix on this SuperDisc.
Oh yes, the Charlie Brown album: It's a dozen selections from Guaraldi's original music and arrangements for the first Peanuts TV animation of Christmas 1965 for CBS-TV, and repeated every year since. It's simple and direct though often swinging music with nothing fancy going on but a good feeling throughout. The original tune Linus and Lucy will be familiar to most ears. A somewhat off-key kids chorus comes in on the closing Hark the Herald Angels Sing. Seeing as how this is a DVD, it's too bad a short excerpt from the TV animation couldn't be included on the disc. John Sunier
Reviews reprinted with permission from Audiophile Audition