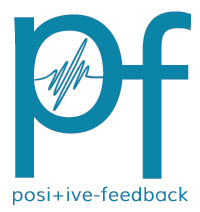 You are reading the older HTML site
Positive Feedback ISSUE 20
july/august
2005
'Summer is i-cumin' in, loud sing cuckoo'
by Bob Neill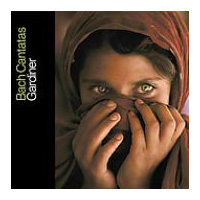 J.S. Bach "Cantatas," Volumes 1 and 8. John Eliot Gardiner, English Baroque Soloists, Soli Deo Gloria records
I've never been a big fan of Gardiner's recordings, finding the few I've heard a little dull and forgettable overall. So I shed not a tear when his Bach Cantata series was dropped by Deutsche Gramophone, spending them all on Ton Koopman's, which was dropped about the same time by ERATO. To be fair, I had never heard any Gardiner Bach, having been warned away by his Mozart. Foolish me.
Just as Koopman found a way to continue his series without ERATO, Gardner has gotten his back into production as well (on his own new label), thanks to what appear to be a rather extraordinary group of financial backers cited in the album notes. So the Suzuki series (on Bis) has fitting competition again. Neither Koopman nor Gardiner gives us anything strikingly new, but both bring a degree of welcome humanity to this monumental sacred music, which some listeners miss in Suzuki's series. And as much as I enjoy the relaxed Koopman approach, I now find I sometimes prefer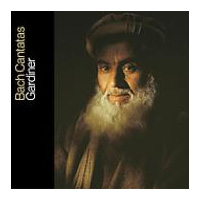 Gardiner's. There is an engaging freshness, geniality, and crispness. This may be because the recordings were "a corollary, not the raison d'etre," for a project to "perform all of Bach's surviving church cantatas on their appointed feast days and all within a single year." Whatever the cause, we should very happy that the series is back.
Gardiner, perhaps because the availability of particular soloists over the course of a year was a bit chancy, has spread the leading roles around, which also seems to add to the spontaneity of the proceedings. Mark Padmore, fast becoming many people's favorite contemporary tenor, is terrific on the second CD of Volume 8.
The reissued series gets a handsome presentation, with heavy boards rather than the conventional plastic casings, all in a book-like form. Another volume is due out this month—with more Mark Padmore! If this is your desert island music, give the Gardiner set a listen on this its second time around.
Mozart, "Sonatas for Piano and Violin," Mitsuko Uchida, piano; Mark Steinberg, violin. Philips records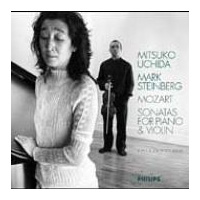 I have been full of praise for a handful of Mozart piano and violin sonata recordings over the past year, praise that while it has been utterly sincere might have been less fulsome had I come upon this CD earlier. Uchida has a way of being forceful and lyrical by turns, as a particular piece—even as a particular phrase—demands. This outing with Mark Steinberg on the violin (who also writes the excellent program notes), gives us Uchida at her absolute best. Like virtually all of her recordings (especially the complete sets of piano sonatas by Mozart and Schubert), this one has a commanding sense about it, giving us the illusion that this is the true composer. It transcends all of our ideas about Mozart the Graceful, Mozart the Impish, Mozart the Monument, and gives us Mozart the Complete. Uchida's and Steinberg's Mozart can do anything and everything. He is full of wonderful and utterly natural surprises. This is one of the absolute best recordings of the year so far. Do not miss it.
Thomas Adès, "Piano Quintet," Adès, piano and the Arditti Quartet. Schubert, "Trout Quintet," Adès with the Belcea Quartet. EMI Classics
Is Thomas Adès a bolder, less reticent Benjamin Britten? Listening to his recent piano quintet, the first reference that came to mind was Britten's Symphony for Cello. Tortured and sinewy, but also anxiously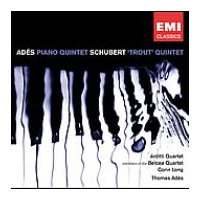 beautiful. The leaner textures of the string quartet keep the feel of this work closer to the bone than the Britten symphony, the contrasts starker. It is a thrilling piece of music, and the Arditti are exactly the right musicians for it. Adès is considered by many, with good reason, to be Britain's premier contemporary composer. He is, by the way, Director of Aldeburgh Festival in Snape, founded by Britten in the 1960s.
The accompanying work on this CD is an unusually powerful and outspoken performance of Schubert's Trout Quintet played by Adès and the Belcea Quartet. The latter have just released a fine version of Britten's quartets, also on EMI. Both of the performances on the record under review were recorded at Snape Maltings, Suffolk, England, where the acoustics are to die for. I heard the Belcea play some wonderful Bartok there a year ago, and they are indeed the real thing. As often as you have likely heard the Trout, you really should hear this one.
"Two Pianos," John McCabe and Tamami Hanma, Dutton records
This is a recital of dance and dance inspired music written or arranged for two pianos, which we are invited to attend and re-attend. And while once through Copland's "Danzón Cubano" may be enough, the other works on the program give up their secrets less easily. Britten's "Mazurka Elegaica" has both Britten and un-Britten moments, as it moves back and forth between elegy and mazurka. Overall, it is a haunting and puzzling work for us Britten fans. Third up is contemporary Greek composer, Basil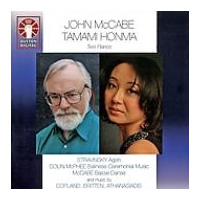 Athanasiadas's "Terpsichore Bemused," a contemporary diversion of rhythmic impressionism (a dance piece by name and in fact), bringing the recital to its major work, Stravinsky's own arrangement for two pianos of his late ballet, "Agon."
By the time Stravinsky reached "Agon" (1950's), he had pared away many of the musical qualities that draw us to his earlier work. "Agon" comes close to being a bare anatomy of modern dance, nearly a matter of pure rhythm, with melody reduced to a fleeting presence that in the hands of any other composer would likely be lost. On first hearing, I felt this two-piano version of the orchestral score needed its dancers. The second time, I was satisfied with simply the pianos, dancing alone. If you don't much like modern music for piano, this arrangement may challenge your sensibilities. If you do like it, I'll just say to you that "Agon" for two pianos works better than "Petrouchka" arranged for one. It seems to have more of a musical life of its own than the transcription of the earlier, better known piece.
The recital ends with "Balinese Ceremonial Music" by Canadian composer Colin McPhee (born in 1900), who spent a great deal of his life studying and transcribing Balinese music. This music, taken from music for the gamelan, would probably give more pleasure on its original instruments. And finally, "Basse Danse," by one of the recital's pianists, John McCabe. McCabe, an Englishman, is best known for what many consider his definitive recordings of Haydn's complete piano sonatas, but he is also a notable composer in his own right. "Basse Danse" is a pensively rhythmic piece better heard on its own. Placed modestly at the end of this recital, it tempts us to pay it less attention than it really asks for. It is an ambitious, not at all occasional, piece of music.
Two Pianos is the kind of recording that gives one hope that good music-making still lives. Had I gone to this recital, I would be wishing I could take it with me.
John Browne, "Music from the Eton Choirbook," The Tallis Scholars. Directed by Peter Phillips, Gimell records
A belated welcome back to the Tallis Scholars, one of the very finest early music a capella choral groups of modern times; and also to their proprietary recording label. Gimell. For whatever reason, presumably financial, founder Peter Philips sold Gimell, which he founded, to Polygram Records (Philips) in the mid-nineties, whereupon the Tallis Scholars virtually disappeared from the new releases listing while the parent company mainly reissued and repackaged their earlier material to make what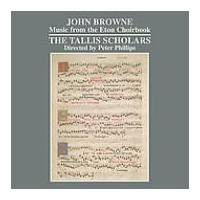 they could out of the group's name. They managed to stay together, I would guess thanks almost entirely to Peter Phillips, continuing to tour. And then, sometime early in the current decade, they bought back their label and got before the recording mikes again.
Since then, there have been a small handful of recordings, but nothing so fine to my ears as this new one, focusing on the music of late fifteenth century English composer, John Browne—about whom few of us, I suspect, have heard very much. (Unless, of course, we collected the set of CDs released some ten years ago of The Eton Choirbook, where all of this music is found.) A passionate fan rather than student of renaissance music, I feel confident only to report that the music and performance sound extraordinary. Melodic ribbons of sound weaving in and out of one another (eight parts!), making wonderful use of the interval of the fourth, that strange and acute sound that has a way of cutting through emotional expectations, at least those of modern ears. "Never have vocal lines been so seductive," writes Peter Philips. Indeed. For newcomers to English renaissance music, this would be a fine, out of the way, place to test its waters. The core of the group of the 1980s is intact, in particular the treble voices that are the group's signature strength—Tessa Bonner, Sally Dunkley and Deborah Roberts. Also still here after over twenty years are Robert Harre-Jones and Francis Steele, along with a dozen or so new and recent comers who appear selectively in the five works presented. The Tallis Scholars sound is still there, as pure as its fans and detractors have known it for a generation.
CPE Bach, "The Complete Keyboard Concertos, Vol. 14" (!), Miklós Spányi, tangent piano and Opus X, Bis Records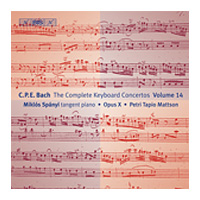 That's right, volume 14. But don't let that scare you off if you are new to this series. Beginning with this set, Spányi has a new (Finnish) period instrument ensemble and a new recording venue (a Finnish church)—and while the Hungarian group and Budapest recording studio he used for volumes 1-13 were certainly good enough to satisfy most of us most of the time, this new (smaller) group and less plumy site are audibly superior. So this is a fine place to enter this wonderful music venture.
There are two reasons you should be drawn to the keyboard music of JS Bach's eldest and most gifted son. He has an unmistakably personal voice—more restless, angular and idiosyncratic that than of his father—which is fascinating to hear. And he exemplifies the transition from the baroque to the neoclassical musical styles. It is fascinating to watch period styles evolve into their successors. It is during this process that the door is left open a bit, so to speak, letting us think we hear (or see, in the visual arts) more of the relation between art and the world.
Keyboardist Spányi is a fine musician and, as I say, his new group, Opus X, led by Finnish violinist Petri Tapio Mattson, provide crisp and eloquent insights into this remarkable music.
François Couperin, "Les Concerts Royaux," Le Concert des Nations, Jordi Savall, Alia Vox records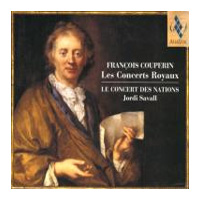 As leader and violist, Savall reminds us in his liner notes to this recording, that he (and his 'band') have been playing and recording Couperin since the 1970s. His version of the Viol Suites still commands high prices in vinyl on Ebay, as it should; and his version of Les Nations (for whom his band is named) and Les Apotheoses are also treasured by those who love French baroque music. Savall is not the last word on Couperin—he must share that laurel with William Christie and his Les Arts Florissants and with keyboard player Kenneth Gilbert. But the energy and robustness of his performances of Bach's leading French contemporary are a compelling alternative to Christie's and Gilbert's refinement. The strongest musical voice in Savall's group in recent times has been violinist Manfredo Kraemer, who brings a brilliance and piquancy to complement Savall's richer, sweeter, and more sensuous view of the music. Kraemer has widened the gap between Les Ars Florissants' and Les Nations' Couperin, who, like Bach, can happily abide more than more performance style.
Very Briefly Noted
Giya Kancheli, "In l'istesso tempo," Gidon Kremer, violin Oleg Maisenberg, piano. Kamerata Baltica. The Bridge Ensemble. ECM New Series
It is easy to write music like Georgian composer Kancheli's, but it is impossible to write what he writes unless you are Kancheli. Wearing the soul on the sleeve is a sure recipe for kitsch, unless you have an extraordinary Russian soul and great compositional gifts. Kancheli sometimes walks the thin line, but not here. Mother Russia has a good deal to say musically these days, even south of the Caucacus.
Schubert, "Schwanegesang"; Beethoven, "An Die Ferne Geliebte." Matthias Goerne, baritone; Alfred Brendel, piano. Decca
Not since Dietrich Fisher-Diskau has a baritone moved me more than Gorne. Rich, deep, powerful, authoritative…and lyrical, but lyrical as Beethoven would be if he sang. Not sweet, not at all ingratiating, sometimes a bit stern. You cannot not listen to him. Brendel picks his lieder singers carefully. Goerne is the man.
Tchaikovsky, "Eight Piano Pieces, Opus 72." Mikhail Pletnev. Deutsche Gramophone
If you have heard Pletnev's CPE Bach recording, you know what to expect. Tchaikovsky? You know it! Great stuff! Wonderful recording.
Equipment used for this review:
Audio Note CDT 2 II digital transport

Audio Note Dac 4.1 Balanced

M6 preamplifier

Neiro 2A3 monoblocks

AN-E/SPe speakers, Sogon, AN-Vx, and AN-SPx cabling