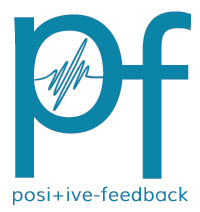 You are reading the older HTML site
Positive Feedback ISSUE 20
july/august
2005

Podcasting
by Austin Jackson
Boston Audio Design today announced their new HiFi Industry Podcast Series – the first podcast series to focus exclusively on high-end audio. The podcasts will be in a live interview format with questions submitted by the public. The 30-minute podcasts will be released monthly and may be downloaded automatically via RSS or manually by visiting the Boston Audio Design website. The podcasts are free of charge.
Podcasts do not require the use of an iPod – the MP3 files can be listened to on a computer or burned to a CD.
By allowing the public to ask questions directly of leading industry manufacturers and personalities, the podcasts will give audiophiles worldwide a new way to learn about and interact with the audio community. Also, by syndicating the podcasts through hubs like Apple's iTunes, the podcasts will help promote the hifi hobby to a wider audience.
"We're very excited to offer this free service to the audio community," said Austin Jackson, President of Boston Audio Design. "By serving as a conduit for communication between audiophiles and manufacturers, we're able to help people learn what they want to know and to better understand the innovative points of view that make ground-breaking audio products a reality."
The first podcast will be available this fall and will feature an interview with artist and turntable designer Simon Yorke of Simon Yorke Designs. Produced over a span of 20 years, Mr. Yorke's handcrafted turntables are used by the Library of Congress, professional archivists, and audiophiles worldwide.
Also scheduled for this fall are interviews with 47 Laboratory and Avantgarde Audio. 47 Laboratory is well known for manufacturing the iconoclastic Gaincard amplifier, PiTracer CD transport, and the Miyabi/47 Labs phono cartridge. Avantgarde Audio is perhaps the world's leading horn loudspeaker manufacturer and their products have won numerous awards, including Stereophile's Speaker of the Year.
We will have a list of all Boston Audio's Podcasts, with a direct link to each one, as a regular feature of Positive Feedback Online.