JOHN BRAZIER'S SYSTEM
LOUDSPEAKERS
Reference 3A MM De Cappo i's atop Z5 24" Sound Organizations Stands. Each filled with a unique mixture of sand from Mother's Beach (in Marina Del Rey, CA) and sand from Venice Beach.
ELECTRONICS
Edge G3 integrated.
SOURCES
Naim CDX2, which is sometimes cabled with Naim's Crystal RCA to Din, but otherwise cabled with Acoustic Zen Silver Reference IIs.
CABLES
Acoustic Zen Hologram Speaker Cable (single wire), Acoustic Zen Silver Reference II or Naim Crystal for connection between CDX2 and the Edge G3.
ACCESSORIES
Acoustic Zen El Nino Power Cords, Wiremold Outlet Strip.
Most people that visit my home are oblivious to my audio system, but the Edge G3 amplifier has sparked many comments and conversations. Most simply want to know what it is, but the ones that visited at night and saw the translucent, blue-backlit knobs that grace the faceplate were mesmerized. I have to admit that I, too, find the blue glow of the G3 really cool. Edge claims that the amp weighs "approximately 35 pounds," and I can confirm that it weighs every bit of that. Encased in 3/8-inch-thick aluminum on all six sides, the thing is bombproof. The right side has twenty or so shallow heat dispersion fins, which must work, because I have been running the amp nonstop and it has remained cool to the touch.
The rear panel is straightforward. There are six sets of modest-quality RCA jacks, four pairs of inputs, one pair of main outs, and tape monitor jacks. Input selection is controlled by a knob on the right side of the faceplate. The slightly larger center knob controls the volume, and the mode knob is to the left of that. The unit has a detachable power cord. I immediately replaced the standard black cord with an Acoustic Zen El Niño, my choice for value product of the year.
I was in a bad accident last September, and it is still difficult for me to get up and sit back down, so I need equipment that has remote control. After having the Plinius mega-remote around for a while (see the Plinius review here), it was pleasant to have a more manageable one. The G3 remote does the bare minimum—volume control, and nothing more. This was fine with me, but the remote that arrived with the unit failed to work. I made a phone call, and another was at my door in no time. It took me much longer to realize that the remote had to be pointed directly at the infrared sensor, a small hole between the volume knob and the input selector. If the remote was even slightly off-axis, it did not work well. Once I figured out that that was the rule of the game, I played by it.
Edge rates the G3 at 85 watts per channel into 8 ohms. I have no reason to believe otherwise, but can attest that it showed no signs of slowing down with my Reference 3A MM De Cappo-i loudspeakers (see that review here). As a reviewer, it is always difficult to decide whether to immediately inform the reader about my opinion of a product or to wait until the closing paragraphs. Those strictly interested in the bottom line will head for the conclusion anyway, so if you are still reading, I'll let the cat out of the bag now. This is the most neutral and transparent amp I have heard. Now for the details.
A few years back, I bought a Bel Canto Evo200.2 digital amp, which I enjoyed for a year or so. It had the ability to give each and every instrument or voice its own space. It was as if each musician had his or her own amplifier. This was great, but while I ultimately found that the BelCanto lacked air and sounded sterile, it was my reference for neutrality until I heard the G3. The Edge picks up where the Bel Canto left off. That is, the Edge possesses the skills of the Bel Canto, but adds air, transparency, and bass. Music flows through the Edge with no discernible artifacts. We all go to great lengths to match components, and the G3 simplifies the process. With it in my system, I only need to worry about my CD player, and how its character is interpreted by my speakers. This may be too elementary for many, but the Edge has presented me with a new reference point for neutrality.
Sheryl Crow's Globe Sessions goes in and out of heavy rotation here. I'll have it in the CD player for a week or two, toss it aside for a while, then return to it. Regardless of whether it is in or out of circulation, it is a great disc, full of supercool songs, including an interesting cover of Guns & Roses' Sweet Child O' Mine. On this disc, the G3 got out of the way of the Naim CDX2 (see that review here), allowing Crow to materialize before me. Her guitar picking was nearly always front and center, just below her voice. Drums, keyboards, and horns were faithfully represented. There was never any exaggeration or under-representation of any part of the frequency range.
When I first positioned my Reference 3As, I felt that they were at their best with a bit of toe-in, but was surprised to hear the improvement when I tried them pointing straight ahead. Getting back to Ms. Crow, with the speakers in their new positions, her guitar came stunningly alive. The image created by the speakers was convincingly deep and dynamic. The G3 grabbed the deep strings and let go only when it had shaken the bottom out of the speakers. There was no mistaking the ever-so-sweet squeak of a talented finger running over the frets. To me, that is the telltale detail. Too much squeak—yikes! Not enough, and I lose conviction in my suspension of disbelief. Here, the squeak was just right.
What is a John Brazier review without some Ani Difranco? This time it is her 2003 release, Evolve. Difranco's guitar playing is significantly more dynamic than Sheryl Crow's, yet it had every bit as much realism. Difranco's style is usually violent and aggressive, with only the occasional mellow tune, but Evolve is almost devoid of the uber-Ani, and treats the listener to her more notched-down side. The G3 had her spot on. The amp has an almost chameleon-like nature, with its character determined by the character of the musical material.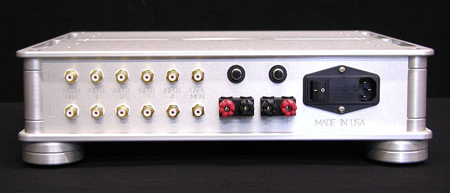 Jimmy Scott's Holding Back The Years is a disc that I have not pulled out for a while. Scott's voice has the ability to warm the heart of even the most jaded cynic. His voice was gripping from the very first moment of "Sorry Seems to be the Hardest Word." The Edge maintained unparalleled credibility as it coddled Scott and his piano, every note of which floated out into my living room. The Edge performed smoothly on every track.
If there is one area in which the G3 is an overachiever, it is the size of the soundstage. It was simply massive, and came at me from all directions. Nuances that were once limited to a small portion of the stage were now everywhere. These were not new sounds, just sounds heard in a new way. Percussion abounded from behind me, keyboards hung to the right, and backup vocals were anywhere they wanted to be, at any time!
The G3's single downside, if you can call it that, is that it doesn't make up for the errors of others. Some amps are colored enough to mask or otherwise distract from the performance of CD players or speakers that have too much character of their own. Not to belabor the point, but the Edge just gets out of the way, in as natural a manner as I have heard.
I have been listening to the Edge G3 for about four months now. It may be a cliché for me to mention the many late-night hours I have spent rediscovering my CD collection, but that is what I did. I heard old discs in a much cleaner and more natural way. In many cases, I listened to certain CDs just for the more expansive soundstage. At other times I was overwhelmed with the G3's effortlessness. I do not believe that anyone can go wrong with this amp. That is a bold statement, I know, but unless you have to compensate for the drawbacks of your system, need significantly more power, have to have separates, or have to have tubes, the G3 might be the perfect amplifier for you. This one is mine. John Brazier
G3 integrated
Retail: $5495
Edge Electronics
web address: www.edgeamp.com