MARK KATZ'S SYSTEM
LOUDSPEAKERS
JM Labs Mezzo Utopias and Tannoy 12" Monitor Gold speakers in Lockwood studio cabinets (second system).
ELECTRONICS
Kora Cosmos monoblock amplifiers and Eclipse preamplifier. Custom 300B monobloc SE amplifiers and Loesch-Wiesner line stage preampilier (second system).
SOURCES
Muse Model 8 transport feeding a Kora Hermes II DAC with TRT-Dynamicaps. McIntosh MR-78 tuner. Cal Audio Icon Powerboss HDCD CD player, Luxman T117 tuner, and a Nakamichi 680 ZX cassette deck (second system).
CABLES
Marigo Reference 3 digital interconnect. Tiff, Yamamura, and Marigo Gen II power cords. Kimber 8TC shotgun speaker cables and Goertz Triode interconnects.
ACCESSORIES
API Power Wedge 116 Mk II for sources. Amps are plugged into a dedicated 20 amp line.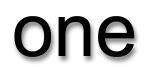 When I received the Bladelius Thor integrated amplifier, all I knew about it was that it was rated at 150 watts per channel into 8 ohms, was a true balanced design, and came from a company I had never heard of. With a little internet searching, I discovered that Mike Bladelius' distinguished pedigree. He was chief designer at Threshold from 1990 to 1994 and a consultant to Classé in 1995. His company was founded in Alingsås, Sweden in 1994, and Bladelius both consults and designs his company's products.
The Thor is an attractive unit with an elegant, clean appearance. Though it is not large, I couldn't help but notice that it weighs nearly 50 pounds. At first I was concerned that the review sample had no remote control or instruction manual, but this turned out not to be a problem. The unit is easy to operate, from its on/off switch on the back to the pushbuttons and large volume knob in the front to its easy-to-read display of input selection and volume. It has adjustable input sensitivity, but because of the lack of information I did not try this. It can also be used as a stand-alone preamp.
I played my tuner (a McIntosh MR-78 updated by the original designer) for a week through the Bladelius to allow for any needed break-in, turning the unit off only at night. The rest of the system consisted of a Muse Model 8 transport feeding a Kora Hermes II DAC with TRT-Dynamicaps and my JM Labs Mezzo Utopia loudspeakers. The amp was plugged into one of the high-current outlets on my Power Wedge 116 II, which does not have transformers. The high-quality binding posts are encased in plastic and the spade connections inputs face away from each other, which requires the use of flexible speaker cables. A pair of Goertz MI-2s worked well. Some Audioquest speaker cables could be made to fit only with difficulty. Others, including some cables that worked well with my tubed Kora Cosmos amps, sounded lean and edgy with the Bladelius.
The amp also caused some difficulty with interconnects, as the left- and right-channel jacks are close together. The knurled RCA plugs on the Wireworld Eclipse III interconnects were a tight fit. The amp sounded its best with balanced interconnects from truly balanced components, which gave greater energy. A pair of Kimber Selects on loan from Bob Levi worked wonders, sounding smooth and open. A pair of Music Meter Canto cables had an appealing richness and focus. I also experimented with power cords. A Gutwire Power Clef that I borrowed from Art Shapiro was my favorite, with its relaxed, effortless sound. One of my own Eichmann Express Power cords made the unit sound more lean and clean. The cord that came with the amp imparted a warmer, slightly wooly character that many owners will probably be happy with.
The Thor sounded pretty good right out of the box. The bass was clear and well defined and the highs weren't bad. By the end of a week or so, things were starting to gel. The highs had become smoother and more detailed and the mids blossomed, becoming better balanced and textured. Not bad. On "Another Time, Another Place," from Benny Carter's excellent In the Mood for Swing (MHS 512375M), Carter's sax and Dizzy Gillespie's trumpet play together, blending and separating and creating a subtle effect in which they first sound almost like one instrument, then two. The bite of the sax and the blattiness of the trumpet came through clearly, and the cymbals had a nice shimmer. On "The Courtship," Carter's sax is more mellow and sweet, and the Thor portrayed this well.
Telarc's early digital recording of Stravinsky's Firebird (CD80039) has some impressive bass drum thwacks in the finale. The Thor encouraged my bass drivers to do their all. Not only was it loud, but the Thor got the tone right without being either bloated or lean. One of my favorite bass tests is the overplayed-but-still-fun title track of Bela Fleck & The Flecktones' Flight of the Cosmic Hippo (Warner Brothers CD 9 26562-2). Fleck's banjo was nice and plinky, with good leading edge and an appropriate slight resonance. The star of this piece is the growling synthesized bass, which sinks into what sounds like the hippo making a ponderous landing. The Thor controlled the bass line down to the limits of the Mezzo Utopias, getting a slight shudder from the room.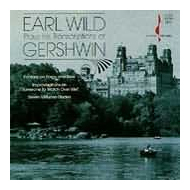 One of my favorite CDs is Earl Wild Plays His Transcriptions of Gershwin (Chesky CD 32), which can be described as Gershwin viewed by a virtuoso concert pianist. Some of the pieces are delicate, while others have fast and furious runs. All are captured cleanly, with good tone. Reproducing a piano is not easy. Leaving out mention of the huge dynamic range and frequency range, there are the felt-covered hammers hitting the strings, the resonance of the unplayed strings and sounding board bouncing off the lid, the extended decay of the played notes blending with next notes, and the multiple musical lines coming from (usually) a single musician. The Thor was able to transmit much of this, perhaps losing some of the complex resonance but capturing the speed and the leading edge of the attack and separating out the notes with great intelligibility. The amp did not dull the sound to smooth it, nor did it sound bright or brittle.
On the Brahms violin/piano Sonata No. 1 (aka "Rain") featuring Arturo Delmoni and Yuri Funahashi on John Marks Records (JMR 2), the Thor captured the bowing and occasional plucking of Delmoni's violin. The test here is whether an amp can provide detail without screechiness. Some solid-state amps pretend they contain tubes with a soft, lush character that sacrifices clarity and treble precision. Not so here—another point for the Thor.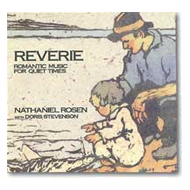 The human voice may be even tougher to reproduce than the piano. We're trained to hear the subtlest details and inflections, for survival and social interaction. With our revealing audio systems, we laugh when we hear an over-emphasized radio announcer's voice booming, or cringe when a pop singer's sibilant voice is shown for the heavily processed, electronic construction it is. The best test is a great vocal recording, like Richard Strauss' "Morgan" sung by the late Kaaren Erickson accompanied by Nathaniel Rosen on cello and Doris Stevenson on piano (John Marks Records JMR 10). The Thor was able to convey much of the emotion and texture of her voice, interleaved with the instruments, the resonance and bowing of the cello, and the softly played piano.
Is this $3000 integrated amp the end-all be-all of musical reproduction? No. It lacks some of the three-dimensionality that it is possible to get with the finest (mostly vacuum tube) gear, some of the air around the performers, and some of the texture of the music. What it does get right is articulation and much of the texture of music. It has excellent bass control, good left-to-right soundstage placement, an honest treble, and a natural tonal balance, given an appropriate choice of speaker cables. The Thor sounds best with a balanced source, but was just fine with the single-ended input from my MR78, conveying the warm sound of this classic tuner. The Thor integrated amp is very flexible, with a large number of inputs, a text display that names those inputs, a home theater loop, adjustable gain for each source, and the ability to act as a separate preamp. I never felt deprived when listening with the Thor. It makes music. Mark Katz
LESTER J. MERTZ'S SYSTEM
LOUDSPEAKERS
DIY - 1. LJM Originals, Transmission Line w/ Dynaudio 17W75 and Morel MDT30, 2. LJM Modified, BK16 – folded horn w/ Fostex FF165K and Peerless Soft Dome, 3. LJM Originals, Floor Stander, w/ Vifa P17WJ and Vifa DX25SG, 4. LJM Modified, Dynaudio "Aries" – (currently on loan to Tim Stant), and 5. LJM subwoofer, w/ Audio Concepts AC12.
ELECTRONICS
Blue Circle BC21.1 preamplifier, Linn phono stage, and Sonic Frontier Power 1 (55w) with Svetlana's 6550c Output, and 6N1P Drivers, B&K ST 140 (105w), and Sound "Valve 110 SE" (on loan from Fred Kat) amplifiers.
SOURCES
Arcam CD 33 T, Linn LP12, Grace 707, Signet Mk 110 E (mc) into Monolithic PS 1.
CABLES
Audience Au24 (on loan from Keith Oyama), Ridge Street Audio Design, "Poiema!!", DH Labs Air Matrix, DH Labs Silver Sonic, LJM, RS microphone, Maple Shade Double Helix, Synergistic Research Active Looking Glass, van den Hul The Second, van den Hul D300 Mk III Hybrid interconnects. van den Hul D352 Hybrid speaker cables. Blue Circle, BC02, Kimber Kord, Synergistic Research, Active, AC Master Coupler, and LJM Originals, Marinco Plugs w/Belden 14-AWG AC cords.
ACCESSORIES
Acme Audio Labs, cryogenic treated outlets and Hubbell, outlets, Mod Squad Tip Toes and cones, Mana Sound Frame, FIM 305 (roller balls), Vibrapods, Maple Shade Iso-Blocks, Maple Shade Maple Boards, Marchland XM9 electronic crossover, Boos Blocks, Rock Maple Granite Slab, Target Stand TTSA5, LJM Wood Blocks/Equipment Stands, VPI 16.5 (record cleaning machine).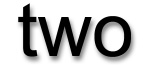 "In my hand, this hammer." Thor, the famous Norse thunder god, was the son of Odin, the head honcho of Norse deities. Thor's weapon was a magic hammer that returned to his iron-gloved hand like a boomerang after smashing his enemies' heads. The poor farmers of the day really loved it when Thor took care of business, especially when he bashed the maladjusted giants that roamed around destroying villages. The Thor under discussion here is another Norse god—a creation of the Swedish manufacturer Bladelius Design. It is a 150-watt-per-channel integrated amplifier. Its styling is very Scandinavian, and could easily be on display in New York's Museum of Modern Art. The Thor is quite heavy. It is deeper (ca. 20 inches) than it is wide (17 inches), and is just under 5 inches high. It will fit into a standard rack, even one that is not 20 inches deep, as its rubber feet are well to the inside of the chassis.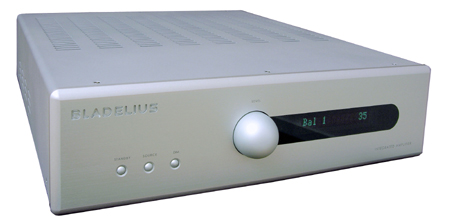 The brushed aluminum front panel has a soft silver finish, with slightly rounded edges. The front panel has only one knob, a volume control, just left of center, and three small pushbuttons that you cannot see from across the room. The left-most button is a standby switch that scared the heck out of me the first time I used it. The sound was so loud, I thought I had broken something! The right-most button activates an LED display just to the right of the volume knob, and selects between the five RCA line inputs, the two balanced inputs (nice touch), and the obligatory tape loop. On the back is the usual fused IEC connector, with the power switch right above that, and there's also a nine-pin RS 232 input. For what? No literature was supplied with the unit, so I can't say.
The audio world can be divided into two groups—the people who love music and the people who love hardware. Most members of the first group could not care less about technical jargon. For them, the hardware is a means to an end—listening to music. The gearheads are always listening for "air" and "detail." These guys never seem to be satisfied by merely listening to music, and hardly ever talk about anything but gear. If this description fits you, then you probably won't be interested in the Thor. Why? Because the Thor is about music. With the Thor in my system, music sounded smooth and somewhat creamy, and I was completely satiated by listening, especially to classical music and jazz. This amp was right up my alley.
When I first hooked up the Thor and turned it on, the front panel lit up and announced "Warming Up." Sound emerged after about 45 seconds, but I played a CD for an hour or so before giving a serious listen. Not bad at all, but after nearly two hours, everything got beautiful! The sound was more engaging, the soundstage was broader, the rhythm got my toes tapping, and the bass was more solid.
The Thor doesn't have the usual solid-state glare and grit that turns me off. I'm a tube guy, and almost never listen to music from "sand amps." They're great for drum demo discs, and the times when you want to play rock'n'roll for audio buds that have had one too many Buds, but for the music that takes me away from the daily grind, I love tubes. The Thor could also take me away. I was surprised by the warm glow of music through this silver hammer.
On Jacintha's Autumn Leaves (FIM), her voice was creamy and honey-sweet, and cymbals had that magical shimmer. On "One More For the Road," the sax player was right there, and I could hear his fingers on the keys. The Thor made me really listen to each cut, and to hear the wonderful mix as if it were the first time I'd heard the album. It was like being at a live concert—you know the songs, but will she sing each verse as she does on the recording or will she change something? Will the guitarist jump into a different riff from the one on the album, something unexpected?
I switched over to Bernstein, the Final Concert (DG) and a live Beethoven Symphony No. 7 with the Boston Symphony Orchestra. The recording had lots of impact, and the Thor seemed to possess almost limitless power. This amplifier has a big presentation, one that might lead you to buying lots of orchestral discs. The live recording was never a problem, as it can be on highly resolving gear, with the audience coughing and moving programs around. It was musically just right!
If you are not a Johnny Cash fan, I still urge you to give American IV (American Recordings) a listen. Borrow it from someone and play "First Time Ever I Saw Your Face." Cash's voice was so riveting, I just sat in amazement, unable to do anything but listen! The organ accompaniment gives this recording a hymn-like quality that you won't soon forget.
Another male singer that had me dropping the pen was Stephen Stills, on his album Stills Alone. (Thank you, Bill Franklin, for bringing this album into my life!) The guitar, a Martin dreadnaught-body, really cuts through the veil with a sound that's right in the room with you. Stills opens "In My Life" with some guitar harmonics that reveal his virtuosity, but it's the last cut that is worth the price of the album all by itself. "Tree Top Flyer" has everything—story line, vocals, and guitar work in a finger style that gets that ole dreadnaught a-poppin' and your feet a-tappin'. Great stuff!!
I had no problems with cables when using the Thor. I tried expensive and modestly priced ones without hearing any significant differences. Using an expensive power cord did not wake up the amp or slow it down. The same thing happened with speaker cables. The Thor provided a high level of synergy with whatever was hooked up to it. There were no glitches worth mentioning.
The Thor has a big, honest sound that didn't wear me out, and made most CDs a pleasure. It has much more power than the popular but modestly-powered British integrated amplifiers priced below it, and it can drive just about any speakers, so if you're looking for a beautiful, modern solid-state integrated amplifier in the $3000 price range to build a serious system around, and if music is your main rationale, then this amp should be on your audition list. If you get one, you'll keep playing music and coming back for more. Lester Mertz
Thor integrated
Retail: $3000
Bladelius Design Group
web address: www.bladelius.com
In the US:
George Ioakimedes at george@bladelius.com