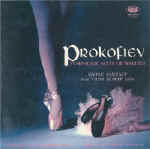 Prokofiev, Symphonic Suite of Waltzes Op. 110 and Gypsy Fantasy Op. 127
Kansas City Philharmonic/Hans Schwieger
(original: Urania US5130/reissue: Cisco Music CLP 7002)
In my experience, most of the Urania catalog of classical recordings issued in the late 1950s and early 1960s are neither musically nor sonically rewarding, but a few stood out, most notably, this recording of the Prokofiev Waltz Suite by Hans Schwieger and the Kansas City Philharmonic. I have enjoyed an early (original?) black-and-white-label pressing for many years. Those who like the Lt. Kije suite or the Classical Symphony will certainly like this piece. However, if you usually listen to LPs, there haven't been many alternatives to the original Urania record. A Melodiya recording reissued in the U.S. on Angel (S 40075), a Varese/Sarabande (81091) reissue of the Kansas City version, and a digital LP (I think) of Jarvi and the Scottish National Orchestra are all I know of. There aren't many more versions on CD.
Cisco has now reissued the performance on pristine HQ-180 RTI vinyl. The quality of the record is as good as any in my collection—completely quiet surfaces and perfectly centered, flat vinyl. The quality of the sound is exceptional. It is less harsh than my original, with lush strings, deep bass, and beautiful detail. Unlike some reissues compared to the originals, I would take this reissue hands down. Furthermore, while it isn't a surprise to hear great sound from the Chicago, New York, Boston, or Philadelphia orchestras, it comes as a surprise to hear great orchestral sound from the Kansas City Philharmonic in the late 50s. Highly recommended. George Valley
Sound = 9.5/10; Performance = 9/10; Music = 9/10