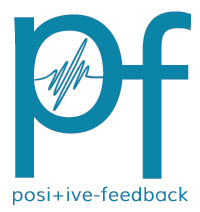 You are reading the older HTML site
Positive Feedback ISSUE 2
august/september 2002
System Review
by Danny Kaey
Since my hiatus from the audio world a couple of years ago, I have been eagerly awaiting a comeback. Moving from Vienna to the United States is something of a strain, especially considering that you always leave something behind—in my case, my stereo equipment. About two months ago, I met Dave and Carol Clark of Positive Feedback, and expressed my desire to get involved in the audio community again, so here I am, reviewing my new system.
The first order of business was a pair of speakers. Dave pointed me toward Reimer Speaker Systems, a small company from Cody, Wyoming. Each speaker is hand assembled and tested before leaving the "factory." Truth be told, it was no coincidence that Dave recommended Rick Reimer's speakers—he and Carol own a pair of Teton (the older version, but modified with the HiVi ribbon tweeter from the newer GS version, along with the Marigo Dots—see www.positive-feedback.com/Issue1/marigovtsdots.htm ), Reimer's previous top-of-the-line model. At our get together, I immediately felt a good vibe about those large, full-range speakers. When Dave mentioned that a set of the stand-mounting McCullough GSs was floating around the area, I immediately asked to hear them. The McCulloughs are very similar to the Tetons, except that they have the smaller HiVi Kevlar® 6.5" bass drivers found as the midrange drivers on the Teton GS, and smaller cabinets. I was surprised at their size and volume. Upon setup, they sounded anything but small speakers. Next in the lineup was a modified Audio Note AN CD 2.1 AX CD player (Audiocom Super Clock). As this was the player feeding us music at Dave's get together, I was already somewhat familiar with its sound. The next thing I noticed about this player was the construction. Very nicely done! I like solidly made equipment, and the Audio Note didn't disappoint (see full review in Issue 3).
So, I had speakers and a nice source, and had to settle on proper amplification. This took the form of a pre/power combo courtesy of Marsh Sound Design. The P2000T preamplifier is a hybrid design and the A-200s is a solid-state stereo amplifier (see full reviews in Issue 3). Truth be told, I was never much a fan of tube gear until I heard Ensemble's Evoco integrated a couple of years back. I can still remember its sweet sound, so I was optimistic about the Marsh. As almost everyone concedes that Marsh components are first rate, especially considering their price, I felt obligated to listen to this combo. Finally I settled on the last link, speaker cables and interconnects. Analysis-Plus provided me with a set of their Oval 9 speaker cables (with a series crossover bi-wiring is not an option) with banana plug termination, and a set of their copper Oval-In interconnects completed the package.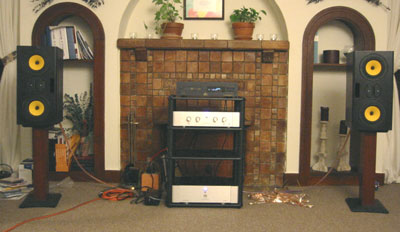 After the setup of the equipment and speakers, I was eager to listen to the system. I cued up one of my favorite Yello tracks "Rhythm Divine," off their Essential CD, with Shirley Bassey singing lead vocals. Yello has always been one of my favorites. The opening notes on the track are accompanied by a lovely, deep bass note that carries throughout the song. Though at first I perceived the bass to be on the shy side, I almost couldn't believe my ears when I heard the treble extension. The performance was very musical and quite satisfying. Resolution was top notch, and you could really feel that Shirley was having a good time. The speakers do the disappearing act in a convincing manner, their soundstage is nicely extended, and you don't get the feeling that they are adding or subtracting anything from the recording. Very nice indeed.
Another favorite of mine is Steve Hoffman's remaster of Elvis' 24 Karat Gold Hits on DCC. Through the Reimer/Marsh/Audio Note setup, Elvis never really left the building! Track 13, "Are You Lonesome Tonight," was an absolute delight. Elvis was right there in front of me, his voice sounding natural, charming, and most important, real.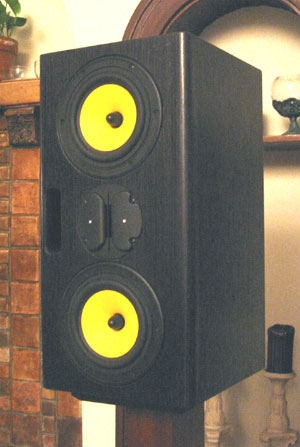 The Reimer McCullough GS featuring HiVi drivers and series
crossovers. 94dB @ 8 ohms.
My next track was Massive Attacks' "Teardrop," off their Mezzanine CD. In my book, bass is one of those things that can make or break a performance. You certainly want to feel it, but when is enough really enough? Some manufacturers make the mistake of voicing the speaker with too much bass to make up for the lack of real extension. While such designs provide full-bodied sound, they fail to reproduce the natural nuances of the low frequencies. That is something I can live without. Fortunately, Rick Reimer didn't follow that route. The McCulloughs deliver bass that is appropriate to the instruments' tonal register. Much to my surprise, "Teardrop," a perfect track to test a speaker system, didn't disappoint. This track can sound muddled and congested on lesser systems. Here, the sound was rendered with precision, authority, and groove.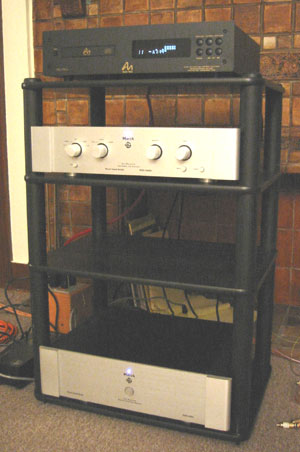 For less than $10k, an affordable price in today's high end audio terms, the Reimer/Marsh/Audio Note system does it all and then some. Resolution, transparency, pace, and dynamics are all there. The only drawback is bass extension and volume, something that can easily be fixed with one (or better, a pair) of Rick's subs, though I could easily live without that upgrade. I could live with this system for a long time to come. Did I mention I am purchasing it? More to report on later as I go after stands, a new rack, and some fine tuning!