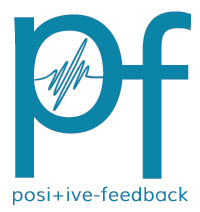 You are reading the older HTML site
Positive Feedback ISSUE 2
august/september 2002
"Show Report? We Don't Need No Steenkeeng Show Report!"
(Belated) Notes from VSAC 2001
by David W. Robinson
(Yes, I know—late again! The notes for VSAC 2001 were caught up in the changes that I and PF have been going through over the past eight months. Nevertheless, I hope that our readers find this set of articles by Mike Pappas, Rick Gardner and I to be helpful.)
Email from Tony G. Again!
Where to start? Must have been that email last summer from my good audiobud, Tony Glynn, telling me that Doc B.—or "Dan Schmalle" according to his birth certificate and his mother!—& company were going ahead with another Vacuum State-of-the-Art Conference (VSAC) in September. The location of was to be in Silverdale, Washington, at the Silverdale Hotel, just as it had been the last time 'round; the dates were to be from September 7-9.
This was good news, since the last VSAC had been held all the way back in 1998. A good time was had by all at that event (see Positive Feedback, Vol. 7, No. 6), but the logistics of putting on a regional audio show had been too much for Doc B. to attempt again… until now.
VSAC is unique among audio shows, in my experience. In the first place, there aren't too many regional audio shows… Philadelphia, NY, maybe Chicago, the occasional California gathering… not too much else that I know of. (Of course, I could just be ignorant, eh?) The Pacific Northwest has its own highly laid-back way of doing things, with lots of audio artisans in the neighborhood. The DIY (do-it-yourself)/modding/hotrodding crowd is well represented, and was sure to show up in decent numbers at VSAC. Which is what happened.
Was I going? You bet! Wouldn't miss it…
On The Road Again
A few phone calls and emails, and the PF contingent was organized. Mike Pappas would fly in from Denver as the "DSD Dude," complete with a 8-channel Genex DSD recorder and a stack of Magneto-Optical (MO) master discs of recordings that he had made for KUVO in Denver. Aiding and abetting Mike was Ed Meitner of EMM Labs (www.emmlabs.com), the now anointed "Doctor of DSD," who graciously agreed to drop in on the event, and bring along one of his latest generation 8-channel DSD D/A converters, the superb Meitner DAC-8.
PF Assistant Editor Rick Gardner also signed up for the "Ye Olde Editor's Official Junket Carpool," and agreed to do his usual great job of whipping up the "enhanced java" for the drive, plus putting together some music out of his collection onto cassette for us. A threesome would be hitting the road north in Ye Brande New P/T Cruiser, making for the glories of the southern Puget Sound—very cool!
Meeting us there would be old-time PF'ers Jennifer (Associate Editor for Technical) and Michael Crock, Lynn Olson (Associate Editor for Design), Tony Glynn (Audio Ambassador-at-Large), George Cardas (Associate Editor Advisory), Winston Ma (Associate Editor Advisory) Scott Frankland, (long-time contributor), Stan Ricker and Alan Kafton (friends of the family), and lots more. There was no way that this could miss!
The drive up was a real hoot—see Mike's comments for more. There's something really great about being with close friends, on a trip to a first-rate regional audio show. Outrageousness and fun all the way!
The Show Itself
The Silverdale Hotel is located on the southwest corner at the bottom of Puget Sound. The setting is gorgeous—right on the water—and the weather was perfect. Sunny, not too hot, with a pleasant breeze.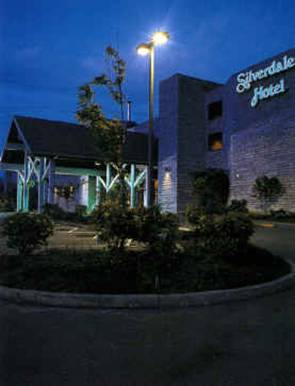 By the time we arrived, a number of exhibitors were already setting up. Entering the lobby, we ran right into George Cardas and Ed Meitner… then Alan Kafton… then Stan Ricker… then Paul Stubblebine and Winston Ma… great!! This is why you go to an audio show—for the good times! The gear is neat, but the people are even better...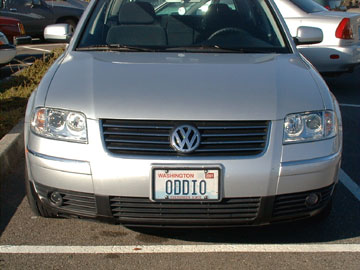 Paul was setting up his gear in the large presentation room on the main floor; there were going to be a number of presentations there, including comparisons of analog open reel vs. SACD vs. high-resolution PCM formats. The main floor was also the site for various of the DIY projects that had been set up for public viewing, and for a contest to be held later in the show. We got checked in to our rooms, then spent some time checking out the extremely interesting work that had been done, and browsing the vintage gear rooms that had were being laid out.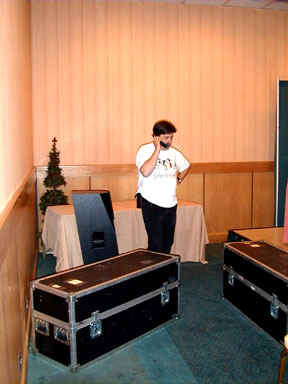 Paul Stubblebine prepares to set up some first-rate gear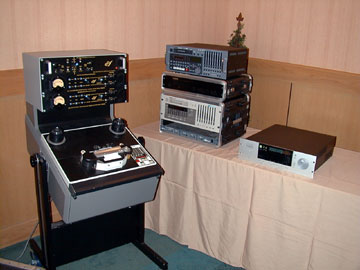 Stubblebine's deParavicini open reel and some PCM hi-res kit
After that, it was out to the rear patio area, for hard-earned drinks and some kick-back time! Mike, Rick and I caught a table with Ed Meitner and some others, and began to yuck it up. I had met Ed back in September of 1998 at Mobile Fidelity, when I first encountered DSD (see the aforementioned PF Vol. 7, No. 6, or check out the re-print of the article at Positive Feedback Online.
http://www.positive-feedback.com/Issue1/MoFiDSD.htm) at the first studio demo of the technology to the audio press. We didn't get much of a chance to talk at that time, which is too bloody bad—as I found out. I had an enormous respect for his work with DSD, since Maestro Meitner solved a number of the critical problems that came up along the way, but I didn't really know him personally. As Mike, Rick and I shared a few drinks with him, the initial impression of a rather stern fellow dissolved into the realization of a gifted audio designer with a helluva great sense of humor! (Ed can sure come to any party of mine!)

Good audiobud Ron Welborne of Welborne Audio
(http://www.welbornelabs.com) enjoys some fine
Microbrew at VSAC's patio party that first night.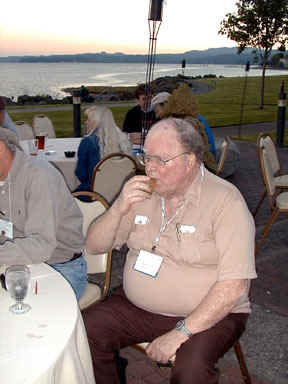 Another close audio friend, Tony Glynn, samples
some whiskey during the VSAC patio party.
Next thing you knew, George Cardas sat down with us, Stan Ricker dropped by, and as the sun went down we were alternatively discussing things audio with passion—and laughing our asses off!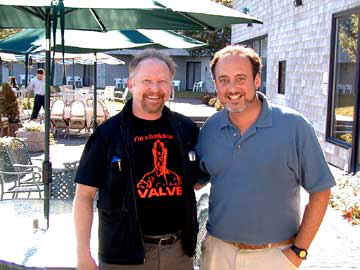 Doc B. and his unindicted co-conspirator, Bob Bean, helped to
make VSAC 2001 the great success that it was.
My hat's off to Dan Schmalle (aka "Doc B" over at http://www.bottlehead.com) and company for doing such a great job of putting together the patio party that first night. It was a smash!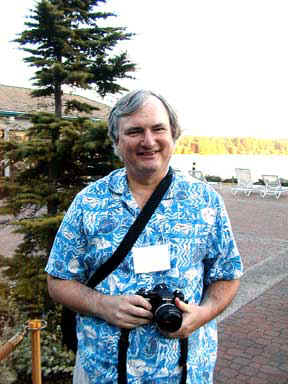 Another long-time PF editor and gifted audio
designer, Lynn Olson (http://www.aloha-audio.com).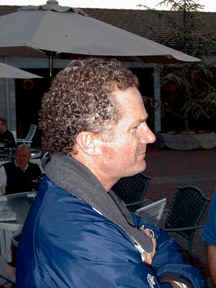 Wavestream's Scott Franklandat VSAC 2001
The first night at VSAC was made all the better by the live music that Doc B. had brought in. A jazz trio; some good music… it was hard to drag Stan away from it to catch some dinner. ("Stan! C'MON, STAN!!")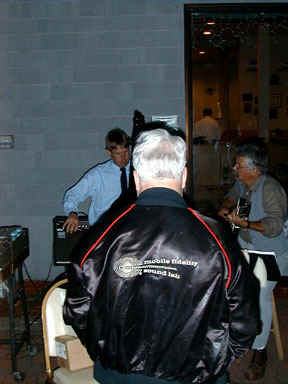 Stan Ricker doing what he does best: taking in the music! ("Stan! C'MON STAN!!") You couldn't blame him, though; there's always magic in the real presence of live music.
Off we went to a nearby restaurant, where we stayed up too late having not enough fun with stories, jokes and such. Life doesn't have nearly enough of moments like these.
And yes, you had to be there...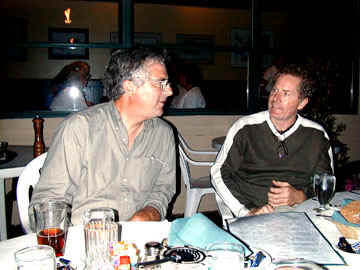 George Cardas and Scott Frankland converse at dinner.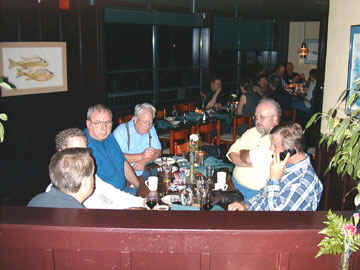 A pretty typical PF dinner session—that's Ed Meitner on the right,

performing live to DSD on his cell phone! (Left to right: Pappas,
Frankland, Beach, Ricker, Gardner and Meitner).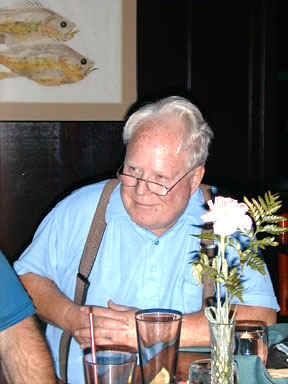 Stan Ricker enjoys a moment with "The River City Gang"...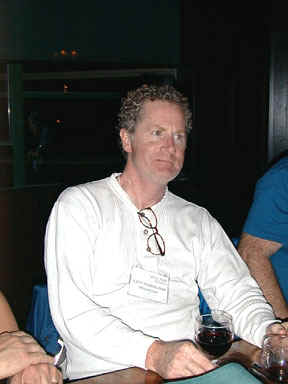 Scott Frankland mellows out with a fine Cabernet.
The next day…
... it was time to get busy! Shaking off the long hours and pleasant partying of the previous day, Lila, Rick, Mike and I got the Positive Feedback room set up and ready for traffic.
VSAC's layout broke down into several sections. On the first floor, the DIYers, the antique gear, holy tube rollers, and the conference rooms congregated. Floors two and three held various exhibitors, and those members of the audio press (Positive Feedback, Audio Musings and Audiophile Audition) and audio web sites like Audio Asylum (http://www.audioasylum.com) who wandered about, enjoying the scene.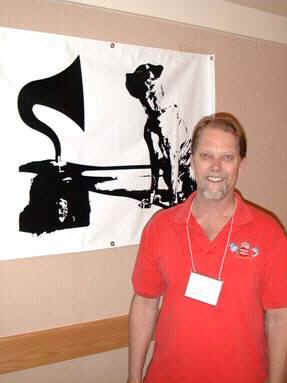 Audio Asylum's Chief Honcho Rod Morris drops by
PF's room, and gets snapped next to Brutus—thanks
for the AA yo-yo, Rod!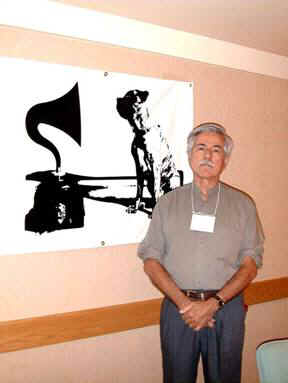 Not to be outdone by Rod, long-time PF fellow
John Sunier of Audiophile Audition
(http://www.audaud.com) is immortalized next to Brutus.
The first part of the day saw your humble editor firmly ensconced in the PF room, handing out Vol. 9, No. 2 to subscribers and friends, and meeting with various audio designers. Unfortunately, this didn't leave much time for getting about and seeing the rooms. I deputized Mike Pappas and Rick Gardner to gather what they could (see their reports elsewhere in this issue).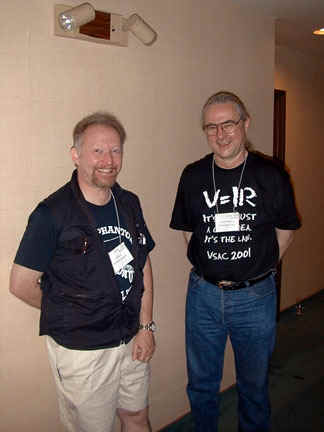 Doc B and Paul Joppa take a moment to chat in the "hallway lounge"…
By the afternoon, I was able to shake loose and get around a bit. My first stop was down at the DIY and vintage audio sections on the first floor. Though the exhibits were display only, what a visual treat it was to see such beautiful equipment! For better or worse aurally—no way to tell, of course—these works were a delight to see.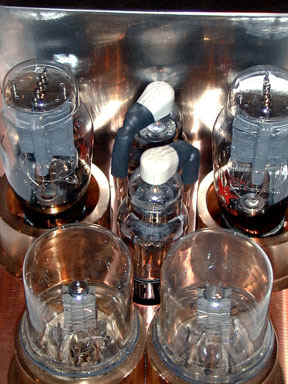 The DIY gear at VSAC was beautifully done… eye candy, for sure!
I enjoyed the rooms, as usual. Among my favorites were Ron Welborne's Moondog Audio room (very classy! And great sound too! Check out Ron's site over at www.welbornelabs.com).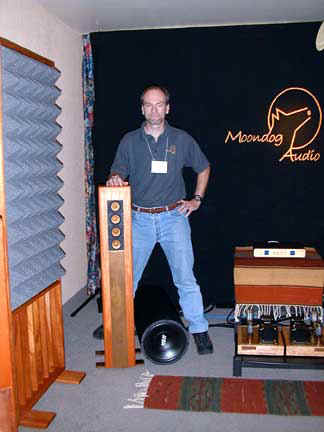 Ron Welborne of Welborne Labs/Moondog Audio—
puttin'
on the dawg! Brilliant gear, great sound...
Another was the the Red Rock Audio room with the new Redpoint Audio Design turntable (yummy!) and Bobby Palkovic's very impressive Merlin Millenium speakers were making beautiful music.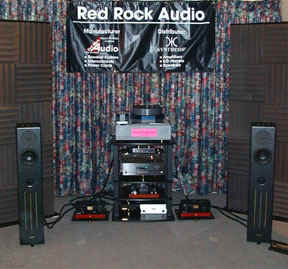 Red Rock Audio's room, with the Redpoint and the Merlins in place.
Then there was the Cain and Cain room wherein Terry Cain was displaying his remarkable craftsmanship with Fostex-loaded speakers. Here was high efficiency without the loathsome cabinet works that sometimes happens with designs of this sort. Terry's work is simply fabulous!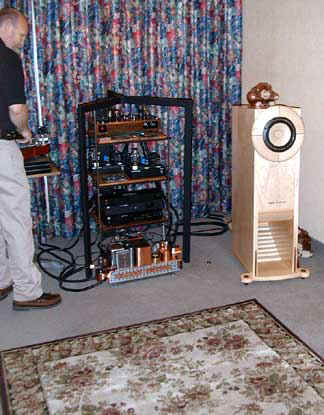 Terry Cain at play at work—beautifully coherent sound.
I should also mention the Exemplar Audio room, with John Tucker's glorious work sounding absolutely terrific!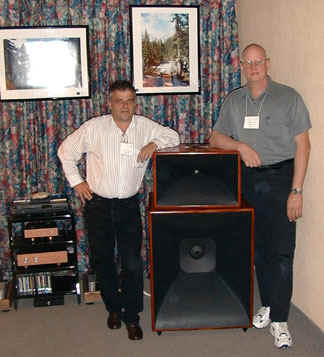 Michael Lefevre and John Tucker in the Exemplar Audio room.
Both Rick Gardner and I were both very impressed by the Emotive Audio/Sierra Brooks room. I actually heard Rick say some kind things about the TAD=loaded Le Grande horns—a first! (Yes, Rick is not generally enamored of horns.)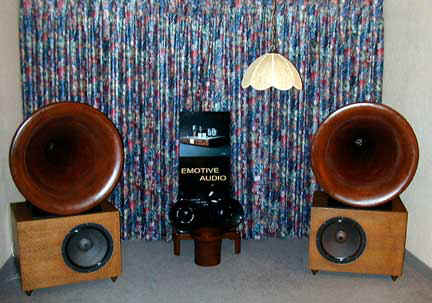 The Emotive Audio room, with horns that even Rick Gardnerfound appealing!
Another group that was having a good time were the folks at the Dixie Bottleheads room. Open reel tapes (!) and a terrific attitude; it reminded me of what I like about audio groups. (Which is a cheerful antidote to all the things that I don't like, eh?) Kudos to those folks—and keep 'em flying!

The Dixie Bottleheads room—open reel tape! Yowazh!
It was also no surprise to me that Doc B.'s gear in the Bottlehead room was sounding terrific, and looking great. Dan Schmalle is one of the truly fine people of SET land, and has been very busy on some interesting new design projects that we hope to document in future issues of Positive Feedback Online. Anyone interested in what's happening with SETs should definitely get in touch with Dan at www.bottlehead.com.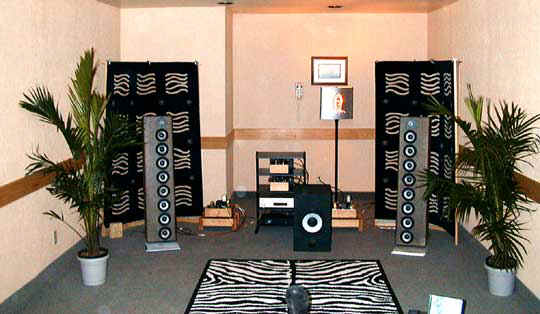 Doc B's oasis for the SET lover—fine stuff!
Unfortunately, my work at the Positive Feedback room kept me from spending nearly as much time listening as I would have liked. There were some great seminars held, as well—especially of interest was the listening comparisons the Paul Stubblebine did, in which he demoed the sound of open reel analog vs. SACD vs. hi-res PCM. Wish I had been able to catch that one!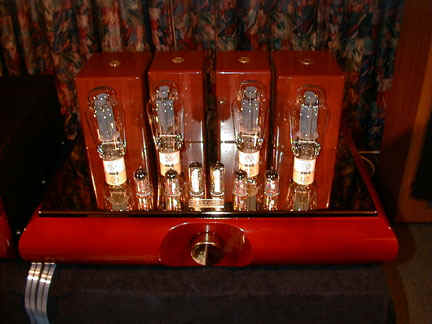 The GORGEOUS Eurotubes amp from the Eurotubes/JJ Electronics/JBL
room—outstanding! Definitely gets my vote for the most seductive looking amplifier at VSAC...
For me, the flat-ass most stunning sound that I heard at VSAC 2001 was Mike Pappas' DSD MO discs of his recordings done for KUVO. These were the featured attraction in the Wavestream/Cardas/von Schweikert room, and provided most of the source sound that was used to demo the gear. I'll confess that this was a helluva congenial room... ANY room with George Cardas, Scott Frankland, Ed Meitner, and Mike Pappas in it is going to be a special place! (Albert V.S. wasn't in attendance at this show.) While a Sony SCD-1 was available for SACDs, the source of preference was the great new Genex 8-channel DSD recorder/playback unit, playing back through Ed's brand-new Meitner DAC-8 D/A. This was played back through the Hovland HP-100 preamp (very impressive!), which passed into Scott's new Wavestream stereo 75 WPC amp (VERY IMPRESSIVE) via Cardas cabling. Albert's new ultra high efficiency DB-100 was strutting its stuff @100+dB/W/m.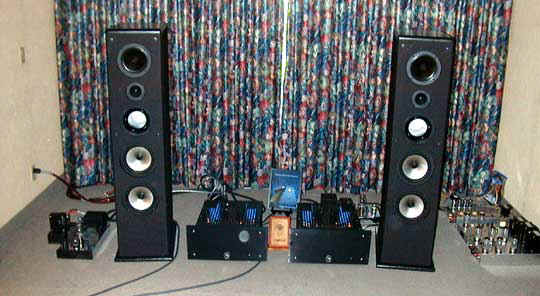 Wavestream/Cardas/von Schweikert, fed with pure DSD via Genex and Meitner: The Best of the Show for VSAC 2001!
When a system like the above is fed with pure DSD stereo recordings of the magnificence that Mike Pappas has achieved... featuring artists like Ron Miles and Diane Reeves... my reaction was "good grief!!!" To say that religious experiences (and conversions to DSD/SACD!) were taking place in this room is no overstatement. Everyone who spent time in this room was startled at the purity, the incredible dynamics, the "you are REALLY THERE!" quality of Pappas' recordings. That DSD can deliver such life-changing music is a powerful testimony to the future potential of the format; that Mike Pappas was able to use DSD with such artistry is remarkable evidence of his mastery of recording.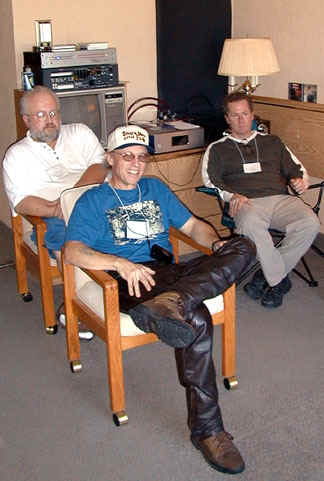 Positive Feedback's Rick Gardner, Ian Joel (past president
of the Oregon Triode Society), and Scott Frankland of Wavestream
listen to Mike Pappas' pure DSD jazz recordings—righteous!!!
This room was full of stars, and was certainly the high point of VSAC 2001 for me.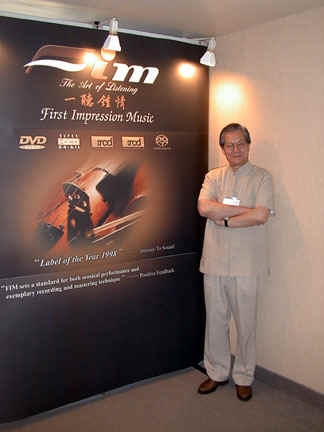 My very good friend, Winston Ma, of First Impression
Music: A man with a beautiful vision.
By the time that the show ended for us, Rick Gardner and I drove back to Portland with great memories of the people that we had met, and of the audio creativity that we encountered. Mike and Rick's reports are included as separate commentaries; make sure that you give them a read.
What makes VSAC so special?
In retrospect (post 9/11 and all that), the thing that's most compelling about VSAC is the very special community of audio friends that it represents. While VSAC is nowhere near as large as some other audio shows, it is second to none for fine times and for the leisure to talk, to listen, and to enjoy your audio friends.
Art and community combined—what could be better than that?