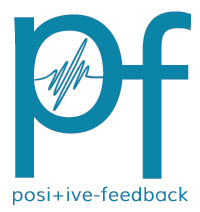 You are reading the older HTML site
Positive Feedback ISSUE 19
may/june 2005
Early Spring Blossoms: Music by Mozart, Schubert, Tippett, Finzi, and Britten
by Bob Neill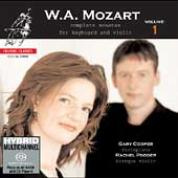 Mozart, Complete Sonatas for Keyboard and Violin, Volume 1, Gary Cooper (fortepiano) and Rachel Podger (baroque violin), Channel Classics CD/SACD hybrid disc.
There are lots of ways to have our Mozart these days. My last two doses of the keyboard and violin sonatas couldn't have been more different: Fabrizio Ciprioni and Sergio Ciomei on Northwest Classics (http://www.positive-feedback.com/Issue13/northwest.htm) come at them with great force on 'early instruments,' whereas Grumiaux and Klein on modern instruments on Philips give them the elegant and refined treatment many of us were accustomed to when these recordings came out on vinyl in the 1980's. Both work for me, though I'll confess the Italians did not win me over at first. Music scholar/historian Richard Taruskin has taught me (reminded me) that there is no definitive Mozart – or anybody else. The music Mozart composed holds many possibilities, some very nearly contradictory. That is the nature of especially major works of art.
The first thing I heard in this new set was that Gary Cooper is one hell of a fine keyboard player. His strong touch lets the fortepiano sing out not only with clarity but with a degree of warmth unusual for this instrument. He is a fully equal partner in these performances; and he and Rachel Podger obviously agree on what the music is ultimately about. Podoger's playing has the bold, clear, brusque sound we are accustomed to from her. It is hard to get a rich sound from a baroque violin, but she gets as much as can be had, which helps to bring her instrument's piercing upper range into a pleasing overall balance. We hear a great deal more of the body of her instrument than Andrew Manze lets us hear, and I am grateful for that. This is the first time I've heard how close to each other the baroque violin and pianoforte are in bitter-sweet, bronze tonal color. I would characterize Cooper and Podger's Mozart as rousing, rather than refined. It is full of brio and wonderful good nature. It is less strict than Ciprioni and Ciomei, earthier than Erich Hobarth and Patrick Cohen (of the Mosaiques Quartet and a grand set of Haydn trios), who are also very fine on Astree.
This is Volume 1 of a projected complete set.
Finckel and Wu Han are Back!
Schubert, Piano Sonata D.975; Arpeggione Sonata, David Finckel,cello; Wu Han piano. Artistled records.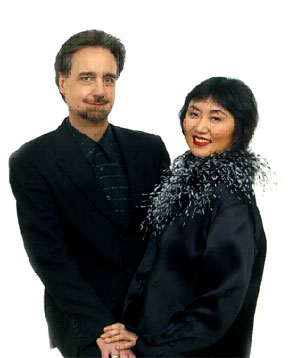 This extraordinary cellist and pianist are back with us again, this time with what Finckel calls their first 'hybrid' performance (no, not a hybrid/SACD disc, thank God), in which Wu Han plays a Schubert piano sonata and then the two musicians play the composer's Arpeggione Sonata. Both performances are stunning.
Sonata for Piano, D.975
Wu Han gives us a startlingly fresh performance of this piece – every note seems to have a life. This has an extraordinary effect and Da-Han Seeto's engineering makes it even more dramatic. We are less aware of flow than of notes taking individual steps. In less knowing hands, this approach could become an affectation. In Wu Han's, the music becomes intensely deliberate and introspective. To repeat myself, Richard Taruskin has me blessedly off the search for definitive performances and interpretations lately, a move Florestan Trio pianist Susan Tomes got me started on last year. What can a superb performer of this piece make of it? Rather than who's got the inside track to what the composer may have had in mind, whether or not he realized those intentions before sending his sonata out into the world and freeing it for all to puzzle over and find meaning in.
Lately Alain Planés has made Schubert live for me, so effectively he sent my Andras Schiff set back to the local record shop, something Uchida hadn't quite been able to do, though she probably should have. Wu Han is having the same effect. Her Schubert sounds intensely personal. It feels like a unique, intimate view of the composer made irresistibly accessible to us. I can hear a Schubert scholar calling it whimsical and wayward. It is wayward. It is fresh, off the main path. I have never heard anyone play him quite like this. I am utterly intoxicated by it. By the time I am into the Andantino, I am overcome by it. I understand, finally, what all the fuss is about Schubert, a composer I have enjoyed but never felt at all close to until now.
Arpeggione Sonata
The couple's way with the Arpeggione Sonata is equally fresh. I have never heard Finckel so lyrical. "The Arpeggione is a big challenge for any cellist. I chose to approach the piece as lieder rather than as a virtuoso piece, which has become the sorry tradition of performance practice of this sublime work. The miking for the cello therefore is intimate, as we wanted the sound of a vocal recording." This is an Arpeggione that enjoys being the delicious confection it has always been. Forgive me for underreporting on the piece: it is a marvelous complement to the solo piano sonata. But at the moment I am still under the spell of Wu Han's solo performance and have run out of appropriate words.
Wu Han and David Finckel have been steadily developing reputations not only as musicians but also as founders of music festivals dedicated to expanding the audience for classical music. This year their efforts were rewarded by getting them appointed as joint Artistic Directors of The Chamber Music Society of Lincoln Center. "Lincoln Center is big work," says Finckel, "most of the burden being visionary. People are asking us to answer some of the toughest questions about presenting classical music, and there has never been a time when leadership in the arts is more important, we believe. We are just doing the best we know how, and following what we believe in. That's all we've got, along with a little experience."
Note: the sound of this CD is so good that when I came to it from a day of listening to vinyl, I barely skipped a beat. And this was backup system.
If you have not yet discovered these two musicians, punch them up on http://www.artistled.com and join the rest of us. Another 'hybrid' disc of Brahms is due out later this year.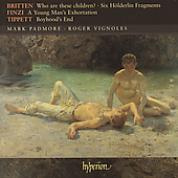 Who are these Children? Songs by Tippett, Finzi, and Britten, Hyperion Records.
In my experience Americans have little affinity for 'the small voice' which characterizes the utterly English music on this recording. I have found over many years of listening to English music from Bryd to Britten that it has a capacity for getting to important places that bolder, 'larger' music cannot reach. And I have found in listening to this collection of three very different modern English composers' song for tenor and piano several afternoons of true pleasure. A word to the wise: Don't be turned off (or on) by the cover art of this album. It is only dimly suggestive of what the collection is about – which is the passing away of youth. Yes, both Tippett and Britten were gay, but these songs are far from being explicitly about that, though I suppose some could find it here and there if that were one's goal.
Michael Tippitt (1905-1998) has never quite found me. In much of his instrumental music, I hear interesting textures and style amounting to not enough. In the five songs here, "Boyhood's End," written for Britten and Peter Pears on their return to England from several years in the US, I hear a great deal of passion – lyric ideas expressed with great vigor, perhaps to give boyhood's end a desperate quality. This is restless, energetic music, which alas, like the composer's instrumental music, leaves little impression on us when it's finished. Everything rides, and expends itself, on the direct passionate expression of feeling. In the context of the album as a whole, I am glad it's here; but on its own it might not fare quite so well.
Gerald Finzi (1901-1956) has written some of the most beautiful and poignant music on the island. If you don't know his cello and clarinet concertos, you have a treat in store. (If you do vinyl, hunt down Yo Yo Ma's long out of print and never digitalized version of the cello concerto on Lyrita.) And his Introit, which was the second movement of a violin concerto he withdrew, may be the most purely poignant piece of music ever written. Finzi wears his heart on his sleeve and is most effective in modest doses; but to my ears he gives sentimentality a very good name. He wrote a great deal of music for voice, much of it settings for poems by Thomas Hardy. The pieces on this CD, A Young Man's Exhortations, are typical of his best work and an utter delight.
Benjamin Britten (1913-1976), the strongest and most complex modern voice in English music, reaches deeper and further than Finzi aspires. In Who Are These Children? and Six Hölderin Fragments, he finds more secrets in youth than Tippett and is less sure of their meaning. He looks upon youth from the perspective of adulthood. He is more suggestive, mysterious, ironic, subtle. The power and eloquence of his songs are still within the aesthetic of Finzi and Tippett, but he makes a great deal more of it. He is most powerful when he juxtaposes lyricism and irony, as he does here.
Mark Padmore is a more moving successor to Peter Pears in this medium than the better known and more widely recorded Ian Bostridge. He needs to do more of the Britten oeuvre especially. Roger Vignolles is a very fine accompanist, and his notes for the album are a great help.