ED KOBESKY'S SYSTEM
LOUDSPEAKERS
ProAc Tablette 2000
ELECTRONICS
NAD 3400 Monitor Series integrated amplifier, Rotel RC-980 preamplifier and Rotel RA-970 amplifier, Denon DRA-395 stereo receiver.
SOURCES
Technics SL-1200Mk2 turntable, NAD C521i CD player, Phillips CDR-785 CD changer/recorder, Denon DVD-900 DVD player.
CABLES
Audioquest Diamondback (used to replace the pre-out/main-in jumpers on the NAD and also between the Rotel preamp and amp), MonsterCable Interlink 400MkII & 300MkII, and Audioquest Coral (to connect the digital sources), MonsterCable Z1 speaker cable, Grado 15' headphone extension cable.
ACCESSORIES
MonsterPower HTS2500 isolation transformer, Record Doctor II record cleaning machine with Disc Doctor brushes, Sennheiser HD580 headphones, Sony Professional MDR-7506 headphones, Audioquest MC cartridge demagnetizer.
Better late than never, right? I hope you agree, because I've got a hot tip on some very good speakers that are on closeout for an absurdly low price. If you want them, you'll have to hurry, because the supply has just about dried up. The good news is that there's little financial risk. The SS-K70EDs are available for $200 per pair at Circuit City. That's about $400 off the original price. I know of no other $200 full range, floor-standing speakers that can be considered audiophile grade. Make no mistake—their commercial failure has nothing to do with their abilities.
Why did these end up in the clearance bin? The Sony name, I'm guessing. When was the last time you heard a non-ES Sony speaker that sounded good? (I'll pause to allow you time to reflect. There's your answer.) Selling Sony speakers for $600 a pair at Circuit City must have been a gamble that came up craps. Despite that, a small clique of Sony devotees have been buzzing about these speakers. I only recently caught wind of them, and just in time, too. The SS-K70ED is a gorgeous teardrop of a speaker that looks for all the world like a beer-budget version of the stunning Sonus Faber Stradivari Homage.
The SS-K70EDs are serious loudspeakers. They are built as solidly as rocks, weighing in at over 73 pounds for the pair. Solid steel pedestals are included, along with carpet spikes and stainless steel spike pads for delicate floors. Each speaker is individually boxed. Only one set of beautifully simple binding posts protrudes from each speaker's rear end, so bi-wirers need not apply. If you feel an irrational need to support the cable industry in spite of the often-redundant nature of bi-wirable designs, send that extra $200 to me. I'll make sure it gets to your cable manufacturer of choice—I swear.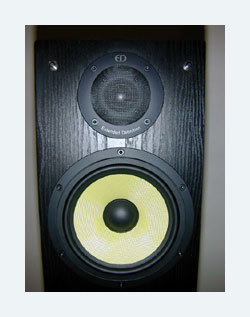 The SS-K70ED is a three-way, with a 6.5-inch woofer, 10-inch carbon dome tweeter, and a B&W-esque 6.5-inch woven Kevlar midbass driver that has led some to suspect that B&W had a hand in the design, or at least that Sony ripped off the boys from England. (I don't buy either theory, but stranger things have happened.) A handsome black ash veneer wraps each cabinet, and you can tap, punch, kick, and slap the box to your heart's content without revealing overt resonances of any kind. Impressive.
Information on the SS-K70ED is scarce. The bottom of the SS-K range, the SS-K10ED, is a small surround speaker, followed by a mid-size monitor, the SSK-30ED, with the top spot occupied by the floor-standing SS-K90ED. Bloggers say these were sold only through Circuit City in the U.S., and widely but briefly in Canada. Sony's website doesn't acknowledge that the model range ever existed, though Sony India still sells them. They derive from a series of ES models, the SS-X range, with identical model numbers and the same drivers. These really bear a startling resemblance to the B&W 700-series speakers, with their yellow midrange drivers, nice finish, and Nautilus-style top-mounted tweeters. I would like to happen upon a pair, but the SS-K70EDs seem so promising, even unbroken-in, that I'm quite ecstatic.
I powered the SS-K70EDs with the remarkable PrimaLuna ProLogue Two integrated amplifier, fed by a Sony DVP-NC875V DVD/SACD player (see review in Issue 19) and a Bang & Olufsen Beogram 330 turntable with MMC 3R cartridge and the Music Hall MMF Phono Pack. I used Audioquest Diamondback interconnects between the components, and the speaker cable was plain-jane MonsterCable XP zip cord with the company's handy Quick-Lock bananas.
The SS-K70EDs sound very special. I've only put in about thirty hours of listening, but you needed to know about them NOW. There was no time to lose. Here's what I can tell you based on my preliminary listening: The SS-K70EDs have a rather dry sonic signature that may or may not loosen up over time. Imaging is precise and unwavering. Bass is tight, deep, and nuanced. Highs, while very extended, are stiff, but there are hints of a silkiness to come. The midrange is a bit warm, but so is the PrimaLuna ProLogue Two. A different amplifier might be less euphonic—my Sony GX-60ES receiver seemed to be.
The quoted frequency response is 42Hz to 79kHz, and that sounds right to me. These mid-sized floorstanders produce powerful but properly scaled low frequencies, with a notable lack of boominess or chuffing through the tapered front port. The teardrop-shaped cabinets seem to have been designed to eliminate standing waves. The drivers (crossed over at 300Hz and 4kHz) are well integrated. Vocals appear to come from the top third of the speaker, as they should, without any sharp delineation of high frequencies or a disconnected mid- or low bass. The SS-L70EDs never seem to strain. Their musical delivery is pretty effortless. They sound neither hyped nor overly laid back—much like a Sony CD player.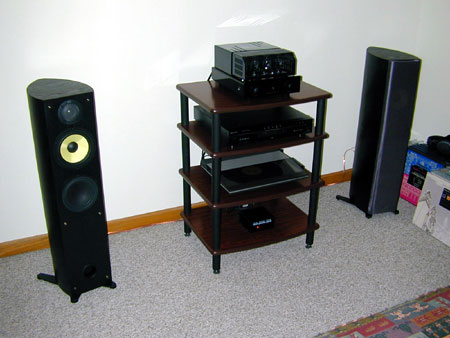 That, I'm afraid, is all I can tell you right now. If I waited to tell you more, you'd probably miss out on the SS-K70EDs. I almost did. The stores in my area only had one pair each, and one was a battered demo set. That's one pair per audiophile per store across the U.S., if you're lucky.
At $200 a pair, the risk is minimal, so have a listen and decide for yourself. Though the SS-K70EDs seem to have been a miserable failure for Sony, they are a mind-boggling value for budget audiophiles. Even if they were merely competent floorstanders, you will still get much more than you paid for in sound-for-dollar and build quality. If stylish, great sounding, full range loudspeakers have been out of your price range, now's your chance. Ed Kobesky
SS-K70ED loudspeakers
Retail: $200